I'm sure most of us Filipinos grew up eating Pandesal (I did!) and living far from home, it's one of those food that I miss eating. Sure, there are a lot of places that sells "authentic" pandesal but my memory of this sweet, inexpensive and filling bread is not quite the same as the one I remembered when I was a child. Don't get me wrong. The pandesal sold in North America (at least the ones I tried) are good-tasting bread but my palate is looking for the classic taste, the very simple taste without the added milk and eggs.
Months of research and testing and trying until I came up with this combination that worked for me and my family. My kids love it and my hubby told me that it tasted like the ones from the "neighborhood" bakery. Since my troop is happy, that ended my quest.
One of my main goals is to make the recipe as easy to recreate at home as possible. That's kinda the idea, for us to be able to enjoy homemade pandesal…. at home! Doesn't that sound great? I know everyone is busy but I hope you give it a try. Not only will you be eating freshly baked pandesal but the aroma of bread baking in the oven lingers for hours. That to me is a bonus.
Okay, don't be intimidated with bread making. It's a long process but most of it is resting time. Make sure you read the recipe first, the whole thing…don't skip. Then, measure all your ingredients and place them in individual bowls. And most importantly, have fun! At the end of the day, it's just flour 🙂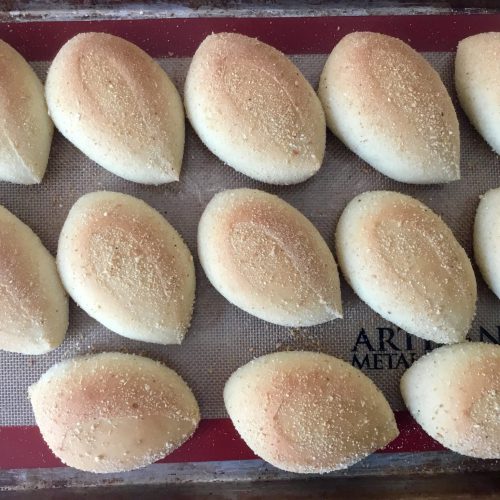 Easy HomeMade Pandesal
Pandesal is undeniably the national bread of the Philippines. It's a sweet bread that's soft in the inside and crunchy on the outside. The dough is rolled in dry breadcrumbs before it's baked creating a distinct crunch and aroma that's perfect with a cup of joe, tea, hot cocoa or whatever it is you feel like pairing it with.
Ingredients
1 1/2

cup

warm water

1

Tbsp

active dry yeast

1

Tbsp

light brown (or white) sugar

for proofing yeast

2

Tbsps

shortening (or canola oil)

1/2 – 3/4

cup

light brown (or white) sugar

firmly packed

1

tsp

salt

4

cups

all purpose flour

divided (plus up to 1 / 2 cup extra)

1

Tbsp

canola oil

for greasing the bowl
Instructions
In a big bowl or the bowl of an electric mixer (if using), combine warm water, 1 Tbsp brown sugar and yeast. Stir to combine and wait for the yeast to proof, about 5 minutes. You'll see bubbles forming.

Add the shortening, brown sugar, salt and HALF of the flour (2 cups). Using a paddle attachment, mix for less than a minute just to combine everything. If doing manually, use a wooden spoon to mix everything up. Mixture will look like a pancake batter.

Switch to the dough hook at speed no.2 (if using a mixer) and add the remaining 2 cups of flour. Knead for 5-10 minutes, adding the extra flour a tbsp at a time until no longer sticky. Without using a mixer, gradually add the rest of the flour kneading until dough is smooth and no longer sticky.

Dust the kitchen counter with a little flour and tip the dough over. Knead a little bit and form into a smooth ball. Placed in a greased bowl and rest the dough for an hour or until double in size.

Punch the dough and pour onto a clean kitchen counter. Divide in half and form one into a small rectangle (abt 5×7"). Roll into a log the size of an empty paper towel roll (tucking at every turn). Repeat with the other one.

Roll the logs in breadcrumbs, cover with a kitchen towel and let rest again for 15 minutes.

Cut at an angle about 1.5", sprinkle breadcrumbs on both cut sides and place on a cookie sheet at least an inch apart. Cover with plastic wrap or kitchen towel and let it rest again for 20 minutes.

Preheat oven to 300F and bake pandesal for 20-25 minutes depending on the size and your color preference. Mine took 20 minutes.

Best served hot with butter, cheese, peanut butter or by itself.
Notes
*** If using a standard mixer, do not go over speed no. 2 when kneading. That's the recommended speed by Kitchenaid when mixing bread dough.
*** Cool leftovers to room temperature and store in a sealed container or Ziploc bags. Pandesal freezes well.
***To reheat: Use the "Warm" setting on your oven toaster or you can warm in the conventional oven at 350F for 5 -8 minutes.
***You can replace shortening with canola oil and brown sugar for white if that's what you prefer. And you can add up to 1 / 4 cup more extra sugar if you like your Pandesal sweeter.