My kids love tofu, except the littlest one. It's one of our fridge staples and I cook it in a number of ways. Soft tofu is usually steamed in Ginger-Soy Sauce and the firm ones are added to Pancit, fried like in this Sauteed Bean Sprouts, cooked in Sweet-Chili Sauce and a lot more. It's just a versatile and healthy ingredient that can take the identity of the spices and flavors you add to it.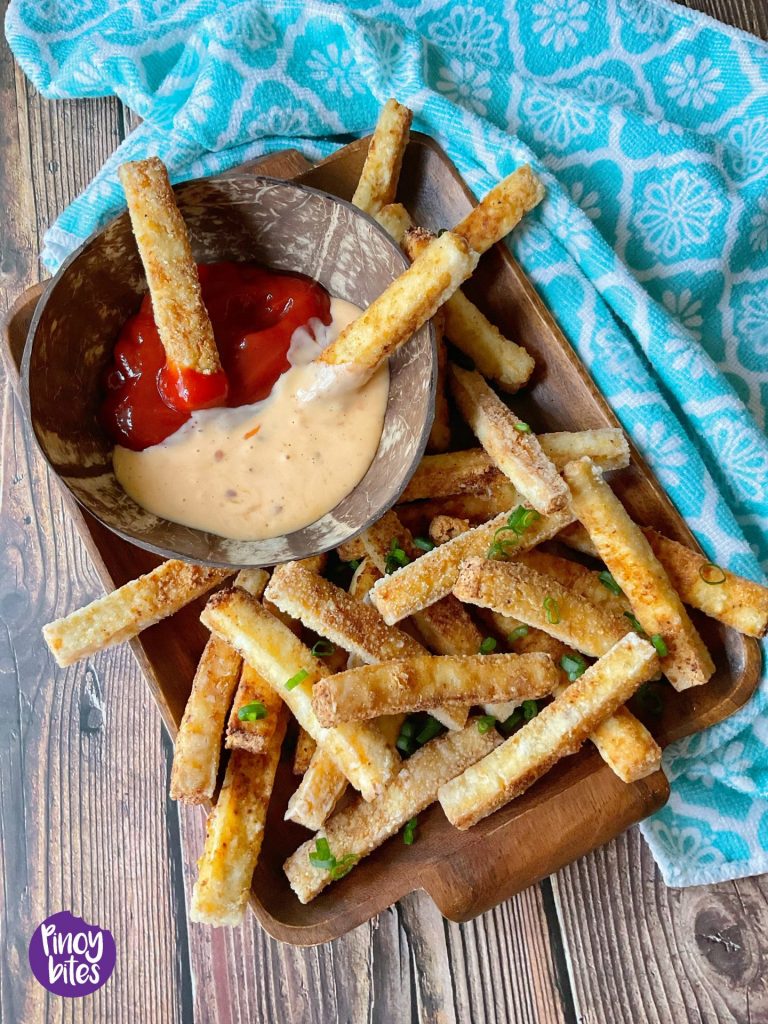 French fries is one of my family's favorite snacks. I buy it at Costco when on sale and stick the bag in the freezer until they ask for some. Since the pandemic started, every single trip outside the house is planned and going to the wholesale store was at a minimum. I thought of making fries with one of the tofu packages we have and I was happily surprised that they loved it! The kids knew it was tofu but still said it was really good and crisp. Dipping 'em in either ketchup or mayo (or a mixture of the two) made the experience complete. The only thing different about this "fries" is that we eat it with rice. We're Filipinos after all. Haha!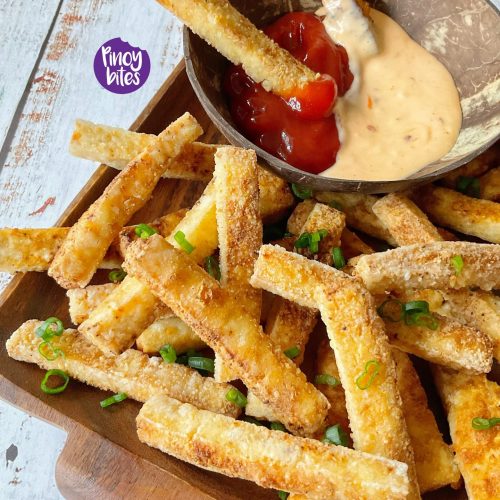 Crispy Tofu Fries
a healthy alternative to potato fries that tastes as good as it looks. My family loves it!
Ingredients
1

pack extra firm or firm tofu*

see Notes

½

teaspoon

fine sea salt

¼

teaspoon

ground black pepper

1

teaspoon

garlic powder

1

teaspoon

onion powder

¾

cup

cornstarch

for dredging

Oil

for frying (I used Canola)

Ketchup/Mayo

for dipping
Instructions
Place drained tofu block between sheets of paper towels. Press to release most of the liquid. Cut tofu into ¼ inch sticks (slice tofu crosswise into ¼ in thickness then slice again to resemble french fries). Lay sticks on layers of paper towels then add a couple more sheets on top and press to further release more liquid. Extra firm tofu has less liquid so use it if you can.

Combine salt, pepper, onion powder and garlic powder in a small bowl. Sprinkle half of the mixture evenly on the tofu. Gently flip the pieces and sprinkle the rest on the other side.

Heat about one inch of oil in a large frying pan, over medium to medium-high heat.

Place the cornstarch on a plate. Roll each tofu stick, being careful not to break it. Fry in hot oil until golden brown and crisp. Drain on a paper towel-lined strainer/rack. Draining the "fries" upright ensures its crispiness. Fry in batches to maintain the oil temperature.

Serve immediately with your choice of dipping sauce.
Notes
*Extra firm tofu is the best choice because it has the least amount of liquid. Firm tofu is what I sometimes use if I can't find the former. Just follow the draining instructions above.