Did you know that the oldest Chinatown in the world is the one in Binondo, Manila? I didn't know that. My family has been going there to eat and buy authentic Chinese ingredients for as long as I could remember. When I was little, Chinatown seemed like a labyrinth to me and I was so amazed how my parents passed through alleys and nameless streets that they called "shortcuts" to get to the place where they wanted to be.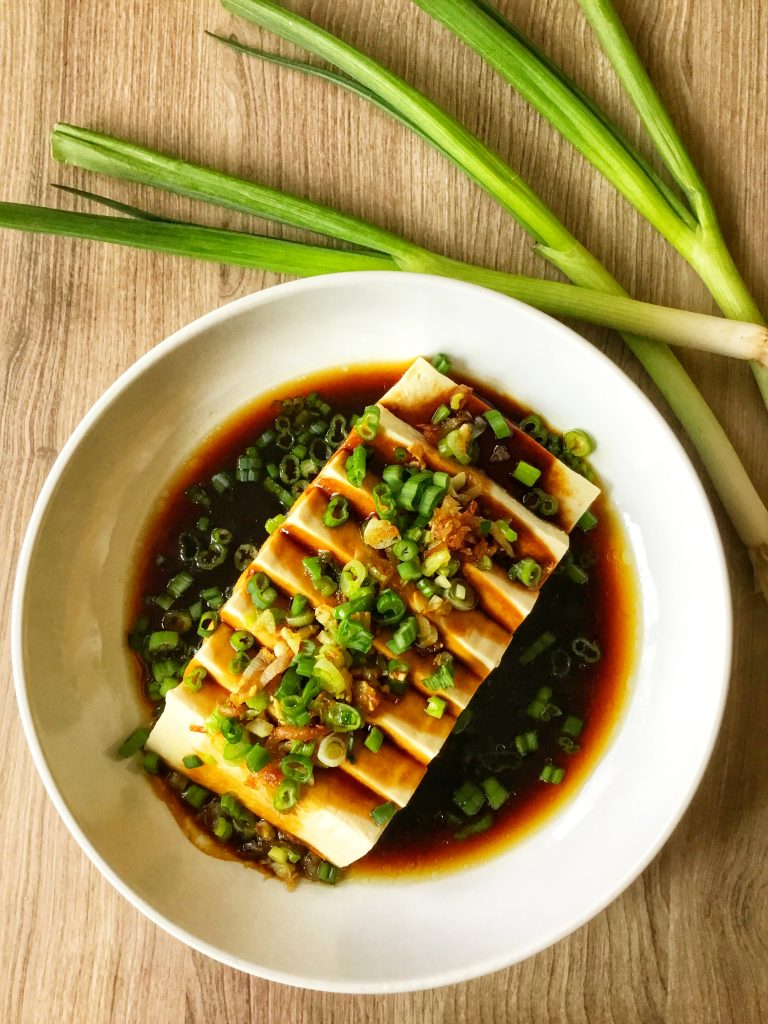 It seemed like an endless journey but I didn't complain one bit. I always knew that every trip there equates to some of my fave treats, mostly food that can only be bought there or just fresher directly from the source. There's the Ampaw (a sweet puffed rice snack), Kiamoy (salty dried plum), freshly-squeezed sugarcane juice, Hopia of course, preserved mango in big covered jars marinating in clear liquid and a whole lot more! But the main reason for going to Chinatown was to buy ingredients like Sibut which is a mix of Chinese herbs used in soups (which I'm not a fan of), fresh Chinese leafy greens, good-quality fruits and silken soft tofu.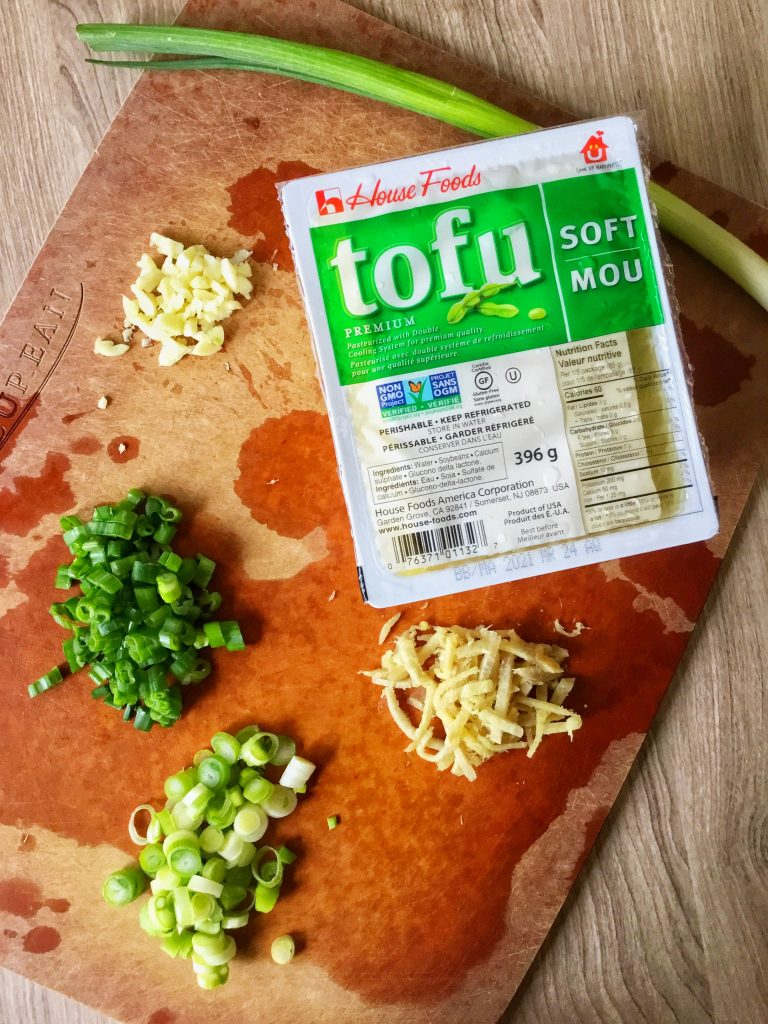 Soft Tofu is something that wasn't available everywhere before. At local markets, you can only find the small, square-shaped firm ones usually piled up in open food containers. My mom bought soft tofu in Binondo and cooked this dish with it. It's a very simple dish but oh so good! Think of it as a savory Taho. A flavorful sauce is warmed up with some oil and aromatics (like ginger) to give it a salty, savory taste with a hint of sweetness. What's even better is that you can also use this exact sauce to pour over steamed fish. Yum-o!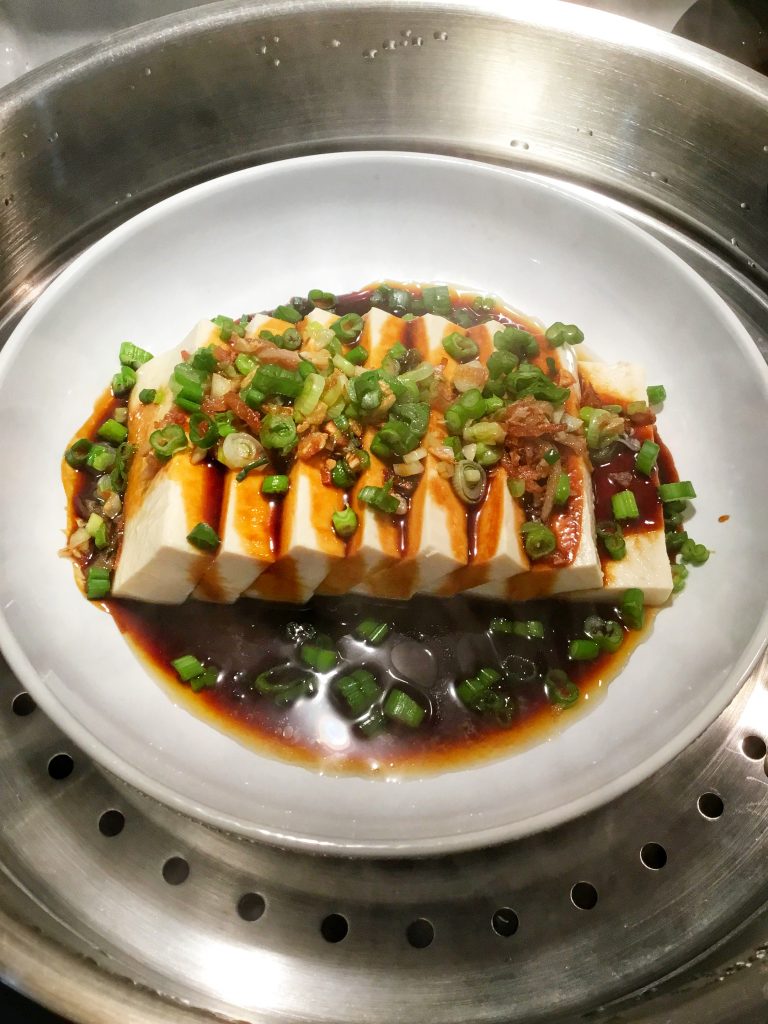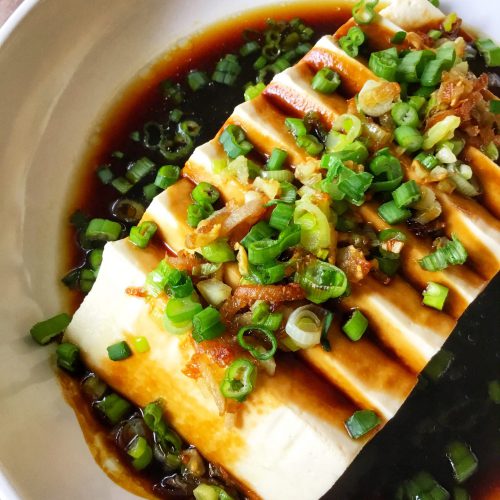 Steamed Tofu with Ginger-Soy Sauce
This quick and easy steamed tofu dish is a delightful meatless choice when you want something light and healthy.
Ingredients
1

pack soft tofu

see picture on top

2

tablespoons

canola oil

1

tablespoon

ginger

sliced into thin strips

1

clove

garlic

finely minced

1

green onion

thinly sliced (green part separated)
Sauce:
1

tablespoon

soy sauce

1

tablespoon

dark soy sauce

1

tablespoon

oyster sauce

2

teaspoons

sugar

1

tablespoon

sesame oil
Instructions
Prepare the steamer. Place the drained tofu on a heatproof dish (I used a ceramic bowl) big enough to fit the tofu and its sauce. Slice into thinner slices, about ½ inch thickness. Gently tilt the bowl to remove the liquid from the tofu. Place the bowl over the steamer and steam using medium heat for 7-8 minutes.

Combine the ingredients for the sauce in a small bowl. Set aside.

Heat the oil in a small frying pan. Add the ginger and cook until it's starting to brown. Add the garlic and the white parts of the green onion. Stir fry for a minute. Then, mix in the prepared sauce. Switch heat to the lowest setting to keep the sauce hot while you take out the tofu out of the steamer.

Remove the tofu from the steamer and carefully discard the liquid that's released while steaming.

Quickly pour the sauce evenly over the steamed tofu and serve while hot.
Notes
*You can also steam the tofu whole (without cutting). Just steam longer, about 15 minutes.