We only buy shrimps once in a while because aside from me, only my hubby likes it. My kids are not a fan and the littlest one even considers it a bug. Haha! So, whenever we "indulge" in the cholesterol that comes with it (especially when it's head-on), we go all out! What I mean by that is I cook the shrimps in ways that we fully enjoy the experience.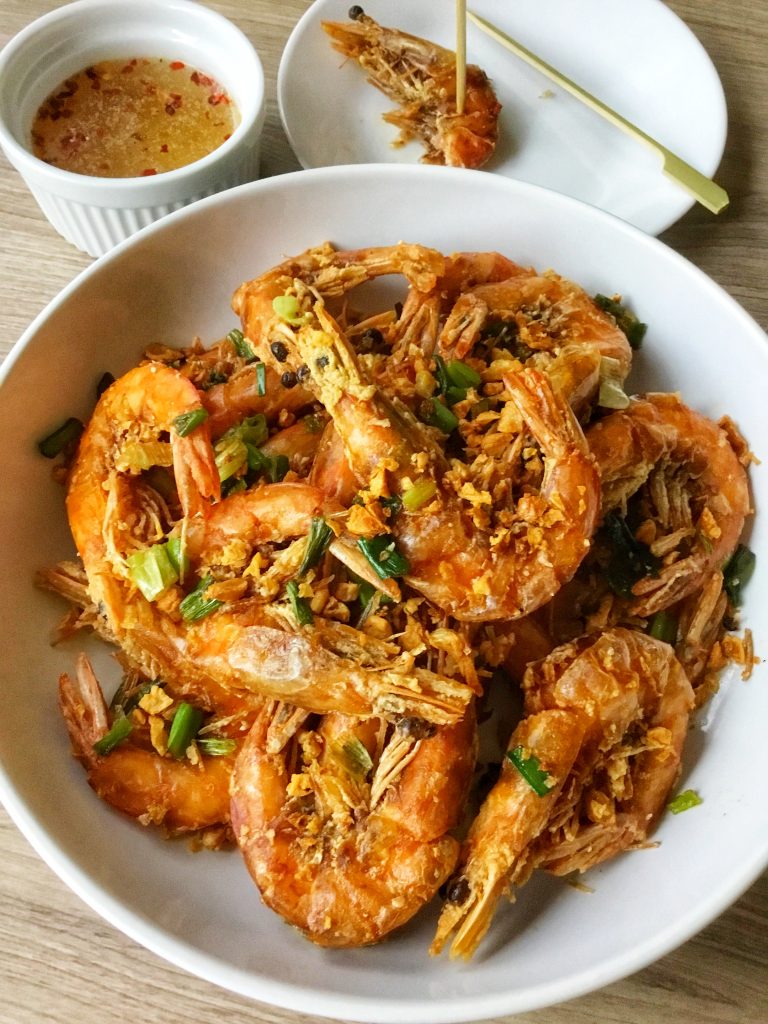 This recipe is a perfect example of what I was talking about. The shrimps are cooked until crisp, making every single bite edible. Doused with spiced vinegar, you can't go wrong whether you eat it with rice or just munch on its own as an appetizer. You can even have it alongside an ice cold beer, if that's what you fancy pairing it with. Bottom line is, it's sooo good!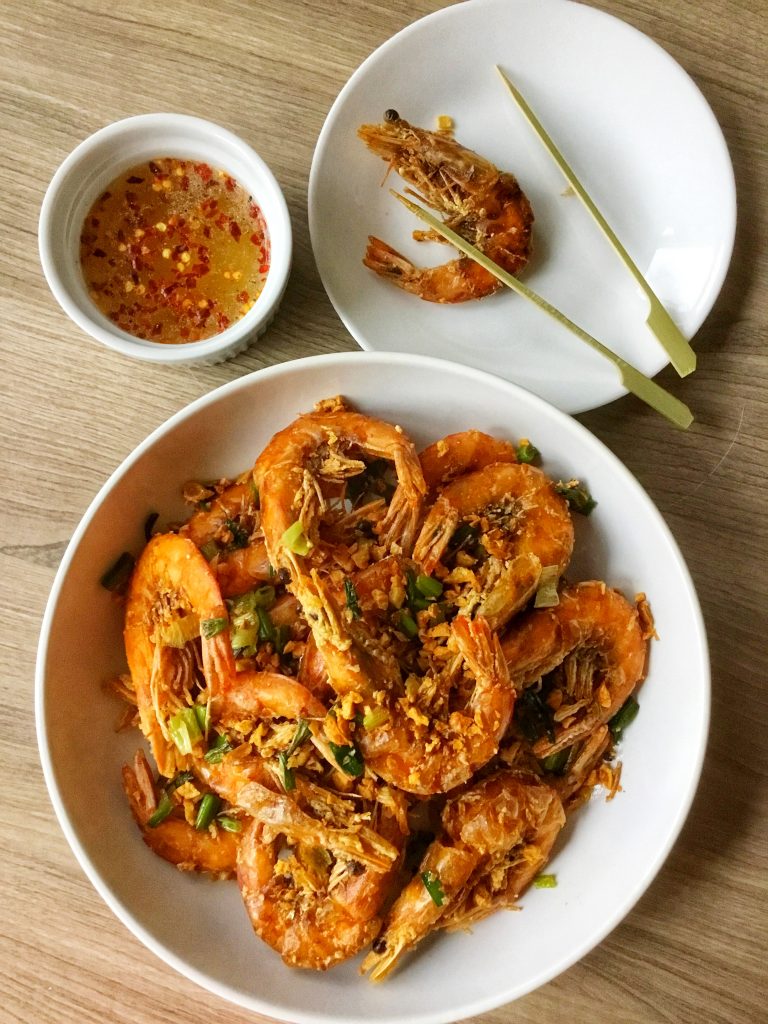 Once all the ingredients are ready, it takes no time to cook it. It's one of those recipes where the preparation time is a tad longer than actually cooking the dish. It's finished off with some crunchy garlic bits and thinly sliced green onions. Need I say more?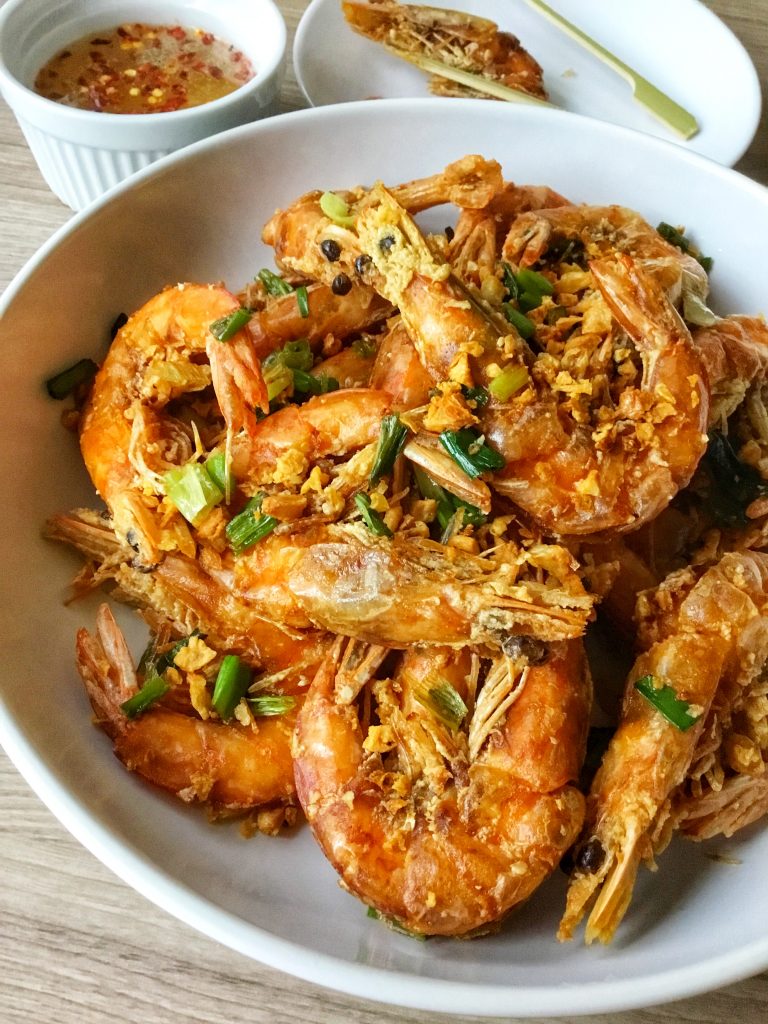 Let's make it!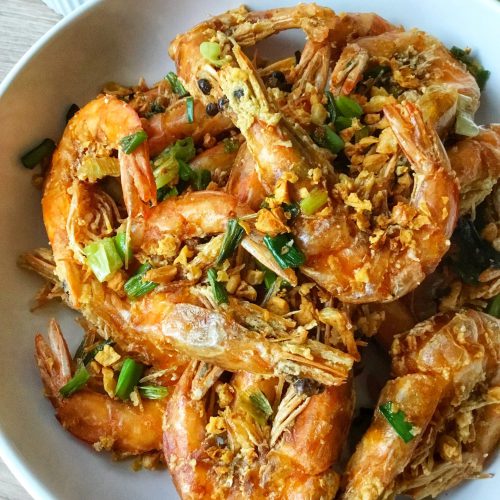 Crispy Garlic Shrimp
This savory dish is packed full of flavor! Dunk it in some spiced vinegar and munch every single part away…all edible!
Ingredients
1

lb

large head-on shrimps

cleaned,deveined, shells intact

¼

cup

cornstarch

½

teaspoon

salt

½

teaspoon

ground black pepper

1

cup

oil

for frying

5-6

cloves

of garlic

finely chopped

2

green onions

thinly sliced
Spiced Vinegar Dip:
½

cup

vinegar

2

garlic cloves

finely chopped

1

red chili

chopped or ½ teaspoon chili flakes

Pinch

of salt

Ground black pepper
Instructions
Wash and drain shrimps in paper towels. Using kitchen shears, remove the pointy part between the eyes followed by trimming the claws and legs underneath. Place the tip of the shears in the opening on top of the shrimp, between the head and its body. Snip to expose the veins and discard (veins). (see step-by-step picture below)

Heat oil in a large, shallow frying pan.

Meanwhile, sprinkle salt and pepper on the deveined shrimps then dredge with cornstarch. Fry in batches until crispy (about 30-40 seconds per side). Drain on paper towels and repeat until all the shrimps are fried, Do not crowd the pan to maintain the oil temperature.

In another pan (preferably a wok), add 2 tablespoons of oil and the chopped garlic. Turn the heat on medium and cook until the garlic turns light golden and crispy. Push the garlic to the side of the pan. Be careful not to burn the garlic. Add the green onions and stir fry for 10 seconds. Lastly, add the fried shrimps, fried garlic and toss for 30 seconds to a minute to let the flavors combine. Turn the heat off and serve with a spiced vinegar dip.
Notes
*Shrimp sizes vary. I used size 20-30 (pieces in a pound). You can use headless shrimps if you prefer.