We (Filipinos) love our salad a little on the sweeter side… sometimes a lot. Haha! Aside from that, we also like it creamier than usual (I'm sometimes guilty of that). In the past, whenever I searched for a macaroni salad recipe, the word "creamy" had to be included, otherwise I won't even consider reading it. Now that I have my own family, I make a lot of the usual recipes according to our taste. Not too creamy nor too sweet but "just right"…like how Goldilocks want it.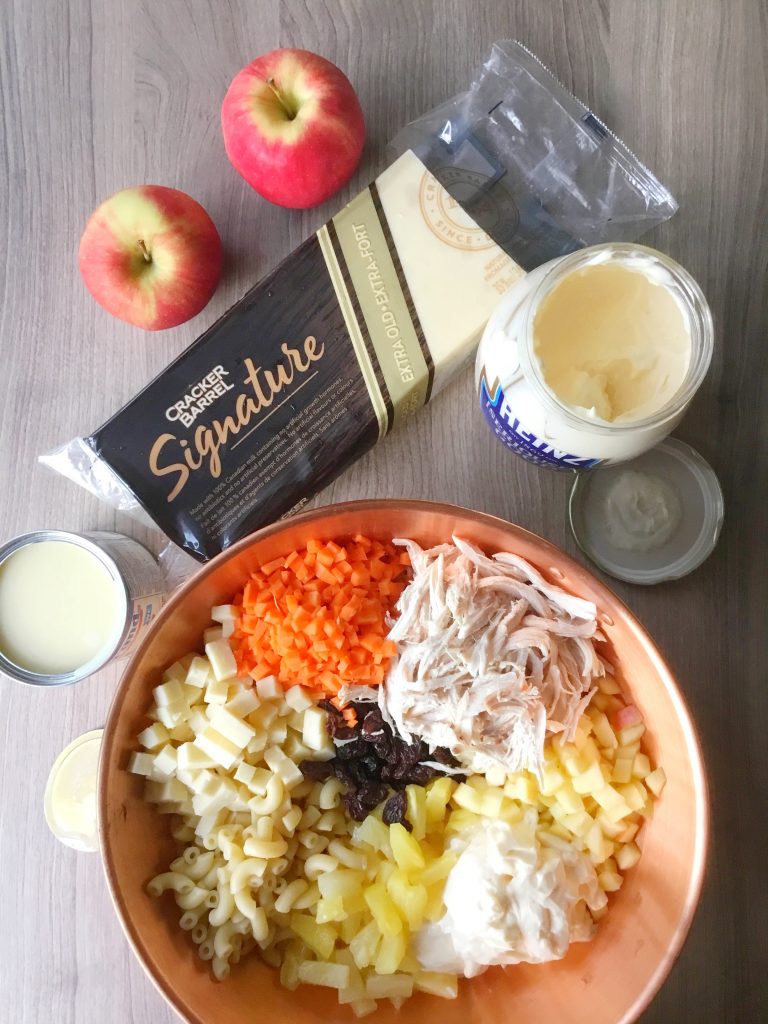 Chicken Macaroni is one of the salads that's always present during special occasions. We eat it by itself as a merienda (snack) or as part of a big spread of food during parties. It's particularly good with fried or roasted meat.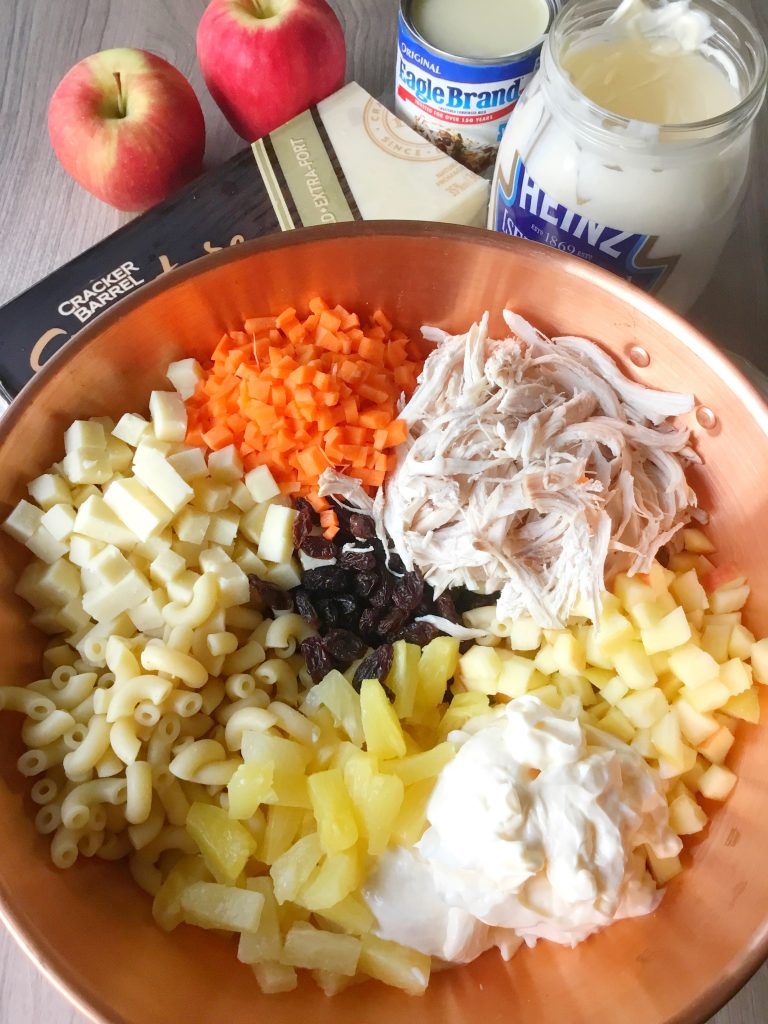 Whether you like it on the sweeter, creamier or tart side, it all depends on you. The ingredients are all listed and like I said earlier, we like it "just right". Go ahead and add more pickles if you want it tart, more mayonnaise if you prefer it creamier or more condensed milk for a sweeter salad. The choice is yours! But if you want it with just the right amount of creaminess, tartness and sweetness, I suggest you make this recipe as is. Enjoy!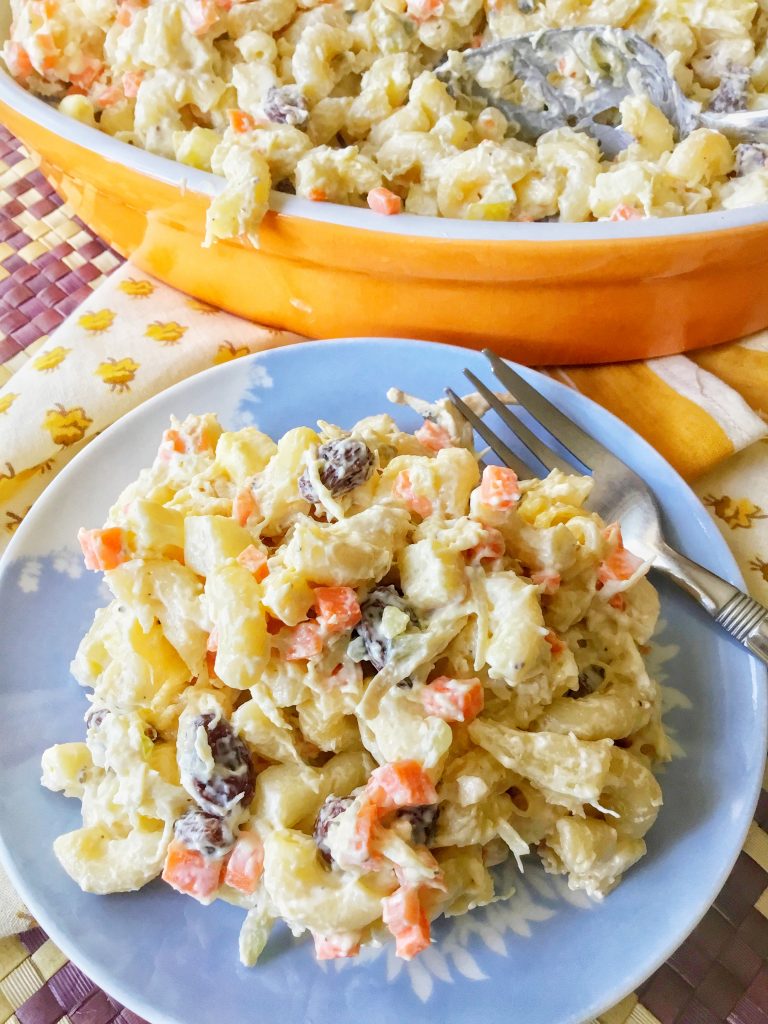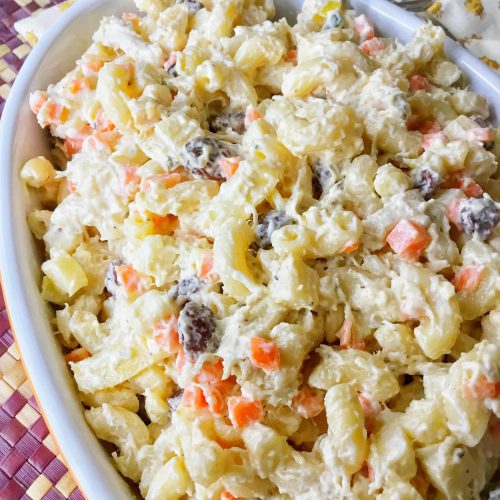 Chicken Macaroni Salad (Filipino-Style)
A rich salad that has a hint of tartness, sweetness and creaminess that pairs well with savory dishes or as an anytime snack by itself.
Ingredients
1 ½

cups

dry uncooked macaroni pasta

I used Barilla

1

small can pineapple tidbits

well drained

½

cup

cheddar cheese

cut in small cubes (I used extra old cheddar)

1

carrot

finely diced

2

pcs chicken breasts

cooked and flaked

1

apple

cut in small cubes

½

cup

raisins

1 ¼ – 1 ½

cups

mayo

use 1 ½ cups if you want it creamier

3

tablespoons

sweet pickle relish

¼

teaspoon

freshly ground black pepper

¼

cup

condensed milk**
Instructions
To cook chicken breast : Place chicken in a pot and add enough water to cover it by half an inch (over the chicken). Add 1 teaspoon salt and 1 small onion (halved) and ½ teaspoon whole peppercorns. Bring to a boil then simmer on low for 30 minutes (if chicken is bone-in). Simmer for about 15 minutes if using boneless chicken. Remove the scum that rises to the top while it's coming up to a boil. Make sure chicken is cooked through. Remove the chicken from the liquid then flake using 2 forks. Set aside to cool. (Reserve chicken broth for another use)

Cook the pasta according to package direction. Add a teaspoon of salt to the cooking liquid. Drain and give it a quick rinse to stop the cooking. Transfer to a big bowl to completely cool.

Once cool, add the rest of the ingredients including the flaked chicken then gently (but thoroughly) mix to combine. It may look runny at first but once it's refrigerated, the pasta will absorb most of the liquid. Transfer to a container with a tight-fitting lid (or cover tightly with plastic wrap). Refrigerate for at least 4 hours before serving. I find it best to serve the next day so the flavors are well absorbed by the pasta. Serve cold.
Notes
*Make sure that the flaked chicken and pasta are completely cool before mixing with the other ingredients. **You can omit the condensed milk if you don't want any hint of sweetness but I suggest you add it to the salad to balance the tartness from the pickles. After refrigeration, the sweetness will significantly mellow.