Chicken Afritada is probably one of the most common Filipino ways of cooking chicken. It's a tomato-rich braised dish that uses a lot of fresh tomatoes, which ends up in an almost gravy-like sauce. Bone-in chicken is a must as it helps in developing the sauce, together with the vegetables common to this type of dish – potatoes, carrots and bell pepper. Put them all together and they work in perfect harmony.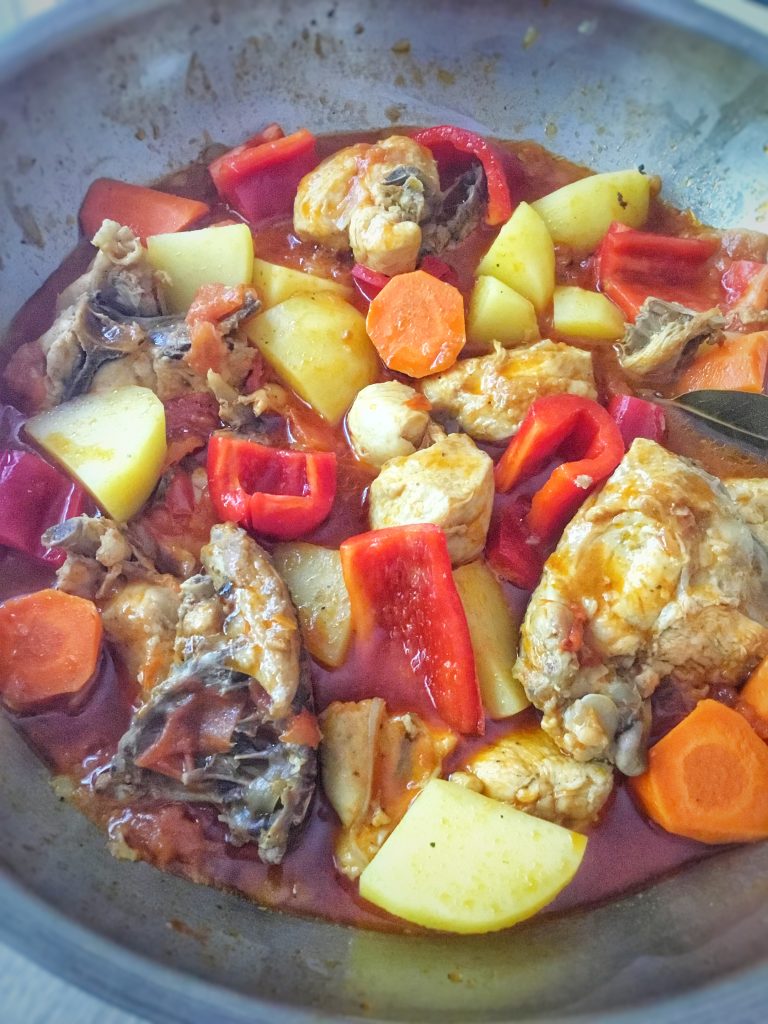 I'm partial to this way of cooking not only because it tastes great but these are the kinds of ingredients that keep very well. Even in wintertime when it's not fun to go food shopping, I can keep these root veggies longer without fear of spoilage. In the case of the fresh tomatoes, I always freeze a few pounds to last us in the colder months but you can always just use fewer fresh ones and add more tomato paste.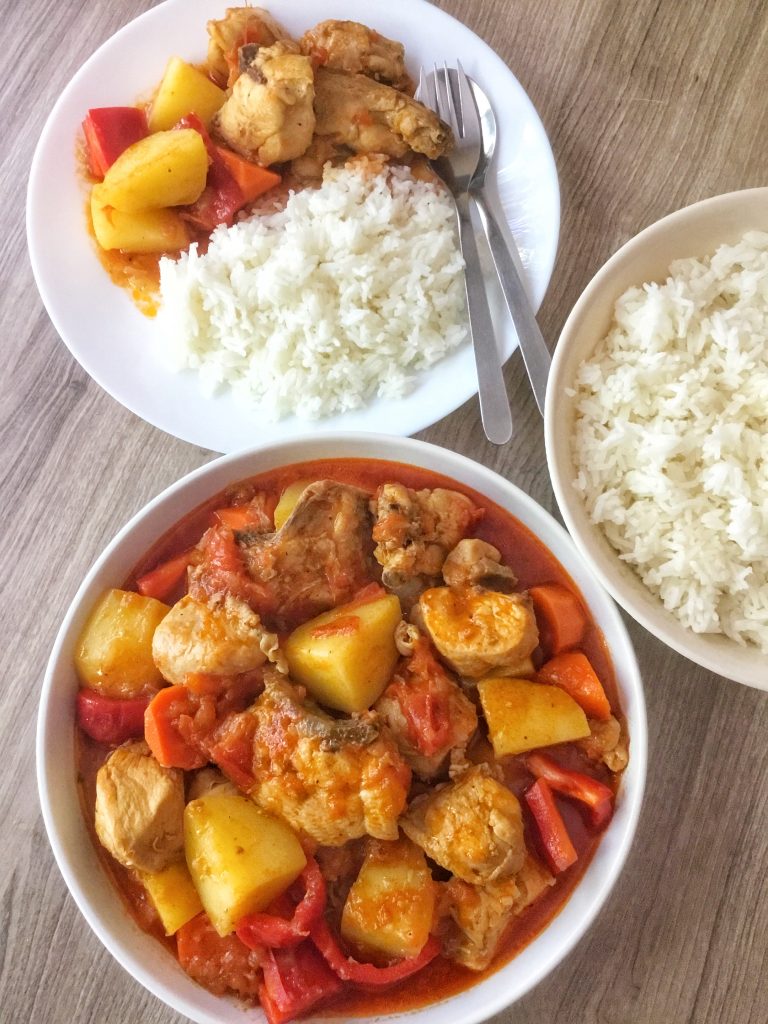 This may seem like a bunch of ingredients but it's actually a very easy recipe. Once you get the gist, making similar dishes like Menudo and Mechado will seem like a walk in the park. Common ingredients, simple recipe and kid-approved taste….need I say more?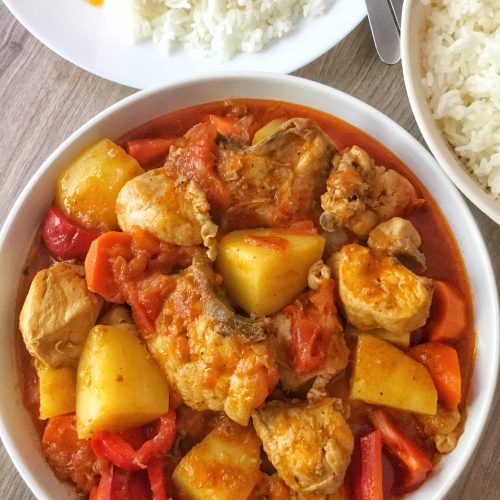 Chicken Afritada
A classic Filipino braised chicken dish with heaps of fresh tomatoes, creating a thick, luscious sauce that pairs well with steaming hot rice.
Ingredients
2

lbs

bone-in chicken breast

cut into 3-4 pcs (or legs and thighs)

2

tablespoons

canola oil

1

small onion

chopped

3

garlic cloves

finely chopped

6-8 to

matoes

cut into small cubes

2

bay leaves

2

tablespoons

tomato paste

1 ½

cups

water

2

yukon gold potatoes

quartered

1

carrot

cut into chunks

1

bell pepper

cut into cubes

Patis or salt

seasoning

Ground black pepper

seasoning
Instructions
Heat a large pot/wok over medium-high heat. Drizzle the oil and add the onions. Saute until softened then in goes the chopped garlic. Stir for about 5 seconds then push the vegetables to one side of the pot.

Place the chicken pieces (preferably in a single layer) and season with patis/salt and ground black pepper. Let the underside brown a little bit (without stirring), about 2-3 minutes. Flip the chicken then add in the tomatoes, bay leaves and tomato paste. Cook for a minute without stirring, to give a little color on the other side.

Add water and stir well to combine. Cover, bring to a boil then simmer on low heat for 20-25 minutes. Taste and adjust seasoning.

Put the potatoes and carrots in. Make sure most of the vegetables are submerged in the liquid to absorb flavor. Cook on medium-low heat until potatoes are tender, about 8-10minutes.

Lastly, add the bell peppers. Turn the heat off and let the residual heat cook the peppers slightly. If you prefer a thicker sauce, just cook the extra sauce off by increasing the heat in the last 2 minutes.