We love tikoy! It's the first food that comes to mind when we think of Chinese New Year. We had this habitual trip to Binondo weeks prior to the Lunar New Year to get our hands on this well-loved delicacy. My parents would always buy tons of the white-colored ones, mostly to share with families and friends. Almost always, we end up getting the same amount or even more than what we originally bought because other Filipino-Chinese (fam and friends) would do the same thing. But no one's complaining. Tikoy keeps well so we just enjoyed it longer than expected.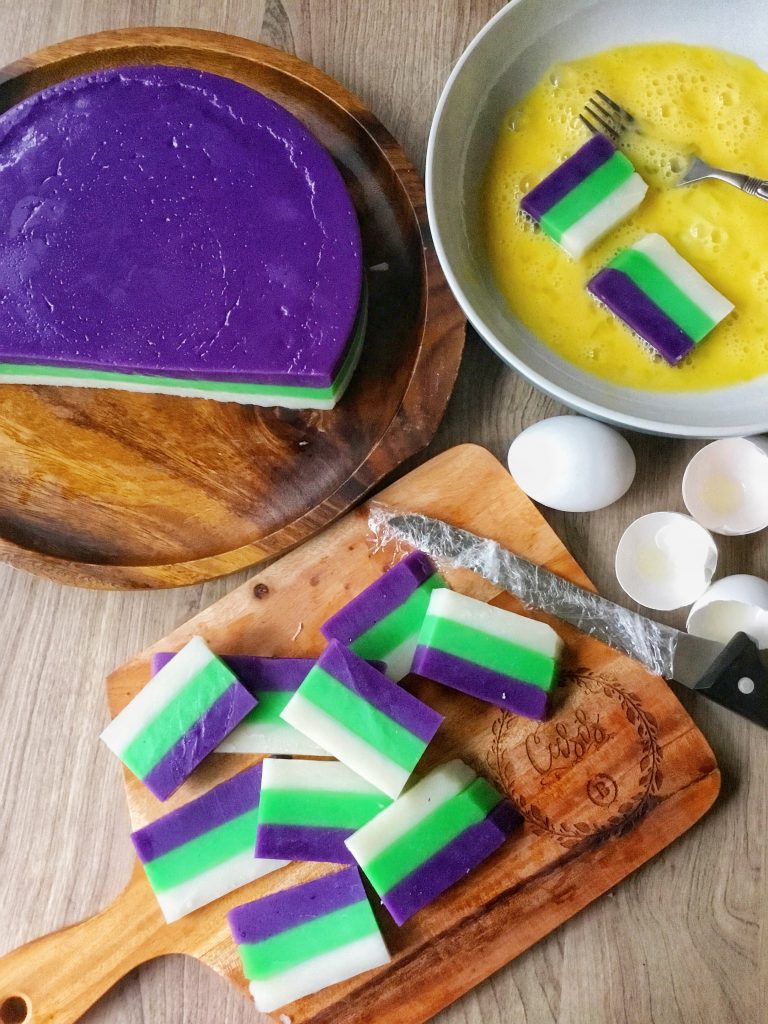 Nowadays, there are a whole lot of tikoy flavors available in the Philippines. Choosing which ones to buy became a dilemma the last time I was there. I wanted to try them all but I also didn't want to end up with a lot of half-eaten tikoy. Picking 3 flavors was my usual default when I'm overwhelmed with choices.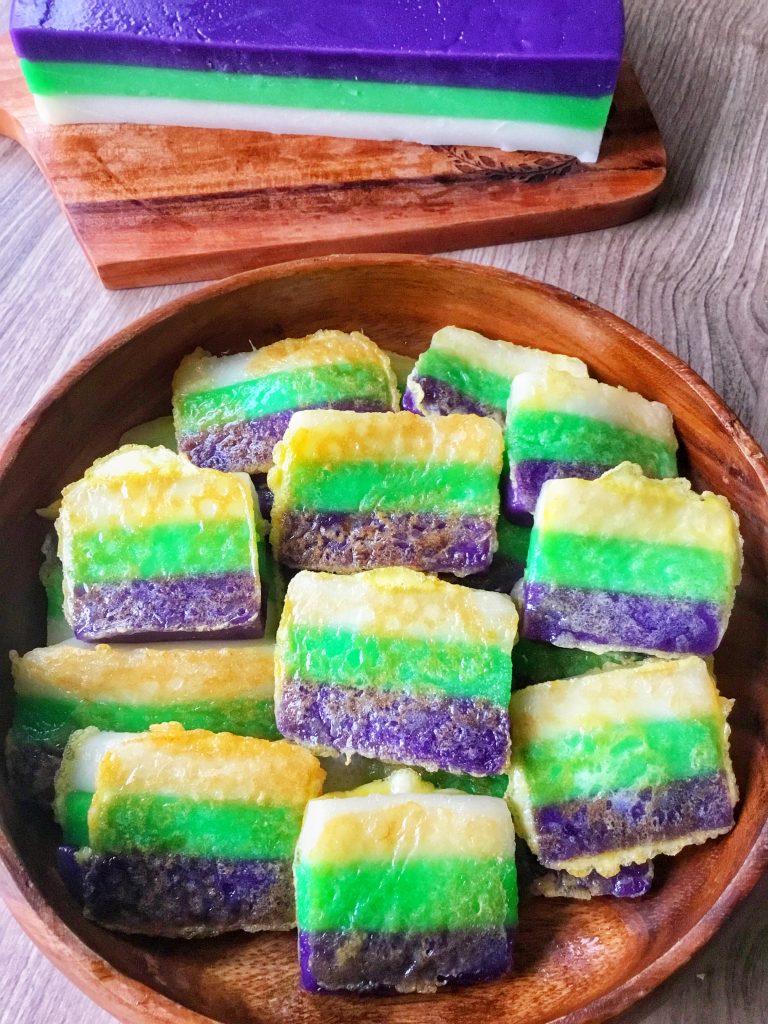 When I started making at home a few years ago, I would always make 2 or 3 disks of different ones because my family's preference differs. My moments of impatience strike sometimes and steaming a few rounds of tikoy took like forever. So, I tried layering the flavors like "Sapin-Sapin" to save me some time and it was a hit with my kids (who don't usually agree on colors and flavors)!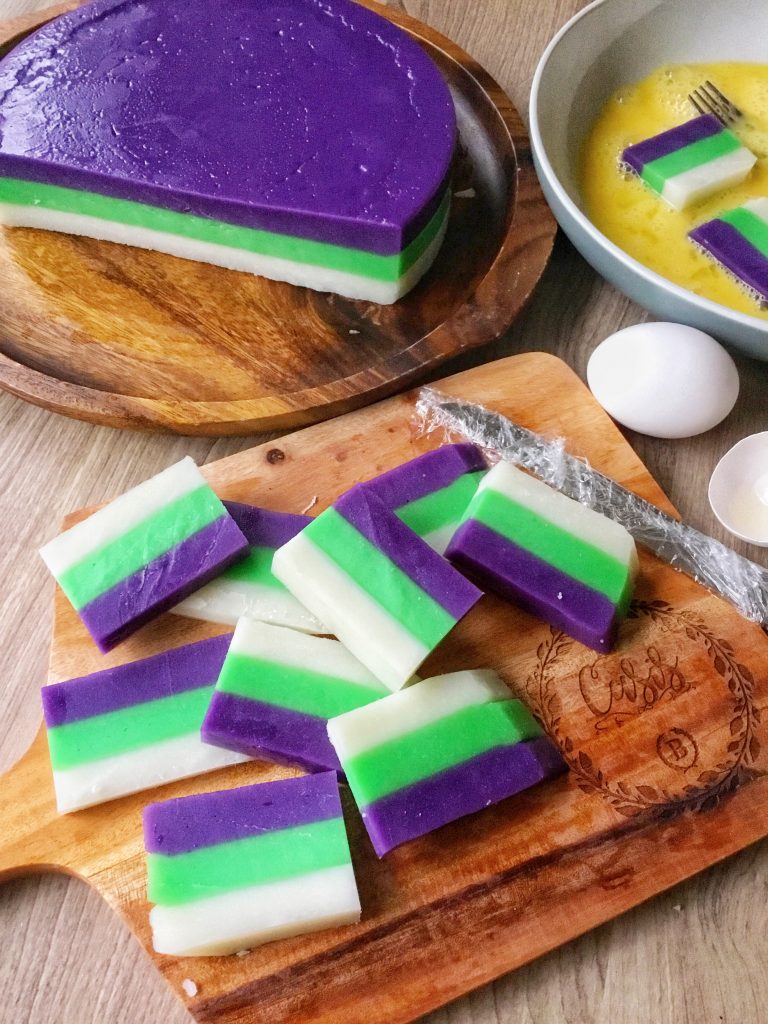 Try it and if you like tikoy, you'll definitely like this one! You can even experiment on the flavors and colors that you want.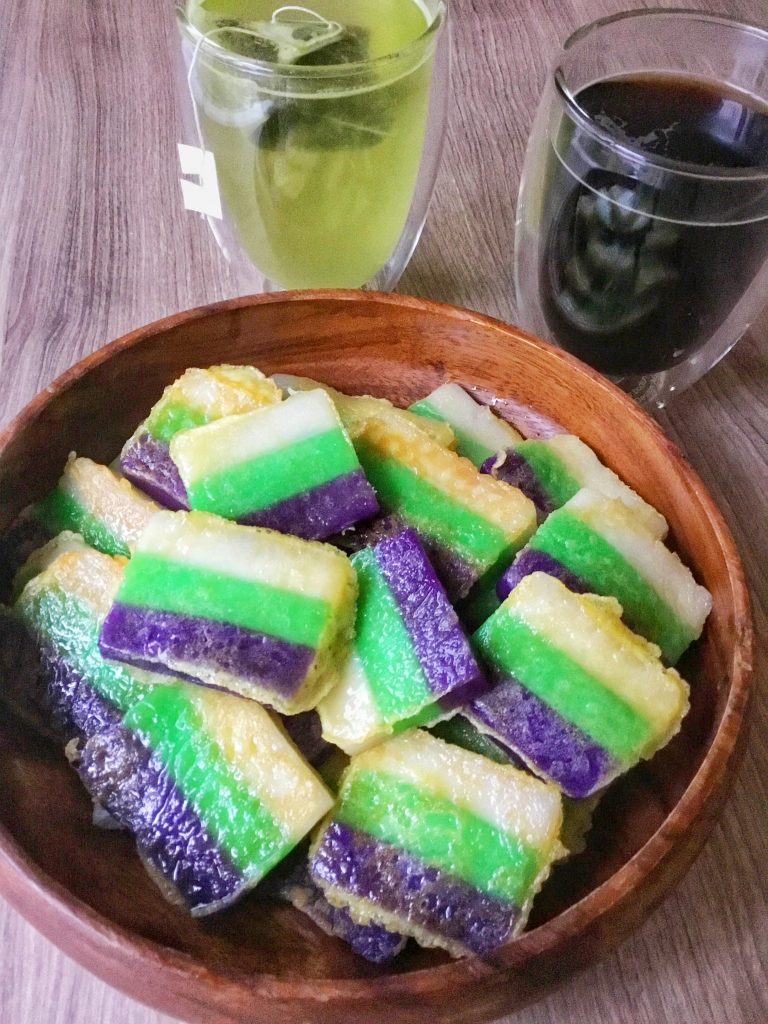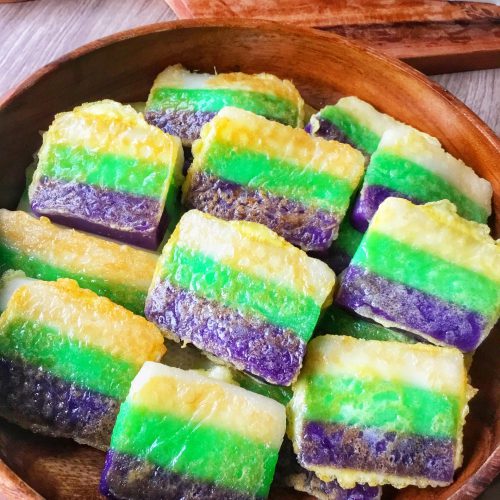 Layered Tikoy (Sweet Rice Cake/Nian Gao)
This "Sapin-Sapin" style Tikoy is the perfect solution when you can't decide which flavor you prefer. A perfect gift for Chinese New Year or an anytime dessert with tea.
Ingredients
600

grams

or 1 ½ packs Glutinous rice flour*

see notes

1 ½

cups

white sugar

2 ¾

cups

Water

1

teaspoon

Ube flavor

I used McCormick**

½

teaspoon

Pandan flavor

I used pandan paste**

2

beaten eggs

for coating Tikoy before frying

Canola oil

for frying Tikoy
Instructions
In a large bowl, combine glutinous rice flour and sugar. Mix, then add in the water. Stir with a wire whisk until smooth (no lumps). Divide equally into 3 bowls (each containing about 450ml). Add ube flavor in one bowl, pandan flavoring in the other and leave the last bowl plain (white).

Prepare the steamer. Liberally brush an 8×3 inch round cake pan (or similar pan) with oil. Pour the Ube flavor (purple) and steam for 20 minutes or until set. Next, gently pour in the Pandan flavor (green) and steam like the first. Lastly, pour the white layer and steam for 25 minutes. Remove the lid, let cool in the pan, unmold then wrap in cling film. Refrigerate overnight or until very firm (for easier slicing).

Add oil just enough to cover the bottom of a non-stick frying pan. Slice tikoy thinly and dip in beaten egg. Fry on low to med-low for about 2 minutes on each side or until tikoy is soft and has a nice crunchy light golden egg coating.
Notes
*Glutinous rice flour usually comes in 400g packs.
**Adjust flavoring depending on the brand used and color desired
***Try different flavor combinations. The possibilities are endless!
****Wrap the knife you're using to slice the tikoy in plastic wrap. It makes it easier and creates clean slices.