I must admit that I often cook Adobo when I have lots of things going on and there's not much time to think "creatively" as dinnertime approaches. What I love about it is, everything happens in one pot and no "babysitting" is required. But there are times when my family gets tired of the usual adobo so I try to change it up a bit. That's how this dish came about.
My kids love Fried Chicken! Bone-in is how I usually cook it. It's juicier because the bones help keep the moisture in. The downside of having it this way is the cooking time involved. It takes way longer to cook it compared to boneless meat.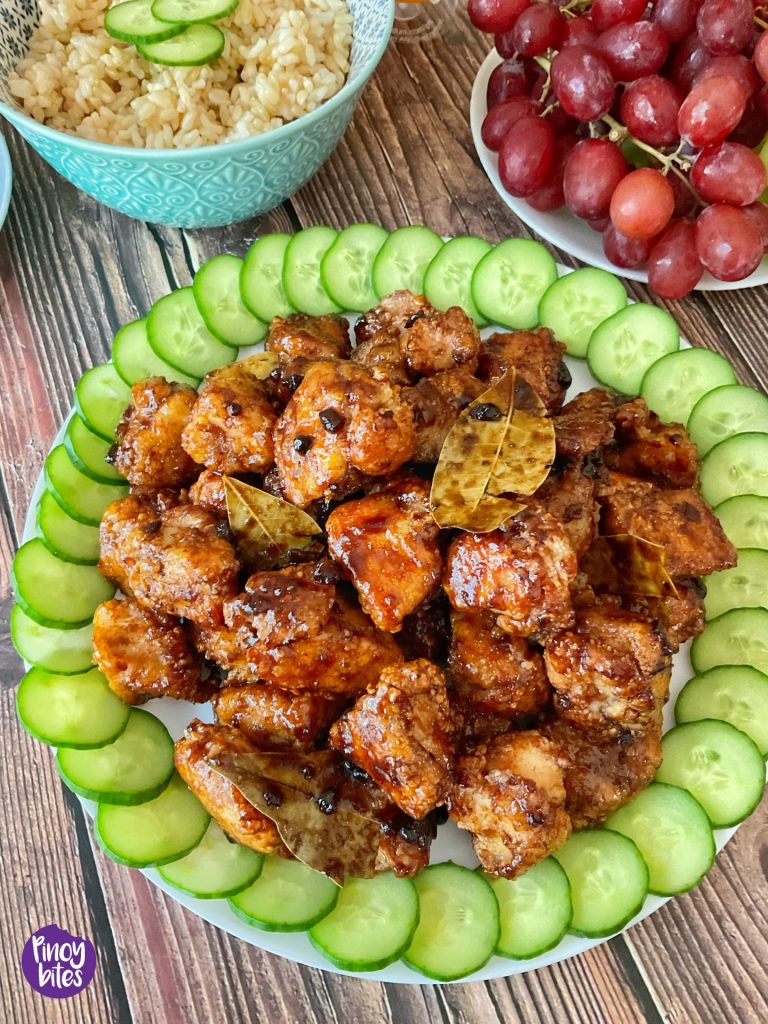 This recipe is a compromise of some sort. I used boneless skin-on chicken (thigh or breast) that I double fried then tossed those crispy morsels in the slightly thickened adobo sauce. The result is a mixture of sweet, salty, sour, garlicky goodness…while keeping the meat crispy in every single bite. What's not to love?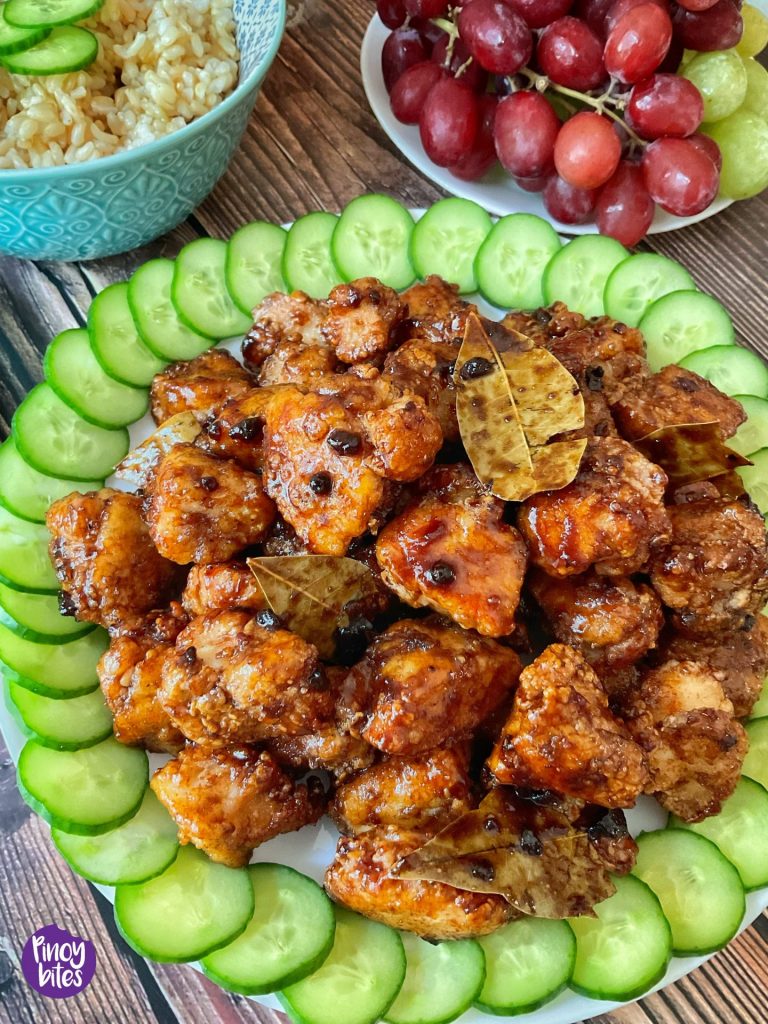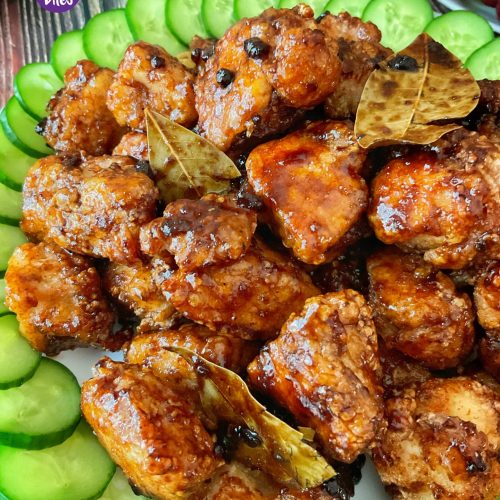 Adobo-Glazed Crispy Chicken
a fun and appetizing version of our well-loved adobo that'll surely please your picky eaters. Serve it as an appetizer or like just how we always roll…with bowl/s of hot steamed rice! Enjoy!
Ingredients
1

lb

boneless

skin-on chicken thigh or breast, cut into 1 inch cubes

½

teaspoon

garlic powder

½

teaspoon

onion powder

¼

salt

¼

teaspoon

ground black pepper

½

cup

cornstarch

for dredging

Canola oil

for frying
For The Adobo Glaze:
1

tablespoon

oil

¼

cup

honey

¼

cup

soy sauce

¼

cup

vinegar

½

teaspoon

garlic powder

4

bay leaves

halved if too big

½

teaspoon

whole peppercorns

3

garlic cloves

chopped
Instructions
In a small bowl, combine all the glaze ingredients (except the chopped garlic)  and mix until the honey is well incorporated. Set aside.

Place the chicken, garlic and onion powder, salt and pepper in a large bowl. Mix very well. Add the cornstarch in another bowl and dredge each chicken piece completely. Place on the plate. Repeat until all the meat isg coated.

Heat about 1 inch of oil in a large frying pan. Once hot (use medium heat), fry the chicken for 5 minutes (turning halfway). Drain on a strainer/wire rack to remove excess oil. This is the first fry.

Remove any crumbs that have settled in the oil with a fine sieve/frying skimmer. Increase the heat to medium-high.

Fry the chicken again (all at once) in the hot oil for 2 minutes or just until the meat pieces are golden and crunchy. Do not cook them for too long or the meat will be tough. Transfer to a wire rack/colander.

Remove all the oil except for one tablespoon. Fry the garlic until light golden then pour in the previously prepared sauce. Cook for 1 ½ to 2 minutes or just when the sauce starts to thicken.

Add the double fried chicken back to the pot and quickly toss (use 2 wooden spoons for easier tossing) until all the pieces are completely coated with the glaze. Serve and enjoy!