It's officially summer and in no time, it will really be hot. We always look for ways to beat the heat and for my family, ice candy is one of them.
I have loved avocado since I was a kid. It was abundant in the province (Ilocos Norte) and at this time of year, there's so much avocado going around that we used to run out of ways to use them. Most of the time, it was just given away to family and friends so they won't go to waste.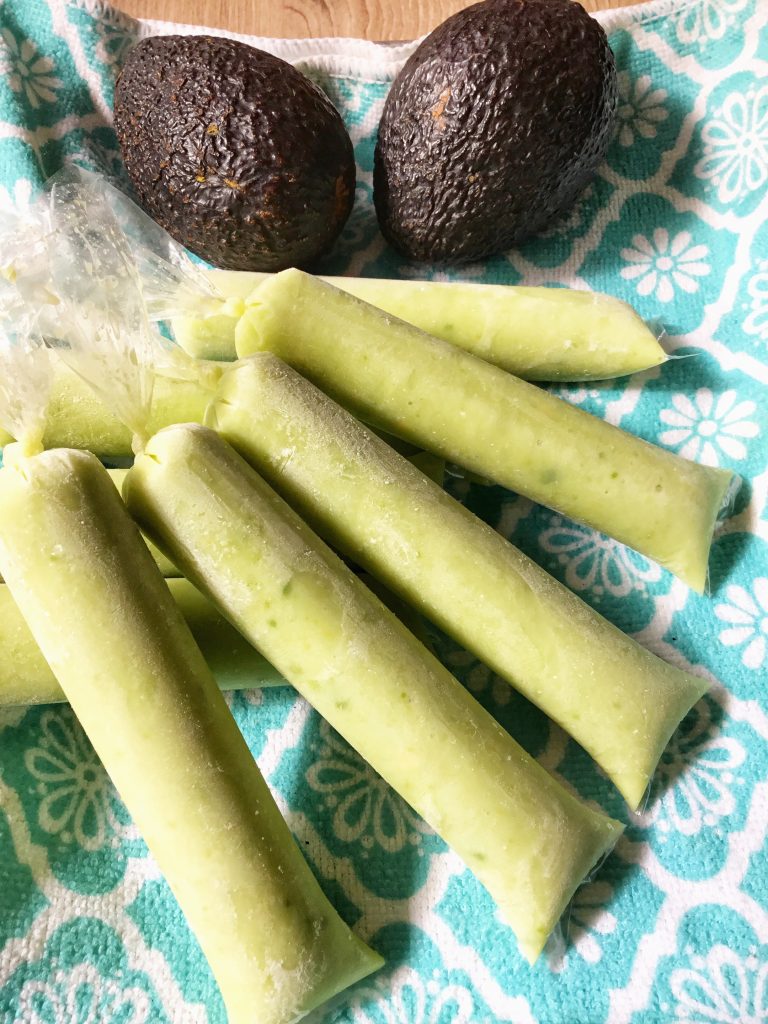 Back then, I only ate avocados as dessert – either sprinkled with sugar or doused with milk (condensed or evaporated). Little did I know that in other parts of the world, it's used in a lot of savory dishes. I remember when I was still working as a cake decorator in Toronto, one of my Filipina friends brought dessert in a small container which were small chunks of avocado with a lot of condensed milk. Another coworker noticed and she was so surprised how it was prepared. She never thought avocados can be eaten as a dessert.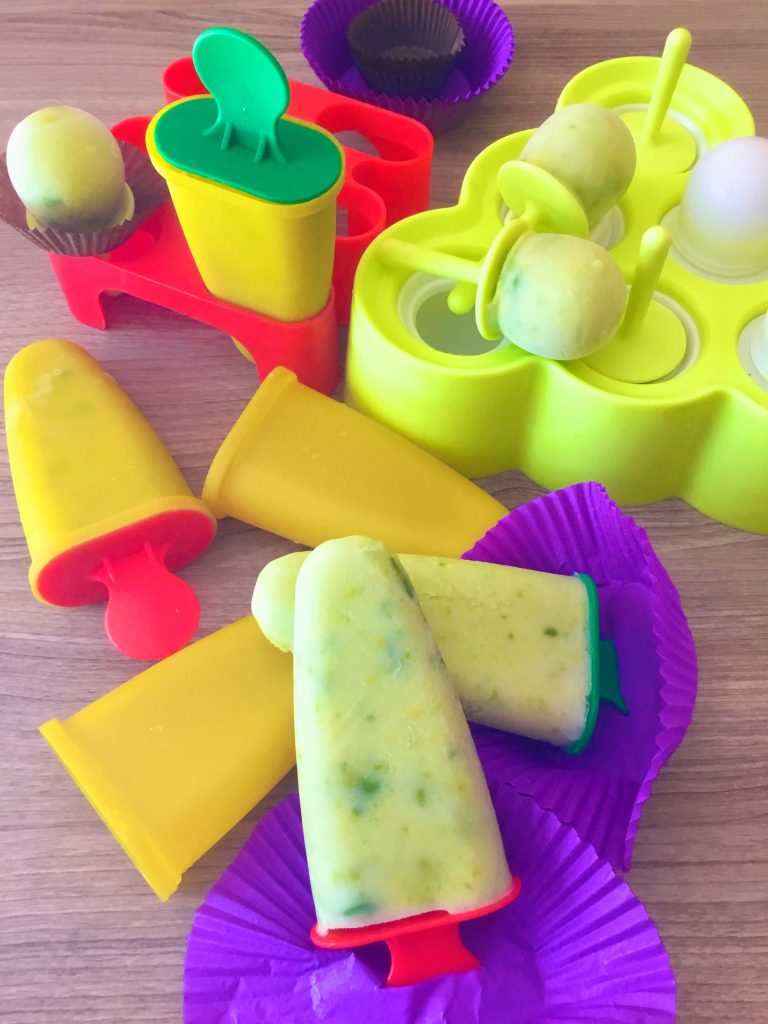 My kids don't like avocados. They wouldn't touch it even after telling them the tons of health benefits they can get from this fruit. The texture is what puts them off. So, I tried putting it in ice candy and let them try it. Surprisingly, they loved it so much that each of them had 2 in one sitting and was even asking for more the next day.
The secret ingredient that makes this recipe very smooth is the instant pudding mix. I just tried experimenting when I had some leftover pudding mix from making cookies. And coincidentally, we just picked some strawberries from the local farm the day before so we had tons of juicy, local strawberries. I made Strawberry Ice Candy and it was sooo good! From then on, this became the base whenever I made this icy treat.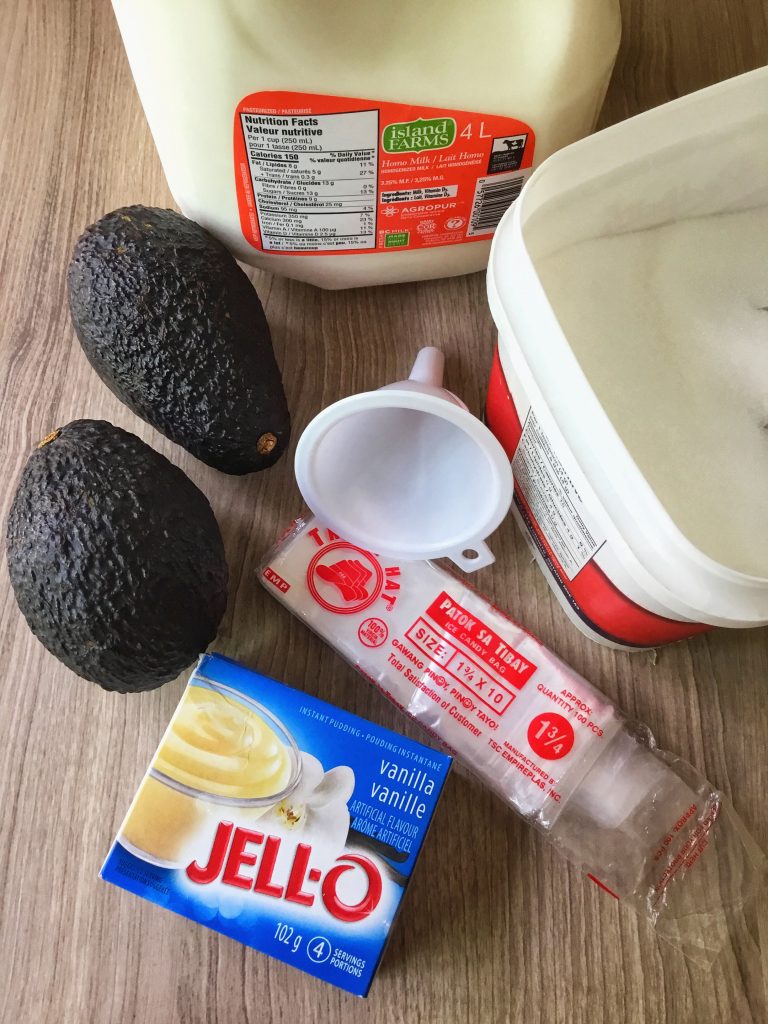 This is a super easy recipe that you can put together in 5 minutes and only needs 4 ingredients! And the best part is, this ice candy is super smooth!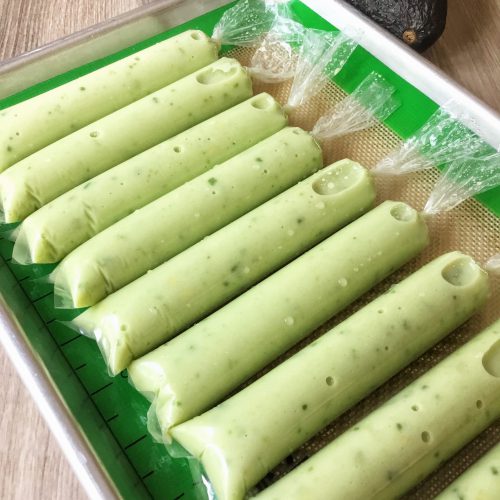 5-Minute Super Smooth Avocado Ice Candy (Only 4 Ingredients)
This unbelievably easy, super smooth and delectable ice candy takes only 5 minutes to prepare and only has 4 ingredients!
Ingredients
2

cups

whole milk

4

Tablespoons

Jell-O Instant Vanilla Pudding Mix

¼

cup

sugar

1

ripe avocado
Instructions
In a large bowl, add sugar and pudding mix. Slowly add milk while stirring continuously until very smooth. Strain if necessary.

Cut the avocado in half and remove the pit and skin. Mash avocado flesh using a fork then combine with the prepared milk mixture. Mix very well.

Fill a plastic ice candy tube, leaving about 3 inches of room from the top. Pinch the part of the plastic tube where the mixture ends using your thumb and the index fingers then twist the ice candy with the other hand. Seal by making a tight knot. Repeat with the rest. You can also use ice pop containers.

Place in the freezer for about 2-4 hours or until completely frozen. Enjoy!
Notes
*This recipe can be doubled. If you want to make a double batch, use the whole 102g pack of Jell-O Instant Vanilla Pudding.