Sweet and sour are flavors that are well-loved by Filipinos. The contrast somehow makes it very appealing and whether you would rather have it on the sweet or sour side, is just individual preference. Either way works.
My two big boys (hubby included) at home love this dish so I make it once in a while. They like dishes where the meat is enveloped with a thick glaze, just enough to coat each piece of meat.
I don't usually measure when I cook unless I'm baking. I was so used to just putting a little bit of this and that and eyeball the amount then let my taste buds do its thing. But this time, I measured every single ingredient until I got the taste that we all like at home. Don't be alarmed by the list of ingredients and steps, I just grouped them so it's easier to put this dish together.
This recipe has the right amount of sauce that clings to every crispy chicken piece. I don't think it's necessary to have more sauce but if that's what your family prefers, go ahead and double the sauce recipe.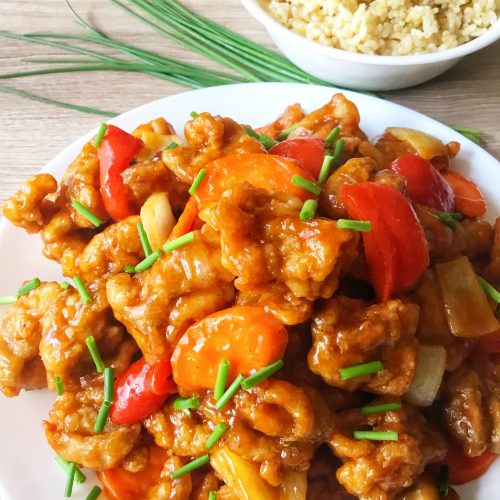 Sweet and Sour Chicken
This favourite Filipino dish has the right balance of sweetness and tanginess that coats every single crispy chicken morsel perfectly. A must-try recipe!
Ingredients
For the sweet and sour sauce: (Mixture A)
⅓

cup

brown sugar

firmly packed

⅓

cup

ketchup

⅓

cup

pineapple juice

from the canned pineapple chunks* or water

¼

cup

vinegar

1

Tablespoon

soy sauce

½

teaspoon

grated ginger

½

teaspoon

garlic powder

A pinch of ground black pepper
For the chicken: (Mixture B)
2

lbs

boneless skinless chicken thighs

cut into 1 inch cubes/squares

1

large egg

beaten

½

teaspoon

salt

¼

teaspoon

ground black pepper
Chicken breading mix: (Mixture C)
1

cup

cornstarch

½

cup

all purpose flour

½

teaspoon

salt

¼

teaspoon

ground black pepper
For sautéing:
1

red or green bell pepper

cut into 1 inch squares

1

medium onion

cut into 1 inch squares

1

carrot

sliced into 1 cm disks

1

cup

canned pineapple chunks

drained and liquid reserved for the sauce*

1 ½

tablespoons

cornstarch mixed with 1 ½ tablespoons water

to thicken sauce

Canola oil

for frying
Instructions
Mix all the ingredients for Mixture A in a medium bowl and set aside. Taste and adjust seasoning, if necessary.

In a large bowl, add all the ingredients in Mixture B. Mix well and set aside.

Combine all the ingredients for the breading mix (Mixture C) and blend well. You can either use a big bowl, a clean paper bag or a large ziploc bag.

Heat a large frying pan and add oil, about 1 to 1 ½ inches deep. Transfer the chicken pieces to the breading mix and coat each piece completely. Shake off excess flour and transfer to a large tray (like a cookie sheet). Fry the chicken pieces (in batches) until golden brown and crisp, about 4 minutes. Make sure the meat doesn't touch each other to maintain the oil temperature and not make the chicken oily after frying. Place fried chicken pieces on a cooling rack on top of a cookie sheet or a colander to let the excess oil drip.

Heat another large pan or a wok (medium heat) and add 1 tablespoon of oil. Add the carrots, onion, bell peppers and stir fry for a minute. Next add the pineapple chunks, sweet and sour sauce (Mixture A) and the cornstarch mixture to thicken sauce. Stir to combine and cook for 2 minutes on medium-low heat.

Add the fried chicken pieces and toss for a minute or two, using 2 wooden spoons until all the meat is evenly coated with the sauce. Serve immediately.
Notes
*Double the amount of sauce if you want a saucier dish
**Pineapple chunks are preferred but I only had tidbits at home. Fresh pineapple cut in chunks can also be used.
***Fry the chicken in batches and do not crowd the pan to have crispy chicken pieces. Drain the excess oil by placing it on a pan with a cooling rack on top.
****Remove cooked bits of batter accumulating in the oil (using a shallow strainer) in between frying.
*****Add more sugar if you prefer a sweeter sauce.