This is my go-to recipe when my kids ask for Pandesal. I call them "Bread Bandits" because every time I make bread (which is once a week), they always lurk near the kitchen waiting for the freshly baked buns to come out of the oven. I have to place the baking pans on racks to cool and while it happens, there are always missing buns when I go back and check on them. Oh well, at least they like 'em.

My youngest son lives on bread. He'll have it everyday with peanut butter for breakfast, lunch and dinner. That's a big reason why I make my own bread. It's tedious but at least I know EXACTLY what's in it and I can spike it with some healthy ingredients to bring it as close to a complete meal as possible. This Delicious Pandesal is a perfect example of what I'm talking about.

****This Pandesal recipe has that perfect outside crunch and a soft, fluffy texture inside. Can be eaten plain or with your favorite spread. Perfect with a good cup of coffee!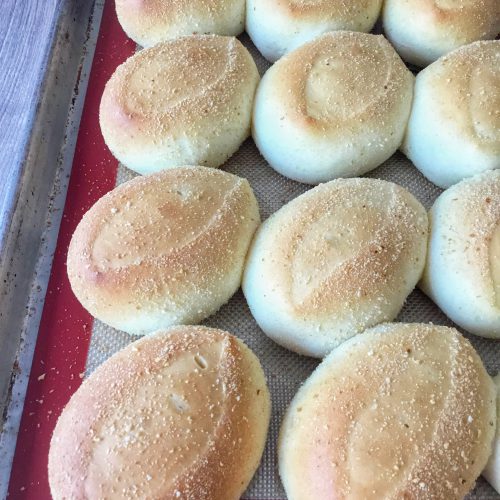 Special Pandesal
My go-to Pandesal recipe that I use everytime my family wants some, which is almost weekly.
Ingredients
1 / 2

cup

plus 2 Tablespoons warm water*

1

Tablespoon

white sugar

1 1 / 2

Tablespoons

active dry yeast

6

cups

all purpose flour

divided****

3/4

cup

white sugar

1 1 / 2

teaspoon

salt

2

large eggs

lightly beaten

1 / 4

cup

canola oil

1

cup

warm milk
Instructions
In the bowl of a stand mixer****,place the warm water, yeast and 1 tablespoon of sugar. Mix well and let stand for 5 minutes to proof the yeast.

Using the paddle attachment, add the oil, sugar, warm milk, beaten eggs, 3 CUPS OF FLOUR and salt. Mix well to combine the ingredients, about 30 seconds. Switch to the dough hook then add remaining flour (reserve ½ cup) at once and knead using. If the dough is still sticky, add flour 1 Tablespoon at a time until dough is no longer sticky. Knead for 5 minutes or until smooth.

Form the dough into a ball and coat with oil. Cover with a clean plastic wrap and let rise in a warm spot for an hour or until it doubles in size.

Punch the dough and transfer to your work surface. Divide in half. Flatten each piece into a 1 / 2 inch thick rectangle and roll EACH dough tightly like a jelly roll, tucking it against itself in every turn. Pinch the edges to seal. Sprinkle breadcrumbs on your work surface and roll the logs on the crumbs. Cover loosely and let rise for 15-20 minutes.

Divide each log into 10-12 pieces depending on the size that you want. Tip each piece on the cut side and sprinkle with breadcrumbs. Place on the baking sheets spacing at least an inch apart to leave room for rising. Cover with plastic wrap. And let rise for 20mins.

Preheat the oven to 315F and bake for 20mins**. or until your desired doneness is reached.
Notes
*Water temperature to proof the yeast must be between 110-115. If you can't let your finger stay in the water , then it's too hot. Hot water kills the yeast. It should feel like a nice warm bath.
**Adjust the baking time if you want a browner Pandesal.
*** The top of the fridge is usually a warm spot ideal for rising the dough especially in the wintertime. Or you can also turn your oven on to the lowest setting for a minute then turn if OFF before placing the covered dough inside just to create a warm environment for the yeast to do its magic.
****I used my 6qt Kitchenaid stand mixer 
*****Amount of flour used depends on indoor humidity. I usually use LESS flour during hot months and more in the wintertime. Add flour until the dough is no longer sticky but soft and not stiff. Do not add too much for fluffier pandesal. 
If kneading by hand:
In a large bowl, place the first 3 ingredients, mix well and let the yeast proof for 5 minutes. Add the oil, sugars, warm milk, beaten eggs, 3 CUPS OF FLOUR and salt. Mix with a wooden spoon until well combined. Add the remaining flour 1 / 2 cup at a time, mixing well after each addition. Once it gets harder to mix, transfer to your work surface and knead for 8-10 minutes by hand or until the dough is smooth.
Then follow the rest of the procedure from Step 3.