Whenever I'm at the supermarket, I always keep my eyes peeled for things that are not on my list. And every time I chance upon an ingredient that I haven't seen in a long time (particularly the ones that were a part of my life in the Philippines), my heart would skip a beat and my brain would simultaneously be thinking of the food associated with that specific ingredient.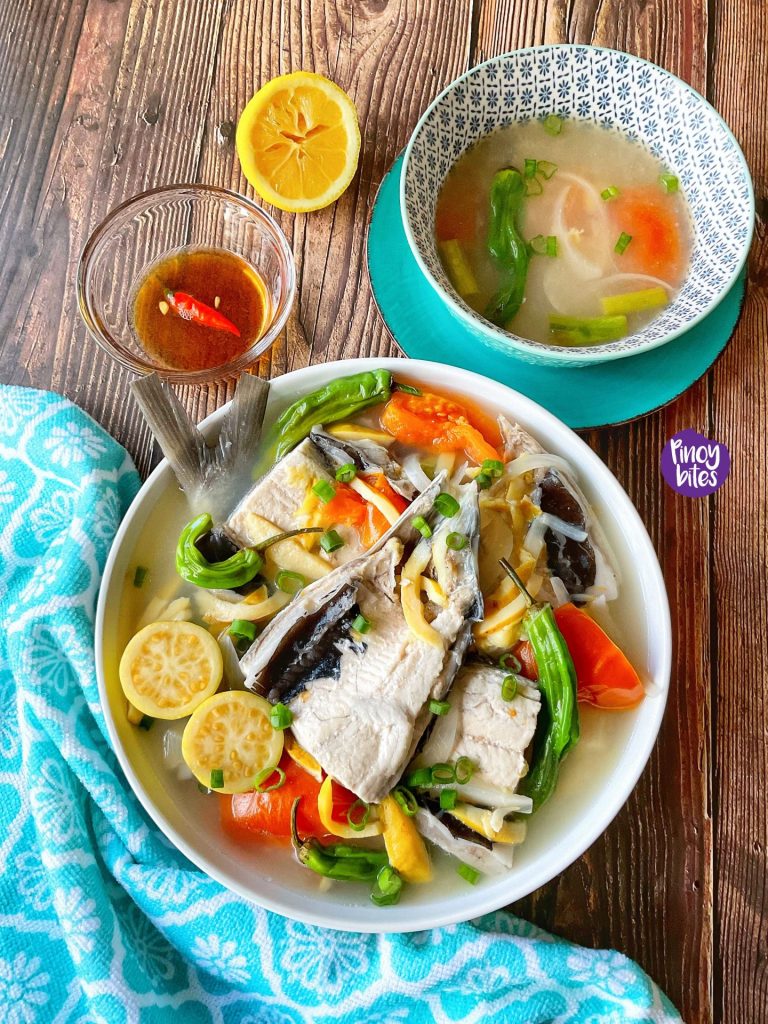 I loved eating guavas when I was kid! One of my ninangs (godmother) had a number of guava trees in their yard that bore fruits like nobody's business. Her niece, Manang Ena would climb the trees with me and was always very kind and shared the best ones with me. That was one of the little happy moments in my childhood that I wish my kids would experience even just for a bit.
The very first time I saw fresh guavas at my go-to Asian veggie market, the memory I mentioned popped up and brought a smile to my face. Now that I'm a mom, I buy these guavas to cook my kids' favorite Filipino dish, Sinigang. When you have little ones, boneless Bangus is the way to go. I always buy the Sarangani Bay Bangus brand because of its good and consistent quality. But you can always use bone-in bangus and cut them into about an inch (or a bit smaller) thick.
To get the optimal flavor from the guavas, scoop out and mash the seeds with some water to extract its natural juices. I also slice the guava meat thinly and simmer for a few minutes for it to release more flavor. Since its sourness is more tapered than that of tamarind, you can add the juice of one lemon if you want to enhance its taste. Either way, the broth is definitely a delight and my kids would happily attest to it. Enjoy!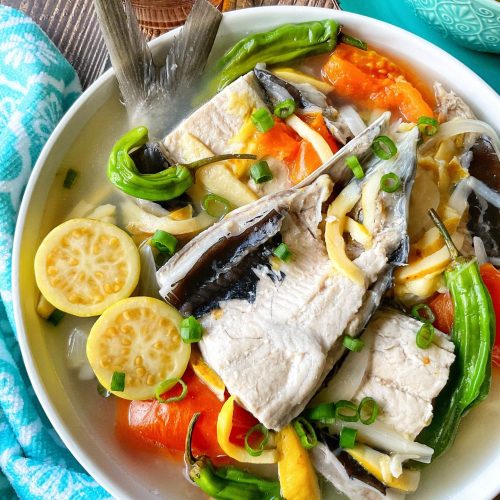 Sinigang na Bangus sa Bayabas (Milkfish in Guava Broth)
Another well-loved version of our favorite Sinigang using fresh guavas. Its distinct aroma and flavor has a toned down tartness compared to the usual tamarind. It's scrumptious!
Ingredients
2

whole boneless Bangus

Milkfish, quartered (thawed and scales removed)* see notes

6

cups

water

divided (use 2 cups to extract guava juice from seeds)

7

ripe small guavas

(about ¾ pound)

1

small onion

thinly sliced

2 to

matoes

sliced

1

teaspoon

salt

4

Shishito peppers

or Jalapeno

1

bunch of spinach

washed

1

Green onion

thinly sliced (optional)

Juice of 1 lemon

optional

Patis

fish sauce , to taste
Instructions
Cut the guavas in half. Scoop out the seeds into a bowl and slice the guava meat into strips. Mash the seeds and add 2 cups of water. Pass through a fine sieve to squeeze out the juice. Discard seeds and set the guava juice aside.

In a large pot, add in the sliced guavas, onions, tomatoes, salt, 4 cups of water and the reserved guava juice. Bring to a boil and simmer (on low) for 10 minutes.

Add the fish and the green peppers. Cover, bring to a boil and continue cooking until the milkfish is cooked through, about 2-3 minutes. Adjust seasoning and add lemon juice, if desired. Place the spinach leaves on top and the green onion, if using. Cover and cook for a few seconds then turn the heat off. Serve with hot steamed rice.
Notes
*I always use Sarangani Bay Boneless Bangus and cut them into 4 equal pieces. If using bone-in Bangus, remove the scales, guts and gills and cut into almost an inch thickness. *The frozen bangus are smaller (400g each) that's why I always use 2.