Dinuguan is not for everyone. One can easily be put off by its looks. If you're not Filipino, you might think (or some Pinoys might trick you) that it's "Chocolate Meat". It may seem like it in appearance but once you stick your nose next to it, you'll know that dinuguan is definitely NOT made of chocolate.
Don't get me wrong. This dish rocks! Once you get past the thought of it having animal blood and give it a try, you'll know what I mean. Like any other dish that doesn't look familiar, we have to at least try it once (or twice) before judging it.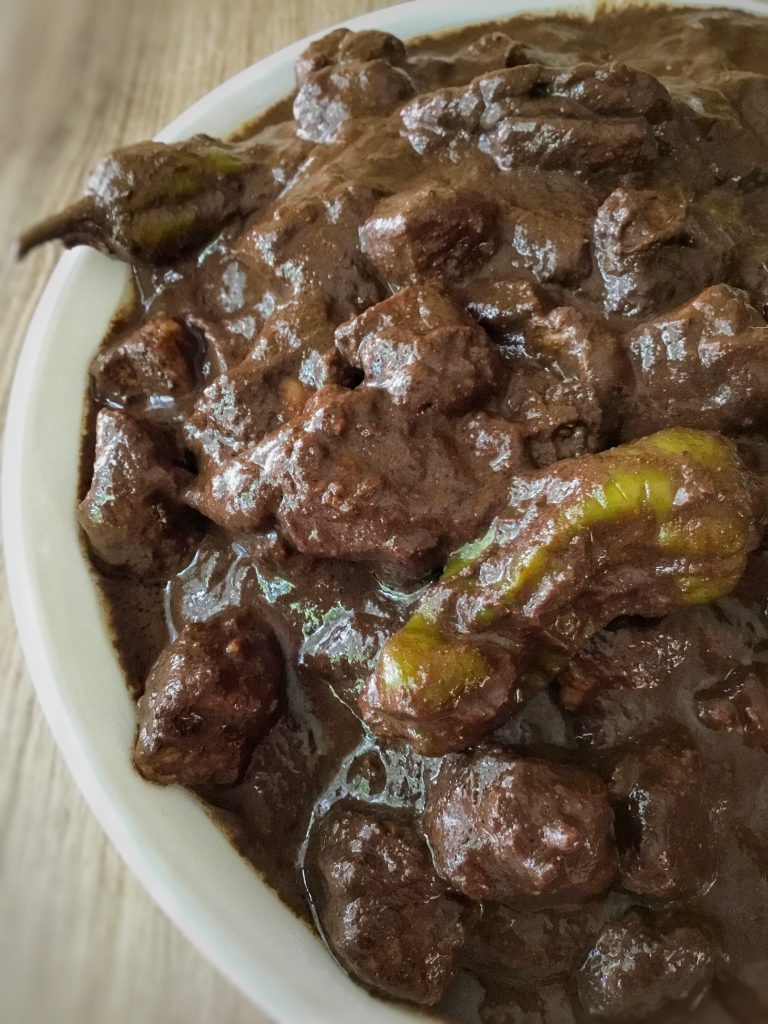 I love dinuguan but I'm also quite picky and particular about how I like it done. The meat has to be tender, the gravy with just the right amount of thickness and the vinegar has to be there without it being too tangy. If I'm not cooking it, I would buy it at our friend's restaurant which is nearby. They make the best dinuguan cooked by Kuya Ruben (chef and owner). This is my version of his dish that I have eaten for years. I now mustered some strength to mimic his dinuguan, not to compete but as a compliment to his really good dinuguan-cooking skills.
Serve it with puto if you wish but for me, a bowl (or two) of hot steamed white rice is still the perfect match to this classic Filipino dish. 
Pork Dinuguan (Pork Blood Stew)
A thick, savory stew made with pork meat and beef (or pork) blood creating a dark gravy that is rich and delicious, with a little tartness from the vinegar.
Ingredients
2 – 2 ½

lbs

pork shoulder

cut into ½ inch cubes (separate fat from lean parts)

1

medium onion

chopped

4

cloves

garlic

finely chopped

4

bay leaves

¾

cup

vinegar

remove 1 tablespoon and mix into the blood

3

cups

water

*see notes

1 375

ml

tub frozen beef blood thawed

(I used Pampanga brand)** see notes

3-5

Japanese peppers or Jalapenos

Salt and ground black pepper

(seasoning)

Patis / Fish sauce

(I used 3 Crabs brand)
Instructions
Separate the fatty from the leaner parts of the meat. Place fatty parts (cut in cubes) in a large pot and add 2 tablespoons of water. Cook on med-high heat until fat is rendered and meat is starting to brown. Add onions and saute until translucent then add the garlic.

Next, put the lean meat cubes. Season with 1 teaspoon salt, ½ teaspoon of ground black pepper and add the bay leaves. Cook on high while continuously stirring until the natural juices from the pork completely evaporates and fat is starting to render. Do not cover the pot so the liquid evaporates faster.

Add water and vinegar. DO NOT STIR. Season with 1 tablespoon salt or patis (fish sauce). Partially cover the pot and bring it to a full rolling boil (on high heat) without stirring. Stir then simmer using low heat and cook until the meat is tender (about 30 minutes).

Taste again and adjust seasoning if needed. (If you want to add more water, add 1 cup now plus 3 tablespoons vinegar on HIGH heat. DO NOT STIR UNTIL IT COMES TO A FULL ROLLING BOIL.) Switch to medium heat then slowly add the blood while stirring to prevent clots. Continue stirring until the sauce starts to thicken (about 5 minutes). Add the green chillies, cover and simmer on low for 10-15 minutes (stir every few minutes to prevent crusting at the bottom) until the blood is cooked through. Taste one more time and add salt or patis and ground black pepper (if needed).

Serve hot with rice.
Notes
*For thinner dinuguan, use 4 cups of water. I prefer mine a little thick so I used only 3 cups.
**I buy frozen blood and thaw it inside the refrigerator one day before I need it.