Bagoong Alamang (sauteed shrimp paste) is "ulam" by itself. Add some freshly squeezed lemon juice and you have a meal. The downside to this umami-rich condiment is that it's a magnet for rice. I don't think I have ever eaten bagoong with just a tiny bit of rice. That's why, this is also in the category of those "sometimes food". And you know what I mean.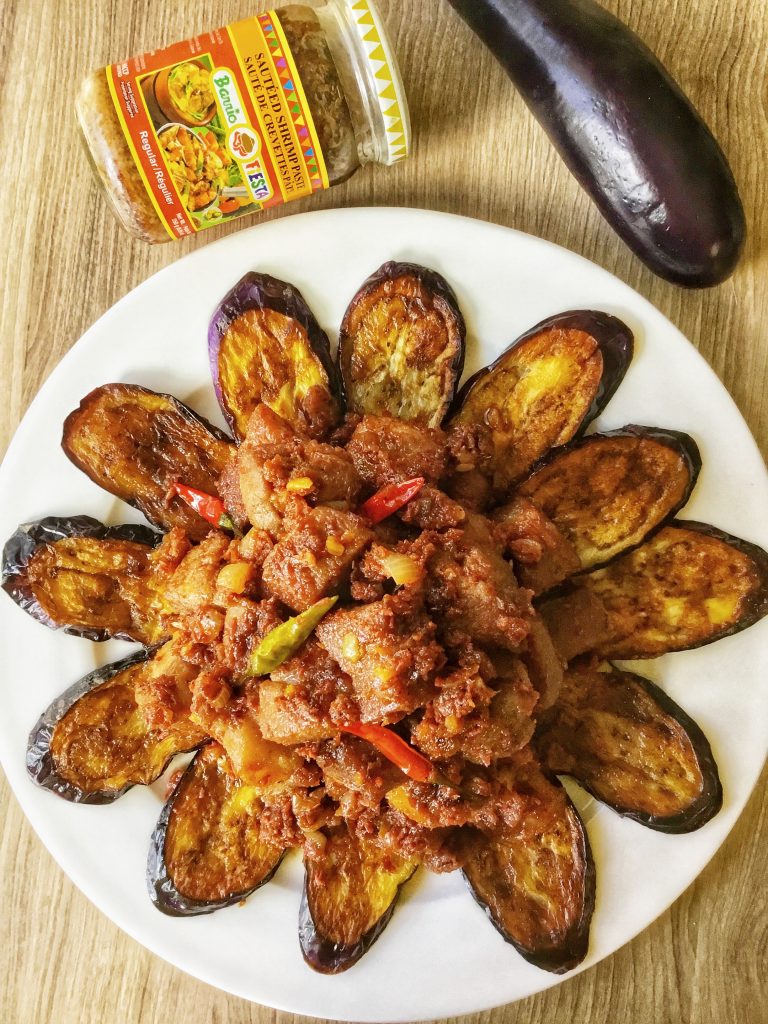 Like I said, I don't make this often but when I do, I try to make it right. The type of bagoong you use depends on your preference but for this recipe, I used the regular one. Barrio Fiesta is the brand I used as this is always available where bottled shrimp paste is sold. You can use the sweet or the spicy kind if that's what you can find…just taste and adjust the salt and sugar accordingly.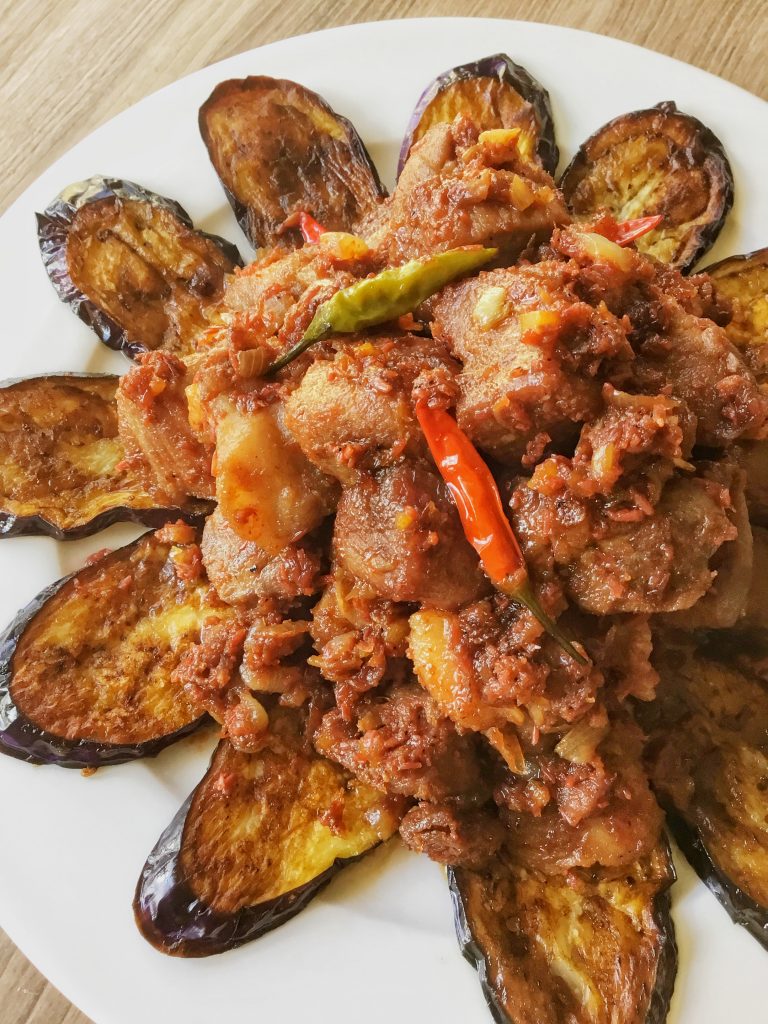 Fried eggplant is a perfect match for this dish. Though that's the case, I have a love-hate relationship with this vegetable when it's fried. It's always too oily! Check out this link on how I fry my eggplant to minimize the greasiness. You'll surely notice the difference and this will change the way you fry yours.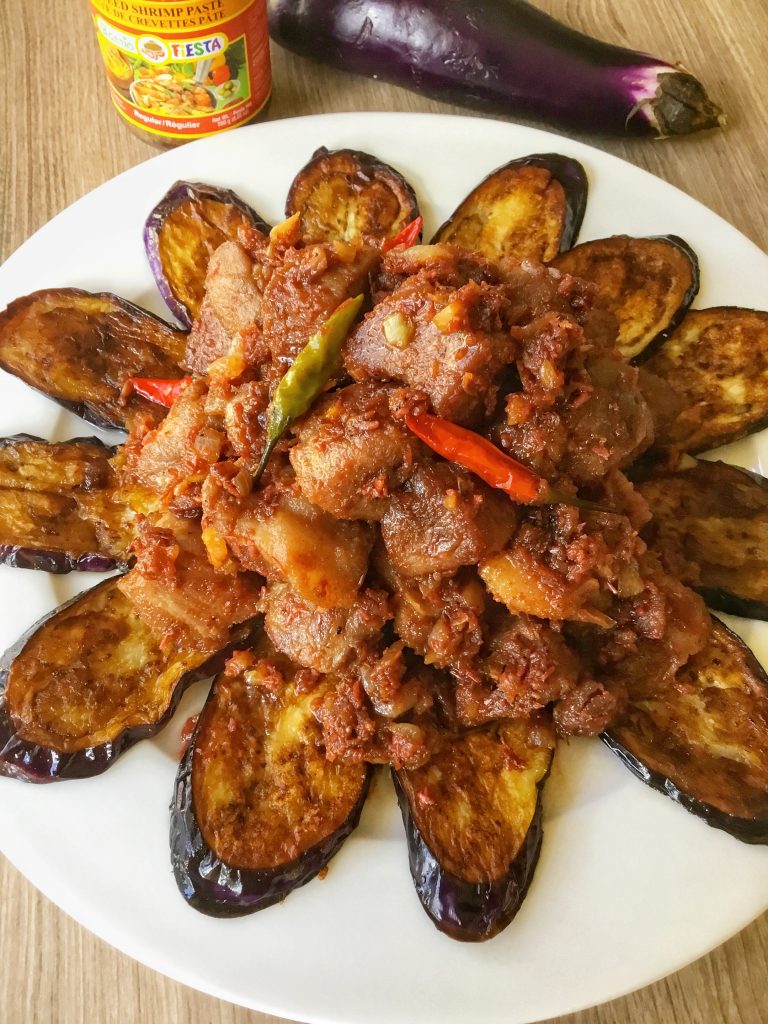 Here's the recipe for the Fried Eggplant Using Less Oil (Not Greasy)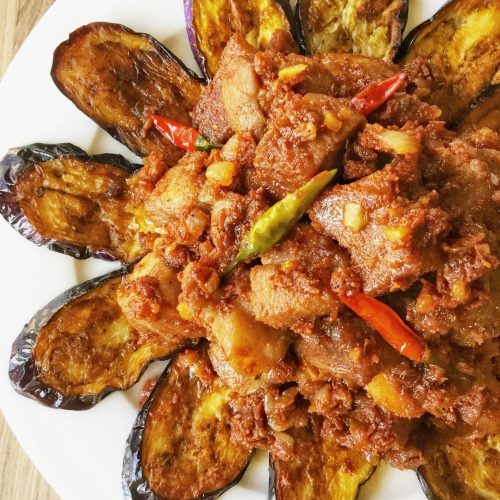 Pork Binagoongan with Fried Eggplant
Tender pork chunks slathered in an umami-rich salted shrimp paste sauce and served with non-greasy fried eggplant. Hot steamed rice is mandatory and a lot of it! It's….soooo…..good!
Ingredients
2

lbs

pork shoulder

cut into 1 inch cubes

½

teaspoon

salt

½

teaspoon

ground black pepper

1

cup

water

1

medium onion

chopped

4

garlic cloves

chopped

¼

cup

vinegar

I used Datu Puti

¼

cup

brown sugar

½

cup

Bagoong alamang

sauteed shrimp paste, Barrio Fiesta regular

3-5

red Thai chilies

siling labuyo, optional

Fried eggplant slices

link to the recipe above
Instructions
Combine the first 4 ingredients in a large pot. Bring to a boil then cook on medium heat until water evaporates and the meat is browning on most sides. Then, push the meat to one side of the pan.

Add the onion, followed by the garlic. Saute for a minute then combine with the pork. Pour the vinegar and let boil for a minute. Do not stir.

Then, in goes the brown sugar, bagoong alamang and the chilies (if using). Stir well and simmer for 5 minutes to let the flavors combine. Serve with fried eggplant slices.

To serve: Lay fried eggplant slices (close to each other) around the serving dish and spoon pork binagoongan in the middle. Serve with rice….always!