We love siomai! It's always the first item we order whenever we go for dim sum. My kids get excited once it's laid on the table and steam comes out of the small bamboo containers as the lid is removed. What a sight! It's been awhile since we last went for dim sum and with what's happening now, I think it's going to be a very long time before we're comfortable again to be sitting in the midst of a crowded restaurant. Sooo sad.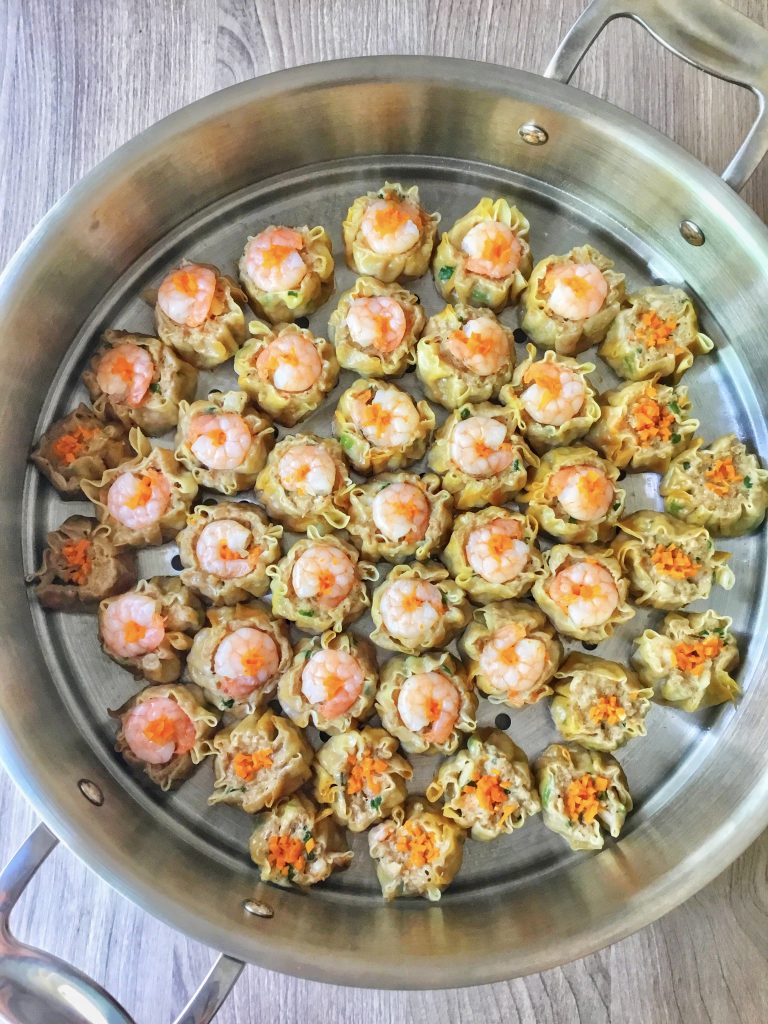 On the other hand, there's a lot of advantages if we eat siomai at home. I get to put more of the good ingredients that we like, it's way cheaper and we can eat it while wearing our pajamas. Haha! This is another dish that my family was so enthusiastic in testing. They didn't mind eating a couple of batches in one week. The good thing about my "guinea pigs" is that they speak their mind. They tell me exactly what they like and not like about what they're testing. Sometimes, I'm amazed with the taste buds of my children. They may not know how to cook but they surely know the taste of their favourite food.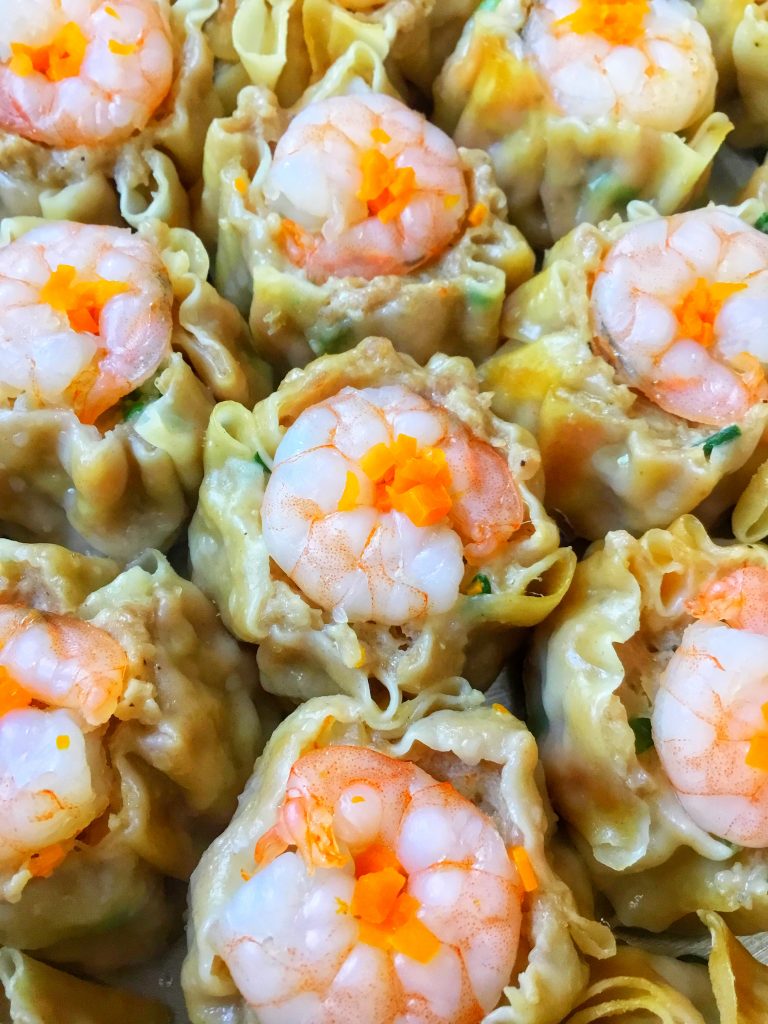 Though it's Chinese in origin, the taste is something very familiar to Filipinos. Nowadays, you can find siomai as a street food and either eaten plain (with some dipping sauce) or even served with rice or noodles. My family will eat siomai either with rice or noodles. Hope you like it!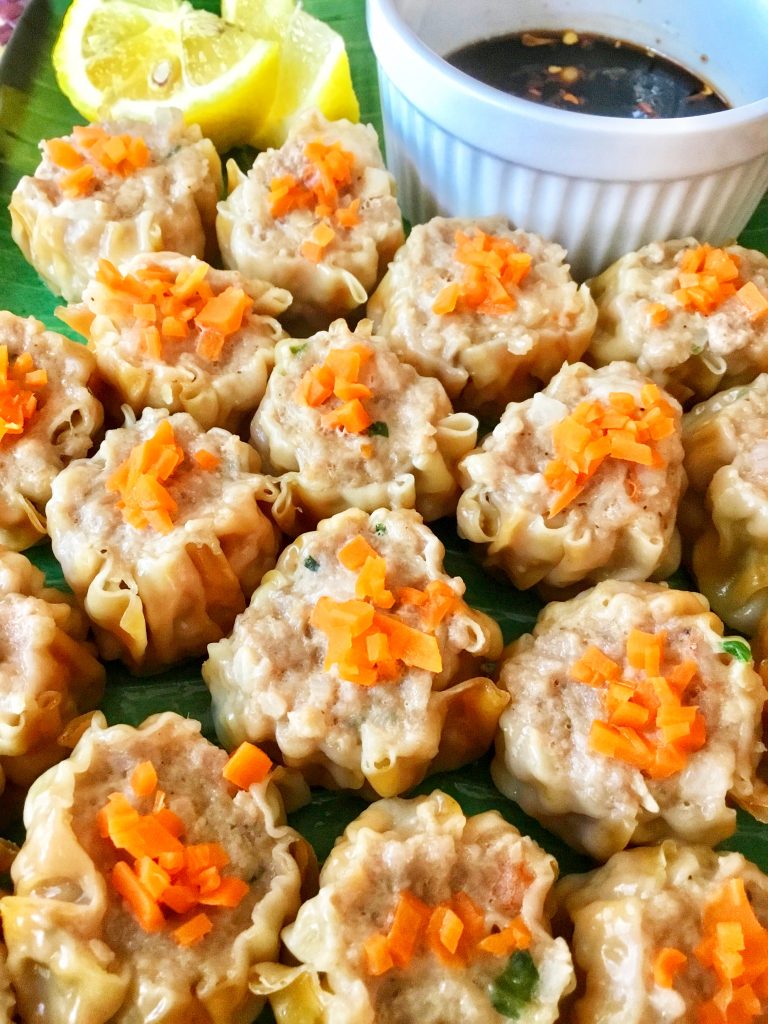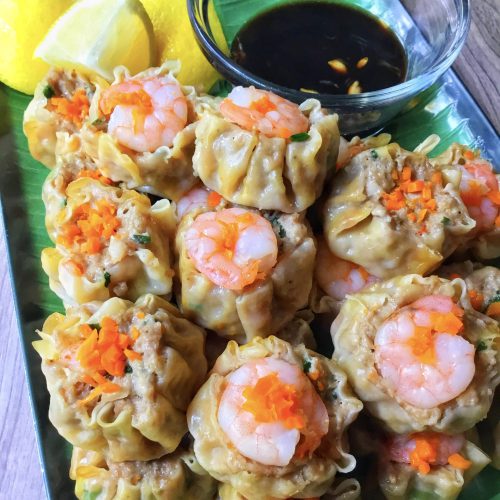 Pork and Shrimp Siomai
Siomai is a type of Chinese dumpling that's very popular in the Philippines. It's juicy with the delicious combination of pork and shrimp that will make you salivate.
Ingredients
1

lb

ground pork

1 ½

Tablespoons

soy sauce

1 ½

Tablespoons

cornstarch

1

Tablespoon

grated ginger

1

Tablespoon

sesame oil

1 ½

teaspoons

oyster sauce

1

teaspoon

sugar

1

large egg

beaten

1

cup

peeled whole shrimps (roughly chopped)

(see notes)

1

small can water chestnuts

drained and finely chopped

¼

cup

green onions

thinly sliced

1

pack whole egg dumpling wrapper

yellow**

1

small carrot

finely minced (topping)

Extra whole shrimps

for topping (optional)

Soy sauce-lemon

(calamansi) juice (dipping sauce)

Chili oil

for dipping (optional)
Instructions
In a large bowl, combine the first 8 ingredients (ground pork, soy sauce, cornstarch, ginger, sesame oil, oyster sauce, sugar, and beaten egg). Mix very well. Make a "claw" with your clean hands and stir it vigorously (and continuously) until mixture is pasty and the meat texture is stringy. Or, you can pick up the mixture with one hand and "slap" it a few times in the bowl.

Pat the shrimps and water chestnuts with paper towels again to make sure there's no extra moisture. Then, add to the mixture followed by the green onions. Mix very well to combine.

Form a "cup" with one hand and place one wrapper on top. Add 1 tablespoon of the mixture in the middle and push the mixture towards the "hole" of your hand with a spoon. Gently squeeze the wrapper as you push it down (make sure the filling covers the top). Flatten bottom of siomai on the counter. Repeat with the rest. (see step-by-step photos below)

Top each siomai with a pinch of the minced carrots or one whole shrimp (or both).

Fill the steamer pot (bottom part) with an inch of water and bring water to a boil. Brush the steamer (where you'll cook the siomai in) with oil then arrange siomai. Steam on medium for 15 minutes.

Carefully remove and serve with a mixture of ¼ cup soy sauce and the juice of half a big lemon or about 3-4 tablespoons of freshly squeezed calamansi juice.
Notes
*Siomai wrappers are usually sold in squares. Just get a round cutter to shape them into circles. Or, you can also leave it as is and just wet the corners with water and tuck in the sides of the siomai after filling.
**Mix ¼ teaspoon of salt to the shrimp then rinse whole peeled shrimp in water and make sure to dry it well. Chop and place it on top of paper towels to absorb extra moisture as you prepare the rest of the ingredients.