I was excited to see very fresh green mangoes at a local asian store! They came in a box of 9 and were very firm and green with just a blush of dark red on top in some of them. I think it's the Kent variety which grows in South America. This is not the same as the unripe Manggang Kalabaw (Carabao Mango) in the Philippines that's so sour. Tartness on this one is on the mild side and we love munching on them when it's starting to ripen but still has a good crunch. This is especially good when thinly sliced and doused with some apple cider vinegar or sukang iloco (Ilocano vinegar). Yum! Just thinking about it makes my mouth water.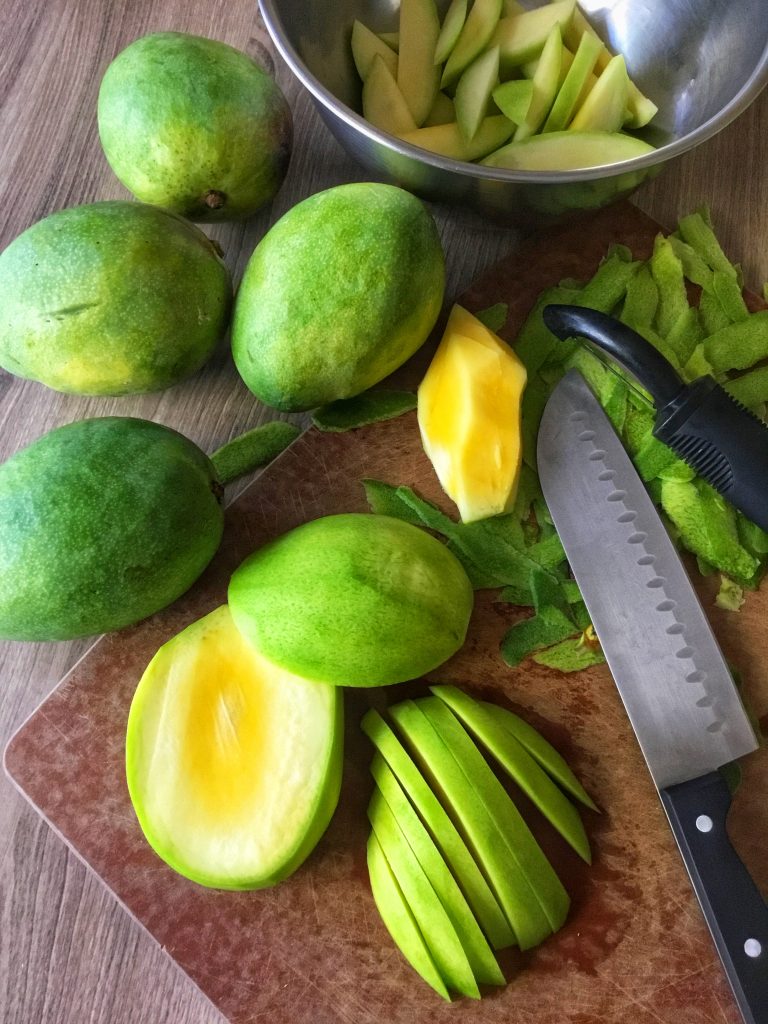 Because I bought a lot of them, I immediately thought of making buro (pickle) with some. It's been ages since I last had my fill of this yummy appetizer. My Tita Bex and Tito Jerry would always order some for us whenever we're in the Philippines. But with what's going on, nothing's certain when our next vacation will be.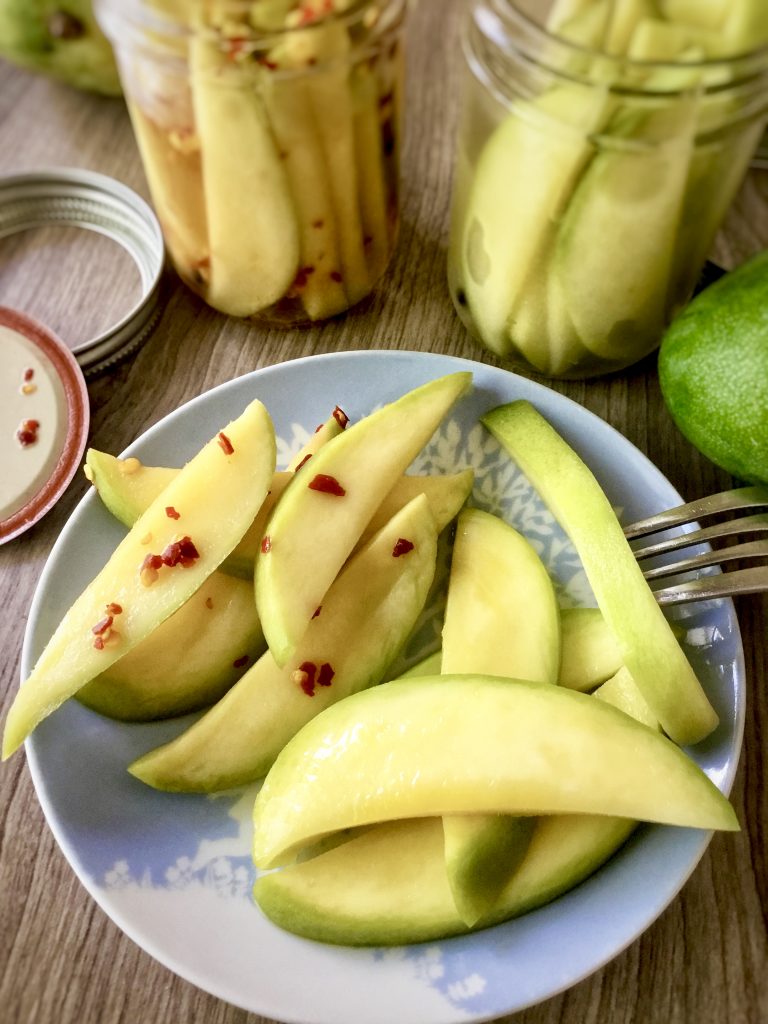 This pandemic can't stop me from having some burong mangga. Like with other food that I miss, I try to recreate it in my kitchen. Since the acid on this variety of mango is way less, I added some vinegar to the brine to compensate for the sour taste that I crave. And since my hubby loves it on the spicy side, some dried chilli flakes did the trick. It came out so good that we were binging on them on its own.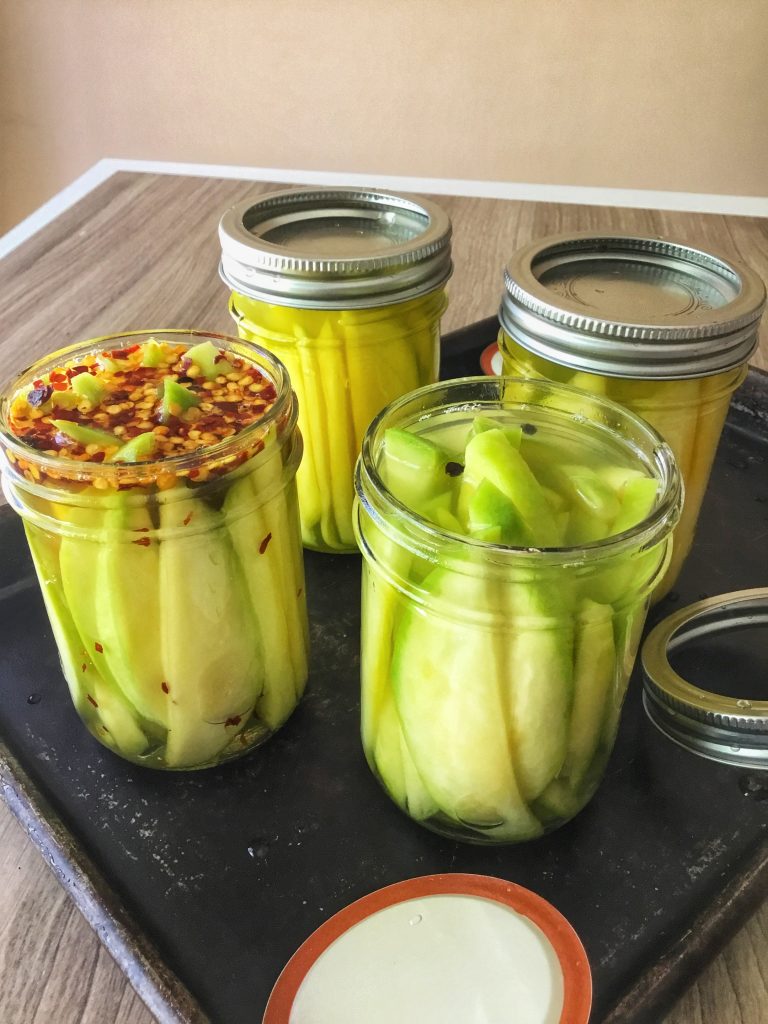 Burong mangga can last for months (to even a year) if you keep it in sterilized bottles. To sterilize mason jars, simply put the glass jars (upright) in a large and deep pot and fill with enough water to cover the jars by 1-2 inches. Bring to a boil and continue on a gentle boil for 10 minutes. Remove with tongs and tip gently to drain. Both the ring and lid just have to be dipped in the boiling water for a few seconds before using.
Give this a go and hope you have it in you to make it last longer…. we didn't. 😁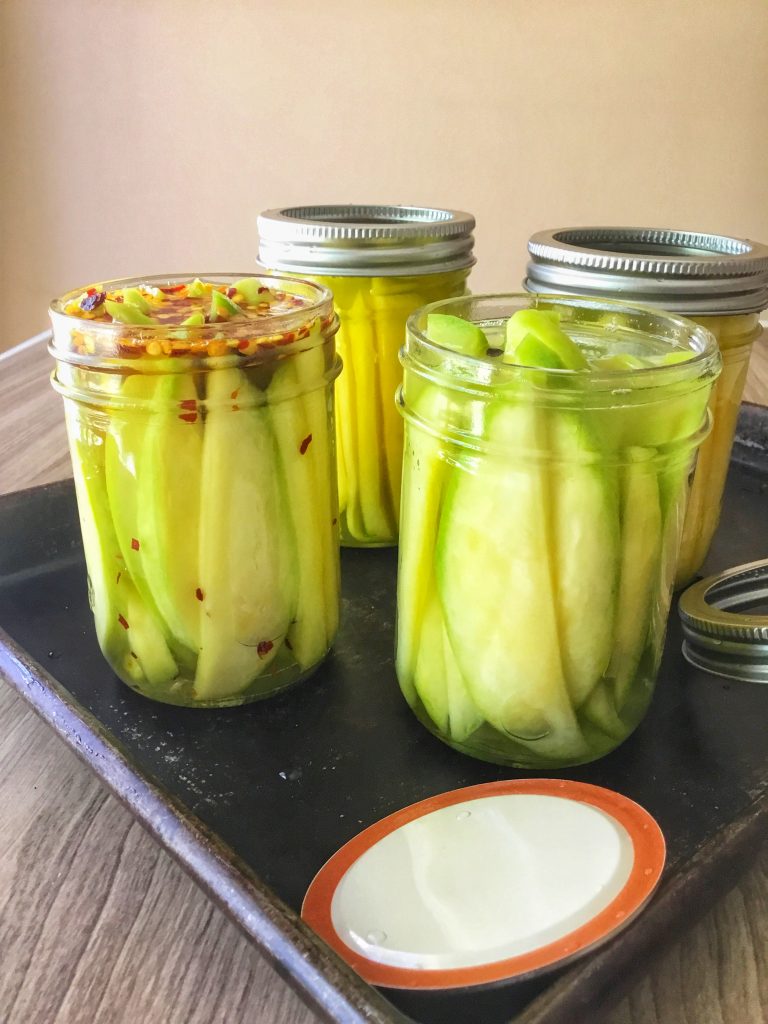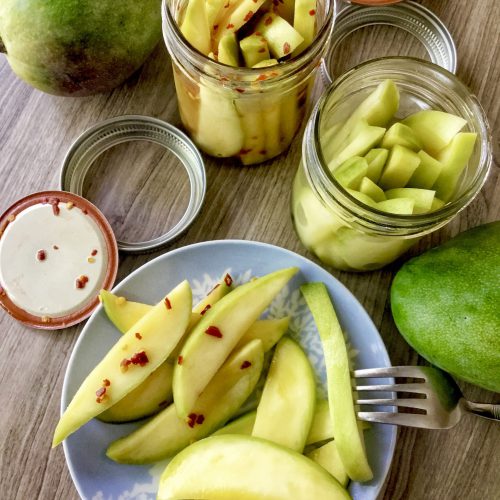 Pickled Mango (Burong Mangga)
This sweet and sour (and spicy) pickled mangoes are such a treat! Serve it alongside fried or grilled meat or seafood or just munch on its own.
Ingredients
3

unripe and firm green mangoes

1

tablespoon

sea salt
For the brine:
1 ½

cups

vinegar

1

cup

white sugar

1

teaspoon

sea salt

1

teaspoon

dried chilli flakes or 1-2 thinly sliced Thai chilies

optional
Instructions
Peel the mangoes. With the stem side on top, cut vertically (be careful) about ¼ inch from the middle to avoid the seed. Slice the mango "cheeks" thinly, about ⅓ of an inch. Do the same with the narrow side of the mango to avoid waste.

In a large bowl, add the slices and 3 teaspoons sea salt. Mix well and set aside for 20 minutes while you prepare the brine.

Place the brine ingredients in a small pot (except the chilies) and bring to a boil. Simmer for a minute before turning the heat off. Add the chilies (if using) and let the mixture cool.

Rinse the mangoes to remove excess salt and drain well. Tightly pack the sterilized* (see above on how to sterilize mason jars) jars or any clean lidded food container with the mango slices. Insert whole chilies if you want. Fill with the cooled brine and wipe the top with a damp paper towel before securing with the lid. Place in the fridge and let cure for at least 24-48 hours before consuming.

Best served with fried or grilled meat or seafood or just eat by itself.