Ahh mango .. mango ice cream! When I was little, I always wanted to get my hands on those little Magnolia mango flavored ice cream in cups, either sold at the supermarket, or by the friendly neighborhood ice cream man.
As a child, it was really satisfying to eat it in those little cups than those sold in regular tubs. Somehow, having my own tiny cup made me feel extra special. That, it was meant just for me and nobody else's. Yes, I was kinda shallow (but I was just a child back then – right).
I don't know if Magnolia still makes those small ice cream cups in the Philippines but making this mango ice cream brought me back those special childhood memory. Enjoy!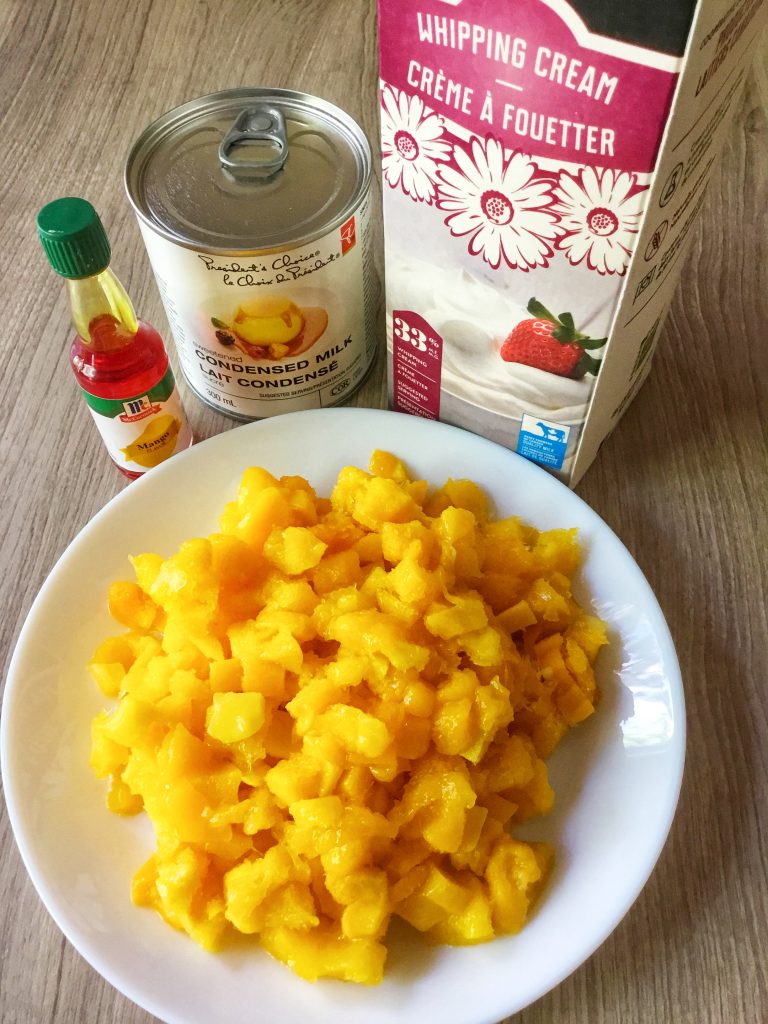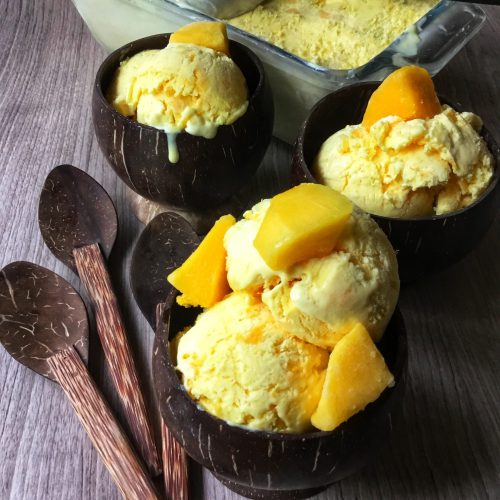 No Churn Mango Ice Cream
A very refreshing ice cream bursting with mango that is so simple to make
Ingredients
2

cups

500ml Heavy whipping cream , 33-35% mf

1 300

ml

can sweetened condensed milk

1 ½

cups

ripe mango

divided and cut in small dice (fresh or frozen)*

1 – 2

teaspoons

Mango flavor

I used McCormick**
Instructions
Using a mixer, whip the heavy cream until medium peaks form. Slowly add the condensed milk and flavoring while the mixer is running on speed 2. Increase the speed to fully incorporate the flavors, about one minute.

Add half a cup of the diced mango and whip for 1 minute. Gently fold the rest of the mango using a spatula.

Transfer to a freezer-safe container (Mine filled a 9×5 loaf pan to the brim) and freeze until completely frozen, about 4-6 hours.

Serve with additional chopped mangoes, if desired.
Notes
*Thaw mangoes and drain liquid if using frozen. I used Moov frozen organic mango chunks
**If you can't find Mango flavoring, just mash some of the mangoes in the recipe for an extra flavor and color.
Note: In addition to this mango flavored ice cream, you might want to try out our other favorite Filipino ice cream flavor, ube macapuno ice cream. Check it out. Both are good for summer picnics.