For me, Ube and Macapuno are two flavors that have a perfect marriage. Sure, they can both stand alone but the two of them together is like a powerhouse! They just compliment each other so well that I crave it in food like cake and ice cream. But if you only want either Ube or Macapuno ice cream, just combine the base and use only the Ube halaya with the ube flavor to make the Ube ice cream. Similarly, just add the macapuno strings if you only want to make the Macapuno ice cream. The choice is yours.

I do have an ice cream maker collecting dust somewhere in our garage. I only used it a couple of times in the past because there's a crucial step that I always forgot to do. A day before using the ice cream maker, you have to place its insert in the freezer a day before you intend to use the machine which I think is so annoying. When I crave freshly churned ice cream, I usually want it done the same day, not wait for another day. Had I known this before, I wouldn't have bought that machine.

This method is very easy. No cooking, no ice cream machine needed and it only needs a few ingredients. In fact , just by adding vanilla to the first two ingredients, you've already made Vanilla ice cream. The flavor possibilities are endless! You can even experiment on flavor/s that you haven't seen at stores but really like. I usually change the flavors depending on cravings and what fruits are in season. In the summertime, berries are king and come winter, frozen fruits take centerstage.

Let's make some delectable ice cream!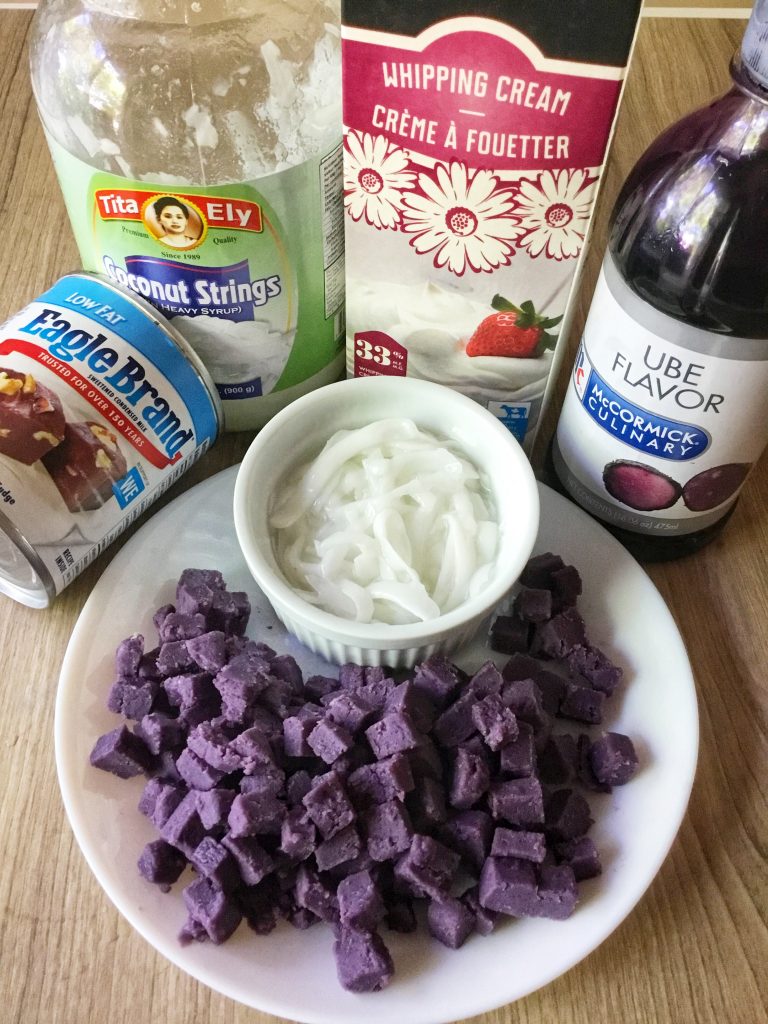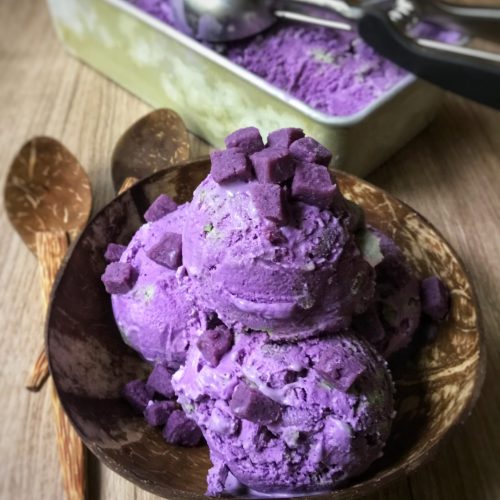 Simple Ube Macapuno Ice Cream (No Churn)
A quintessential Filipino ice cream flavour with strings of creamy macapuno and ube halaya bits. It's full of flavour and so easy to prepare.
Ingredients
2

cups

500ml Heavy whipping cream , 33-35% mf

1 300

ml

can sweetened condensed milk

1 – ½

cups

Ube Halaya (see notes**)

cut in small dice (recipe link above)

½ – ⅔

cup

sweetened macapuno (I used Tita Ely's macapuno)

well drained*

1-2

teaspoons

Ube flavor

I used McCormick
Instructions
Using a mixer, whip the heavy cream until medium peaks form. Slowly add the condensed milk and flavoring while the mixer is running on speed 2. Increase the speed to fully incorporate the flavors, about one minute.

Gently fold the ube and macapuno* (see note) using a spatula until well combined. Transfer to a freezer-safe container, place at the back of the freezer and freeze until completely frozen, about 4-6 hours.

Serve with more ube and macapuno, if desired.
Notes
*You will notice that your macapuno will turn green once the ice cream is done. Apparently, there's a natural chemical reaction happening between the ube flavor and the bottled macapuno. The taste is the same so it doesn't bother me. You can rinse your macapuno quickly in water to minimize this or add the macapuno when serving (as a topping). Another option is to do one flavor at a time ( Macapuno or Ube ice cream only)
**You can omit the Ube Halaya if preferred. This recipe works great even without it.