Summer is always the time when my brain is constantly thinking of some icy treats. Sure there's tons of ice cream flavors (and brands) to choose from and a whole lot of frozen treat options available in North America. A lot of times they do the trick, but there are these moments when my mind is set on a particular food and it'll just keep hovering over me until I have a taste of it. That's what nostalgic food does…..it's a bad kind of craving. Haha!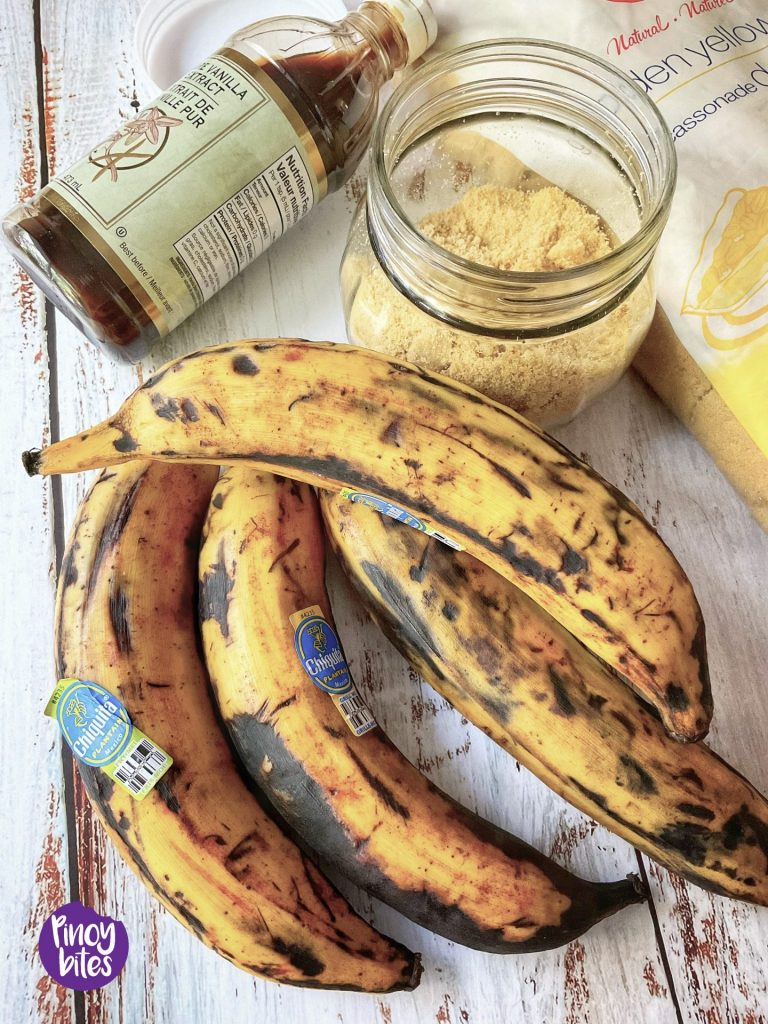 Luckily, there's always plantain bananas in almost every mainstream supermarket so I don't have to specifically go to an asian mart. They're the ones near the eating bananas but have a tougher skin, individually sections with a duller yellow color. When I make this recipe, I mix up the ripe and the overripe bananas because I like the texture contrast – softness (almost mushy from the overripe) and a bit of chew from the perfectly ripened ones. Choose bananas according to your preference, depending on the texture you want. Most times, they're sold a bit underripe. Just let it sit on the counter and check daily until it's the firmness that you like.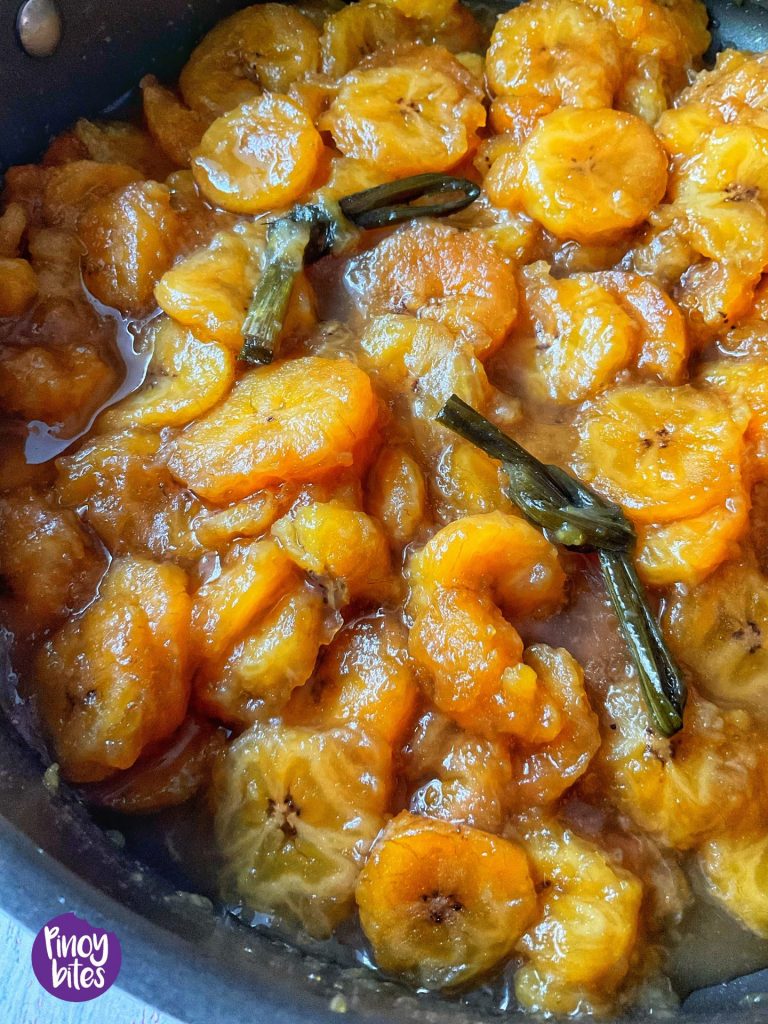 There are different ways of making this recipe. Some cook it whole (which I would if I'm using those small saba that we have in the Philippines), slice it lengthwise and some even add some sago (tapioca pearls) to it. I just prefer it this way. At times, I even intentionally mush some to thicken the syrup more. This is especially delicious in Saging Con Yelo ….. so good! Add a good amount of this at the bottom of a tall glass, pack some crushed ice over then a generous pour of evaporated milk and topped with a little more of these sweetened bananas on top for good measure. Now, I'm craving again!
Use the rest in Halo-halo with your favorite ingredients or simply serve with a few scoops of your favorite ice cream.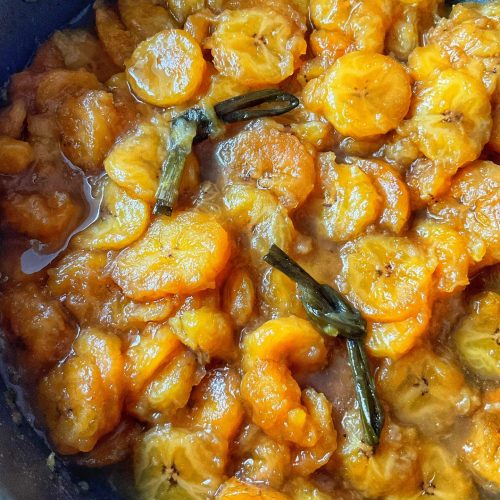 Minatamis na Saging (Plantain Bananas in Sugar Syrup)
these bananas simmered in sugar syrup are integral in making Saging Con Yelo, a Halo-Halo ingredient or as an ice cream topping. So versatile!
Ingredients
4

ripe plantains

sliced into 1cm discs* see Notes

1 ½

cups

brown sugar

2

cup

water

2

pandan leaves

knotted or 1 teaspoon pure vanilla extract
Instructions
Place the sugar, water and pandan leaves in a large pot and bring to a simmer. If using vanilla extract instead, do not add it yet.

Add the bananas, stir and bring to a boil. Simmer (low to medium-low heat) for 15-20 minutes or until your desired softness is reached (I like mine a little mushy so I did 20 mins). Add vanilla extract during the last minute of cooking.

Transfer to a lidded container and refrigerate until ready to use. Best ways to use it in Halo-halo, Saging con Yelo or as an Ice Cream topping.
Notes
*Saba bananas (variety used in the Philippines mainly for cooking) are typically used but plantains are comparable in both texture and taste. I like mixing overripe and some perfectly ripe ones for a texture contrast.