The youngest member of our family (my 6 year old son) is a fish lover. He hasn't met a fish that he didn't like. It doesn't really matter however it's prepared, as long as it's not anghang (spicy) and fish bones are removed. Whenever I cook fish, he would ask for fish and rice in every single meal until I tell him that we're out. That's how much he loves fish.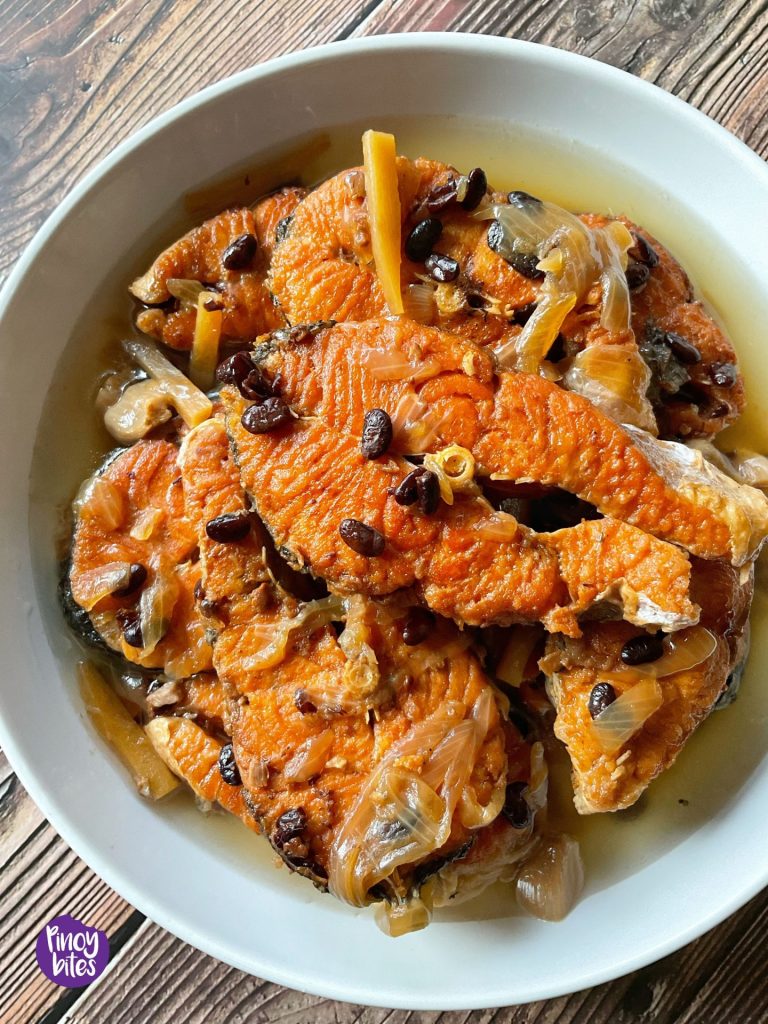 Salmon is easily found in every supermarket here unlike our beloved Bangus (Milkfish). Whole ones are much cheaper and are sold either fresh or frozen. Just thaw the fish first before starting with the recipe. If using Bangus, you will need 2 medium ones which will total to about 3 – 3 ½ pounds. Either fish would have similar results; it just depends on what's available to you.
You might think that a whole tin of salted black beans will make this dish salty. I initially thought so until I had my initial test. Both the beans and ginger strips mellowed down and were pleasant to nibble on. I honestly didn't have much use for the rest of the salted beans had I not added them all to the recipe. Glad I did! That being said, I used the Temple brand Salted Black Beans which my mom have been using since forever and I have no idea if other brands will have the same results. Just use your best judgment when using other brands.
This recipe keeps pretty well. I placed it in a glass container (with a tight lid) and parked in the coldest spot of the fridge. The oil that pools to the top also helps in keeping it stay fresh longer. But if you have a fish lover at home, I can't really guarantee how long it'll last. I'm just glad my little one is getting his share of the much needed omega-3 fatty acids which his growing body needs.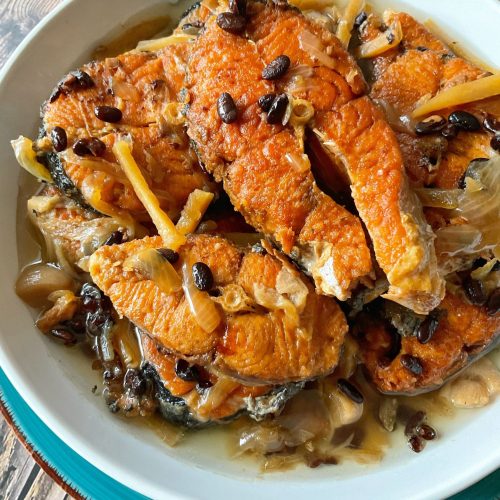 Instant Pot Salmon in Tausi (Salmon in Salted Black Beans)
This dish is packed with healthy omega-3 fatty acids and calcium-rich edible fish bones. An easy prep, the hardest part is waiting for it to be done.
Ingredients
1

whole Salmon

cut into 1" steaks (3 to 3 ½ lbs)* see notes for substitution

⅓

cup

sea salt

for soaking fish

1

large onion

thinly sliced

¼

cup

ginger

cut into thin strips

8

garlic cloves

1

teaspoon

whole peppercorns

1

180g can Temple brand salted black beans, well rinsed and drained

1

tablespoon

soy sauce

1 ½

cups

oil

Olive, Canola or Vegetable oil

2

cups

water** read below

Oil for frying the fish
Instructions
Place the fish steaks in a large bowl. In a large bowl, dissolve the sea salt in about 6-8 cups of cold tap water. Add the fish slices making sure everything is submerged. Set aside for 20 minutes. Rinse, drain and pat dry with paper towels.

Heat a large frying pan and add oil to reach about ⅓ of an inch. Fry the salmon pieces just until each side is starting to brown ( About 5 minutes). Set aside on a paper towel-lined plate.

Spread half of the onion and ginger slices at the bottom of the inner pot (Instant Pot). Arrange the fried fish slices snugly beside each other. Mash 2 tablespoons of the black beans then add (with the unmashed) to the pot Then equally distribute the garlic, peppercorns, soy sauce and the remaining half of the onion and ginger on top. Pour in your choice of oil (1 ½ cups) and water. The liquid has to be at the same level as the fish. Add more water or oil if needed.

Close the lid and seal the vent. Set on Manual for 1 hour. Release pressure after 15 minutes. Serve over rice.
Notes
*Bangus (Milkfish) can be used instead, using the same preparation instructions as the salmon. You will need 2 whole bangus for this recipe. *I used olive oil. ***The amount of liquid I used is about the same level as the fish. Add more water or oil, if needed.