This is one recipe I had spent a lot of time testing (and experimenting) until I was satisfied with the result. I tried different combinations on measurements, cooking time, kneading and of course, taste and the most important factor which is the "crunch". This is what makes Ilocos Empanada unique from the rest of the empanadas and rice flour is the key ingredient in creating a very crispy exterior.
I have had my fair share of eating this in the past but it's been ages since I last had it. Though that may be the case, the taste and texture is somehow imprinted in my brain that I knew what I was looking for when testing. Good thing, my "guinea pigs" were more than happy to test every batch…every time.
So, here it is. Remember to make the vinegar dipping sauce as this is an integral part of this dish. Without it, you won't have the full experience.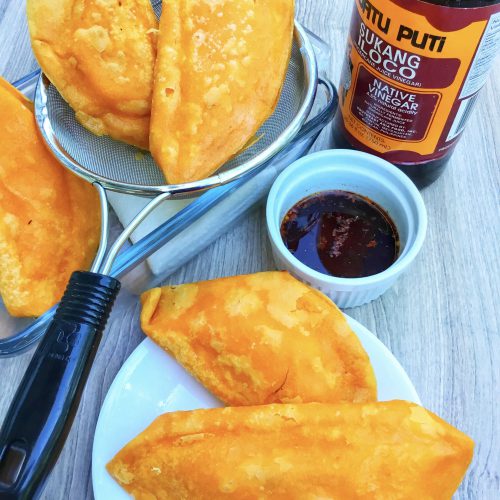 Ilocos Empanada
This is a must-try savory snack from the Ilocos region. It has a super crunchy exterior and is filled with veggies, longganisa and egg making it a meal in itself.
Ingredients
For the Dough:
2

cups

chicken broth

or 2 cups water + 1 teaspoon salt

1

cup

rice flour

plus 1 – 2 cups more for kneading

1 – 2

teaspoons

annatto powder

achuete *
For the Filling:
Grated green papaya or finely shredded green cabbage

small

1

cup

cooked yellow split mung beans

or regular mung beans**

Longganisa

remove casing and saute in pan until cooked through

Whole eggs

Ground black pepper

¼

cup

canola oil

for dipping dough

Oil

for frying
Dipping Sauce:
1

cup

vinegar

I used Sukang Iloko

1

teaspoon

salt

½

teaspoon

ground black pepper

½

teaspoon

chilli flakes or chopped fresh chilies

2

cloves

of garlic

finely chopped
Extras:
Small rolling pin

1

large ziploc bag

all sides slit open (or 2 sheets of clean plastic)

Plate

for shaping empanada
Instructions
Put 1 cup of rice flour in a big bowl. Set aside while you prepare the dough.

In a pan (I used nonstick), pour chicken broth (or water with salt) and add annatto powder. Stir well. Bring to a full boil and add 1 cup rice flour at once then stir using a wooden spoon. Lower the heat (low) and continue stirring for 3-5 minutes or until the liquid is fully absorbed.

Transfer the cooked dough to the prepared bowl with the rice flour. While still hot, knead by using a spatula to incorporate the dry flour to the cooked dough. Switch to using your hands when it's cool enough to handle. Keep kneading until all the rice flour is absorbed and the dough will be a little stiff and not stretchy. You may need to add more flour (1 – 1 ½ cups more) as rice flour absorbs moisture differently depending on the brand***. Rest the dough while you prepare the rest of the ingredients.

Prepare the papaya or cabbage in a large bowl. Add the cooked mung beans and season with ground black pepper. Set aside. Place the cooked longganisa in another bowl. Start heating about 1 ½. – 2 inches of oil (for frying) in a deep frying pan.

Grab a golf ball sized dough, dip generously in oil and place between sheets of the ziploc bag. Roll thinly to make a big circle. Place about ⅓ – ½ cup of the prepared vegetables and top with longganisa in the middle. Create an opening and crack the egg. Carefully close the empanada by lifting one end (to create a semicircle) and press the edges to seal. Use a plate to trim the dough by rolling from one end to the other.

Fry until both sides are crisp and golden. Drain in a colander seam side down to let the excess oil drip. Serve while hot with the vinegar dipping sauce.
Notes
*Add more annatto powder if you prefer a deeper orange flavor. A few drops of orange food coloring can also be used
**Season the mung beans with salt before cooking. You can also use mung beans that's been soaked in water for 2 days. You don't have to cook this one…just rinse, drain and pat dry with paper towels.
***It will take more than 5 minutes to knead the dough properly
****After numerous attempts, I realized that the drier the dough, the lesser it breaks when rolling. Knead as much flour as you can until it quits stretching and dough is quite hard but still soft enough to roll. Try rolling a piece and check. If it easily breaks, add some more flour.