It has been challenging these past few weeks. I try to think of ways to stretch the food we already have to limit food shopping trips. Unlike before this pandemic, I can't exactly plan what I have in mind for dinner. It's now dependent on what's available since we chose to shop at one store only, to limit the time outside.

Kids are home and hubby is working from home so it's a full house….and they're always hungry. I cook bigger portions of something at lunch which would also be dinner that night unless they want to eat bread (which is a normal thing in our house).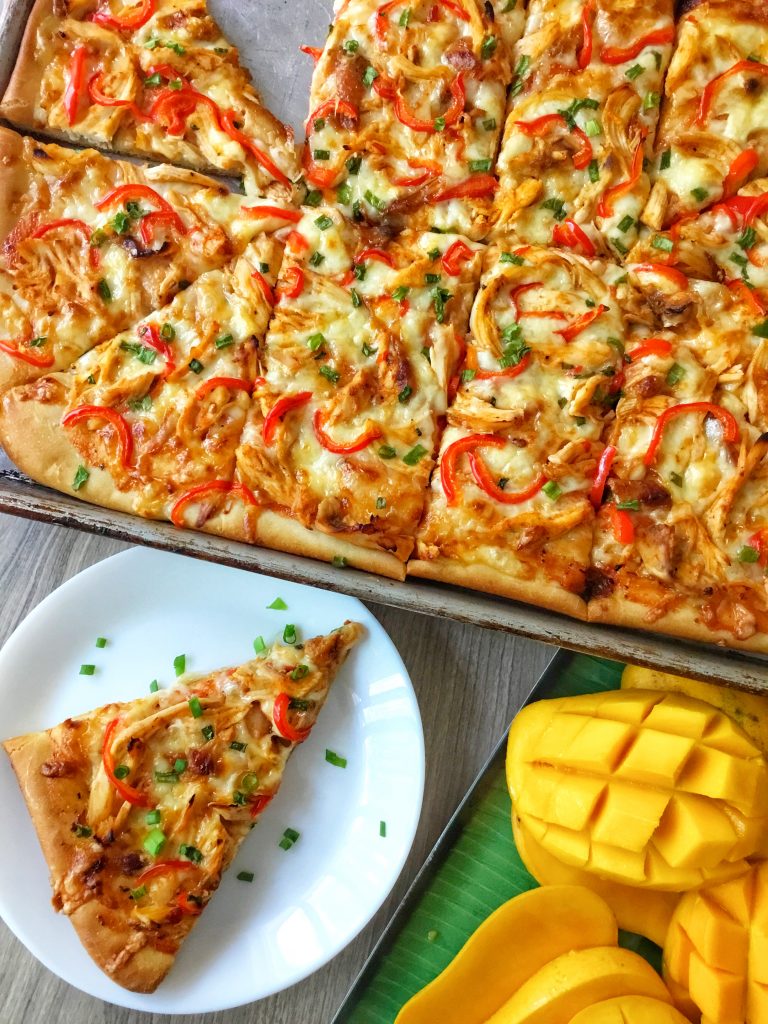 Pizza is a well-loved food in our household. I started making it a few years ago when my daughter started ordering it at school as part of their fundraising event. She would rave about it so I tried making it at home . They loved it! And from then on, she wouldn't order pizza but rather ask me to make some on the same day her classmates would have the pizza lunch. It tastes better, she said. Made my day. Haha!

This recipe is honestly an easy pizza to make. Don't let the yeast fool you. It only takes 20 minutes to rise and the topping possibilities are endless!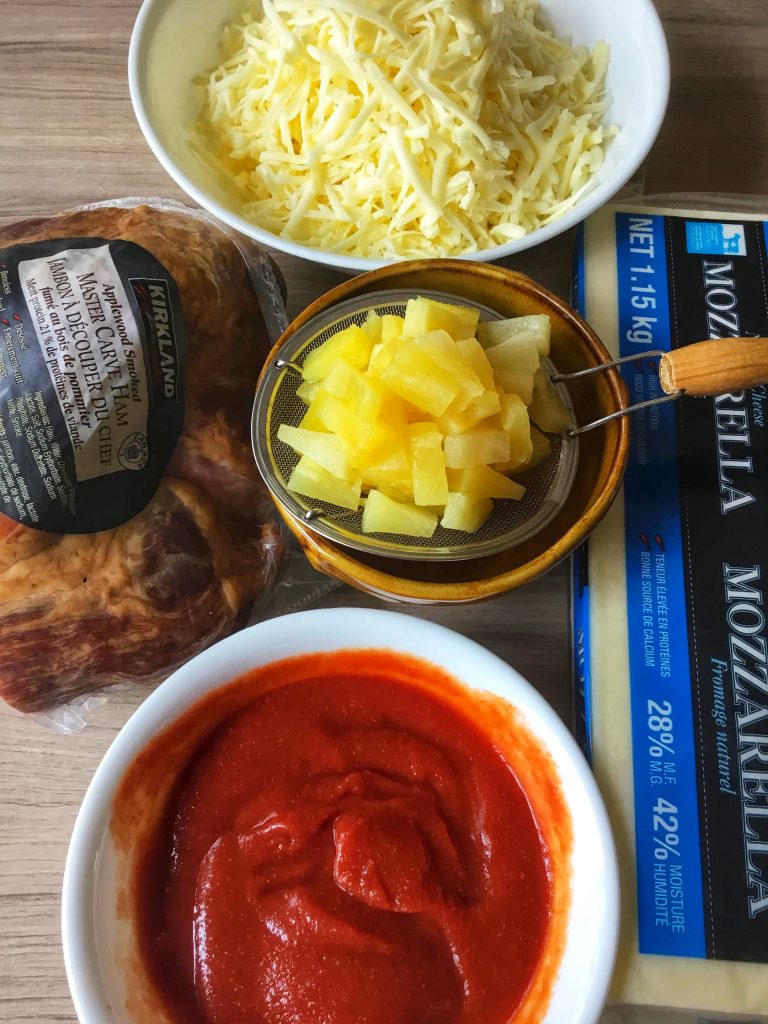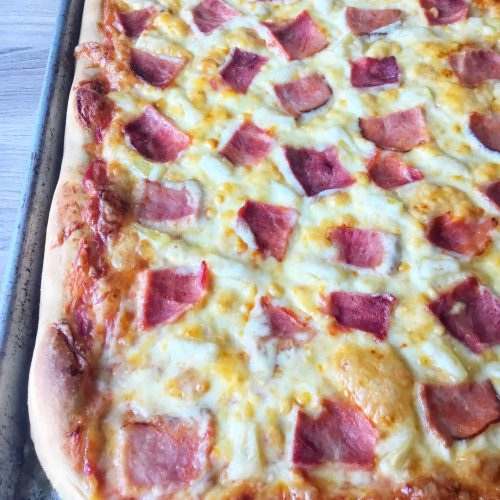 Homemade Filipino-Style Pizza
This easy to make pizza is a great meal to make at this time. It's filling and you can top it with anything you have at home plus it tastes really good!
Ingredients
Pizza Dough:
2

cups

warm water

1

Tablespoon

active dry yeast

2

Tablespoons

sugar

divided

5

cups

all purpose flour

divided

2

teaspoons

salt

4

Tablespoons

olive oil

5

Tablespoons

cornmeal

optional
Homemade Pizza Sauce (enough for two 12×18 inch pan**)
Recipe 1
⅔

cup

canned crushed tomatoes

**(see below for substitution)

¼

cup

ketchup

2

Tablespoons

tomato paste

1

Tablespoon

sugar

1

teaspoon

dried basil or Italian seasoning

½

teaspoon

garlic powder

Pinch

of salt
Recipe 2
⅔

cup

Tomato paste

⅔

cup

Tomato ketchup

1

Tablespoon

sugar

1

teaspoon

dried basil or Italian seasoning

½

teaspoon

garlic powder

pinch

of salt
Toppings:
650

g

shredded mozzarella cheese

6 cups

Bell pepper

(red,orange or yellow), diced or thinly sliced

Pepperoni, ham, cooked shredded chicken, sausage

ham, cooked shredded chicken, sausage

Pineapple tidbits

for Hawaiian, drained and patted dry with paper towels

Any topping of your choice like sliced mushrooms

onions, etc***
Instructions
In the bowl of an electric mixer, mix together warm water, 1 tablespoon sugar and yeast. Proof for 5 minutes.

Add 2 ½ cups flour. Mix well using the paddle attachment until well combined.

Switch to the dough hook and add the remaining flour, 1 tablespoon sugar and salt. Mix using no.2 speed on the Kitchenaid and knead until smooth. You can add additional flour 1 tablespoon at a time if your dough is too wet. Cover with plastic wrap and let rest for 20 minutes. (See notes if kneading by hand)*****

While dough is resting, evenly coat two 12×18 inch cookie sheets with olive oil (2 tablespoons per pan) then equally sprinkle cornmeal on top of the pans. This will create a crunchier crust. Put aside until the dough is ready.

Divide the dough in half. Stretch or roll each using your hands or a rolling pin. It should be enough to fit the two prepared pans.

Thinly spread the sauce evenly between the two pans. Top with mozzarella cheese followed by the pepperoni and the bell peppers or whatever toppings you prefer.

Bake in a preheated 425F oven for 20 minutes. Cheese would be bubbling and lightly browning at some spots. Bottom should be golden and crusty. Check at about 18 minutes if you want a softer crust.
Notes
*This can also make three round pizza about 10-12 inches in diameter
**

O

r use store-bought pizza sauce.
***You can use any toppings you have. Check your fridge, freezer or pantry. For cheese pizza, you only need the pizza sauce and the mozzarella cheese. Use less or more cheese if you want.
****You can freeze the pizza dough. Place the amount to be frozen in a freezer bag, squeezing out the air before sealing. Take out of the freezer and leave on the kitchen counter until no longer cold. Then follow the rest of the instructions.
*****If kneading by hand: In steps 1 & 2, use a large bowl to proof the yeast. Then after adding half of the flour, mix well with a wooden spoon. Then, add the ingredients listed in step 3 and combine well with your hand. Transfer to a clean counter and knead manually for 5-7 minutes or until the dough is smooth. Follow the rest of the recipe from step 4.