With all the excitement of having ham during the holidays, I'm left with a huge chunk that I portion for later use. It's the best kind of leftover though because it freezes beautifully and is so versatile….there's no shortage of ways to prepare it. That's why I don't mind buying a bigger ham because I already know how to use what'll be left, even before purchasing one.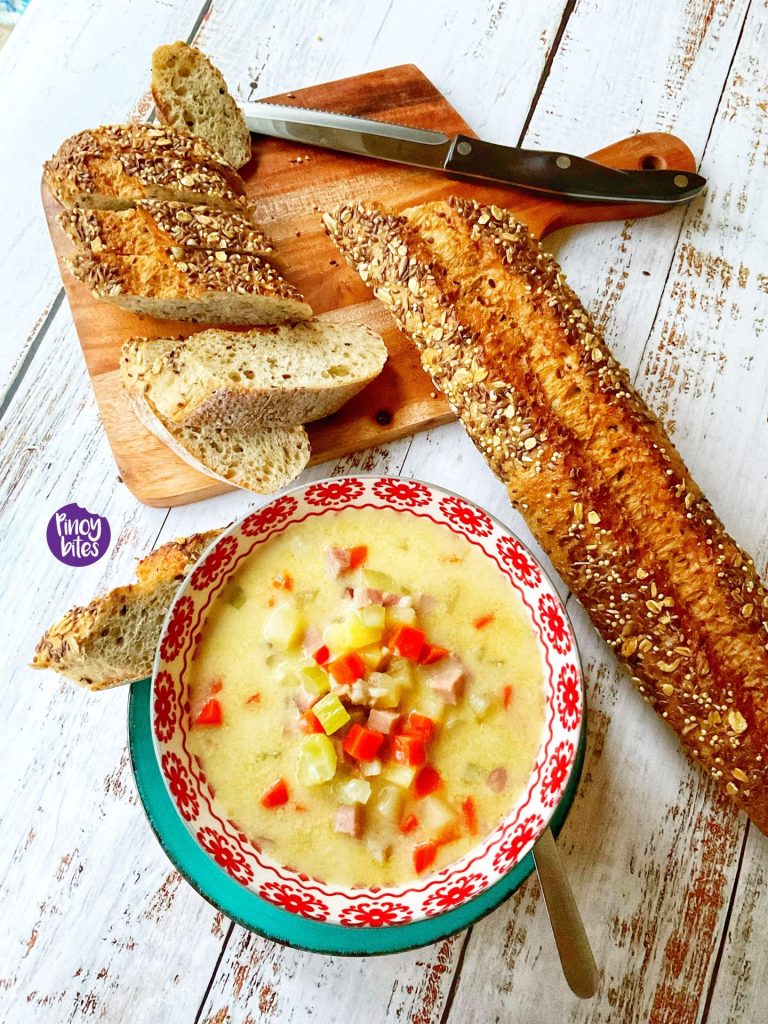 My kids love soup and this is one of their favorites. So, I tend to gravitate towards the bigger portions (or whole) rather than the deli-style slices. Whole ham is also cheaper and you get more bang for your buck. Though the boneless type is more convenient, buying bone-in ham also has its perks. You can use it as a flavorful substitute to chicken broth. Just add the bones in a pot with some onions and peppercorns and let it simmer while you prepare the rest of the ingredients. To add more depth to the broth, I add a few teaspoons of my favorite chicken soup base, Better than Bouillon. 
I hope the next time you're thinking of buying ham (especially for Easter or around the holiday season), you'll remember this. Also, check out this recipe on how I make Filipino Ham with Pineapple-Brown Sugar Glaze.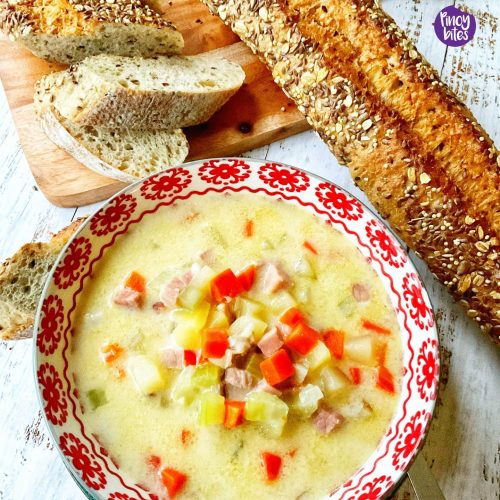 Ham and Potato Soup
This hearty and filling soup brings warmth on the coldest of days. Serve it alongside your favorite salad, your choice of sandwich or just plain toast.
Ingredients
2-3

cups

ham

cut into small cubes

1

small onion

finely chopped

3

cloves

garlic

minced

4

large Yukon gold potatoes

cut into small cubes**

2

large carrots

cut into small cubes**

2

celery stalks

finely diced

1

bell pepper

finely diced

8

cups

chicken broth

homemade or store bought (reserve ½ cup for the slurry)* (see notes)

1 354

ml

can evaporated milk

¼

cup

butter

¼

cup

cornstarch

Salt and pepper

to taste
Instructions
Melt butter in a large pot using medium heat. Add the onions and saute until translucent. Add garlic and the ham cubes. Cook for 3 minutes before adding in the potatoes, carrots and celery. Season with ½ teaspoon of salt and ¼ teaspoon ground black pepper. Saute for a minute then pour in 7 ½ cups of chicken broth. Bring mixture to a boil.

Once boiling, lower the heat and simmer for 3 minutes or until the potatoes are tender. Stir in the milk. Combine cornstarch and the reserved (room temperature) ½ cup broth. Slowly pour into the pot, while stirring.

Increase the heat to medium and bring to a boil. Add the chopped bell pepper and simmer for 2 more minutes. Taste and adjust seasoning. Serve hot with toast or crackers.
Notes
*If you have some leftover ham bones, use it instead of just plain chicken broth. Add the ham bone to a pot with 8 cups of water and add 2 tablespoons of Better than Bouillon chicken base. Or use 4 cups of water and 4 cups of chicken broth. Bring to a boil and simmer for at least 10 minutes, while you're preparing the rest of the ingredients. The longer you simmer the broth, the more flavor gets extracted from the ham bones. **Use more (or less) of the ingredients that you prefer. I always add more carrots and potatoes because my kids love it.