As Christmas day nears, the homesickness becomes more intense. Missing our loved ones back home, the festivities and (of course) the food are the major thoughts that come to mind when I think of the holidays. It's been a long time since we went to the Philippines around Christmastime and with this global pandemic, it's still a blur when traveling will be back to normal.
Ham is a Noche Buena (Christmas Eve dinner) staple among Filipinos. There are tons of hams sold at food shops everywhere in North America but that particular taste of the Filipino ham is what our palate longs for. To us Pinoys abroad, it has a nostalgic effect that somehow makes us feel like we're back home celebrating with family.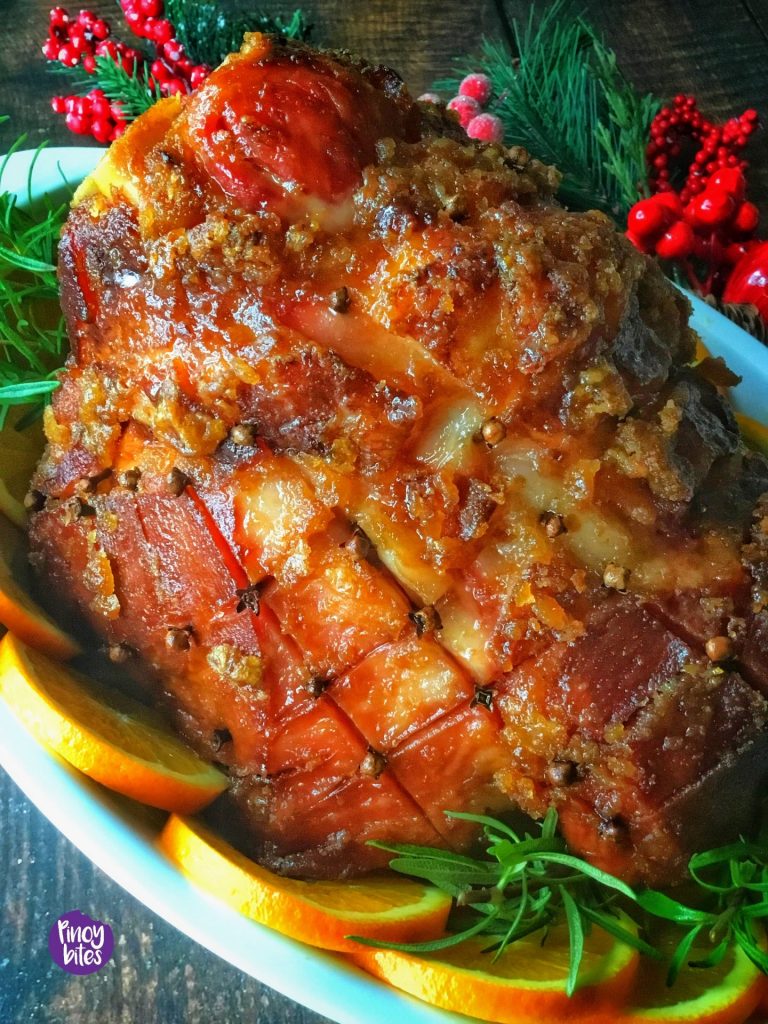 I have been cooking my ham this way even before my eldest was born. The process is quite easy… simmer the cooked ham in sweet juice then broil in the oven to create that sweet golden glaze that will entice even the pickiest eater in your family. The trickiest part for me is to evenly melt (broil) the brown sugar that envelops the entire ham. Make sure to read the notes for some tips on how to broil it properly. The reduced braising liquid gives it extra deliciousness. What I usually do is warm some thinly sliced ham in a frying pan (on low heat) with some of the sauce to prevent it from drying out. This will also nicely glaze it. We love it with rice, on bread, with salad or sometimes eat it as is. Oh so good!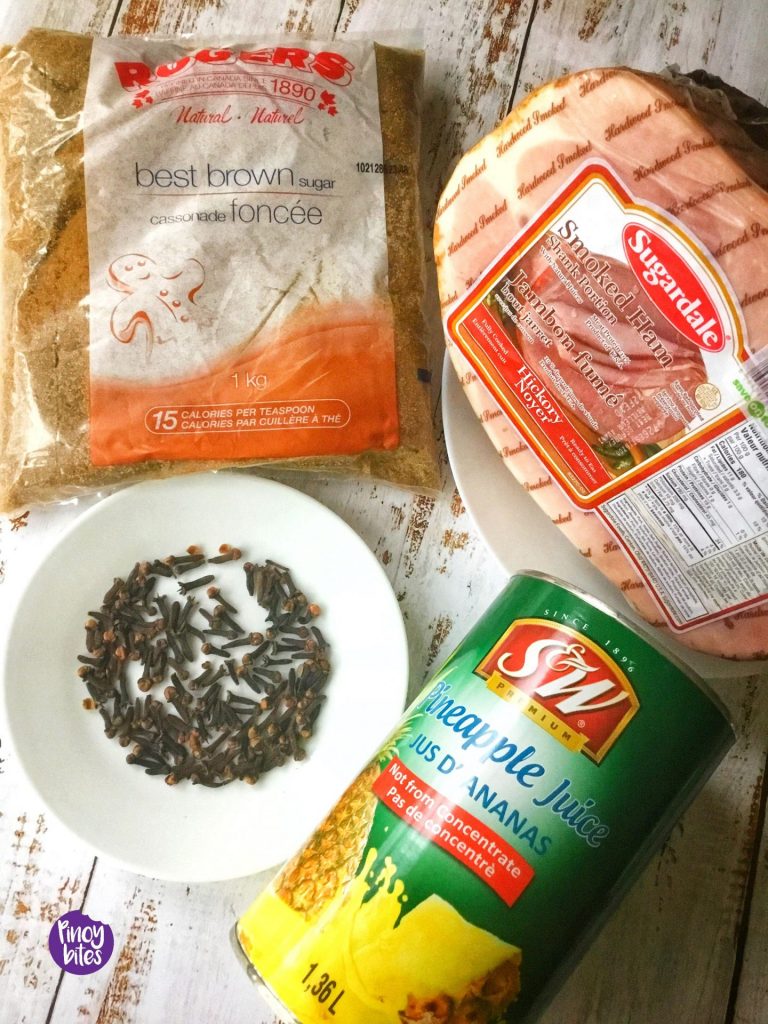 With just a handful of easy-to-find ingredients and a simple process, I'm sure you'll remember this recipe whenever ham goes on sale at your favorite supermarket. Enjoy!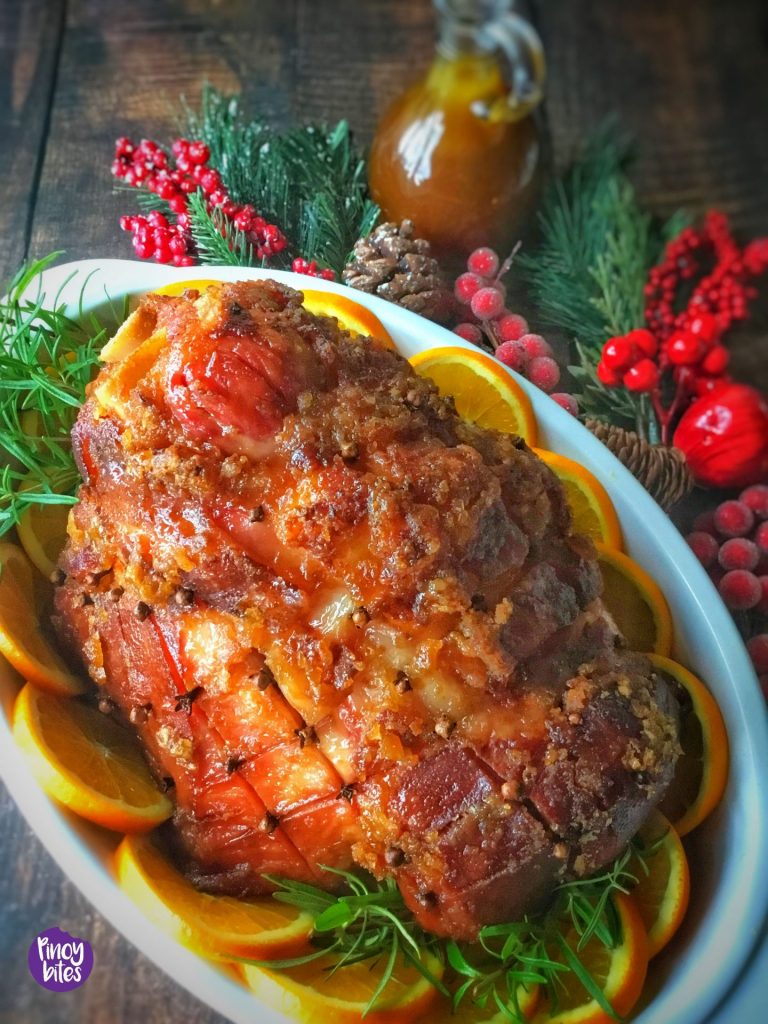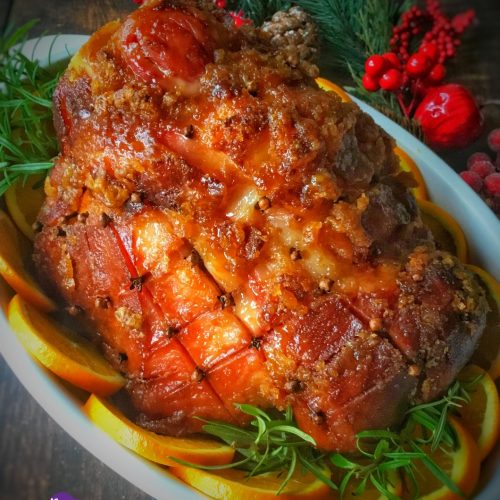 Filipino Ham with Pineapple-Brown Sugar Glaze
Sweet, moist and flavorful glazed ham that will surely take center stage during the holiday season.
Ingredients
One 6-8 lb cooked ham

bone-in

1.36

L

can

(5 ½ cups) pineapple juice, should cover at least ⅔ of the ham

1

cup

brown sugar

4

Whole cloves

(or 2 star anise)
For the Topping/Glaze :
Whole cloves,

to stud after scoring the ham

1

cup

brown sugar
Instructions
Place the ham (remove packaging and skin, if any) in a large pot (with lid). Add brown sugar, 4 pieces of cloves and pineapple juice. Bring to a soft boil on medium-low heat. Once it starts to boil, switch to the lowest heat setting, cover and cook for one hour. Make sure the liquid is just barely simmering, not bubbling. Spoon the braising liquid to the ham (that's not submerged in liquid) every 20 – 30 minutes. Remove the ham and reduce the braising liquid to about 1 ½ – 2 cups. This will be your ham gravy/sauce for serving.

Set the oven to broil. Position the oven rack in the lower third. Line a rimmed baking sheet with aluminum foil and position a wire rack on top. Place a piece of parchment (just enough to cover the bottom of the ham on top of the rack) and place the ham on top. This prevents the bottom from sticking to the rack.

Using a sharp knife, score 1 inch diamond-shaped (or squares) patterns on the ham (shallow cuts about ¼ inch deep). Put one whole clove in every spot where the cut meets. Pack the brown sugar all over the ham, pressing firmly to make it stay in place. Broil until the sugar melts and the glaze is bubbling. It will take about 15 minutes depending on the size and shape of the ham. Watch carefully to prevent burning.* (see Notes)

Garnish with fresh fruits and/ herbs of choice. Remove cloves prior to serving
Notes
*Switch between HIGH and LOW broil settings and crumple a piece of foil to place under the rack to elevate any part farthest from the heat source. Watch carefully to prevent burning. If some spots are browning faster, cover with a piece of foil.