I can't even begin to describe how fearful I was of pressure cookers. I would rather babysit a simmering meat for an hour or tenderize pork ribs for more than 2, than the thought of using it. My mom even offered me one of her two ( yes TWO! ) stovetop pressure cookers in the past which I politely declined. But it all changed when I learned about the Instant Pot. I was reluctant at first but the promise of safe pressure cooking and ease of use was very enticing and more importantly, it was on sale on Amazon for less than half the price! Let me tell you, it's so awesome!!! Not only does it cook food faster, it stays at a safe temperature for hours with its automatic "keep warm" function.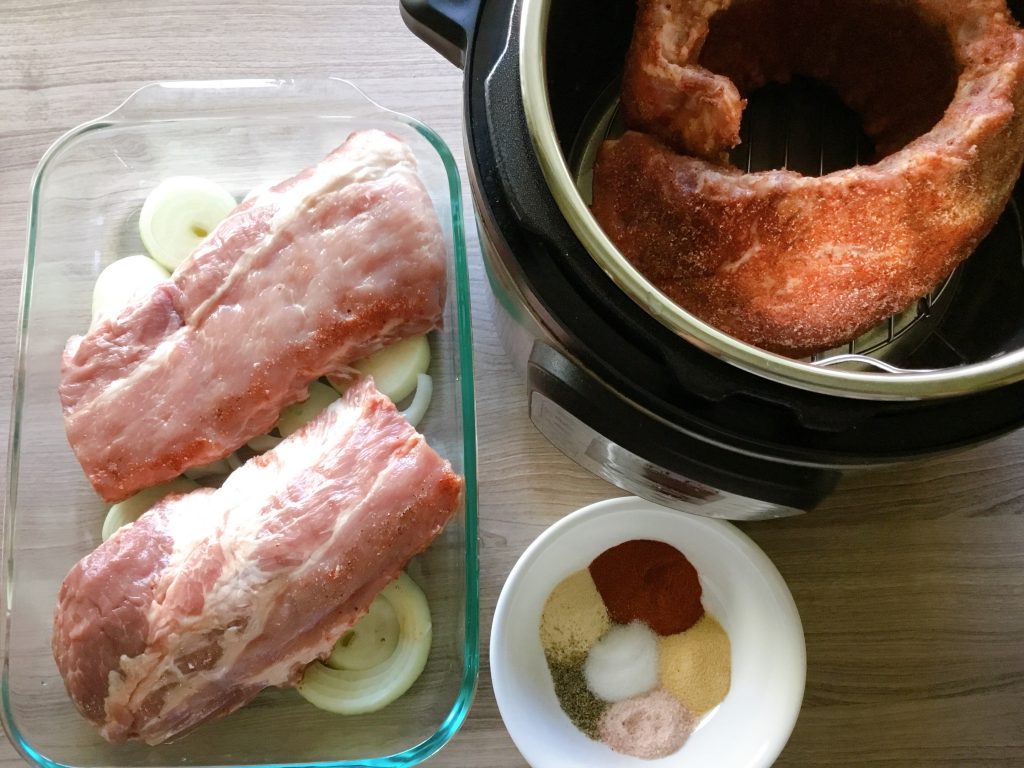 "Low and slow" is the name of the game when it comes to a fall-off-the-bone ribs. With the IP, it does it at a fraction of the time! Then, just slather the sauce and bake and/ broil it for a few minutes. Enough said for I'm beginning to turn into an infomercial. Haha!

Prior to owning the IP, I bake this in a low oven for a long period of time. Results are the same, it's just a matter of choice on how you want to cook it. Read the notes below for instructions on how to do it in a conventional oven. Either way, there's a delicious and very tender rack of barbecue ribs that you'll surely enjoy at the end of it all.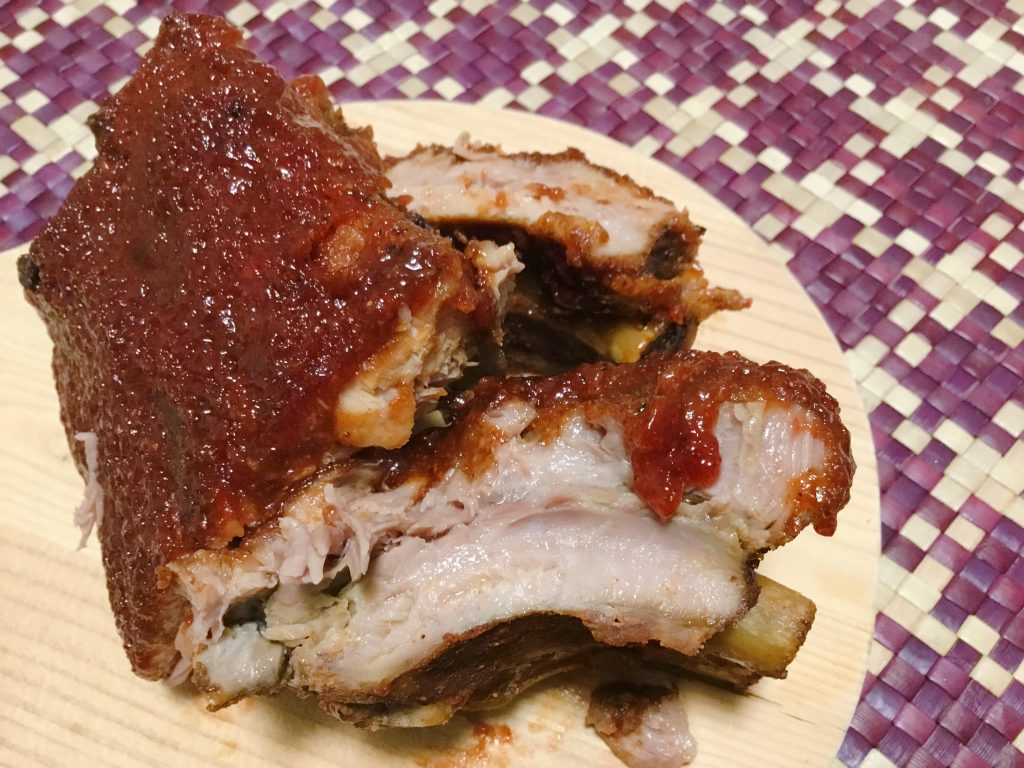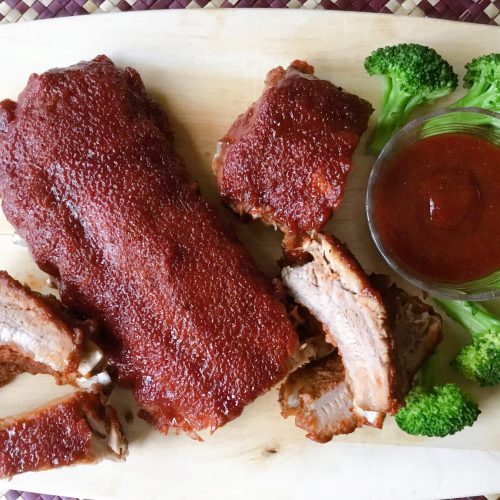 Fall-Off-The-Bone Pork Barbecue Ribs (2 ways)
This very tender and tasty rack of ribs is easier to make than you think. Serve with corn on the cob, crispy fries or any side dish of your choice.
Ingredients
1

2.5 – 3 lbs full rack of pork back ribs

2

tsp

EACH

salt, black pepper,garlic powder, onion powder, sugar, paprika

1

cup

water

1-2

teaspoons

liquid smoke

optional

Homemade Barbecue sauce

recipe below* or your favorite store bought brand

Only needed if using the Conventional Oven method:

4

large onions

sliced about ½ inch thickness

2

long sheets of aluminum foil
Homemade Barbecue Sauce
1

cup

packed brown sugar

1

cup

Ketchup

¼

cup

apple cider vinegar

1

tablespoon

garlic powder

1

tablespoon

onion powder

1

tablespoon

paprika

1

tablespoon

sea salt

1

teaspoon

ground black pepper

1

teaspoon

red chili flakes

optional
Instructions
Turn the ribs on its back and peel off the thin membrane of "skin" lining the whole rack. Starting at one end, use a paper towel to have a good grip and pull it off. This will help to make the flavor stick to the meat better and aids in cooking.

Place all the spices for the dry rub in a small bowl and mix well to combine. Sprinkle and rub the mixture on both sides of the ribs. Make sure all the meat is well covered.

Instant Pot Method : Place the trivet in the bottom of the inner pot of a 6qt IP then pour the 1 cup of water and liquid smoke (if using). Curl the ribs (meaty side out) and place it on top of the trivet. You may also cut the rack of ribs in half. Place the lid, vent on "sealing" and cook on Meat function for 25-30 minutes depending on how thick your ribs are. I cooked mine for 30 minutes. When time is up, do a natural steam release for at least 15 minutes. Carefully transfer the ribs on a baking sheet. Liberally brush with barbecue sauce and broil for 3-5minutes or until the glaze is bubbling and starting to caramelize. Watch carefully so it doesn't burn.

Conventional Oven Method: Line a roasting pan (or a 9×12 inch apyrex pan) with the sliced onions. Add the liquid smoke (if using) to the water and pour in the pan. Arrange the ribs on top and cover tightly with 2 layers of aluminum foil. Bake in a preheated 325F for 3.5 hours or until very tender. Remove the foil and drain as much of the liquid as you can by using a ladle or a baster. Slather ribs with barbecue sauce and broil for 3-5 minutes or until sauce is bubbling and starting to brown. Watch carefully so it doesn't burn.

Homemade Barbecue Sauce : Place all ingredients in a medium saucepan and bring to a boil. Lower the heat and simmer for 2 minutes while stirring continuously. Be careful, it splatters at times. Pour over ribs.
Notes
*Transfer leftover sauce in a lidded mason jar and refrigerate for about a week or freeze for the next time you make ribs. You can use it over baked or grilled meat , dip for fries or as a pizza sauce in place of tomato sauce.