I have been craving Pork Adobo for weeks now but because of my unending to-do list, I haven't gotten around to it until a few days ago. Because it's been on my mind, I wasn't even thinking when I was cutting a slab of pork shoulder. It was only after I was done cooking that I realized I made too much (2 to 3 meals worth!). Lol!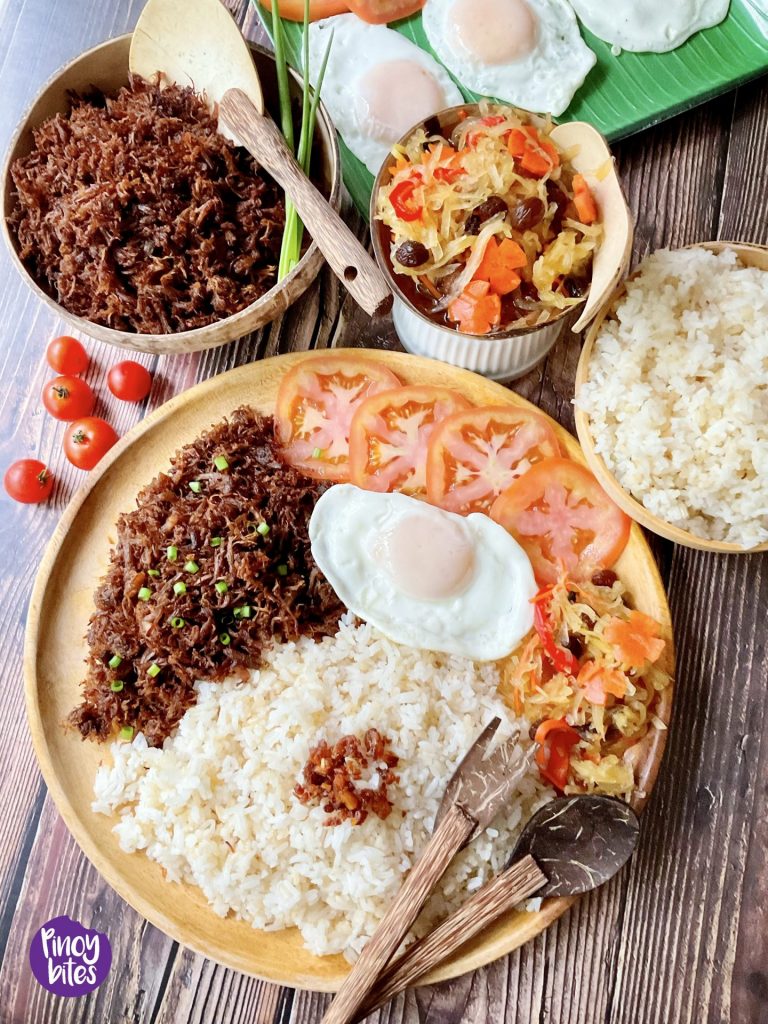 Adobo is one of those dishes that tastes better the next day (…and the next) so I thought an extra serving wouldn't hurt. But after having it twice, I knew my family would not be looking forward to another Adobo Day soon. Turning it into something else will be more welcome… even for the next day.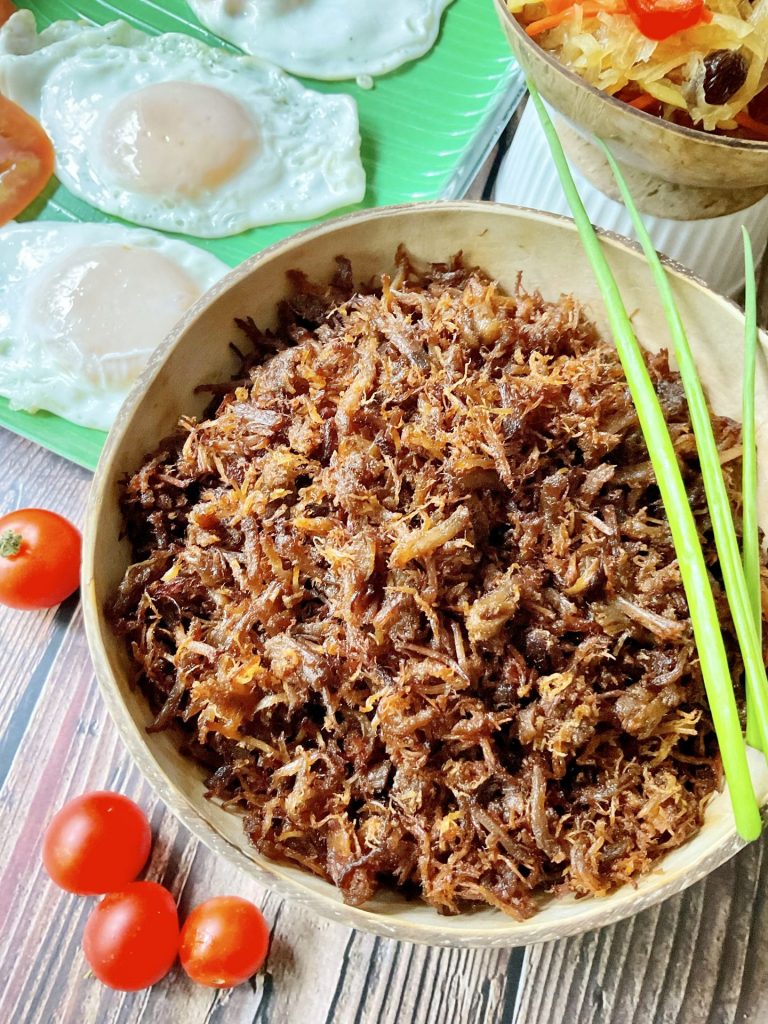 This is one dish that I seldom make because we rarely have too much adobo. When I cook, it's usually good for a couple of meals unless it's something that I intend to freeze. Extra adobo flakes can be used as a topping for Arroz Caldo, a filling for Taco/Burrito and I even use it to top fries or nachos. Though there's a number of possibilities, I still prefer it served as a Silog meal…. with Sinangag (Garlic Fried Rice) and fried egg. Of course, Atchara (Pickled Papaya) is a great addition if you have some but making it is easier than you think (just click the link above for my easy and delicious recipe). This recipe also works with Chicken Adobo.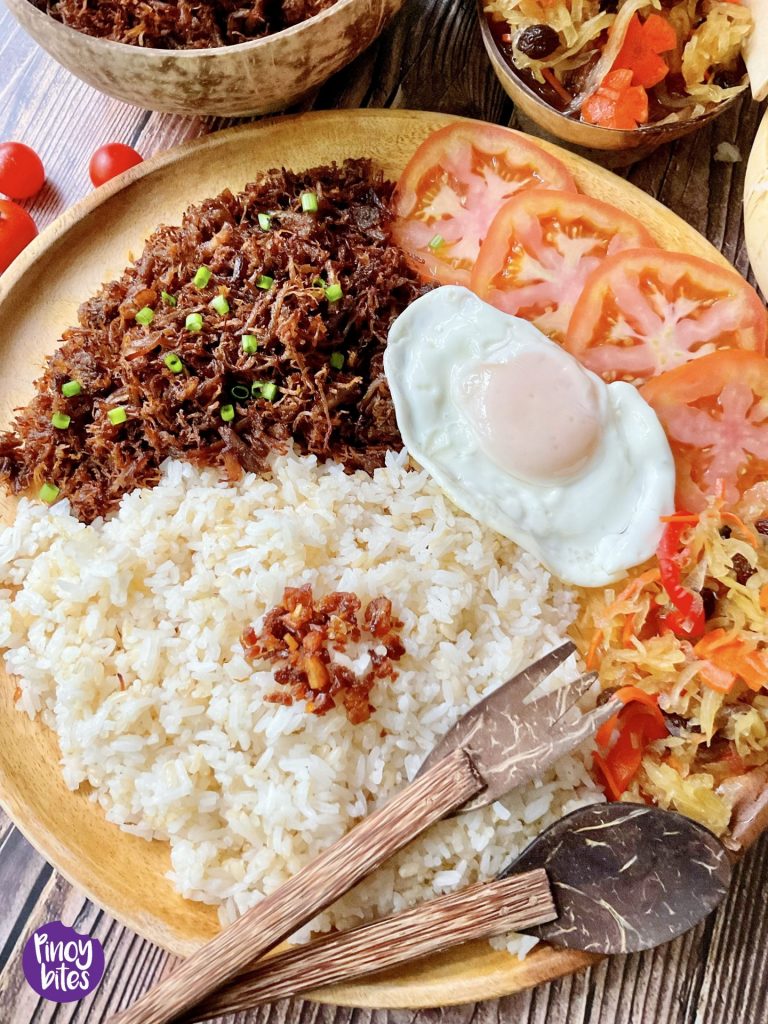 I tried cooking these flakes a couple of ways – deep fried and with just a little bit of oil. Deep frying is the hands down winner as it's crispier than the one cooked in a little bit of oil. I noticed the batch cooked with a little bit of oil was also crisp but a little chewy on the inside. It's good too! In the end, it all boils down to your personal preference. Just watch it as you deep fry because as it cooks, a foam develops on top which makes it less visible to see what's underneath. You may have to switch your heat from medium to low and keep lifting (while stirring) the flakes to check how brown they're getting. Once golden and crisp (less than 5 minutes), drain on a paper towel-lined plate.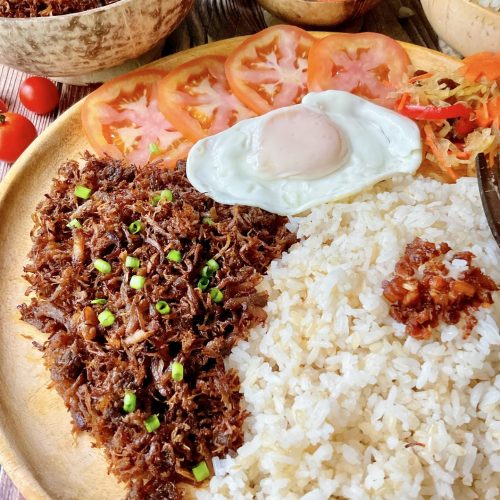 Crispy Adobo Flakes
A scrumptious Filipino breakfast (or anytime meal) made with leftover Adobo. Served with garlic fried rice and egg, leftovers never tasted this good!
Ingredients
2 to 3

cups

leftover adobo

 evenly shredded (drain and reserve sauce)*see Notes

2 to 3

tablespoons

adobo sauce

Oil of deep frying

I used Canola** see Notes for lesser oil option
Instructions
Add the shredded adobo and 2 to 3 tablespoons of adobo sauce to a shallow frying pan. Add 1 tablespoon sauce for every cup of shredded adobo. Cook on medium heat while stirring continuously until the liquid evaporates and it's starting to cook in its own fat. Spread on a paper towel-lined plate and set aside to cool a bit. (**see Notes if you don't want it deep fried)

Heat about 1 inch of oil in a pan and once hot, gently drop the adobo flakes.

Keep the heat on medium-low heat to prevent burning. Mix continuously and cook until golden and crispy. It will only take a few minutes so watch it carefully.

Scoop the adobo flakes out of the pan with a spider strainer onto a plate lined with paper towels.
Notes
*I used Pork Adobo in this recipe but leftover Chicken Adobo can also be used. **If you prefer NOT to deep fry, you can do so with a little bit of oil. Just follow STEP 1 and once the liquid evaporates, ADD 1 to 2 Tablespoons of oil then cook on low heat for 10-15 minutes or until golden.