It has been a weird summer this year. At the beginning of June, it felt quite like spring – cold and wet. Glad we're out of that stage but summer is back with a vengeance. It is HOT! Google always follows the weather forecast with "There's currently a heat warning in effect". Fans are nonstop and the a/c has given comfort at nighttime.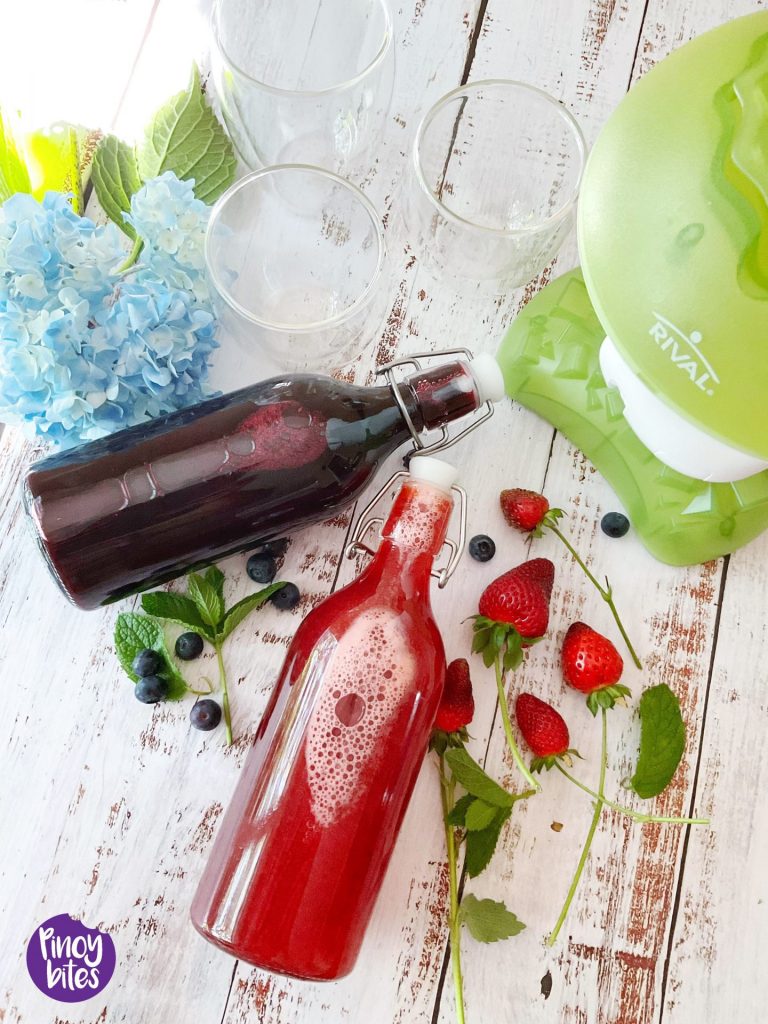 Once summer starts and strawberries (and other berries) are at their peak, that's the signal to make their favorite summer frozen treats. Snow cones and our super easy and smooth Ice Candy (Strawberry Ice Candy, Mango Ice Candy, Avocado Ice  Candy) are at the top of their list. I always make a batch of these snow cone syrups using berries that we either picked ourselves or bought at the local farms. They taste better, priced better and at their freshest state.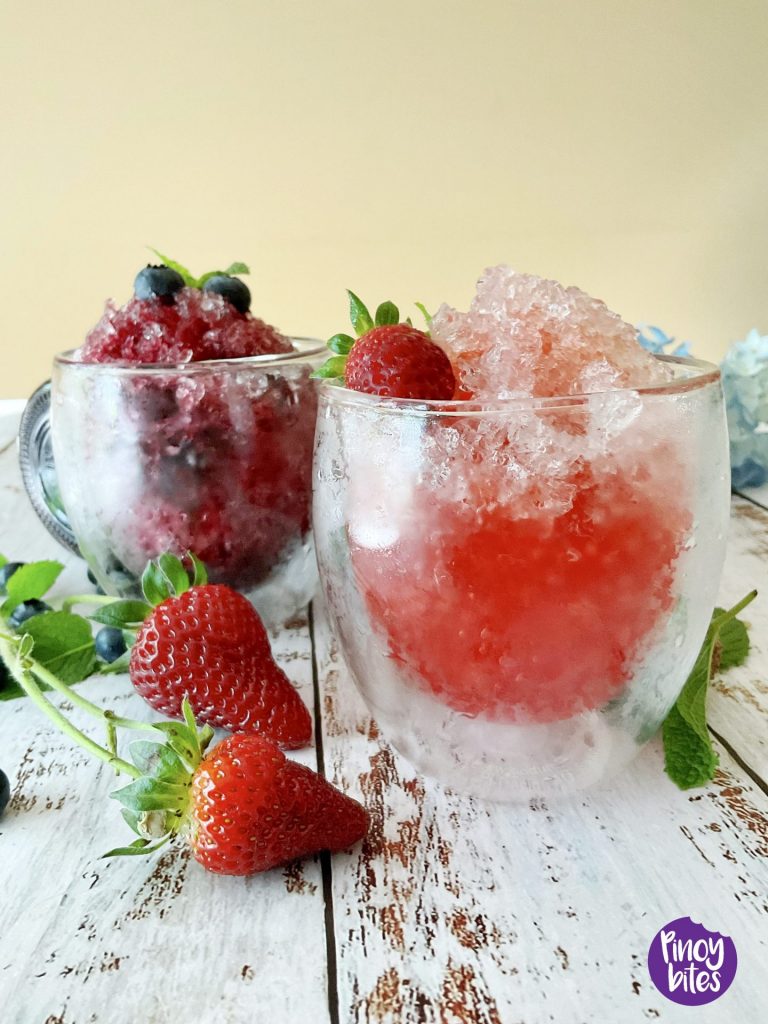 This is a very easy recipe that is made with all-natural ingredients. It's way better than the store bought kind that is laden with additives and food colorings. You basically need just 2 ingredients because water completes the list. Super easy, super refreshing and soooo yummy! I also save the pulp after straining and use it as jam for my toast. Delish! AND, I save the leftover pulp after straining the liquid and turn it into jam. Just cook it for a few minutes with a tablespoon of freshly-squeezed lemon juice and some sweetener (sugar or honey) until thick enough to spread over toasts.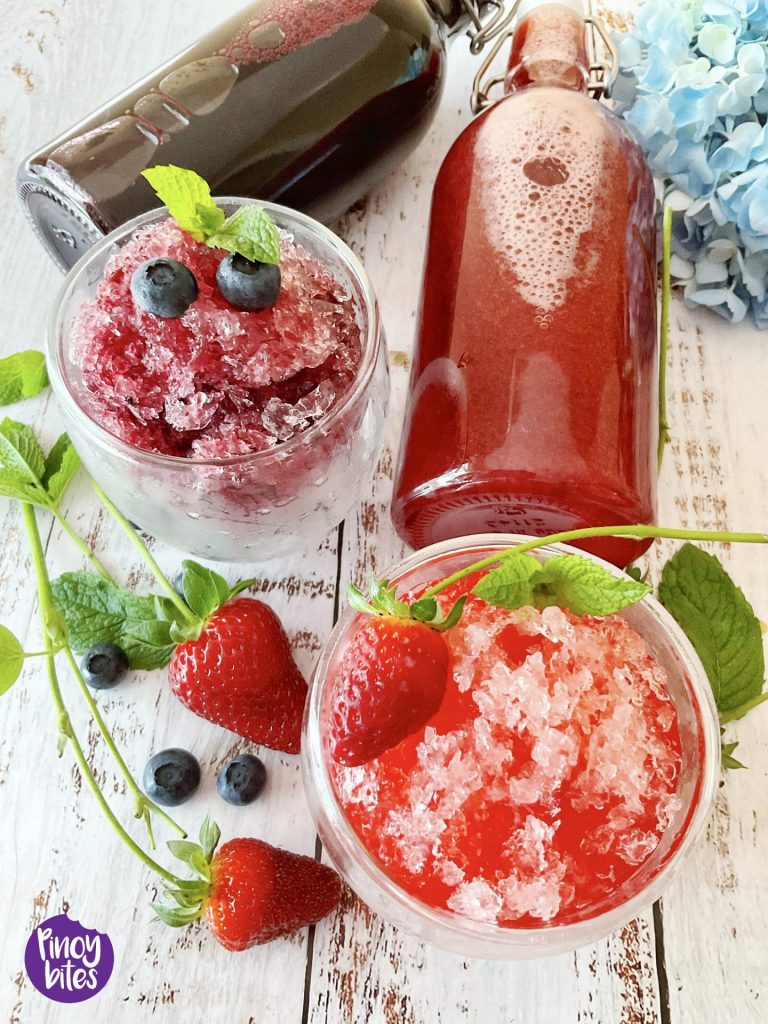 So, what are you waiting for? Make some and beat that scorching heat with these delicious slushies. And, don't forget to make ice.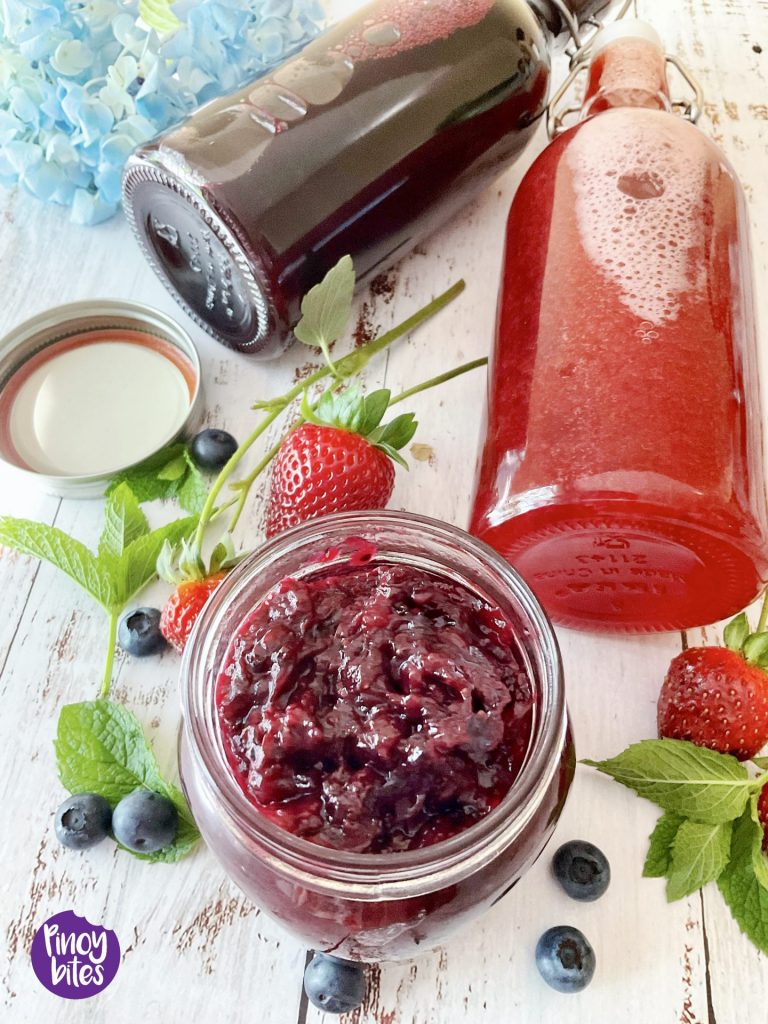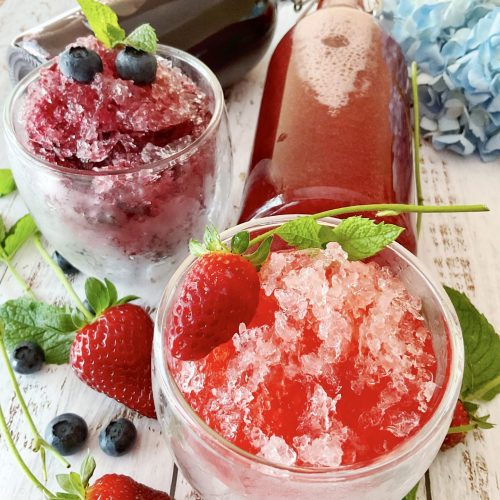 DIY Snow Cone Syrup (Only 3 Ingredients)
a quick and easy way to use berries that everyone will love. Definitely a refreshing summer staple!
Equipment
Masher (to break down berries)

Fine sieve

Snow cone maker/ice shaver (or just use crushed ice)* see Notes

Large pot (6qt or can hold at least 3x the volume of the fruit)
Ingredients
Strawberry Syrup:
4

cups

chopped strawberries

about 1 ½ lbs

1 ½

cups

sugar

1 ½

cups

water

Crushed ice

(for serving)
Blueberry Syrup:
4

cups

blueberries

1

cup

sugar

1 ½

cups

water

Juice of ½ lemon

Crushed Ice

(for serving)
Instructions
Place the first 3 ingredients (depending on which flavor you want to make) in a deep pot that's large enough to hold at least 3x the volume of the mixture. Bring to a boil using medium-high heat.

Once boiling, mash the berries with a potato masher or the back of a wooden spoon. Reduce the heat to medium and continue cooking (while stirring and mashing at times) the mixture for 5 to 7 minutes or until it starts to just slightly thicken but still very runny. The mixture foams as the syrup boils hence the need for a bigger pot to avoid the syrup from boiling over.

Strain using a fine sieve, let cool and transfer to a mason jar or a squeeze bottle. Refrigerate until ready to use.

To serve: drizzle over crushed ice, use as a juice base or use to make flavored lemonade/iced tea.
Notes
*Manual ice shaver that's used for halo-halo or a blender with a crushed ice option. You can also place some ice cubes in a ziploc bag, wrap the bag with a kitchen towel then whack with a rolling pin to crush the ice. **I turn the leftover pulp into jam by adding some freshly-squeezed lemon juice and some sweetener (sugar or honey) then cooking it for a few minutes until thickened. They're great on toasts!