It's finally barbecue season! Though I can use the oven to make Pork Barbecue all-year round, the sight and smell of cooking on the grill makes it more enjoyable to eat. What's even more palatable is when those flame-kissed meats are served with a side of Atchara (Pickled Papaya).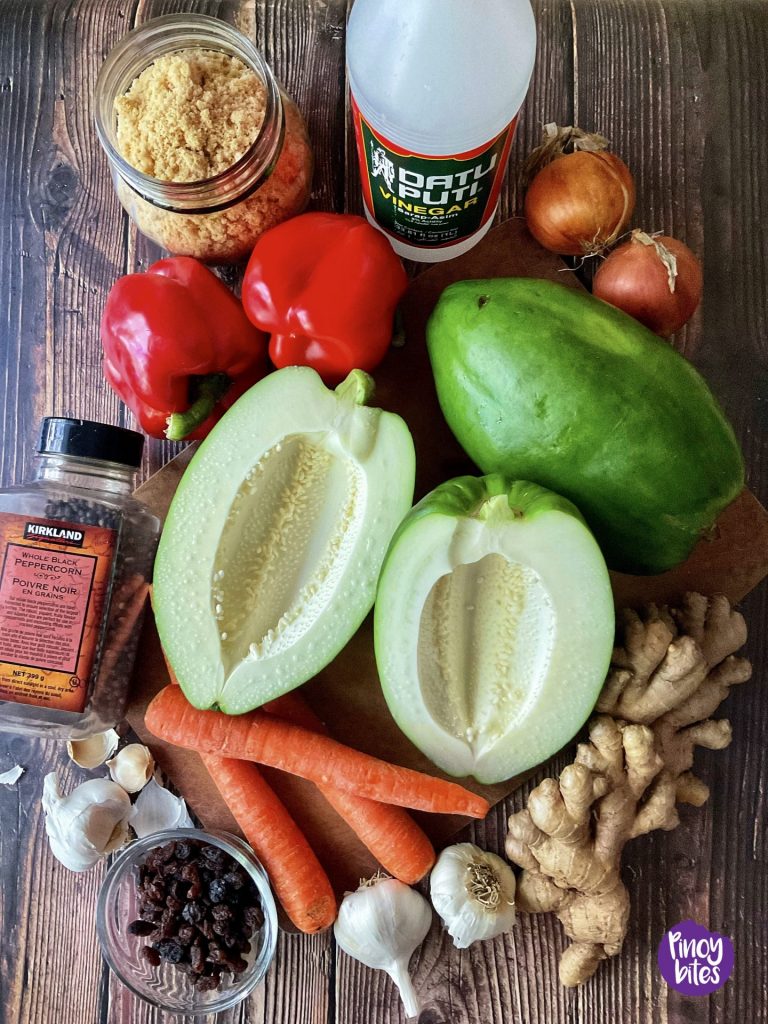 Pickled vegetables, particularly Atchara, are the best accompaniment to fried and grilled meat (and fish). Its sweet-sour taste perfectly pairs with the food I mentioned and the acid cuts down the heaviness of these yummy eats.
Atchara can either be on the sweeter or the tart side. Depending on your preference, you can make your own adjustments. More vinegar is added to the pickling solution if you want it more on the sour side and of course, add more sugar if you want to tame its acidity. I always make mine with slightly more sugar than vinegar and always with light brown sugar. I love the deeper flavor it gives to the pickles and I also love that slight amber tinge to the pickling liquid. That's how my mom makes it too!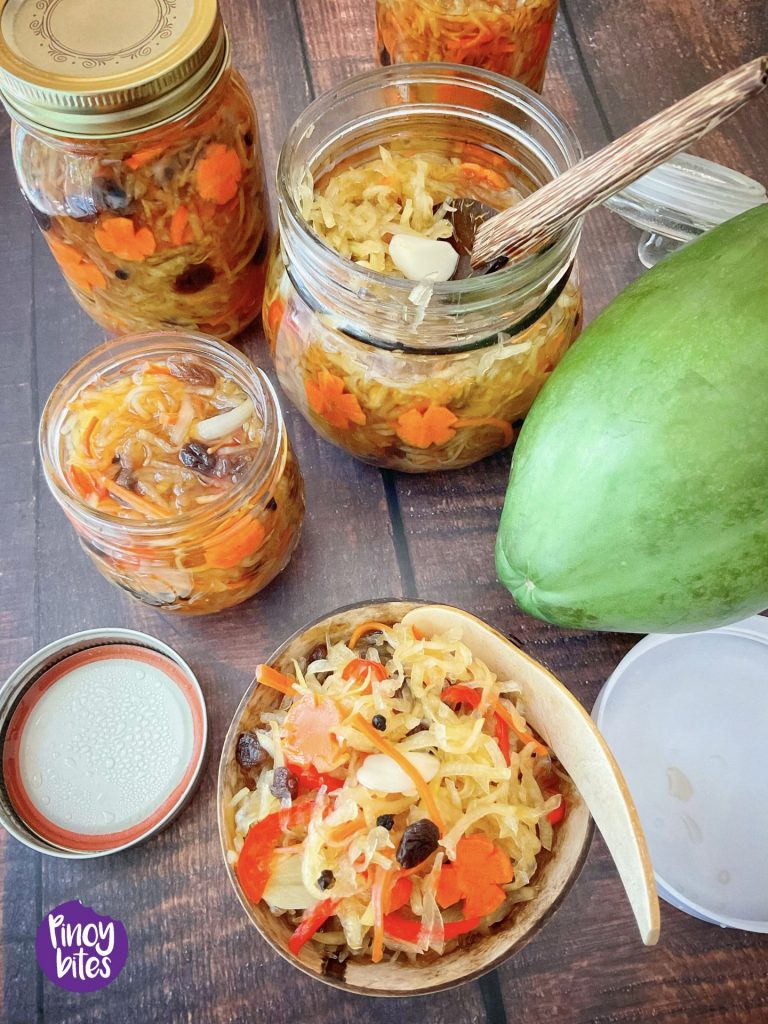 Making atchara is not hard at all. The chopping of vegetables is nothing much more than the food prep when making dinner and the only cooking involved is just a simple boil of the 2-ingredient pickling solution. If there's one thing that I wished somebody else could help me with is squeezing the juice out of the grated papaya. That was the most difficult part for me.
This keeps well for weeks parked at the back of the fridge. I keep mine in sterilized mason jars which helps in its longer shelf life. I just add the jars in a deep pot, fill it with water until submerged and bring to a boil. Then, I let it simmer for a couple more minutes before fishing them out and filling with the still hot mixture (dip the rings and lids in the hot water for a few seconds too). Wipe the mouths with a damp paper towel before adding the tops then make sure to cool completely before parking in the fridge. Now, it's ready anytime you're having barbecues or the likes of Lechon Kawali (Crunchy Puffed Skin), Bellychon or even Tapsilog (Beef Tapa). Yumm-o!
Atchara (Pickled Papaya)
an indispensable condiment/appetizer that's the perfect accompaniment to grilled, roasted and fried meat and fish. A must for summer barbecues!
Ingredients
1

green unripe papaya

about 3 lbs* (see Notes)

3

tablespoons

sea salt

to sprinkle on grated papaya

1

carrot

cut into thin strips **(see Notes)

1

small red bell pepper

cut into thin strips

1

thumb-size length ginger

cut into thin strips

4

garlic

thinly sliced

1

small onion

thinly sliced

½

cup

raisin

2

teaspoons

whole peppercorn

2 ¾ to 3 ¼

cups

light brown sugar

firmly packed (I used 3 1/4)***

2 ½

cups

white or cane vinegar

(I used Datu Puti)
Instructions
Peel, remove seeds and scrape off the inner white layer of the papaya. Grate using the shredding disc of a food processor or a box grater. Transfer to a large bowl. Sprinkle salt and mix very well to make sure every strand of papaya is coated. Set aside for 30 minutes.

Squeeze the juice out of the soaked papaya (using your clean hands or a piece of cheesecloth) then place it in a large mixing bowl (heatproof). Separate the clumps formed from wringing.

Mix in the carrots and bell peppers. Set aside,

Combine the sugar and vinegar in a pot and bring to a boil on medium heat. Once boiling, cook for another 5 minutes. Use the minimum amount of sugar first then add more after the first boil. I used the maximum amount (firmly packed).

Add the ginger, onions and garlic at once and let boil for 30 seconds to soften. Lastly, add the raisins and whole peppercorns. Turn the heat off and let it steep for 1 minute.

Pour over the papaya mixture and mix well to let the papaya soak up the pickling liquid.

Transfer to sterilized jars. Let cool at room temperature before placing in the fridge.
Notes
*After cleaning and seeding the papaya, it weighed 2.2 lbs or 1 kg. **To make flower-shaped carrots, make small V-shaped cuts around the perimeter of the carrot (about 4 to 5 in equal spaces) ***Adjust the amount of sugar according to your preference. After the first boil of the solution, taste and add more sugar if you need to.