My first memory of eating Mami (noodle soup) was in primary school. There's this famous restaurant in the Philippines that's well-known for their Mami (noodle soup) and Siopao (steamed bun). It's called Ma Mon Luk. The restaurant was unpretentious – both the exterior and the interior decors were minimal but people from all walks of life frequent this restaurant. My Papa used to bring me to the Cubao location maybe even before I started going to school. I still have a vivid memory of us sitting on the wooden chairs, drinking from the heavy, thick water glasses and eating siopao and mami. I guess I loved it even at an early age.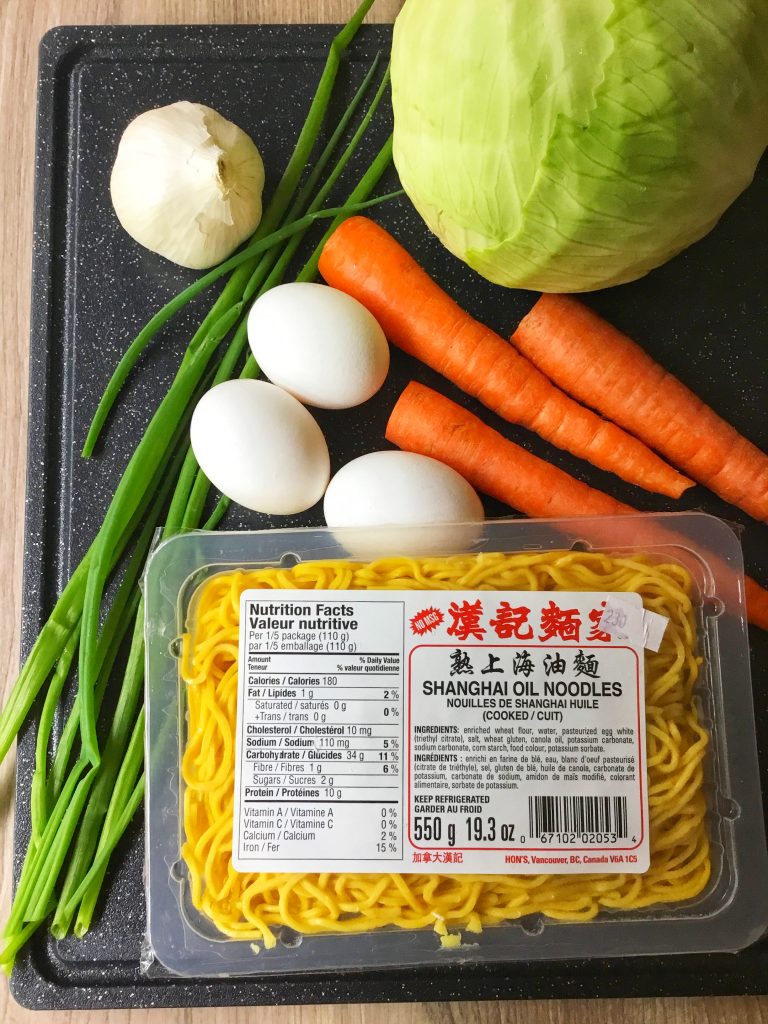 I have been meaning to make this dish but oftentimes gets distracted. Finally, I had the chance to make it again because my daughter has been insisting on having some noodles with soup for quite a while now. Like all soups, it starts with a good broth. It's like the soul of this dish and without it, other ingredients won't be able to make up for it.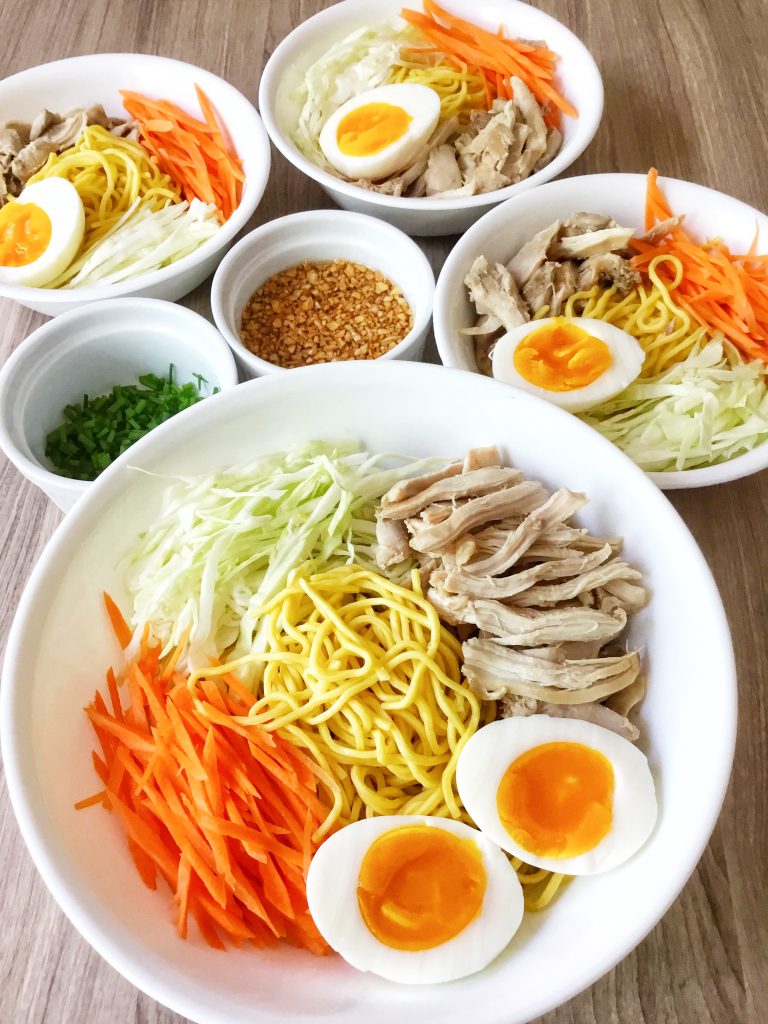 Chicken with bones is the perfect base. Let it simmer low and slow and once the chicken is tender, separate the meat from the bones. Put the bones back in the pot and let it simmer away….the longer the better. It will develop a rich and flavorful broth with a deep chicken taste. Don't be tempted to use packaged chicken broth, it just won't have the flavour reminiscent of a hearty Chicken Mami. That's about the hardest part. After that, just assembling the noodles and the toppings of your choice.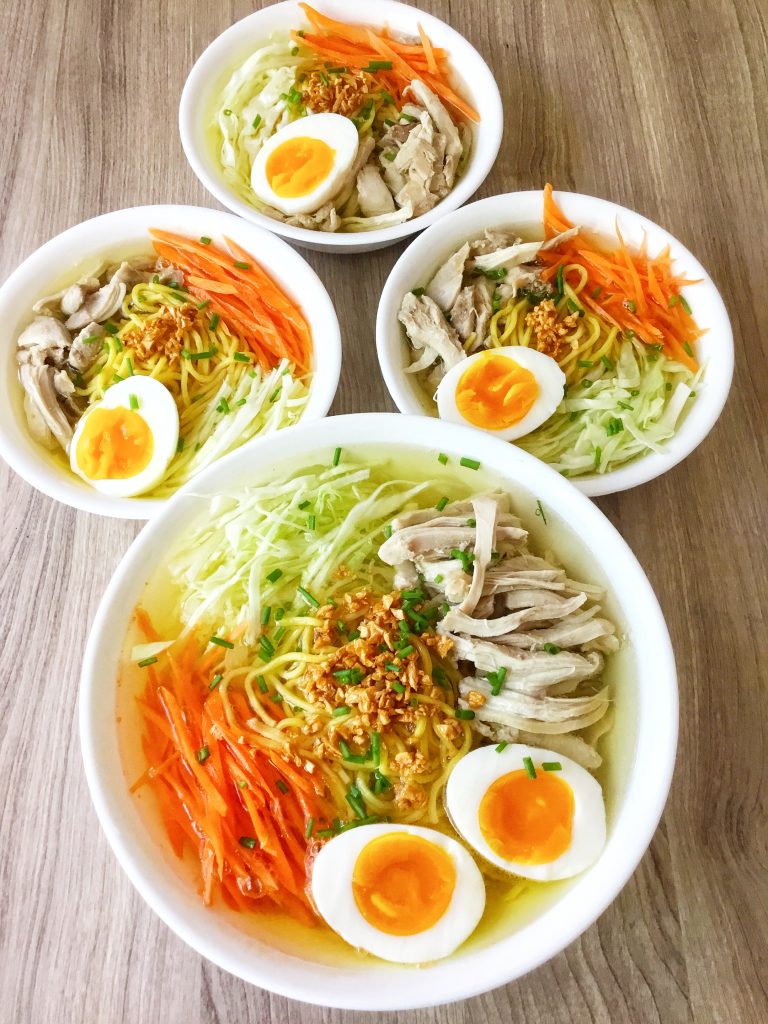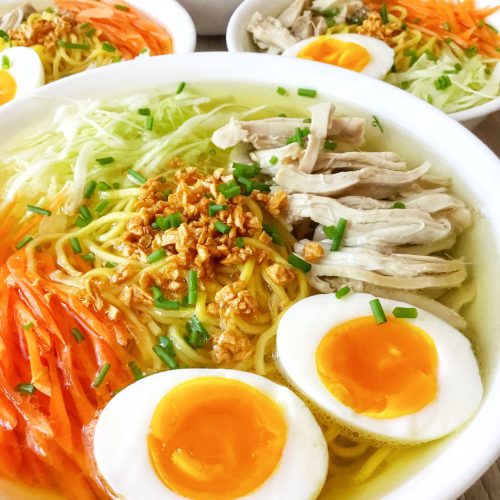 Chicken Mami (Filipino Chicken Noodle Soup)
This heartwarming chicken noodle soup dish is perfect whether it's cold or raining outside or when you just need something soothing that warms the soul
Ingredients
1 – 1 ½

lbs

bone-in chicken thighs or breast*

Extra chicken bones

optional

1

Tablespoon

sea salt

½

teaspoon

whole black peppercorns

1

onion

quartered

1

pack

450g – 550g thin egg noodles (Shanghai noodles), rinsed and drained well

1

small carrot

sliced into very thin, long strips

1

cup

green cabbage

very thinly sliced**

Boiled eggs

soft or hard

1

head of garlic

finely chopped (for crispy garlic bits)

½

cup

canola oil

for crispy garlic

Green onion slices

Patis

fish sauce , seasoning
Instructions
Fill a large stock pot with about 8-10 cups of water (depending on how much meat you have). Add the chicken, additional bones (if using) and onion and season with salt and peppercorns. Bring to a boil using medium heat. Skim off the scum as it starts to boil and lower the heat and simmer for 30 minutes. Separate the cooked meat pieces and place the bones back to the pot and continue simmering using the lowest heat while you prepare the rest of the ingredients (about 30 minutes). Taste and add salt or patis, if needed. Turn off heat.

In a small frying pan, add the chopped garlic and canola oil. Turn the heat on to medium-low and cook until garlic bits are golden and crunchy. Watch carefully so the garlic won't burn. Transfer to a small bowl (both garlic and oil)

Prepare 3-4 heatproof bowls and equally place the drained noodles. Arrange carrots, cabbage and chicken strips around it. Strain the chicken broth using a very fine sieve and bring to a boil. Gently pour simmering broth on each bowl, top fried garlic bits (with a little oil), sliced egg and garnish with green onion slices. Serve while very hot!
Notes
*Bone-in chicken packs a lot more flavour in your soup than the boneless ones.
**Other vegetables can be used as topping like bok choy, spinach, kale, etc.
***If you are really pressed for time, you can use a good chicken broth like
Better Than Bouillon roasted chicken soup base
. That's the only brand I can recommend because I use it all the time.