As kids, we were always encouraged to try food that we're not familiar with at least once before saying "pass". It was always a challenge to try strange-looking (or those with off putting smell) food but I think that "training" helped me a lot in being more adventurous with trying new dishes. That same rule now applies to my kids (except the little one). Of course there are (and will be) hits and misses but the fact that they're willing to try unfamiliar food at least once, was enough.
Chicken feet is one of my fave dimsum menu items. It's gelatinous, because it's mainly skin (no meat) and tendons but it's so good. I'm even liking it more now that I'm an adult because I now know the benefits of eating them. My kids eat them too (again, except for the little one 😅) and I remember how we got our daughter to like it. Hubby told her that it's good for her skin and that she'll have nice, glowing skin. That did it and she was hooked.
This is an easy recipe to enjoy chicken feet. Just saute and everything goes in the Instant Pot and cooked until tender. Alternatively, it can be done on the stovetop. If going the latter route, make sure to check the liquid every now and then and add a little bit more if it's drying up too quickly before the feet are tender.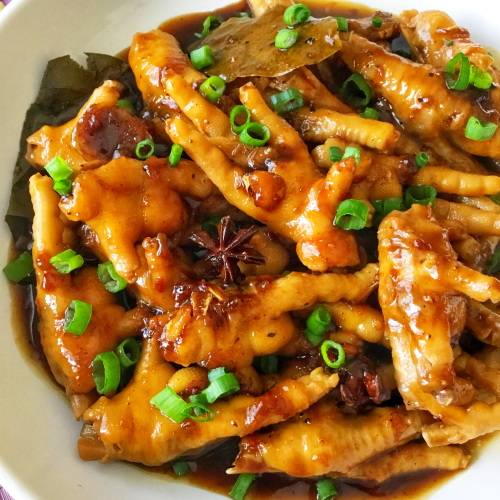 Braised Chicken Feet (Instant Pot or Stovetop)
A collagen-rich delicacy in the Philippines that's usually eaten braised or sold as street food. It's good for the skin and helps promote healthy bones and joints.
Ingredients
1 ½

lbs

chicken feet

nail part removed and cleaned

5

thin slices of ginger

1

small onion

finely chopped

3

garlic cloves

minced

2

tablespoons

canola oil

3

tablespoons

soy sauce

1

tablespoon

vinegar

1

tablespoon

oyster sauce

1 ½

cups

Sprite or 7Up

or water

2

bay leaves

2

star anise

1

teaspoon

sugar

½

teaspoon

ground black pepper

¼ – ½

teaspoon

dried chili flakes

optional
Instructions
Set the IP on Saute. Add oil then put the onion and ginger slices. Then, add in the garlic and the cleaned chicken feet. Cook, while stirring continuously for about 3-5 minutes or until it changes in color. Then, cancel the Saute function.

Add the rest of the ingredients and stir to mix them all well. Put the lid on, seal the vent and set it to Manual for 25 minutes. Do a natural quick release after 15 minutes. Carefully open and taste to adjust seasoning, if needed.

If you want a thicker sauce (like we do), remove the chicken feet pieces and let the sauce reduce to your desired consistency. To do this, set the IP to Saute (uncovered). Then, pour thickened sauce over the tender chicken feet.
Notes
*Stovetop Method: Saute ginger, onion and garlic in oil then add the chicken feet. Cook (while stirring) for 3- 5 minutes or until it changes in color then add the rest of the ingredients. Mix well, bring to a boil then reduce heat to simmer until chicken feet are tender, but not falling apart. **How to Clean Chicken Feet : Using kitchen shears, snip the ends where the nails are attached. Wash thoroughly in running water then drain well.