Satisfying, filling, complete meal and tastes so good! This is how my teenage boy describes this dish. He wouldn't request me to make it though because he knows mom's already busy fulfilling food requests from the little ones. But whenever I make one, his big smile is more than enough "payment".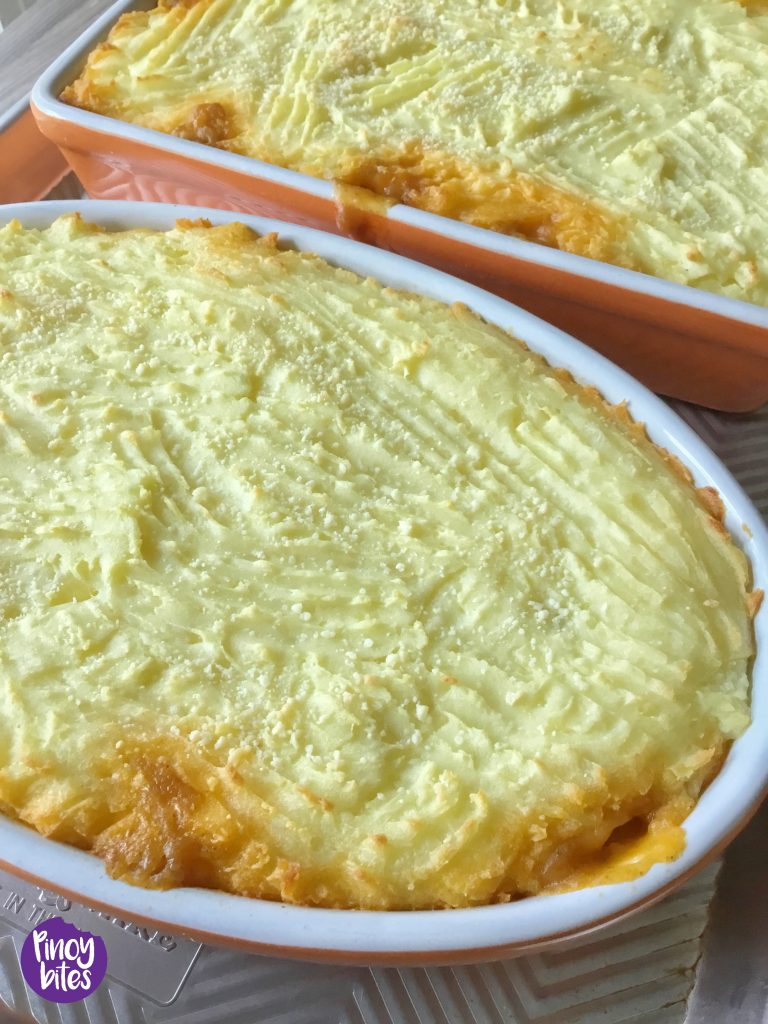 This Beef Shepherd's Pie is a meal in itself. The hearty bottom layer is packed with well-seasoned ground beef with just the right amount of spices and seasonings then married with some veggies which adds both flavor and color to the dish. It's then beautifully topped with rich and creamy mashed potatoes. The sight and smell of this bubbling casserole as it comes out of the oven makes me want to scoop out a portion right away.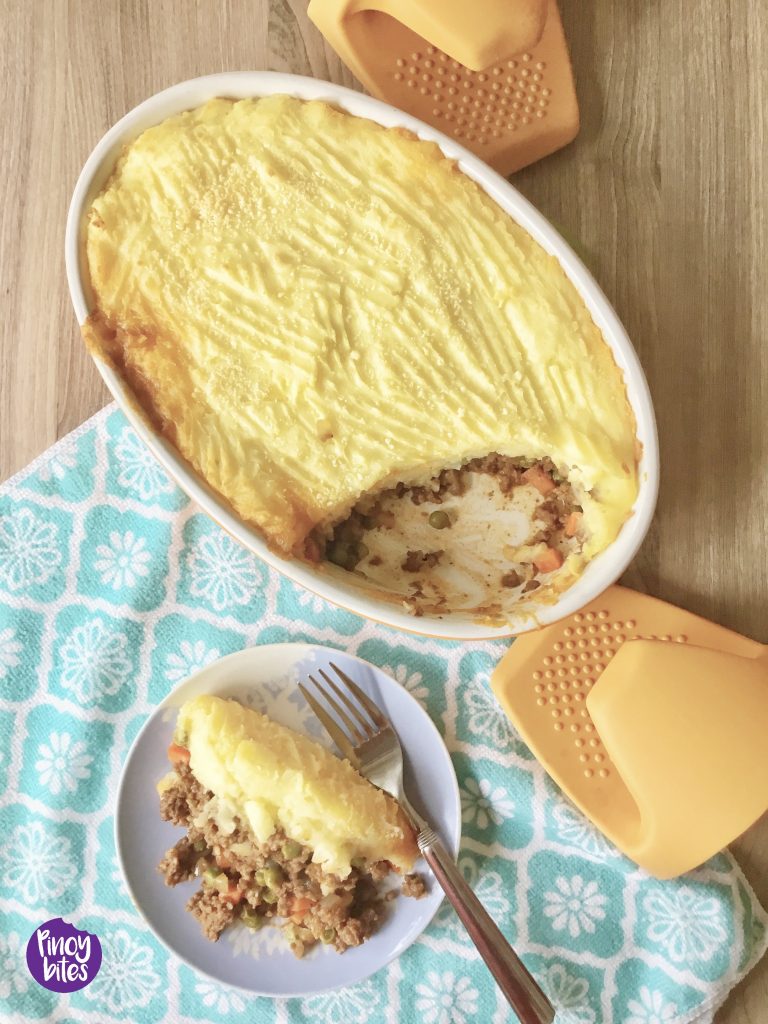 As I mentioned, there are 2 parts to this recipe. Though it sounds like a lot of work, it's not. First, just saute the beef with all its components then boil some potatoes in another pot. It's important that the milk is hot for the potatoes to absorb the liquid better and this also helps avoid overmixing. After both parts are done, just assemble and bake.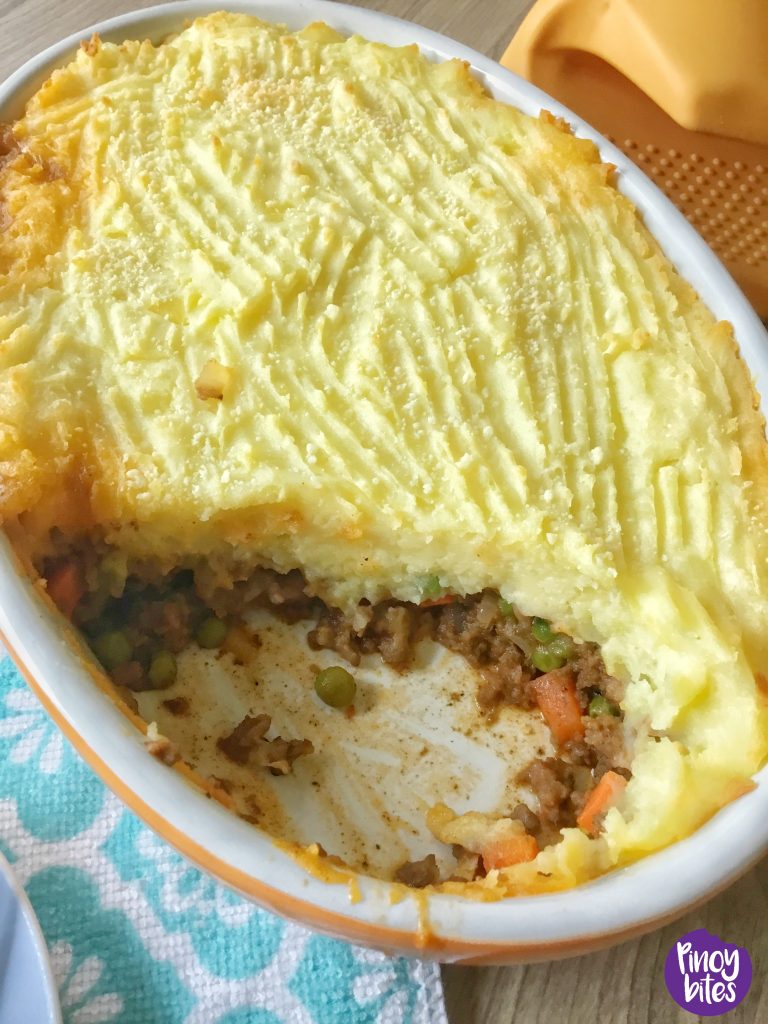 This dish presents well when you have company. You can make the meat filling ahead of time and just warm it up before assembly. It can be served alongside your favorite salad or just by itself, like how my son eats it. Because this recipe fills a 9×13 inch baking dish, there's plenty to go around if they want seconds. In my family, this counts as 2 meals which saves me a lot of time in the kitchen.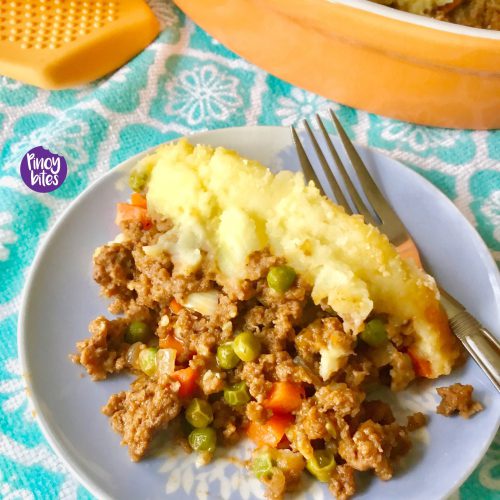 Beef Shepherd's Pie
A homey casserole with a well-seasoned minced beef bottom layer, topped with creamy and fluffy mashed potatoes then finished off in the oven until bubbling.
Ingredients
For the Meat Filling:
2

lbs

ground beef

1

onion

finely chopped

2

garlic cloves

minced

2

tablespoons

olive oil

1

teaspoon

sea salt

½

teaspoon

ground black pepper

1 ½

tablespoons

worcestershire sauce

2 ½

tablespoons

all purpose flour

3

tablespoons

tomato paste

1 ¼

cups

beef broth or water

I used Better than Bouillon

1

cup

carrots

cut in small cubes (or use frozen)

½

cup

frozen peas

or fresh

Patis or salt

to taste
For the Mashed Potato Topping:
6

large yukon gold potatoes peeled

cut into 1" chunks ( 6-7 cups )

½

cup

evaporated or fresh milk

hot

½

cup

butter

cut into small cubes

¼

cup

grated parmesan cheese

½

teaspoon

garlic powder

optional

A pinch of salt

A pinch of ground black pepper

Additional parmesan cheese for topping

optional
Instructions
Meat Filling: Heat olive oil in a large pan. Add ground beef then cook (high heat) until the liquid has evaporated and fat is rendering. Drain the fat then season with salt and pepper. Add the onion, cook for a minute then put in the garlic. Drizzle the worcestershire sauce.

Sprinkle flour over the meat then add tomato paste. Stir for a minute and pour in the broth (or water). Let simmer for 2 minutes.

Taste and season with patis or salt, if needed. Add the frozen veggies ( or add carrots first if using fresh) then turn the heat off. Set aside.

Mashed Potato topping: Place potatoes in a large pot. Cover with water and bring to a boil. Simmer for 12-15 minutes or until the potatoes are fork tender. Drain the cooking liquid (stove still on lowest heat) then place it back on the stove to let the potatoes drain completely (about a minute).

Add butter, hot milk, cheese, salt, ground black pepper and garlic powder (if using) and mash until the ingredients are well combined and smooth. Taste and adjust seasoning, if needed.

To Assemble and Bake: Preheat the oven to 350F.

Place the cooked meat at the bottom of the 9×13 baking dish (or 2 smaller baking dishes). Flatten evenly.

Spread mashed potatoes smoothly on top. Using a fork, lightly "rake" the top with short lines to make it look prettier (optional).

Place the pan on top of a cookie sheet (just in case the mixture bubbles over). Sprinkle more cheese on top, if desired. Bake for 30 minutes or until bubbling and starting to have random brown spots on top.
Have you tried our beef shepherd's pie? Share with us your experience and comment below. If you have any questions about the recipe, let us know. We're happy to answer them.