Mechado is one of the many dishes that's Spanish in origin.  Tougher cuts of beef were used because it was cheaper in making this stew. To make up for the marbling, a strip of fat is inserted in the middle of the meat before cooking to keep it moist as it braises in the liquid. This is called larding. When I was a child, I saw my grandma do this once but I wasn't aware of its culinary importance at that time. I just remembered it was neatly sliced (and arranged) with a speck of fat in the middle when it was served.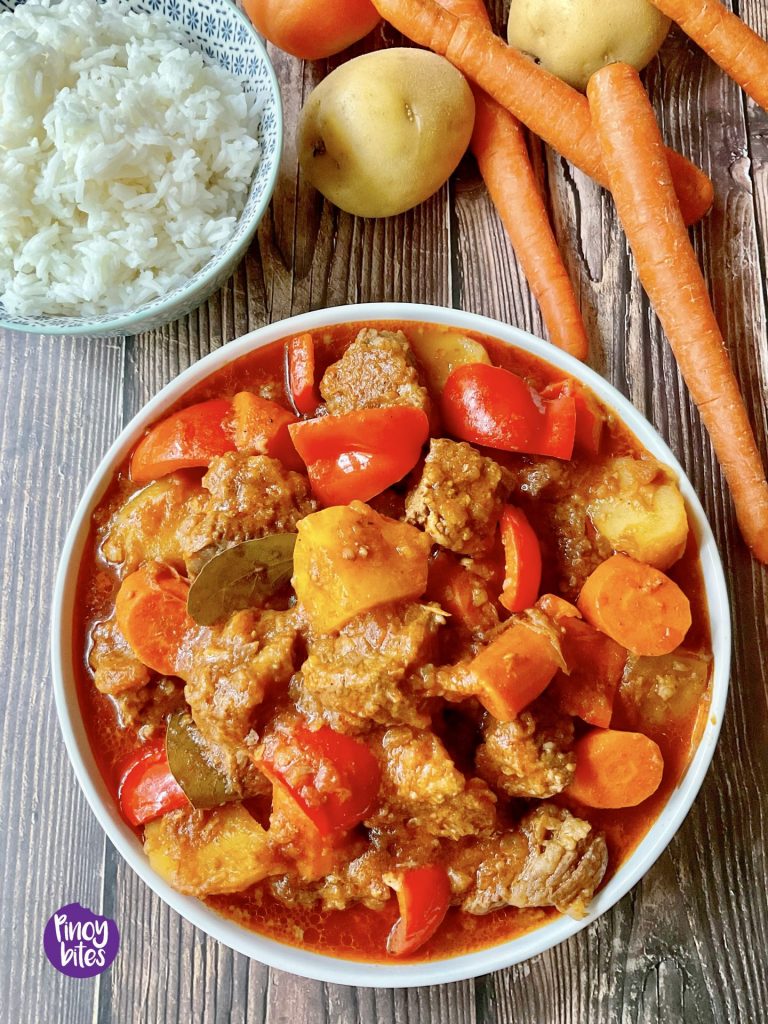 My mom taught me how to cook this but I tweaked it a bit to my family's liking. Fattier cuts of beef like brisket is perfect for this recipe. It helps in keeping the meat moist and because of its marbling, the beef is succulent and tender after braising. You can also use other parts like the chuck or the eye of round but make sure you pick the ones with a fat cap. Lean cuts dry out when cooked over a long period of time.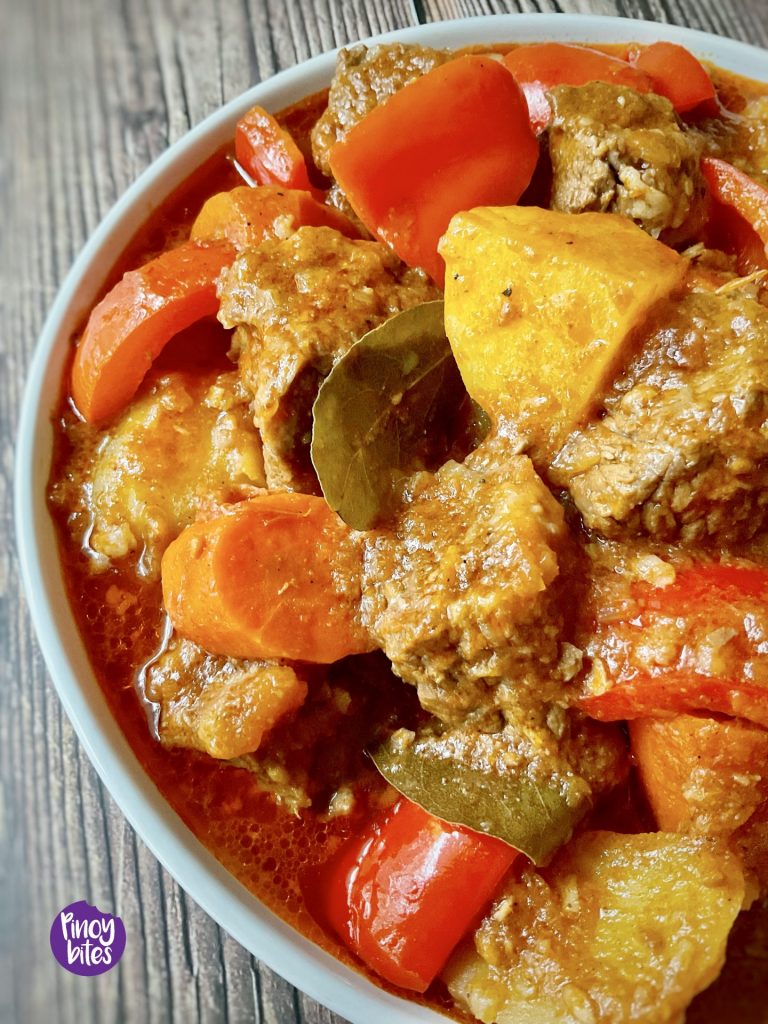 While it simmers, the tomatoes will thicken and create a flavorful sauce as it marries with the meat juices. Though this can be done in the pressure cooker in less than half the time, cooking it low and slow makes a far superior stew. So take your time and let it simmer until it's incredibly tender and its sauce is reduced to a beautiful gravy. You won't regret it, I promise.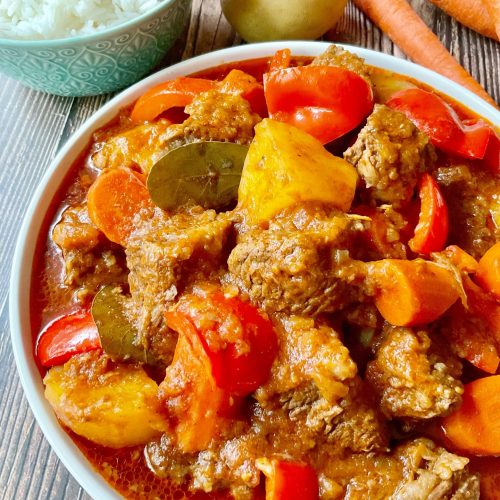 Beef Mechado
This Spanish-influenced, tomato-based braised beef turns tougher cuts of meat into a tender and flavorsome dish that's a favorite among Filipinos.
Ingredients
2 to 2 ½

lbs

beef cubes

brisket or fattier eye of round* see Notes

1

Tablespoon

vinegar

½

teaspoon

salt

½

teaspoon

garlic powder

¼

teaspoon

ground black pepper

2

Tablespoons

canola oil

1

large onion

finely chopped

5

garlic cloves

finely chopped

4 to

matoes

chopped

¼

cup

tomato paste

2

Tablespoons

soy sauce

3

bay leaves

2

cups

water** see Notes

2-3

Yukon gold potatoes

quartered

1

big carrot

cut in chunks like the potatoes

1

big red bell pepper

cut into 1 inch cubes

Salt and pepper

to taste
Instructions
Combine the first 5 ingredients in a large bowl and mix thoroughly. Cover and marinate for 10-20 minutes. Drain the liquid, if any.

Heat the oil in a large pot (with lid) using MED-HI heat. Sear the meat (in 2 batches to avoid crowding the pan) on both sides until it starts to caramelize. Transfer to a bowl and repeat until all the meat cubes are seared. Add one more tablespoon of oil if needed for the second batch.

Using the same pot, add the onions and scrape all the brown bits at the bottom . Add the garlic, then the fresh tomatoes. Stir for 2 minutes to release the juice from the tomatoes. Then, stir in the tomato paste and bay leaves.

Pour in the water and the soy sauce. Bring to a boil then lower the heat to a simmer and cook until the meat is tender.

Turn the heat up to medium and add the potatoes and carrots. Once the potatoes are tender, add the peppers. Season with salt and pepper, if needed.
Notes
*Cuts of beef with some fats are preferred, if available.
**Add ½ cup more water if the cooking liquid is drying up before the meat is tender.