Pandesal is undeniably the national bread of the Philippines. I haven't met any Filipino who doesn't like this sweet bread which is soft in the inside and crunchy on the outside. The dough is rolled in dry breadcrumbs before it's baked creating a distinct crunch and aroma that's perfect with a cup of joe, tea, hot cocoa or whatever it is you feel like pairing it with.
It is so good and I'm not timid to say that my family can eat a batch of Pandesal (2 -3 dozens) in a couple of days. Intervention has to come from within to curb this addiction or at least tone it down a bit..haha! That's when I thought of making this healthier version just so we can all still enjoy the bread that we all love.
Kale came to mind because we have it here in Vancouver all year round. It's packed with tons of vitamins and minerals (and high in protein too!), local and/or organic. I tried and tested until I came up with this one. Aside from that, I used healthy alternatives for the usual ingredients and made it just sweet enough to marry well with the Kale without sacrificing the taste. I have been working on this recipe for quite sometime now and I don't want to publish it until I'm completely satisfied with the outcome. This is a winner in my books!
Give this recipe a chance especially if you're like me who can eat a lot of Pandesal in one sitting. Bread making can be intimidating for some but I tell you, it can be at first but after sometime, it's gonna be a walk in the park.
Big Tip: Make sure all ingredients are measured and ready in bowls and don't forget to have fun doing it. Enjoy!
IMPORTANT!!! Be sure to prepare the Kale crumbs prior to making this recipe. It's written below.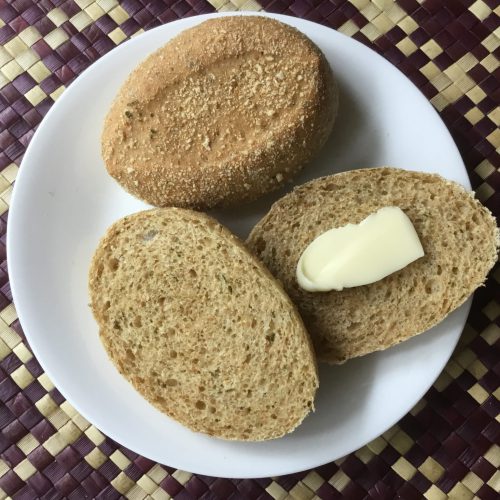 100% Whole Wheat Kale Pandesal
Our whole wheat kale pandesal is a healthier version of the Philippines' most loved bread, Pandesal. You will love it as much as the classic pandesal with the added health benefits. Enjoy!
Ingredients
For the dried Kale:
1

bunch

kale

(about 5-6 stalks)
For the Pandesal:
1/2

cup

warm water

1

Tbsp

active dry yeast

1

Tbsp

coconut sugar

(for proofing yeast)

1

cup

warm milk

(I used 2%)

1

egg

beaten

2

Tbsps

coconut oil

1/2

cup

coconut sugar

add 1 / 4 more if you want it sweeter

1

tsp

salt

2

Tbsps

dried Kale

crumbled ***

4

cups

Whole Wheat flour

divided (plus 1 / 4 cup extra)

Oil spray like Pam

(for greasing the bowl)
Instructions
To make Dried Kale:
Preheat oven to 300F. Line a baking tray with silpat or parchment paper.

Wash and pat dry Kale. Remove stems and all hard, lighter part.

Tear into small bite size pieces and place on a cookie sheet.

Bake for 15-20 mins or until crisp (crumbles completely when pressed between your fingers). Since oven varies, check after 15 mins just to see how it's crisping up. If there are still some that are not totally crisp, I turn the oven and leave the Kale inside for another 20 minutes.

Let it cool completely. Place inside a ziploc bag, flatten to push the air out and crush with a rolling pin or your hands. Discard any remaining stems.

This can make up to 3 batches of Kale Pandesal or you can just crush what you need and munch on the extra chips.
To make the Pandesal:
In a large bowl or the bowl of a standard mixer (if using), combine warm water, yeast and 1 tbsp coconut sugar. Mix to combine and let stand for 5 minutes or until bubbles form.

Add warm milk, coconut oil, coconut sugar, salt, egg, Kale crumbs and HALF of the flour (2 cups). Using the paddle attachment at medium speed, stir mixture for 30 seconds or until combined. If doing manually, use a wooden spoon to mix everything up.

Switch to the hook attachment (if using a mixer) and add the remaining 2 cups of flour. Mix for 5-10 minutes, adding flour a tablespoon at a time until dough is no longer sticky.

Form the dough into a ball and place in a greased bowl. Cover with plastic wrap or kitchen towel and let it rest for an hour or until double in size.

Punch the dough and pour onto a clean kitchen counter. Divide in half and form one into a small rectangle (abt 5×7"). Roll into a log the size of an empty paper towel roll (tucking at every turn). Repeat with the other one.

Roll the logs in breadcrumbs, cover with a kitchen towel and let rest again for 15 minutes.

Cut at an angle about 1.5", sprinkle breadcrumbs on both cut sides and place on a cookie sheet at least an inch apart. Cover with plastic wrap or kitchen towel and let it rest again for 20 minutes.

Preheat oven to 300F and bake pandesal for 20-25 minutes depending on the size and your color preference. Mine took 20 minutes.

Best served hot with spread of your choice.
Notes
*** Water should be warm not hot or it kills the yeast. When you put your finger in the water, it should feel like a warm bath. If your finger can't stay for a few seconds in the water, it's too hot.
*** If using a standard mixer, do not go over speed no. 2 when kneading the dough. That's the recommended speed by KitchenAid when mixing bread dough.
*** Cool leftovers to room temperature and store in a sealed container or ziploc bags. Pandesal freezes well.
*** To reheat: Use the "Warm" setting on your oven toaster or you can warm in the conventional oven at 350F for 5 -8 minutes. 
*** This Pandesal is NOT sweet like the regular pandesal so feel free to add up to 1 / 2 cup more coconut sugar if you want it sweet.
*** Store remaining Kale crumbs in an airtight container or ziploc bag at room temperature for your next bread batch.