It was about 5 or so years ago when I first tried making this purple-hued porridge. I made it once before but totally forgot to make it again, until recently. When my little one and I were at the international aisle of our local supermarket, he just blurted "Champorado" while pointing at a boxed champorado mix. This made me suddenly remember its ube version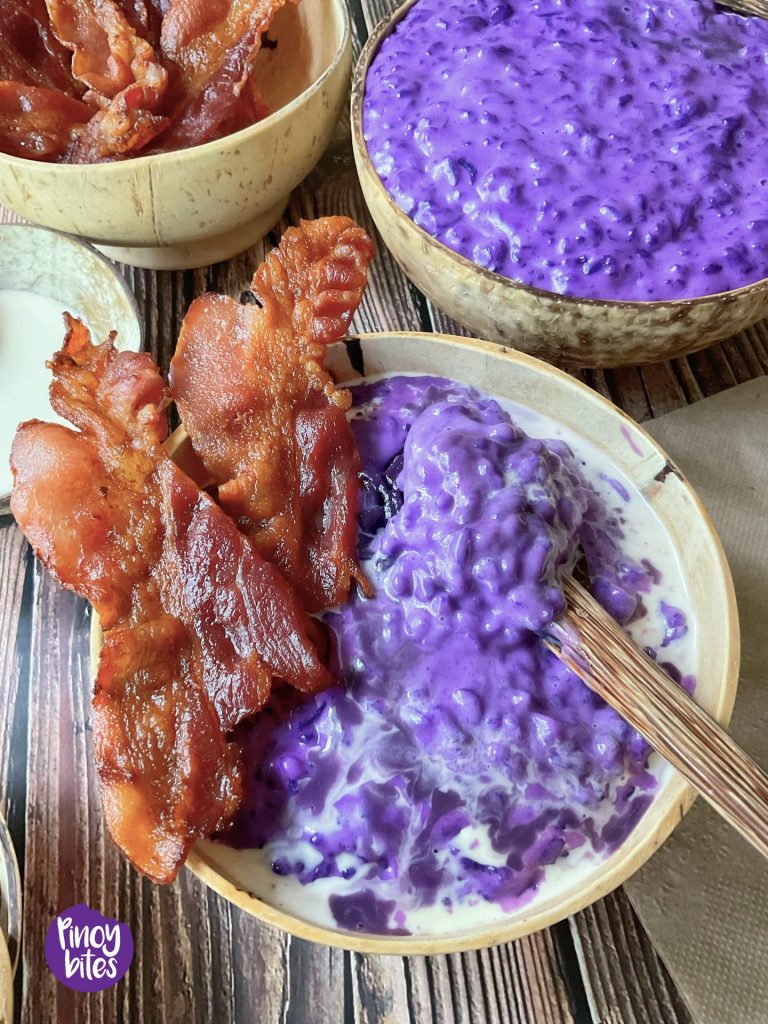 Whenever I test a recipe, I play the whole process (and ingredients) in my mind. I think of the taste and texture that I want to achieve and how to execute it. I then gather the ingredients that I think will do the job then say a prayer that everything will turn out the way I want it to. A lot of times, I get lucky but there are times when I can't even pinpoint what adjustments have to be done. I got lucky with this one!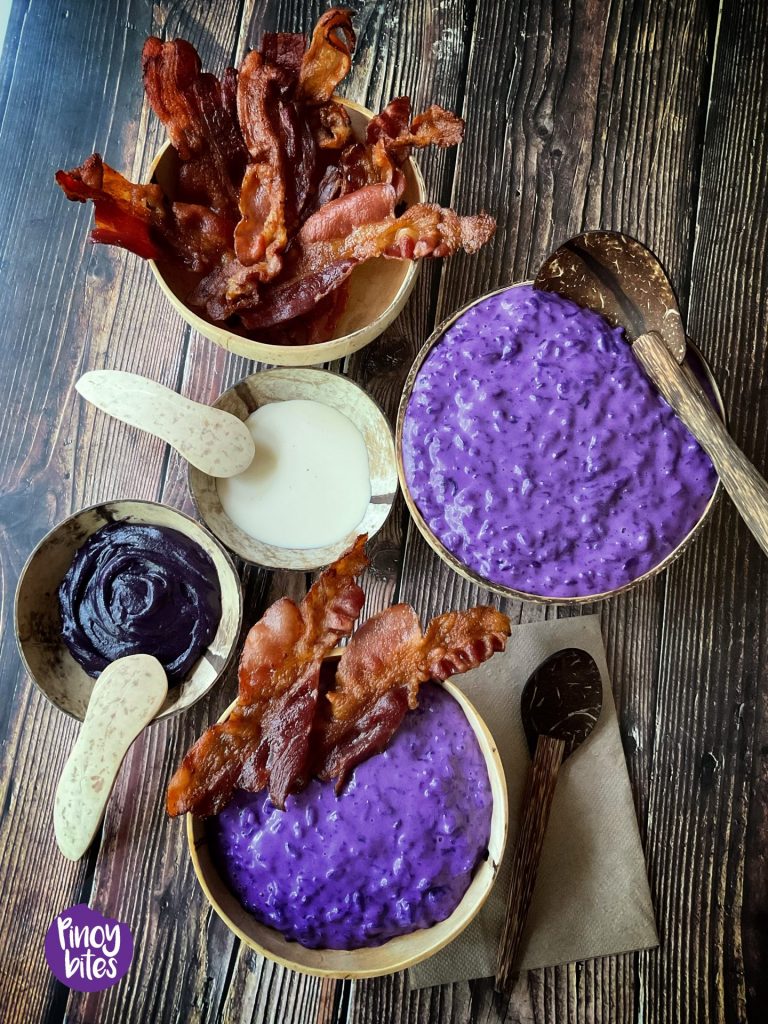 Rich, thick and creamy with a pronounced Ube flavor are the words that best describe my version. I used my Homemade Ube Halaya in this one but you can certainly use your favorite store-bought kind. Since I'm not into overly sweet food, I used the minimal amount of sugar that's good enough to add the right amount of sweetness to this dish. And the bacon? I know it's not traditional as we always use Tuyo (dried herring) but it worked so well! The hint of smokiness from the cured meat added an extra layer of flavor that was so pleasant to my palate. I think it'll pair well even with the regular Champorado. It was good!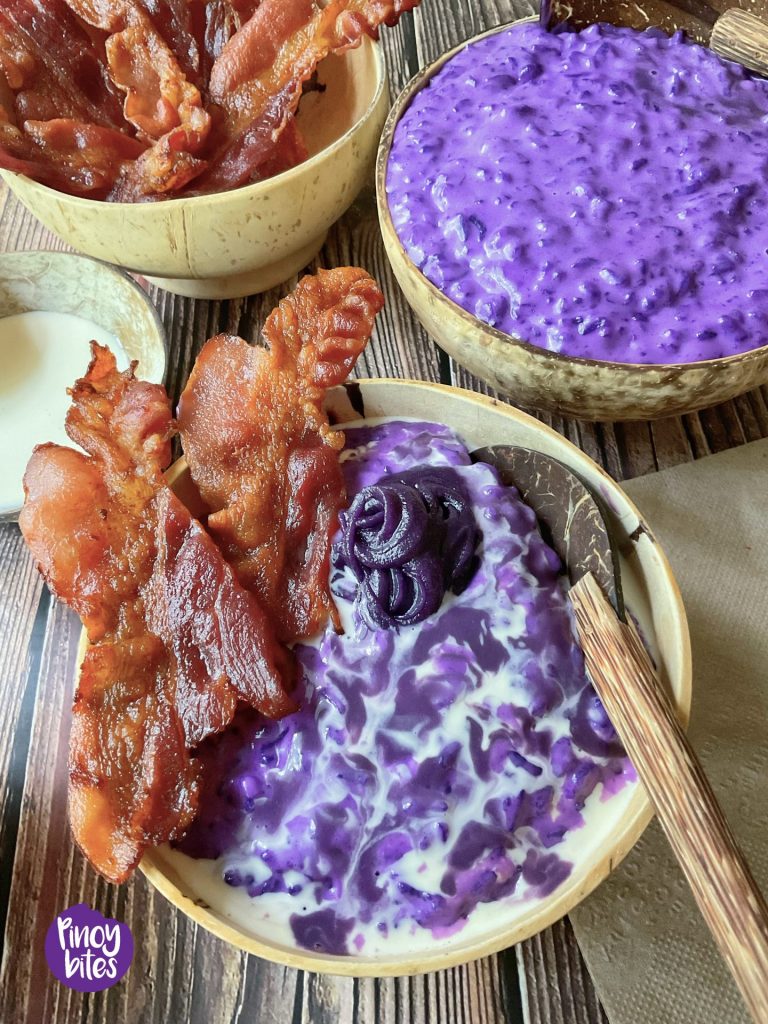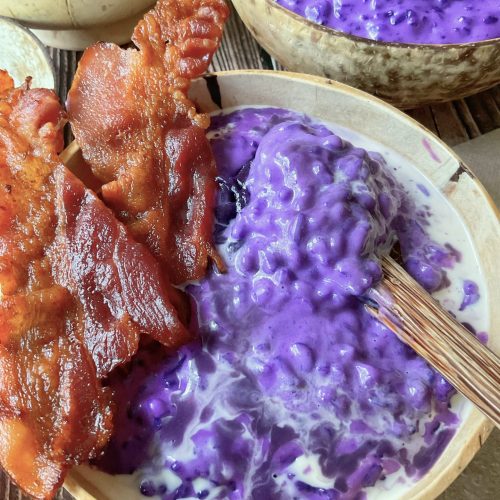 Ube Champorado (Sweet Rice Porridge With Purple Yam)
thick, rich and creamy rice porridge filled with Ube goodness. A scrumptious twist to a beloved Filipino breakfast dish!
Ingredients
1

cup

glutinous rice

washed and rinsed

3 ½

cups

water

1

can coconut milk

¾

cup

Ube Halaya

store-bought or homemade* see Notes

3

tablespoons

sugar

1

teaspoon

ube flavor/coloring

optional

Toppings:

Crispy bacon or fried dried fish**see Notes

Evaporated or condensed milk

to drizzle
Instructions
Add rinsed rice and water in a large pot (with lid).

Bring to a boil on medium heat then switch to LOW and simmer for 15 minutes, covered.

Mix and stir in ube halaya, coconut milk and sugar. Add ube flavoring, if using. Stir to completely dissolve the ube halaya to the rice.

Once simmering. Continue cooking for about 5-10 more minutes or until thickened to your liking. Taste and add more sugar, if desired.

Serve topped with a drizzling of milk and some crispy bacon/fried salted fish. Add a spoonful of ube halaya if you want a richer champorado.
Notes
*Ube Halaya is a popular Filipino dessert made of purple yam, condensed/evaporated and coconut milk. It can be purchased at Asian stores that carry Filipino food. **Fried Tuyo (dried herring) is traditionally used. Crispy fried bacon is an excellent substitute!