I can't wait for winter to be over! It has been unusually bitter cold this year and the snow keeps coming. My kids who normally get excited when a snowfall is in the forecast, have only played outside twice and at both times came back sooner than expected. The exact words of my little one after his playtime were "My teeth are bonded". That explained it all to me. Haha!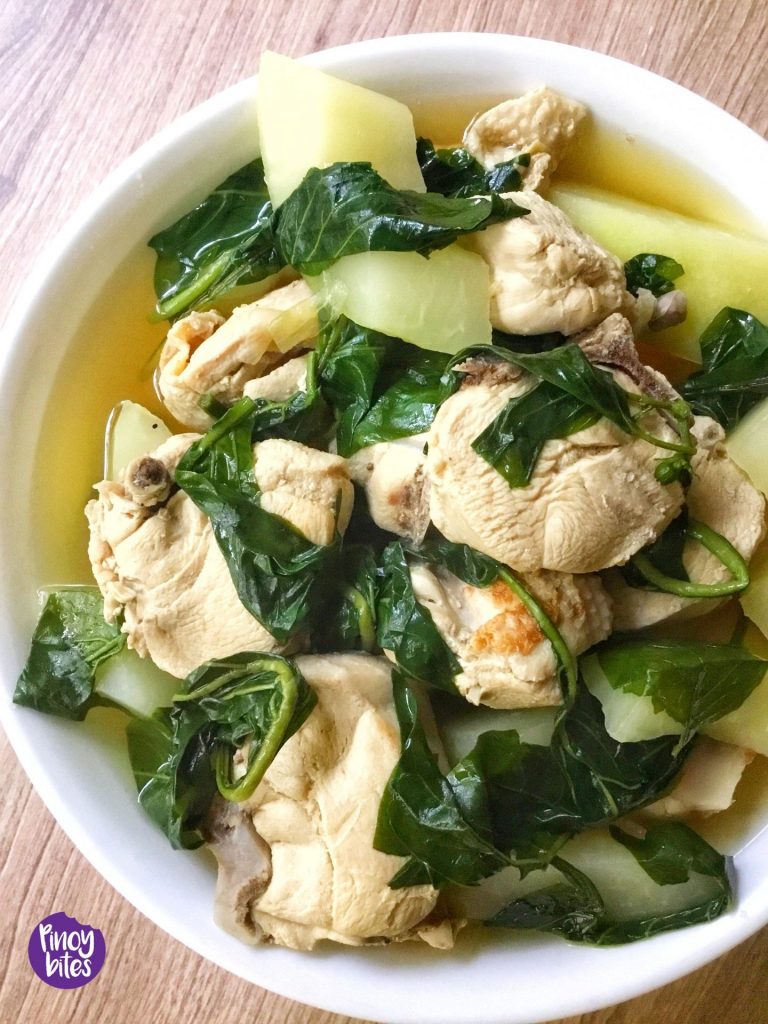 Even just looking out the window makes me cold and soups or anything with sabaw (broth) is a must during this time. Thank goodness we still have some chicken in the freezer and believe it or not, I have a pepper plant inside the house (still hanging on even though the heat has been mostly on since last month). Of course, having sayote or green papaya is always better but there are times I make Tinola as long as I have bone-in chicken, spinach/pepper leaves and ginger. Those to me are the core ingredients that's enough to satisfy my craving for this gingery-chicken dish.
Comforting can be an overused adjective to describe some dishes but Tinola really is a comfort food especially during the cold season. Keep warm everyone!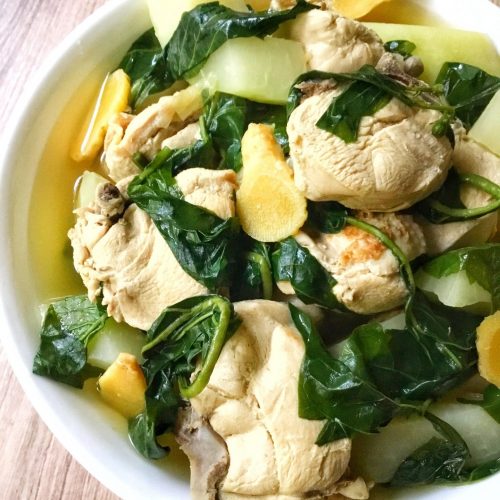 Tinolang Manok (Chicken in Ginger Broth)
A classic Filipino chicken dish in soothing ginger broth. Just what we need when the weather gets cold.
Ingredients
2

lbs

bone-in chicken

cut into serving pieces (breast, thigh or whole)

2

tablespoons

oil

A knob of ginger

thinly sliced (about 1 ½ – 2 inches long)

1

onion

thinly sliced

4

cloves

garlic

chopped

6

cups

water

1

small green papaya or 2 chayote

peeled, seeded and cut into small wedges

A handful of green pepper leaves or spinach

Patis

fish sauce, for seasoning

Salt and ground black pepper

to taste
Instructions
Heat oil in a large pot. Add the ginger and saute until fragrant (abt 10 seconds) then add in the onion. Cook until softened before adding in the garlic.

Add the chicken and saute for 5 minutes or until liquid has mostly evaporated. Season with 1 tablespoon patis and some ground black pepper. Gently pour in the water. Bring to a boil (skim off the floating scum as it comes to a boil) then lower the heat to simmer for 25 minutes.

Add papaya (or sayote) and continue cooking until the vegetable is tender. Taste and add more patis (or salt) according to your taste. Place the green leaves last then turn the heat off after half a minute.

Serve hot .