Food waste is one of the top things that I avoid. It makes me upset every time I have to chuck food items in the bin because it's no longer usable. Sometimes, my creative juices flow whenever I'm in the situation when I have food that's just hanging on a thin thread before it's no longer fit for consumption. A perfect example is a bunch of bananas, which gave me a lot of "muffin" lessons before I figured out the frequency of buying that fits my family's eating pattern.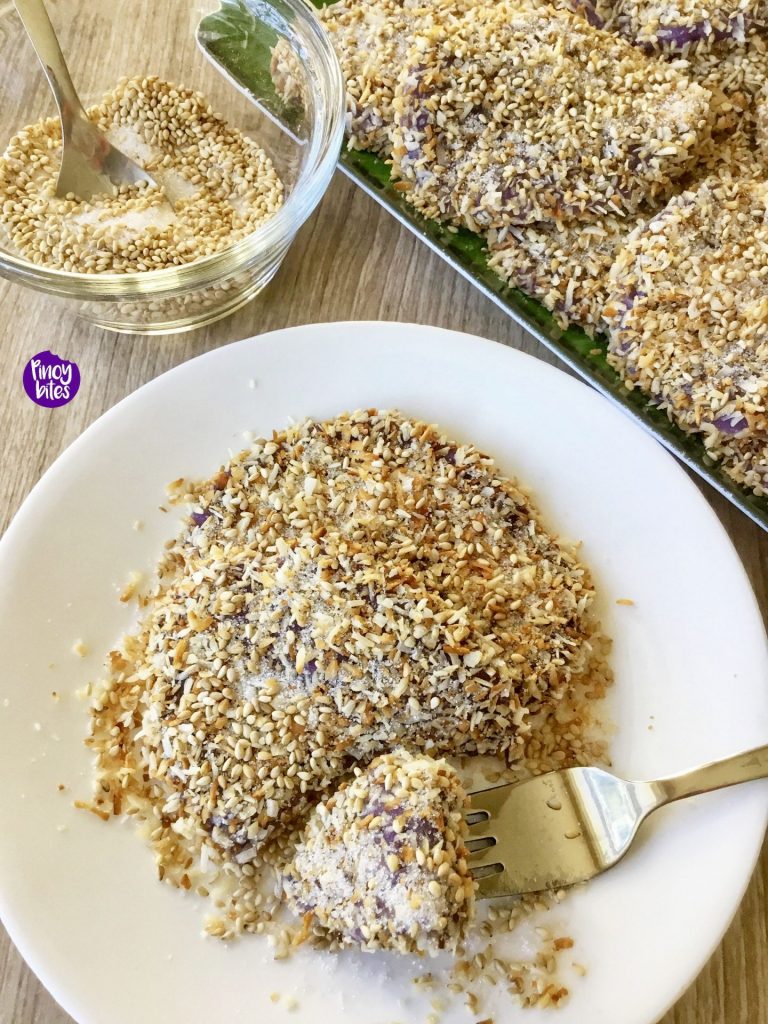 Leftovers are (sometimes) a perfect canvas to create something new. This recipe came about when I overcooked a handful of sweet potatoes. It was still good but I like mine nicely tender, not almost mushy. After a couple of days in the fridge, I knew that it'll eventually end up in the green bin unless I turn it into something else. I thought of making Palitaw – a popular Filipino snack item that looks like a flat disk that's made from glutinous rice flour. It's boiled until it floats, dipped in freshly grated coconut then generously sprinkled with sesame seeds and sugar. So, I mashed one and added to the palitaw dough. Since I used the light yellow kamote (sweet potato), a few drops of Ube flavoring (totally optional) made it more appealing.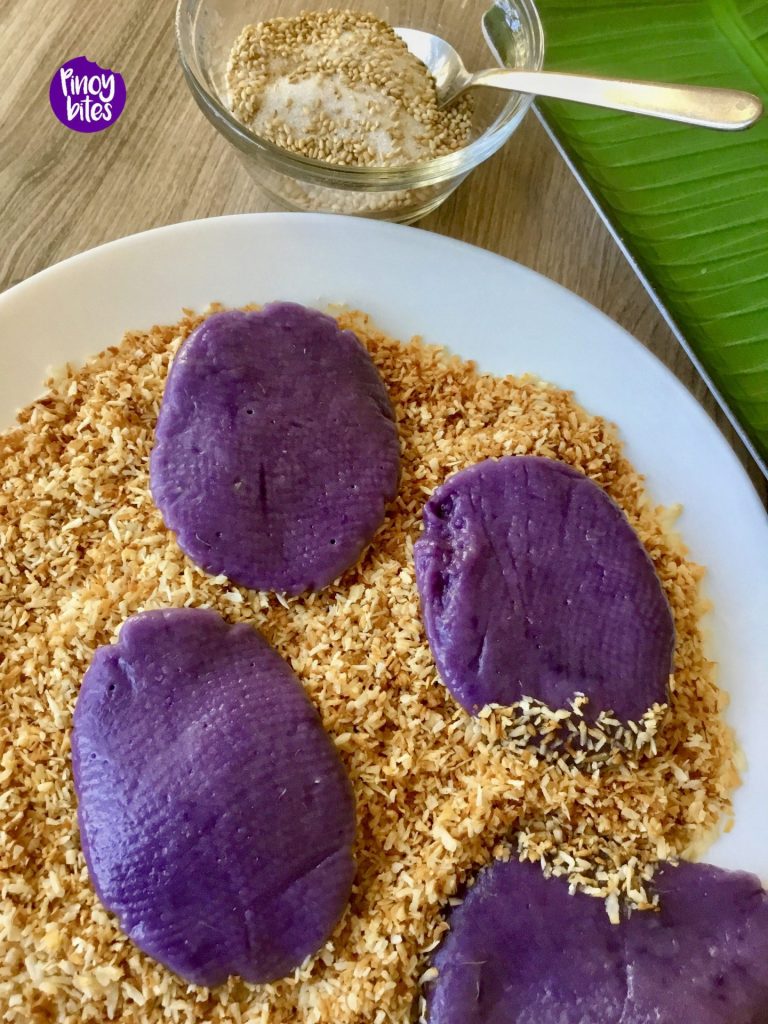 I had a half-filled bag of dried coconut shreds that I had been meaning to turn into something else but never did. So, I lightly toasted it and used to coat the palitaw because I don't normally buy the frozen ones. I wish I had the courage to crack open a fresh coconut. Until then, this is my take on this beloved native delicacy. The addition of the sweet potato made it tender and the texture blends well with the slight chewiness from the glutinous rice flour. Hubby and I love it so I have been making my palitaw this way since.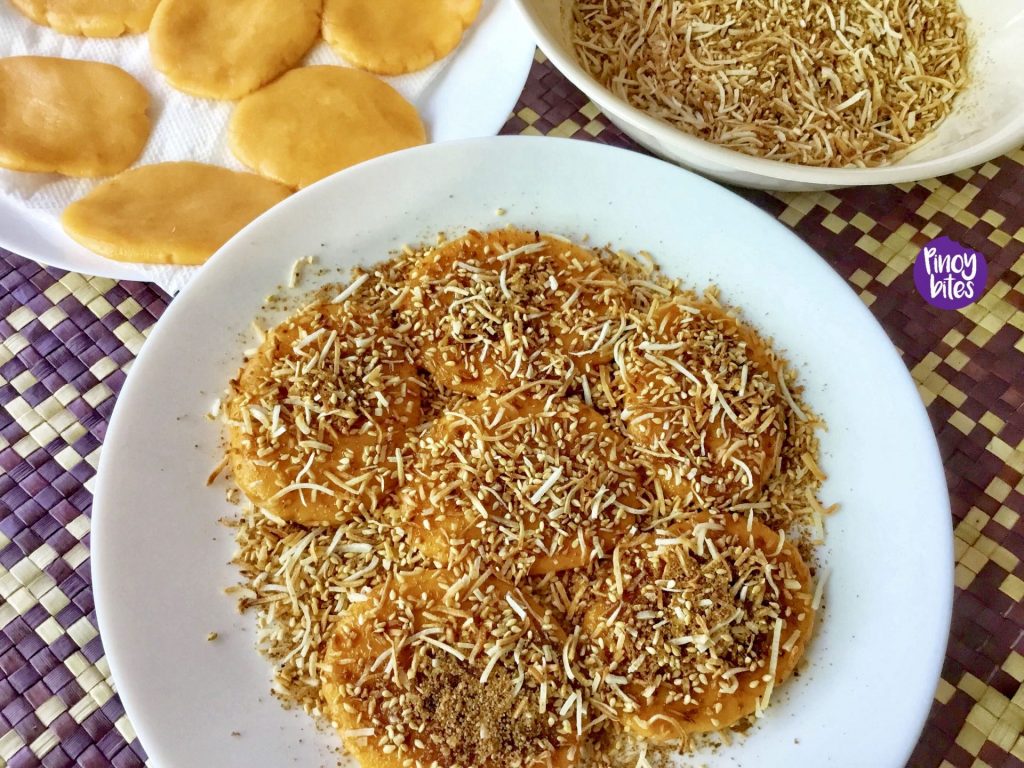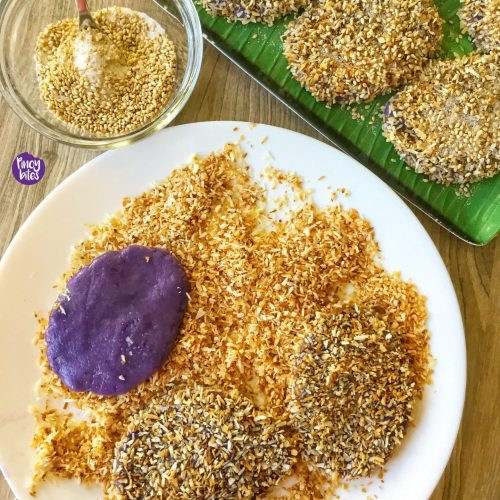 Sweet Potato Palitaw
Tender with a slight chewiness, this recipe is an innovation of the beloved Palitaw using regular pantry ingredients and leftovers.
Equipment
Plate lined with 2-3 layers of paper towels (for draining excess water)

Slotted spatula or similar to pick up cooked Palitaw
Ingredients
1 ½

cups

glutinous rice flour

½

cup

mashed sweet potato

about 1 medium, boiled

½

cup

water

(read Step 3)

Ube flavor or purple food coloring

a few drops * (optional..see notes)

1

cup

dried unsweetened shredded coconut

lightly toasted (read Step 1)

2

tablespoons

sesame seeds

toasted

2

tablespoons

sugar
Instructions
Toast the coconut: Add the dried shredded coconut in a dry pan and cook on medium heat (while stirring continuously) until lightly toasted. Set aside on a large plate. This happens very fast so never leave it.

Fill a large pot a little over halfway with water and place on the stove using medium heat. Combine sugar and sesame seeds in a small bowl. Set aside.

Add the glutinous rice flour, mashed sweet potato, food coloring and water in a large bowl. Mix and knead with your hands until a soft dough is formed. It will be cohesive (like a soft play dough) but not dry or sticky. Add a teaspoon more water if it's too dry or a bit more flour if too sticky. Divide the dough into 12 balls.

Once the water starts to simmer, shape each dough ball into a flat oval-ish shape. Place a ball between the palm of your hands and gently squeeze to flatten. Turn it over and do the same thing on the other side. Gently drop into the simmering water and cook until it floats to the top (about 2 minutes).

Place the cooked ones on the paper towel-lined plate to drain for a few seconds before transferring to the toasted coconut. Dip each side to cover then sprinkle with the sesame-sugar mix before serving.
Notes
*The coloring/flavoring is optional. Use a purple or orange-colored sweet potato instead.