Winter is still dreadful to me though I've lived in North America for a long time now. My warm-weather-loving Filipino body shivers when staying outside during the colder months. Sadly, this is one thing that I don't think I'll ever get used to.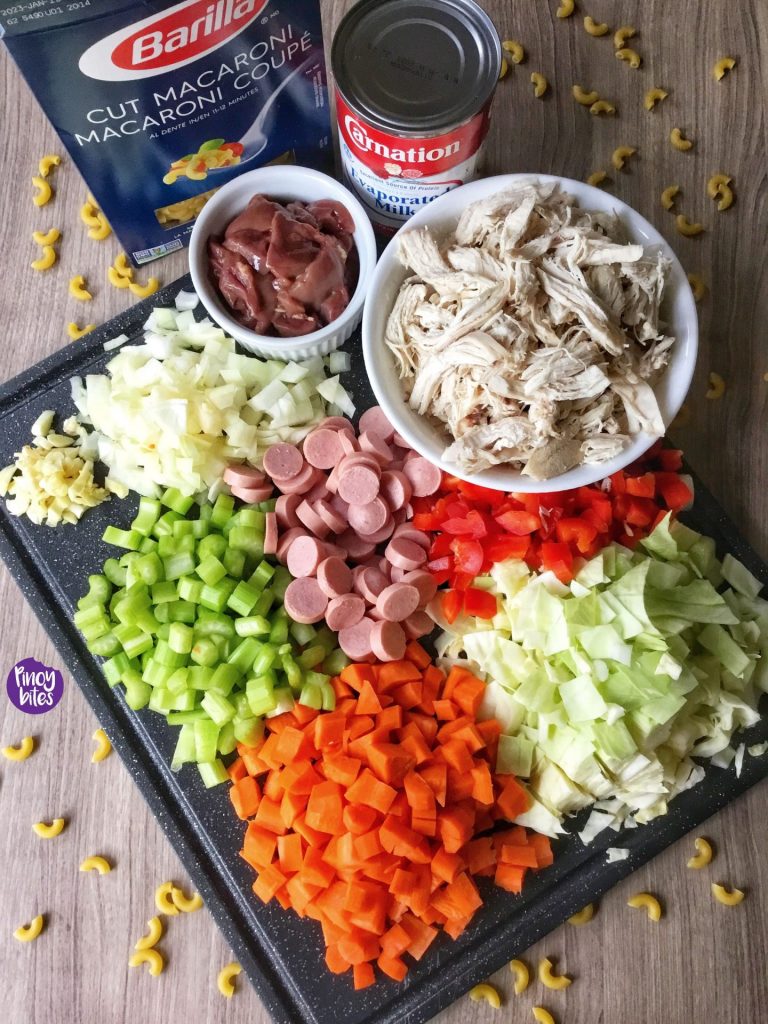 When the temperature starts to dip, cravings for soups and food in broths become more frequent than usual. Sopas is one of the dishes that I always make. It's a complete meal (though my family loves it with a side of toast or garlic bread). My kids love its creamy taste and the array of colorful ingredients was an added bonus.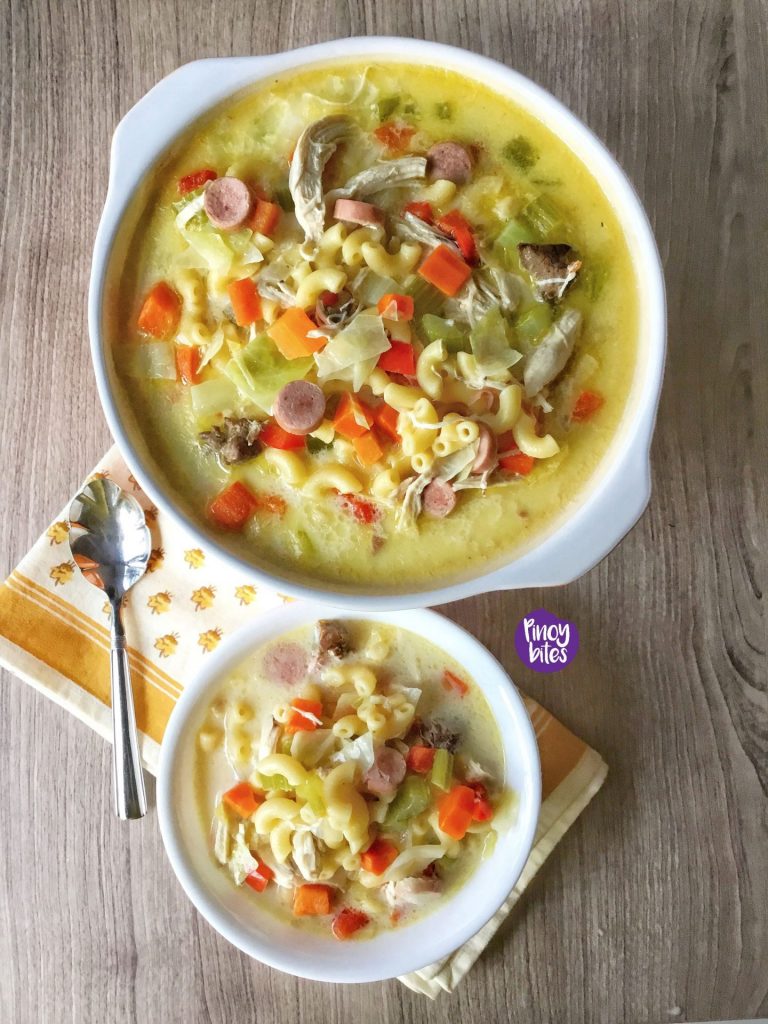 There was this one time when I made it and realized at the very last minute (everything was prepped and ready for the pot) that I ran out of evaporated milk. Since it was Christmas Eve, everything was closed except for a pharmacy nearby. It had to be the item they didn't have at that time (and no cream of any kind) so I had to use fresh milk. It was still good but it lacked that distinct richness that you can only get from evaporated milk. From then on, I always make sure my pantry never runs out of evaporated milk again.
This soup may not be a staple meal in the Philippines for the holidays but it sure is in our part of the world. This Chicken Macaroni Soup not only keeps our body warm during the winter months but it brings back great memories of childhood, enjoying this very soup my parents used to cook for us. Very comforting!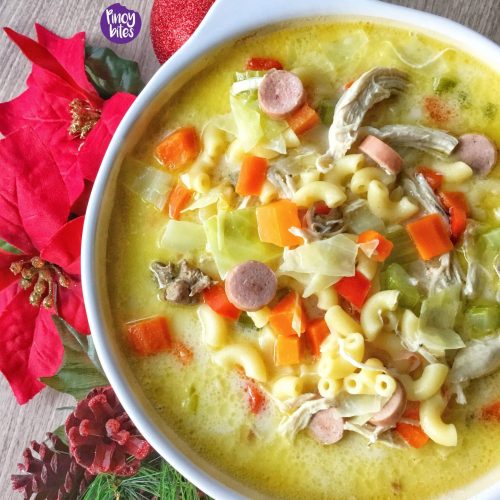 Sopas (Filipino Chicken Macaroni Soup)
Hearty, soothing and a perfect cold-weather soup that's deeply rooted to our childhood. Its nostalgic appeal is undeniable!
Ingredients
2 ½

cups

(410g box) cut macaroni (I used Barilla)

3

chicken breast fillets

boiled and flaked or 2 lbs bone-in chicken breast (if making homemade broth)

1

cup

chicken liver

cut into small pieces (optional)

15

cups

chicken broth or homemade*

(recipe below)

1

onion

finely chopped

4

cloves

garlic

finely chopped

¼

cup

butter

1

can Vienna sausage

(or ½ lb hotdogs), thinly sliced

2

large carrots

cut into small cubes

3

celery stalks

(1 cup), chopped

½

head of a small cabbage

chopped (small squares)

1

can

(354ml) evaporated milk

Salt or Patis

(fish sauce), to taste

Ground black pepper

to taste
Homemade Chicken Broth:
2

lbs

bone-in chicken breast or thigh

2

large carrots

cut into 2 inch chunks

2

large onions

halved

5

garlic cloves

slightly smashed

1 ½

teaspoons

whole peppercorns

1

tablespoon

sea salt

2

bay leaves

Water

(to fill the pot ¾ full)
Instructions
Proceed to Step 2 if using store-bought chicken broth Homemade Chicken Broth (optional): Add all the ingredients in a large stockpot (7 or 8 qts). Fill the pot with water until it reaches ¾ full. Cover and bring to a boil. Simmer ( on the lowest setting) for 1 hour. Gently remove the chicken and separate all the meat from the bones. Shred the meat and set aside for the Sopas. Add the bones back to the pot and continue simmering for at least 30 minutes. Taste and add seasoning (salt and ground black pepper), if needed.

Melt the butter in a large stockpot using medium heat. Saute onions until translucent then add the garlic. Add chicken liver (if using) and mix until it changes color. Next, add carrots, celery and sausage slices (or hotdogs). Cook for about 20 seconds then the pasta and the chicken broth. Stir and bring to a boil (covered). Then reduce the heat to the lowest setting and simmer until the pasta is fully cooked (about 10 minutes).

Add the flaked chicken, cabbage and pour in the evaporated milk. Stir and let it come to a boil (covered). Taste and add salt or fish sauce, if needed. Simmer for 2 more minutes for the flavors to marry. Turn the heat off.