Bangus (Milkfish) is the national fish of the Philippines. It's a mild-flavored fish so it can be cooked in almost any dish you can think of. Some people (including my hubby) frown upon Bangus because it has too much bones… 214 to be exact. That's why boneless bangus has gained popularity and suddenly everyone, including the kids can enjoy their favorite Bangus dish without stressing on fishbones getting stuck to their throat. It happened to me more than once when I was younger and I remembered the remedy was one of two things – swallow a clump of cooked rice or a chunk of banana and the bone is supposed to slide down your throat with it. Never fun I tell you but it worked for me. Ha!
Everyone has their favorite bangus dish but mine is either Sinigang or Paksiw (I will tell you how I make this dish another time). These are two dishes that I prefer my fish with bones for its depth of flavor. The addition of miso gives it another level of tanginess and distinct flavor that whoever thought of this is brilliant. Hope you give it a try!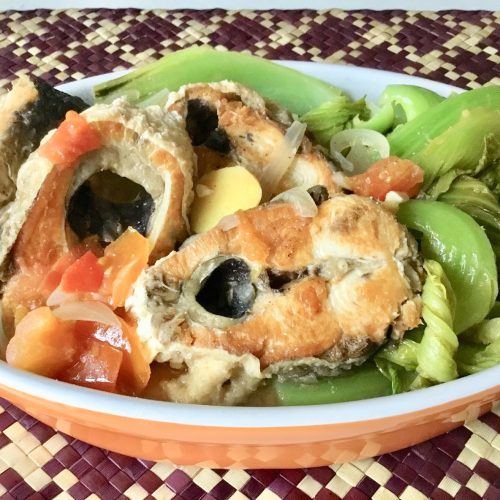 Sinigang na Bangus sa Miso (Milkfish in Tamarind-Miso Broth)
Everyone has their own favorite Bangus dish. Sinigang na Bangus is one of my fave. The addition of miso gives it another level of tanginess and distinct flavor. You'll like it!
Ingredients
1

big bangus abt. 1.5 lbs. cleaned and sliced into 1" pcs

1 / 4

cup

canola oil

for frying plus 1 tablespoon for sauteing

1

Tablespoon

ginger

julienned

1

medium onion

thinly sliced

3 to 4

cloves

of garlic

finely chopped

1 to 2

tomatoes

quartered

1 / 4

cup

Miso paste

mild Japanese miso

40

gram

Sinigang Mix pack

I used Maggi

1

bunch

Mustard greens

Gai Choy or spinach

2

pcs

Jalapeno or Serrano chilies

6

cups

water

Fish sauce

to taste (I use the Three Crabs brand)
Instructions
Fry the bangus slices in 1 / 4 cup oil until lightly browned. Place in a paper towel lined plate and set aside.

Heat a big pot on medium and place the remaining 1 tablespoon oil then add the ginger and onion. Cook for a minute and add the garlic and tomatoes. Smash the tomatoes gently with a wooden spoon against the pot to extract its juices then add the water.

Bring to a boil and stir in the miso and sinigang mix. Simmer for 2 minutes then gently add the fried bangus slices.followed by the chilies and mustard greens.

Season with fish sauce and turn off heat.

Serve hot with warm Jasmine rice.