Karioka is a Filipino snack made of glutinous rice flour, coconut flakes and coconut milk. Sesame balls on the other hand, is made from the same flour but usually filled with sweetened mashed beans. The former is easier to make but I just like the extra crunch the sesame seeds give. So, I just combined the two together and it tasted exactly like I imagined. Dunking these in the sweet coconut syrup made it even way better.
Give this one a try and you may not make your Karioka the same way again!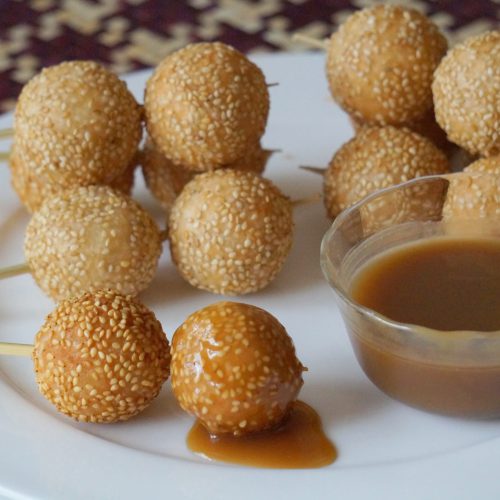 Sesame Karioka Balls (Sesame Glutinous Rice Coconut Balls)
This recipe is a sweet union between karioka, a Filipino snack made of glutinous rice flour, coconut flakes and coconut milk, and sesame ball. Try it out and you'll probably won't make karioka the old way again.
Ingredients
1 1/4

cups

glutinous rice flour

1

cup

dried unsweetened coconut

(medium shreds)

1

400g can

coconut milk

divided (1 cup for the karioka and the remaining ½ c for the syrup)

2

Tbps

brown sugar

Sesame seeds

for coating (placed in a small bowl)

Canola Oil for deep frying
For the Coconut Syrup:
1/2

cup

coconut milk

rest of the coconut milk

1/2

cup

brown sugar
Instructions
To make the syrup: In a small pan, combine the ingredients for the coconut syrup and bring to a boil over medium heat. Continue cooking while stirring occasionally until mixture thickens and coats the back of the spoon. Set aside.

In a large bowl, combine the flour, shredded coconut, brown sugar and 1 cup coconut milk. Mix until well combined. Shape into a ball (1- 1.5" diameter) and roll in sesame seeds.

Pour about 2" of oil in a deep pot. Once hot enough, gently drop the sesame balls and add only a few at a time, depending how big your pot is. Do not crowd. Cook on med-low heat for 12-15 minutes or until cooked through and golden brown. Place on a wire rack to drain excess oil.

Thread 3 Karioka in a bamboo skewer ( if using ) and enjoy with the coconut sauce.
Notes
*** I used a small ice cream scoop to make uniform sizes.
*** If the rolled dough is too dry for the sesame seeds to stick to, brush with water until just moistened. DO NOT SOAK in water as this causes oil to splatter.
*** Move the balls around the pan for even cooking. If browning too fast, lower the heat to make sure karioka is cooked through.