Valentine's Day just passed. It's one of those times when we indulge in "sinful" treats especially chocolates. But this year is a little different because it's also Ash Wednesday, the beginning of Lent… a day of fasting and abstinence. Meat is the No.1 food we abstain from during the Lenten season so I had to think of something meatless for dinner.
My kids love tofu – soft, firm, extra firm. The texture doesn't matter. The sight of it on a dish is enough to get them to the table and eat. The fried bits of tofu in this recipe is a great meat substitute without sacrificing taste. I based this recipe on the This Stir Fried Chow Mein Noodles is delicious, very simple to make and you won't even miss the meat.
If you're looking for vegetable chow mein recipes, give this tofu chow mein recipe of a try! Let us know how it goes in the comment below.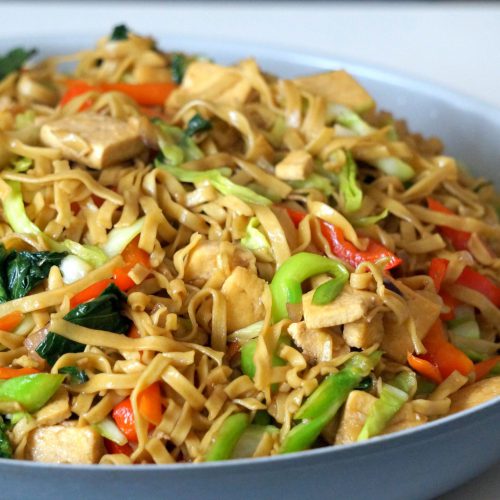 Quick and Easy Tofu Chow Mein
Quick and easy to prepare. This vegetarian tofu chow mein is perfect for those 'no meat' days and Asian noodle dinner night. We promise, you wont miss your beef!
Ingredients
1

lb

Chinese Chow Mein noodles 454 g

1

package Firm or Extra Firm Tofu cut into small cubes

4

cloves

of garlic chopped

1

medium onion diced

1

medium carrots cut into strips

1

red bell pepper cut into strips

1/2

of a medium cabbage sliced thinly

Bokchoy or Gailan can be a substitute

1/4

cup

Oyster flavored sauce

Up to 1/4 cup water if noodles are too dry

Cooking oil for frying tofu and stir frying about 1/4 cup

Salt and pepper to taste
Instructions
Rinse the noodles in warm water and drain. Set aside.

Heat a large saute pan and pour about 2 tablespoons of oil. Add tofu pieces and cook on Medium heat until light golden, turning the tofu pieces often. Set aside in a bowl.

In the same pan ( or wok ), add 1 tablespoon of oil and saute onion ( Medium heat )until softened, abt 1 minute. Add the chopped garlic followed by the vegetables. Season with a pinch ( or two ) of salt and pepper. Add the fried tofu and stir fry for 2- 3 minutes.

Add the drained noodles and the oyster sauce.

Using two wooden spoons, toss all the ingredients together until well combined. Continue tossing for a few more minutes. Turn off heat and transfer to a serving dish.