The holiday season is a great excuse for indulging in food that we seldom have. In most cases, these are the not-so-healthy kind of eats. Tweaking things a bit can be a great option too. Just a mere switch in the main ingredient can do wonders especially for some (like me!) who have a love-hate relationship with fatty and preservative-laden food.
We were at Costco and I saw a great deal on a whole pork loin that I can't pass up. Every time we buy meat, I always make sure to portion immediately and freeze for later use. As I was about to start cutting, I thought of turning half of it into "ham". Yep, "ham" because I had to forgo the preservatives, curing and the smoking process. I didn't know how it would turn out but I was determined to try.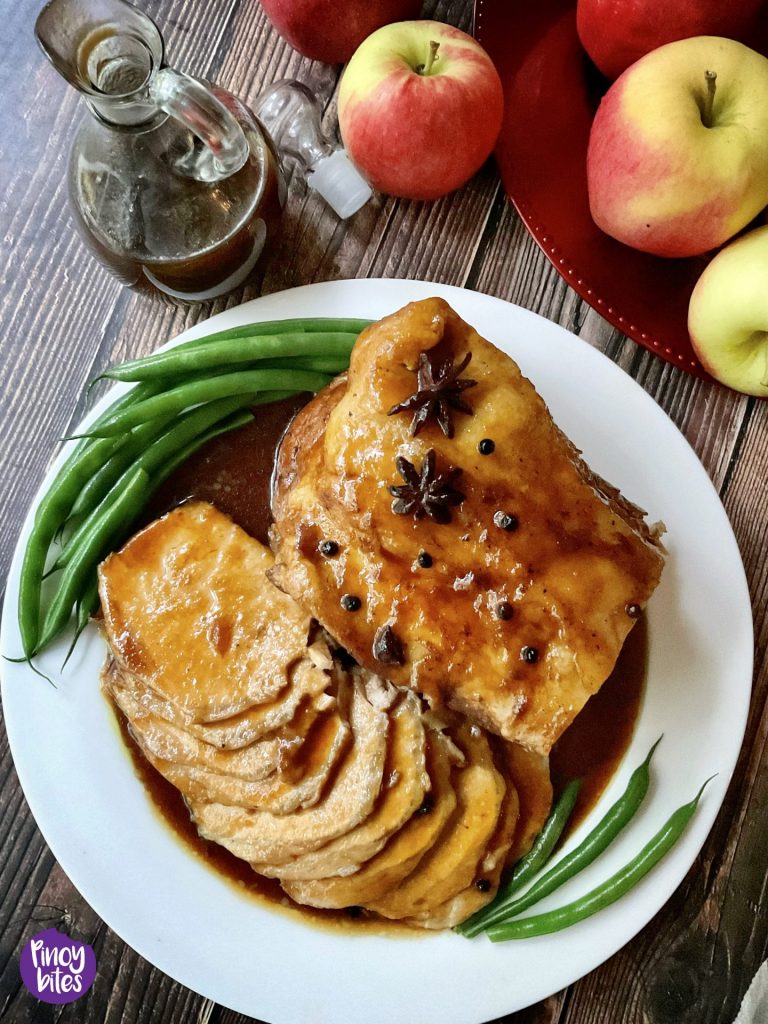 Introducing flavor before the cooking started was key. The pork loin needed to be dry brined for a day just to inject flavor into this otherwise bland cut of meat. I didn't use a wet marinade as I wanted to give the meat a proper sear before braising. With this method, I just patted it dry with a paper towel then straight in the hot pan to sear before introducing the liquid. When adding the pineapple juice, make sure it doesn't go up to the fat cap (top part where the fat is) because the long cooking will melt it. The focus is to make the lean portion stay moist and absorb the flavored liquid as much as possible without it disintegrating.
The hint of spices I used is enough to give it that Christmassy feel and the kitchen smelled wonderful while the "ham" slowly cooked on the stove. Once the meat is tender, remove it from the cooking liquid and further reduce the jus until thickened enough to drape the meat beautifully when served.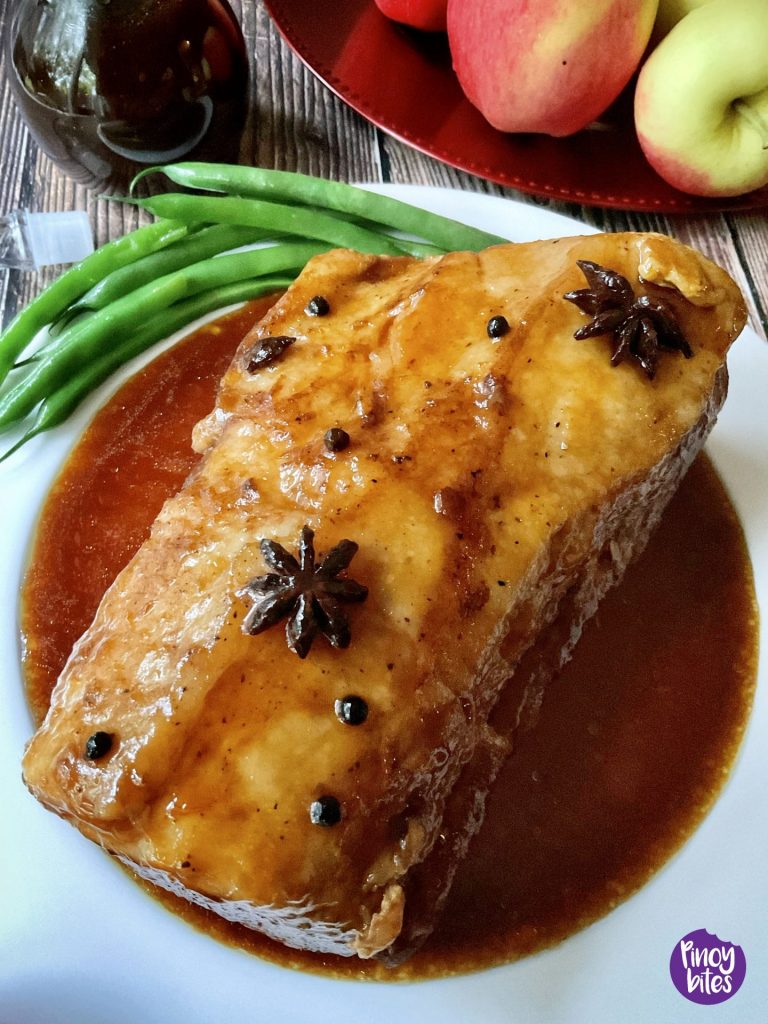 I sliced half thinly and kept the other half whole. Since it's not the holidays yet, I used it in sandwiches, for breakfast (lightly browned with some of its sauce) and used some in fried rice. For my teen's school lunch, I place a few slices with some thinly sliced cheddar, a handful of salad greens and a light drizzling of kewpie mayo. Some cut up fruits on the side is preferred otherwise, a whole apple wrapped separately will go untouched and find its way back to the fridge. Oh well, I just can't win all lunch-related battles.
Try this and let me know what you think. This one's so versatile that I'm sure this will be a part of the rolling menu whenever a whole pork loin ever goes on sale again.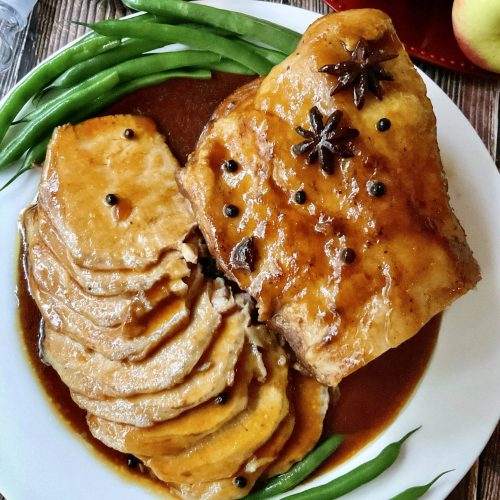 Pineapple-Braised Pork "Ham"
homemade and preservative-free, this tender and moist faux ham makes a great substitute if you want the grandness of ham without the additives. It's truly delicious!
Ingredients
4

lbs

whole pork loin

with fat cap

2

tablespoons

oil

to sear the meat
Dry Rub:
¼

cup

white sugar

1

tablespoon

sea salt

1

teaspoon

cracked black pepper
For Braising:
3 to 4

cups

pineapple juice*

see Notes

¾

cup

brown sugar

¼

cup

soy sauce

1

teaspoon

whole peppercorns

3

star anise

5

whole cloves

1

tablespoon

liquid smoke

optional
Instructions
Combine the ingredients for the dry rub and massage all over the meat. Place the meat in a sealed food container and refrigerate for at least 12 hours (up to 24 hours). Remove the meat from the container and pat dry with paper towels.

Heat the oil in a large pan (with lid and enough to fit the meat). Once hot, place the meat fat side down and cook for 2 to 3 minutes to sear the fat properly. Turn and do the same to all the sides. This will give a nice well-caramelized crust to the pork. Position the meat, fat side up after all sides are seared.

Add all the braising ingredients. Make sure the braising liquid only reaches below the fat cap otherwise, the fat will melt. Stir to distribute the ingredients well and then bring the mixture to a boil. Lower the heat, cover and simmer for 2 hours. (Check after the first hour and move it a bit, if needed)

Gently remove the pork loin and transfer to a dish. Cover tightly with foil to prevent the meat from drying up.

Increase the heat to high and cook until the liquid is reduced (at least by half) or until it's thickened to your liking. Slice the "ham" and place on your serving platter doused with the reduced sauce/gravy. Serve with roasted or steamed vegetables, mashed potatoes or rice.

Leftovers are perfect as a sandwich filling, for breakfast with sinangag (fried rice) and egg or as a protein component in fried rice.