We live in the part of Canada where the US border is a mere 20-minute drive. In fact, it's much closer than going to downtown Vancouver. Every summer prior to this pandemic, we crossed the border to go to the nearest Jollibee (when the Vancouver one was still nonexistent) … which is about 2 ½ hours away. Most of the time, we stayed at least overnight or for a few days depending on where the kids wanted to go. But whether it be the science center or the numerous family-friendly museums in Washington, our children always included Jollibee in their itinerary.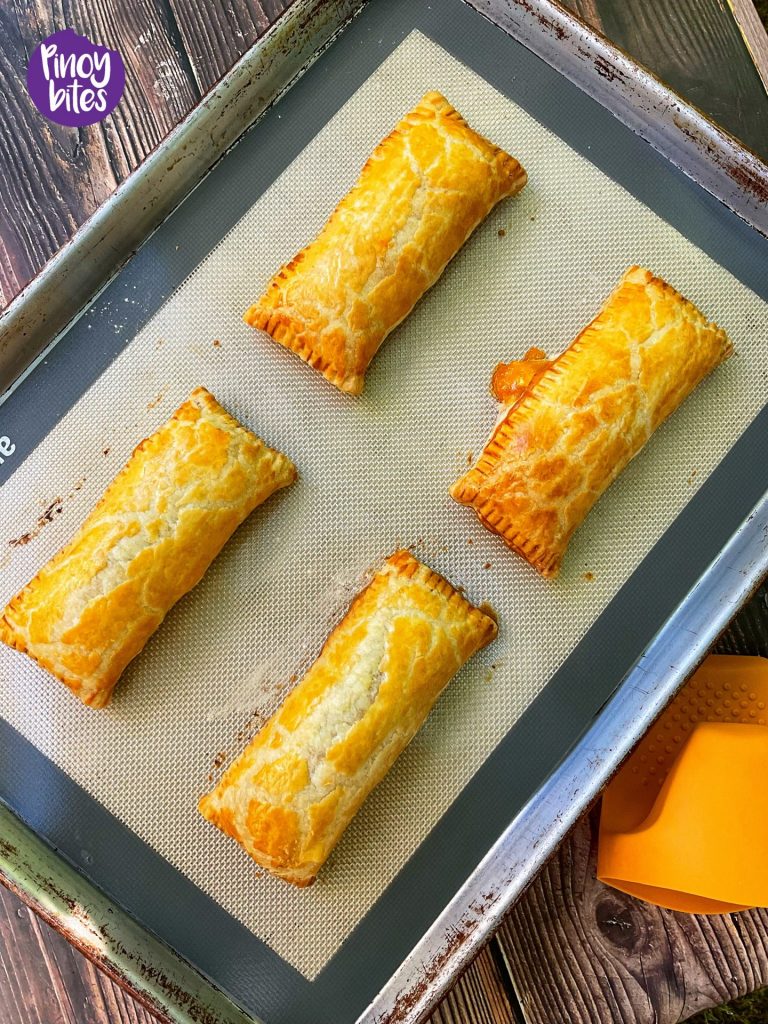 My eldest loves Peach Mango Pie the most. His ChickenJoy (with rice) order always goes hand in hand with a couple of this flaky pastry …. plus more for the road. If you could see the look on his face when having his first bite, it's commercial-worthy! Haha! So even at times when I don't feel like having one, I somehow end up with a pie in my hand. It's that contagious!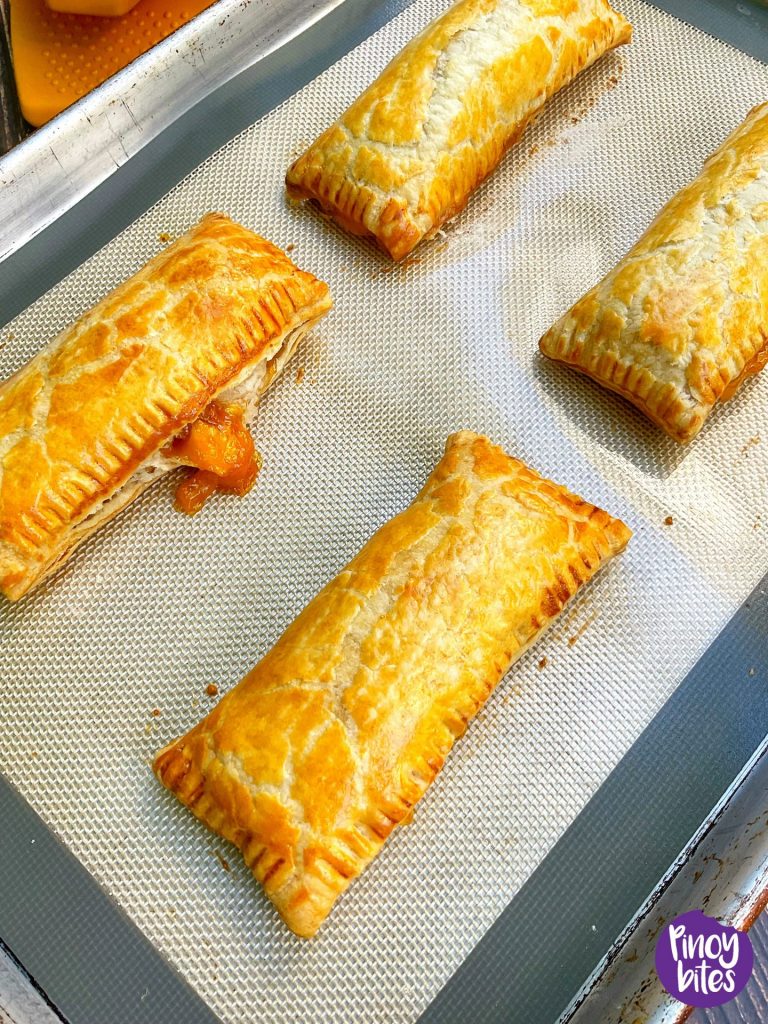 There is always a bit more pressure on me whenever I try to recreate something that my family loves, and this one is no exception. I thought of making the pastry from scratch but I was bone-idle, so grabbing a box of frozen puff pastry was the perfect solution. The filling is 100% homemade though and it had to please my teenage son with a very discerning "Peach Mango Pie" palate.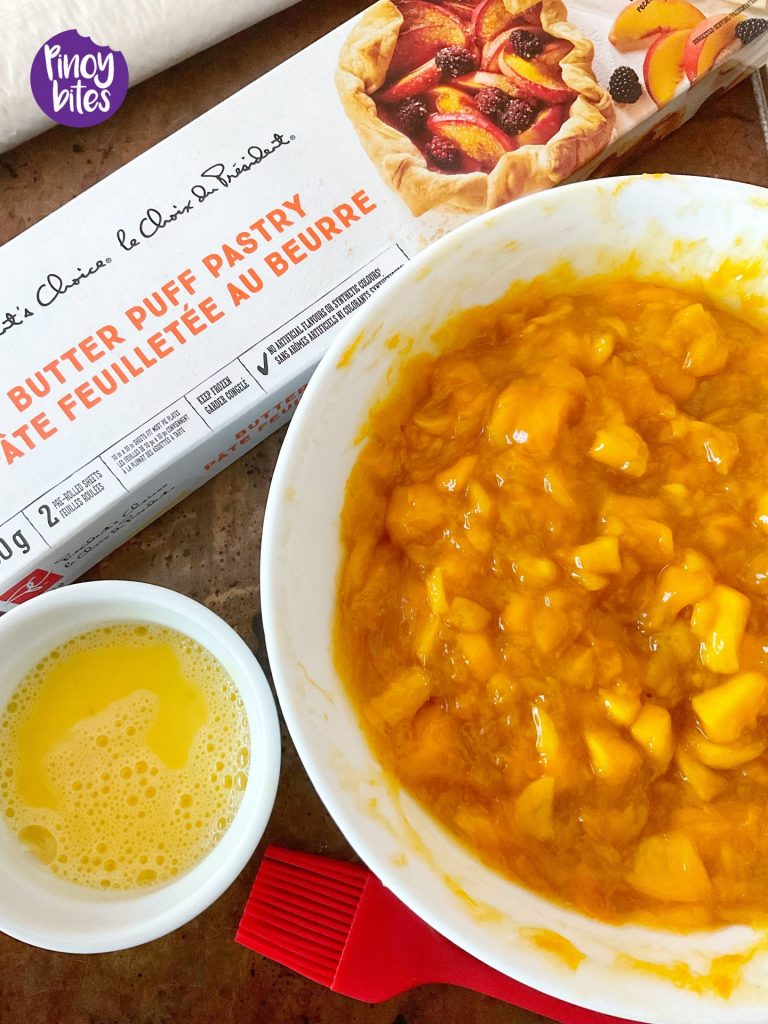 Working with puff pastry can be quite challenging. Always remember that this pastry dough is laminated with layers of butter, making it temperature sensitive. It loves the cold and heat is its enemy. A box contains 2 pre-made rolls. Get one and let the other chill in the fridge as it waits its turn. Work quickly or place an ice pack under an upside-down cookie sheet before unrolling the pastry on top.
Shaping the pie: Divide one roll into 4 equal parts. Apply a thin layer of egg wash around the outer part of the dough before scooping a couple of tablespoons of the prepared filling on one half of the pastry (leaving about a centimeter of space for sealing). Fold the empty half over, press a bit to adhere both sides then seal the edges using the tines of the fork. Dip the fork in a bit of flour if it starts to stick to the dough.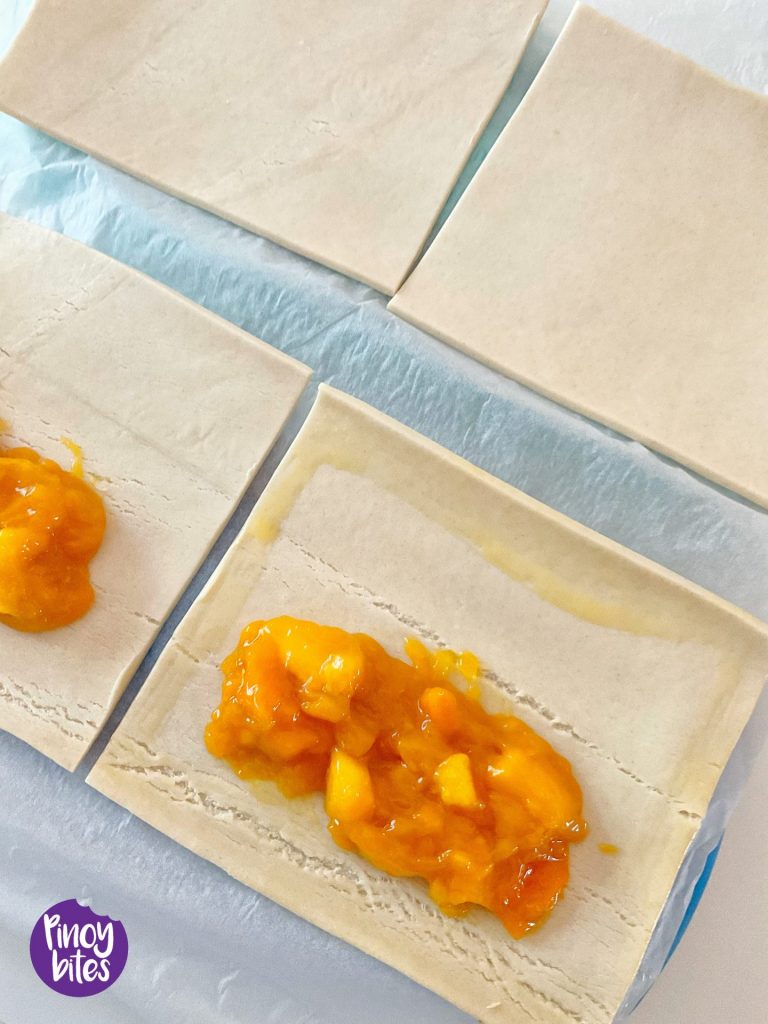 Rest the prepared hand pies in the fridge while you make the rest if the dough is getting soft and/ filling is oozing. Then, apply egg wash on the outside before baking in a preheated 375F oven for 20-25 minutes or until golden. Give it a few minutes to rest because the filling is super hot. It will be flaky and delicious!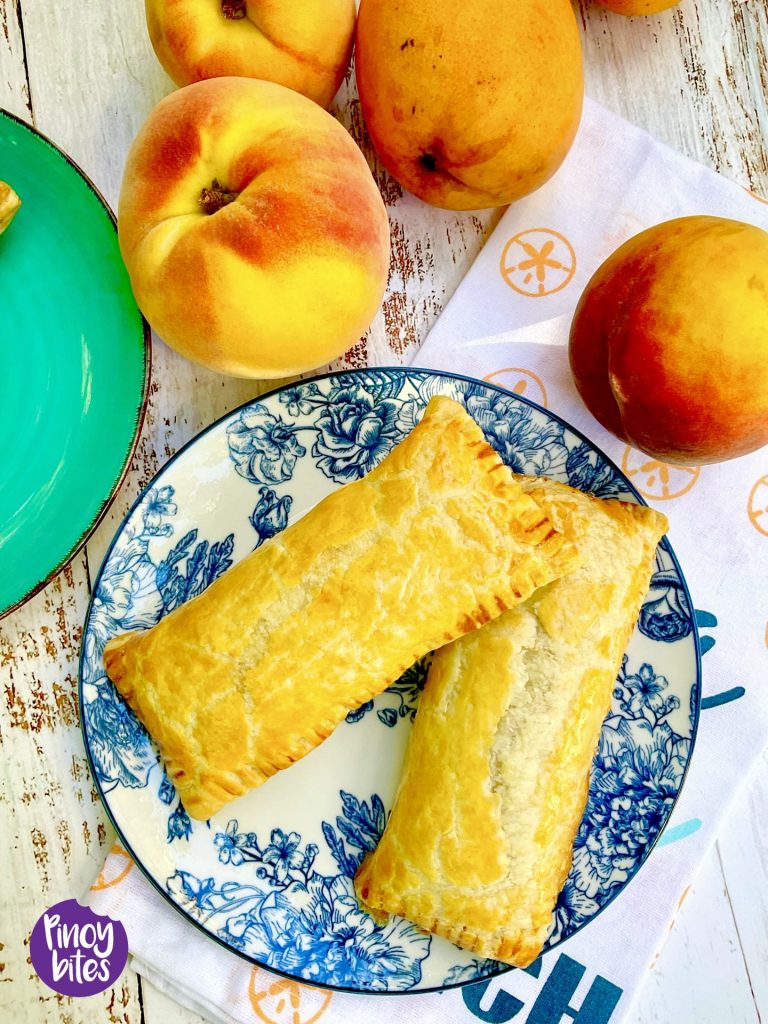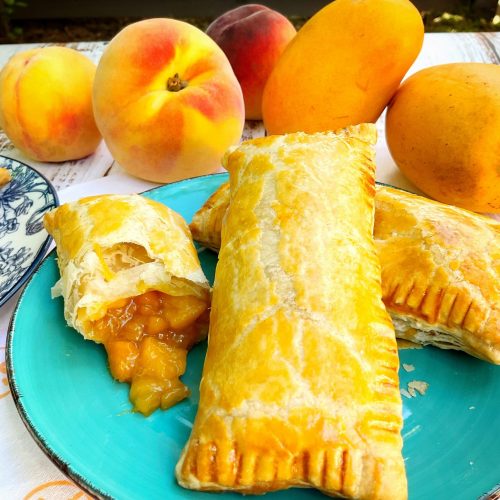 Peach Mango Pie
Generously packed with homemade fruit filling and enveloped in a flaky buttery pastry, this DIY version is as good as it gets!
Ingredients
3

ripe peaches

peeled and cut into small chunks

2

ripe ataulfo mangoes

peeled and cut into small chunks

½

cup

white sugar

½

cup

brown sugar

firmly packed

2

tablespoons

lemon juice

¼

cup

cornstarch

¼

cup

water

2

tablespoons

butter

2

boxes frozen puff pastry

thawed according to package directions

1

egg

well beaten (for egg wash)
Instructions
In a large saucepan, combine the fruits, sugars and lemon juice. Stir to combine. Turn the heat on medium.

Meanwhile, combine the cornstarch and water in a small bowl and pour over the fruit mixture as soon as it starts to simmer.

Stir continuously and cook until mixture is thick and pulls away from the sides of the pan as you stir (about 7 minutes). Transfer to a large bowl and set aside to cool. Refrigerate for at least 20 minutes. This will firm up the filling and keep the puff pastry cold while assembling.

Preheat the oven to 375F. Line one or two baking sheets with a baking mat.

Take the puff pastry out from the fridge (only bring out one sheet at a time and keep the rest in the fridge). Unroll one sheet and pass it once with a rolling pin to flatten. Cut into 4 equal squares. It's important to keep the pastry cold otherwise, it'll be hard to work with. You can place ice packs under an inverted baking sheet and lay the pastry on top to keep it cool as you unroll each sheet.

Apply egg wash to the perimeter of each square (about 1cm from the edges). Spoon 2 to 2 ½ tablespoons of the prepared filling, making sure to avoid the edges to prevent spilling. Refrigerate for a few minutes (to firm up and hold its shape) if the pastry turns soft and is getting difficult to work with.

Bake for 20 to 25 minutes, until it's golden and flaky. Place on a cooling rack for a few minutes before enjoying. Be careful, filling is HOT!