My mom is an awesome cook! I have seen her do wonders in the kitchen and I don't recall anything she cooked that I didn't like. She loves reading cookbooks and when a cooking show is on, she would be watching like a hawk with a pen and paper on each hand. Recipes written on random pieces of paper or at the back of notebooks can be found around the house. There were even times when she thought of making a dish she recently watched but forgot where she wrote the recipe down. That's one thing I got from her… writing recipes somewhere and forgetting all about it. Oh well!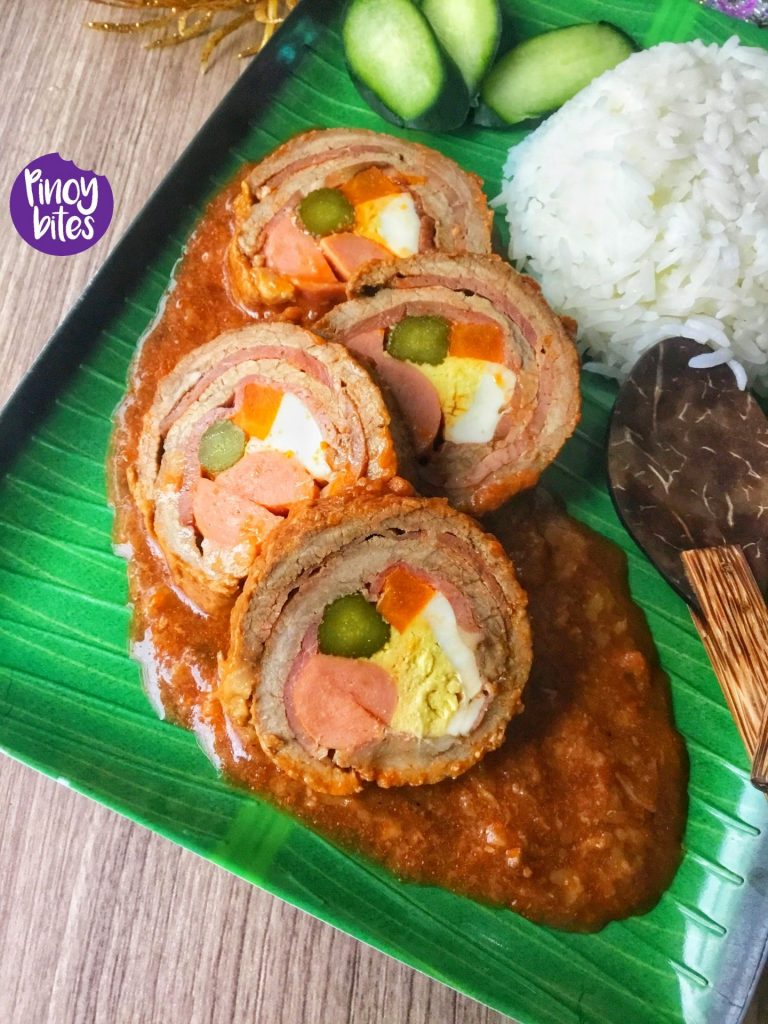 A holiday season wouldn't pass without the appearance of her special morcon. It's one of those recipes that I never learned to do until now. This dish is a perfect example why some dishes are just served on special occasions. I won't lie about the process, it's quite intimidating especially if it's your first time doing it. Some would probably shrug their shoulders and think that it's too complicated and there's no way they can pull it off. There's this trick I do when I'm intimidated with a recipe. I try to organize and group the ingredients as I need them and allot a realistic timetable for each process. If you try to finish one segment at a time, something's getting done and before you know it, you have a beautifully presented dish that tastes amazing!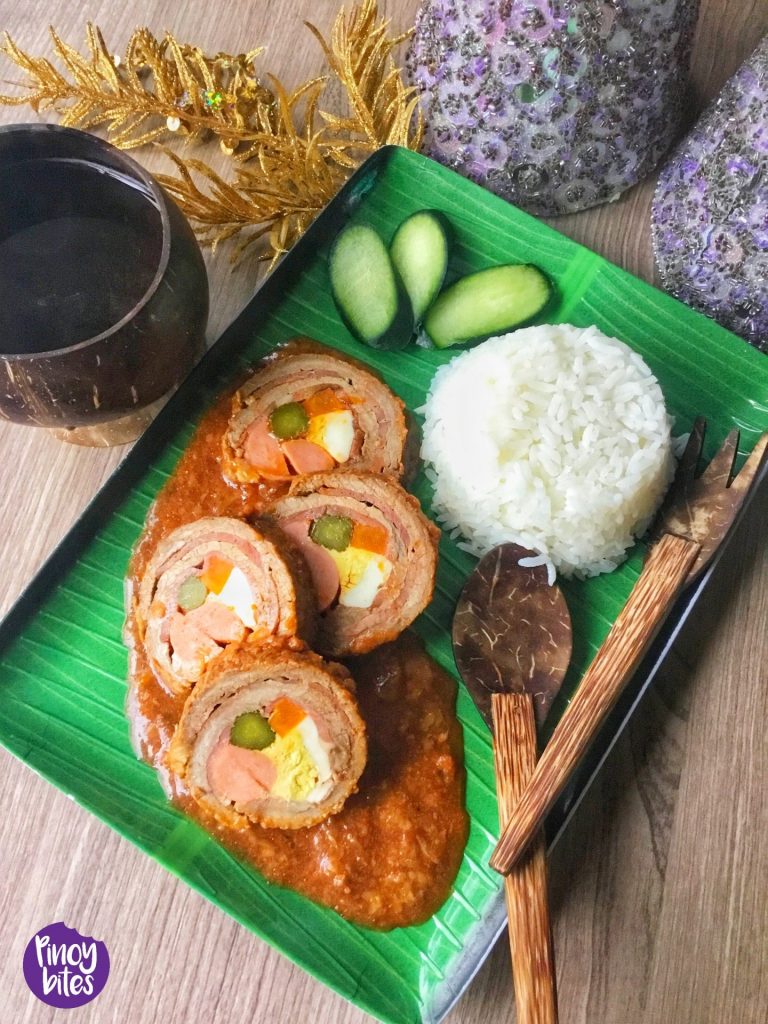 So, come on let's make this! I will try my best to guide you every step of the way. Remember to keep your eye on the ball! The reward at the end is a showstopper that you will be so proud of!
Happy New Year!!!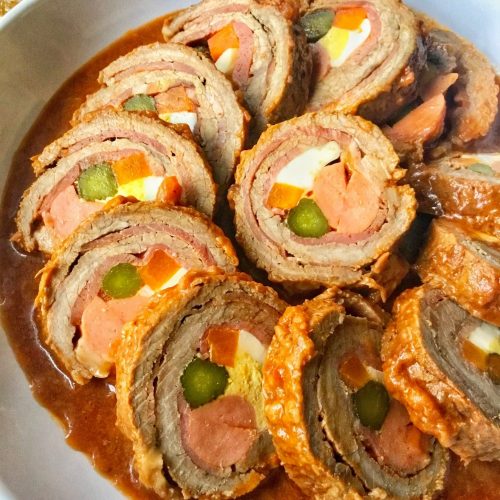 Mama's Special Morcon (Beef)
A festive beef roulade dish that is served on special occasions, particularly around the holiday season. It's braised until tender and the inside reveals a concoction of appetizing flavors and colors.
Equipment
Kitchen twine

Meat mallet (to flatten beef slices)

Big pot with lid (to braise the morcon)

Food container (to marinate the beef)
Ingredients
1

whole eye of round

about 2- 2 ½ kgs* (see notes)

Juice of 1 large lemon

about ⅓ cup

½

cup

soy sauce

½

teaspoon

ground black pepper
For the filling: ** (see notes)
¼

cup

butter

softened (for brushing)

8-10

slices

cooked ham

2

medium carrots

quartered lengthwise

8

hotdogs

Whole sweet baby gherkins

drained on a paper towel

4-5

hard boiled eggs

halved lengthwise

8-10

long strips Cheddar cheese

abt the thickness of your index finger
For dredging and searing:
¾

cup

all purpose flour

¼

cup

canola oil

for searing meat
For the braising liquid:
2

tablespoons

canola oil

for sauteing

1

large onion

finely chopped

5

cloves

garlic

minced

1

tablespoon

tomato paste

2

cups

tomato sauce

2

cups

water

½

teaspoon

ground black pepper

Soy sauce

to season
Instructions
Lay the whole beef on its side and cut ½ inch thick pieces lengthwise (cut parallel to the grain of the meat). You will get 4-5 slices. Then, take a piece and gently slit the meat in the middle, leaving about ¼ inch before you reach the end. It will look like an open book. Pound using a meat mallet to flatten the meat evenly, being careful not to tear it. Do the same with the rest.

Combine lemon juice, soy sauce and ½ teaspoon ground black pepper in a large food container. Add all the flattened meat, making sure everything is coated with the marinade. Cover and refrigerate for one hour.

Prepare the ingredients for the filling and lay them beside each other in one big plate.

Take the meat out of the fridge. Squeeze one piece (reserve the marinade) to drain the liquid then lay open on a flat surface. Brush the inside with softened butter then place 2 slices of ham beside each other in the middle of the meat. Place strips of carrots, hotdog, pickles and cheese beside each other then add egg halves on top (see photo illustration below). You may have to cut some filling to fit the length of the beef. Roll tightly as you would a jelly roll. Tie a knot on one end then keep turning the twine around the meat roll (about 1 inch apart) until you reach the other end. Fold any loose end and secure with a twine to make sure the filling stays in place. Repeat with the rest. (photos below)

Heat a large frying pan and add ¼ cup oil. Dredge each roll in the flour and add to the hot pan. Sear all sides then set aside.

Heat a large pot and add oil. Saute the onion followed by the garlic. Add the rest of the ingredients for the braising liquid (except the soy sauce). Bring to a boil on medium-high heat. Gently add the seared meat rolls, making sure they're almost completely covered with the liquid. Lower the heat and simmer for 2 hours***(see notes), checking and turning the rolls every 30 minutes. Taste and add soy sauce , if needed.

Remove the rolls from the sauce. Increase heat and reduce the sauce to the desired amount of liquid.

To serve: Remove the strings then slice (thinly) horizontally. Place some sauce on the serving platter then arrange the sliced morcon on top. Pour more sauce over (if desired) or serve with extra sauce on the side.
Notes
*Choose meat that has even thickness all throughout its length. Avoid the cut that's too narrow on one end. If it tapers on one end, trim that part to have uniform morcon rolls.
**Amount of filling depends on how many slices of meat you were able to get from your beef round. Adjust accordingly. I was able to make four 500g roulades and 1 small one out of mine.
***Cooking time varies. Check after 1 ½ hours if the meat is already tender. If not, keep braising until tender.