It's Holy Week and we tend to limit and abstain from eating meat especially the days prior to Easter. But because of this pandemic, we all have limited supplies at home and we try to make use of what we have first before we decide if it's time to make a trip to the grocery store.

This dish is a versatile one. You can substitute with veggies that you have. Whenever I try to replace an ingredient or two in a recipe, I just make sure my family likes the item that I'm replacing it with. This way, the chance of them not liking the dish is kept to a minimum.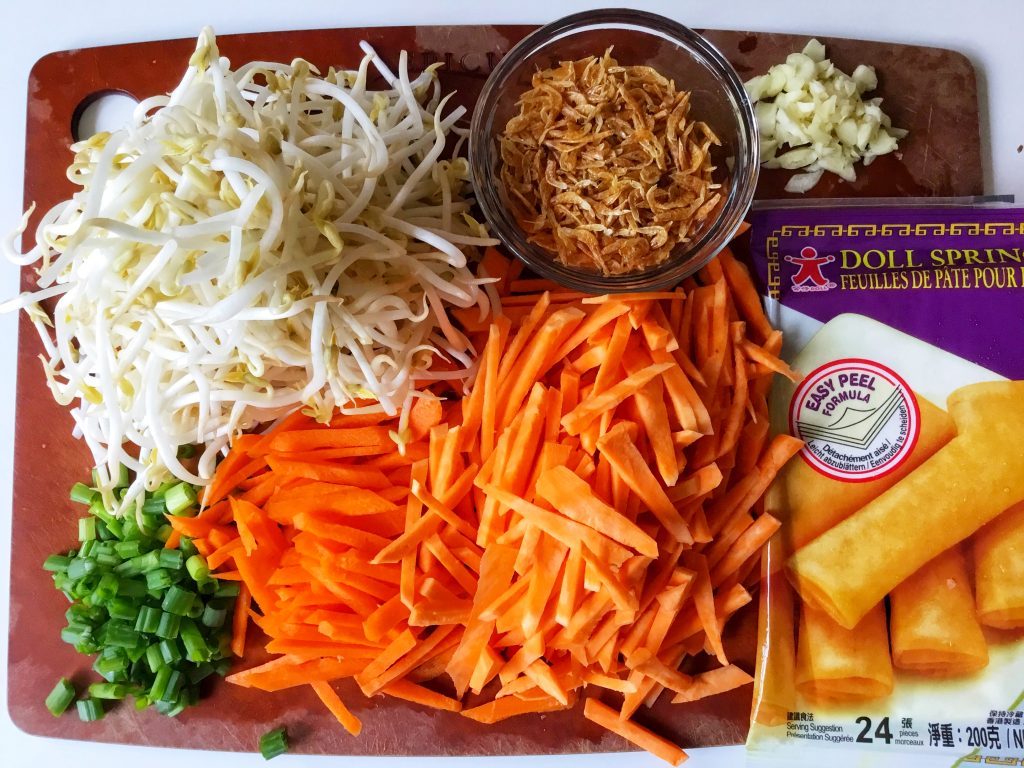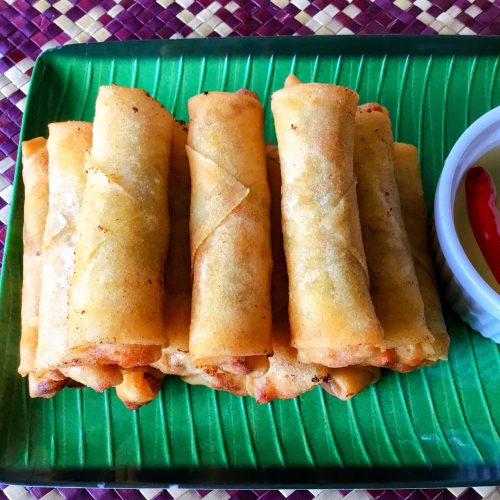 Lumpiang Gulay with Dried Alamang
This vegetable lumpia is a crunchy and appetizing dish that tastes even better with the addition of dried baby shrimps. Dip it in seasoned vinegar for a more mouthwatering goodness.
Ingredients
2

Tablespoons

canola oil

1

small onion

finely chopped

3

cloves

garlic

finely minced

1

medium sweet potato

julienned

1

carrot

julienned

1

cup

bean sprouts

washed and drained

⅓

cup

dried Alamang

dried baby shrimps, quickly rinsed and drained

2

stalks green onions

thinly sliced

Spring roll wrappers

Patis

seasoning

Ground black pepper

2

tablespoons

flour/cornstarch mixed with 2 tablespoons of water for sealing the lumpia

or just use water

Canola oil

for frying
Seasoned Vinegar:
½

cup

vinegar

½

teaspoon

salt

¼

teaspoon

ground black pepper

1

garlic

crushed or ½ teaspoon garlic powder

1

sliced chilli pepper or ½ teaspoon chilli flakes

optional
Instructions
Heat a large saute pan or wok over medium heat and add oil. Next, add the onion and garlic and cook for a minute, then in goes the dried alamang. Saute for a few seconds then add the sweet potatoes and carrots. Stir and cook for 3-5 minutes or until tender. You can add about 2- 3 tablespoons of water to help cook the sweet potatoes. Add the bean sprouts then season with patis and some ground black pepper. Turn off heat and add the green onions. Transfer to a large bowl to cool. Drain if there's any liquid left.

Place the flour and water in a small bowl and mix well. Put 2-3 tablespoons of the mixture on the lower third of the wrapper leaving some spaces below and on the sides. Lift the lower third of the wrapper (nearest you) to cover the filling then fold both sides towards the middle, encasing the filling. Then roll all the way to the other end. Seal the ends with the flour mixture or just use water.

Heat a frying pan (medium heat) and add oil, enough to reach about an inch (or a little less) from the bottom. Once hot, fry the lumpia in batches until golden. Drain cooked lumpia in a strainer (preferably upright) to remove excess oil.

Mix all the ingredients for the seasoned vinegar and use as dipping sauce for the crunchy lumpia.
Notes
*Use any vegetable combination that you have. Just make sure to adjust the seasoning. Add more dried Alamang if you prefer or omit for an all-veggie lumpia.
**For a crunchy lumpia (and not oily), make sure the oil is hot enough before frying. To check, place a wooden chopstick or the handle end of a wooden spoon in the middle of the heating oil. It's ready when you see small bubbles around the wooden spoon.
***Do not crowd the pan. Fry a few pieces at a time to maintain the oil temperature. Otherwise, your lumpia will be soggy and absorb a lot of oil. Not good.
****You can freeze uncooked wrapped lumpia. Lay them in a single layer on a cookie sheet lined with waxed paper and freeze for 2 hours or until hard and completely frozen. Transfer to a freezer bag and keep for later use. To cook, fry as usual just add a few more minutes to make sure the inside is warmed through. Make sure your oil is not too hot to avoid burning the outside before the inside is warm.