We Pinoys (Filipinos) love to share food with our neighbors whenever there's a special occasion. When planning a menu for Noche Buena (Christmas Eve dinner), we always factor in the "extra" servings. Spaghetti is a favorite item for sharing and a lot of times, we end up with different versions of the same dish because of this practice. And because of the abundance of food at the dinner table, there's a lot of leftovers for the next day…and the next…or until everything's gone. My mom would refuse to cook anything until "traces" of the noche buena are gone. And by that time, Media Noche (New Year's Eve dinner) is knocking at the door.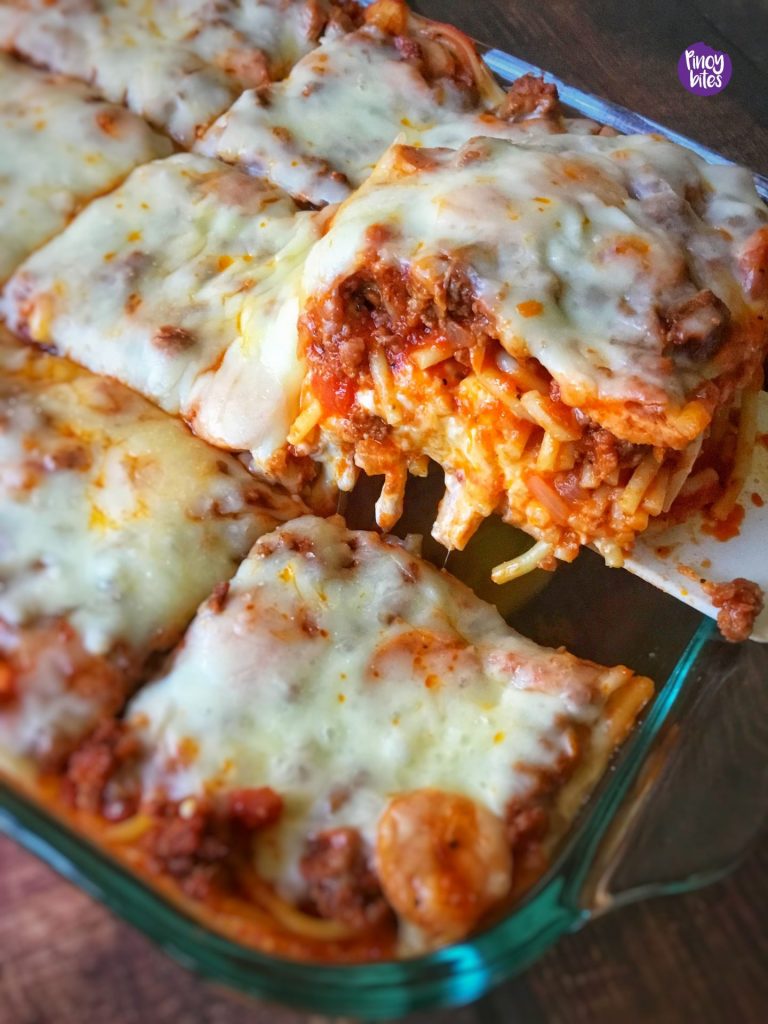 The holiday season is the most wonderful time of the year, as the song goes. Not only is it filled with merriment but food indulgences as well. This being the second "pandemic" Christmas we're in, we're inching into normalcy with our small "bubbles". Christmas parties are back to some, while others may still not be comfortable mingling beyond their household.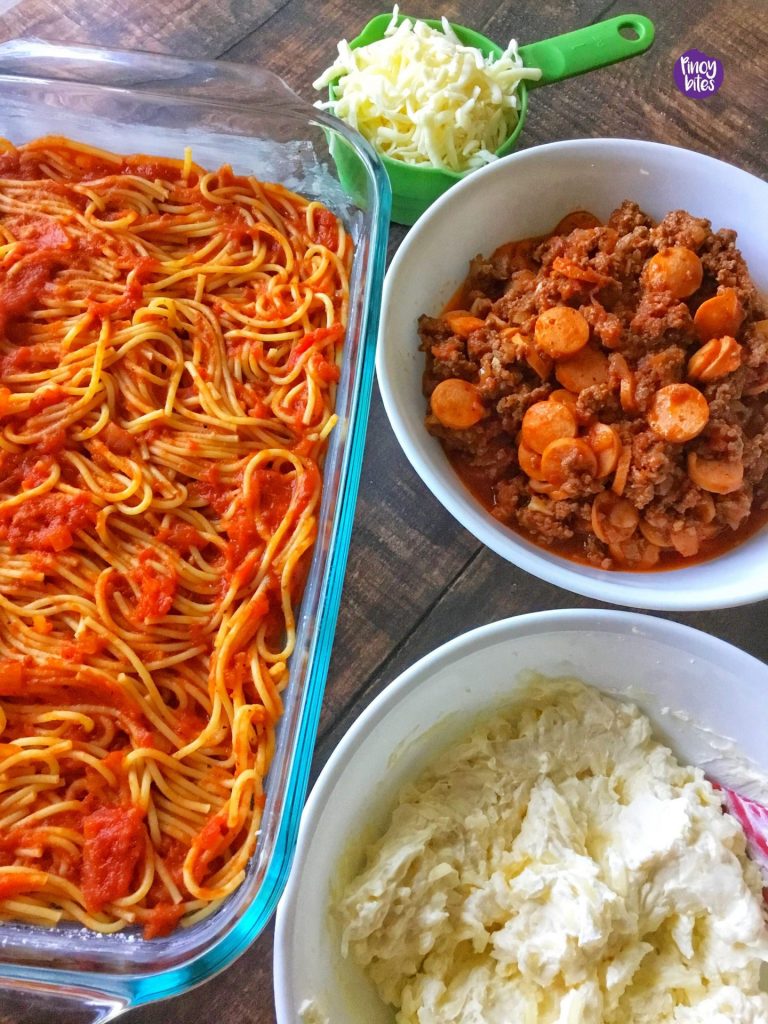 Whichever group you belong to, this casserole will surely be more than welcome. It has 5 layers – pasta/sauce, cheese (mozzarella and cream cheese), pasta/sauce, ground beef-hotdog and topped with more cheese. Then, into the oven it goes to bake until bubbling and the cheese is melted and gooey. This is definitely NOT diet food so look away now, while you can. Haha. But I promise you, it'll be worth the extra calories.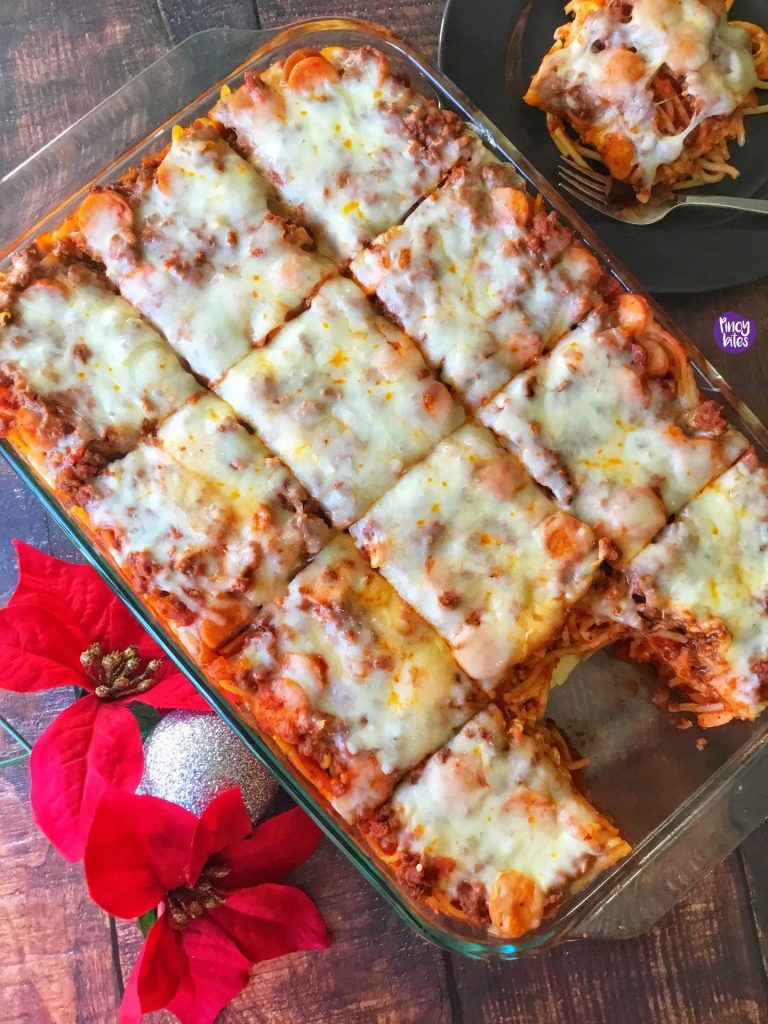 If you're still wondering, this one has a very similar flavor profile to the Filipino-Style Spaghetti but presented in a different way. It's easier to serve and it can be portioned exactly into equal serving sizes. And the best part is, it tastes as great as it looks!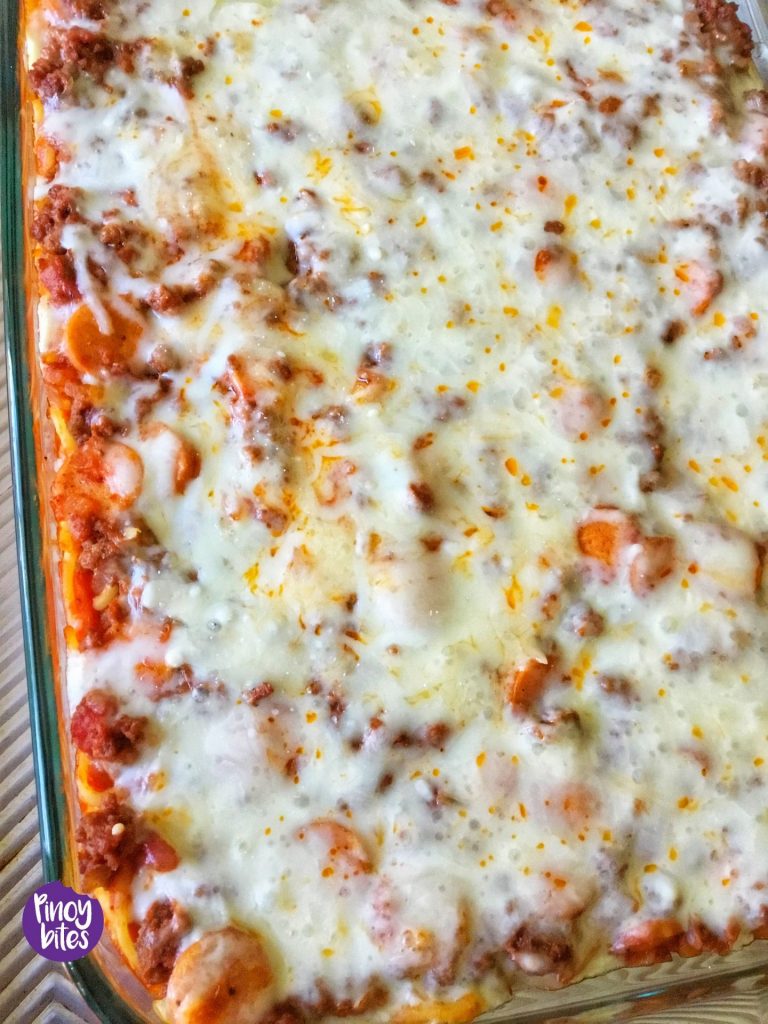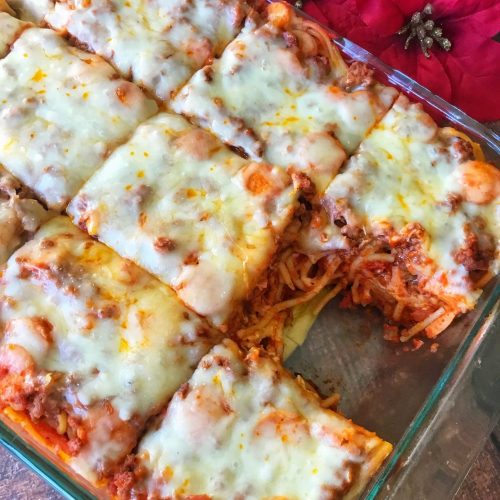 Loaded Cheesy Baked Spaghetti
Hearty and decadent pasta casserole with a gooey-melty cheese center and loaded with layers of spaghetti, meat and cheese sauces. It tastes and looks superb!
Ingredients
1

lb

spaghetti

cooked 1 minute off of suggested cooking time

1

lb

ground beef

3

hotdogs

sliced into thin coins

1

onion

finely chopped

3

garlic cloves

finely chopped

5

cups

Filipino Spaghetti sauce or bottled marinara sauce*

divided (see notes)

8

oz

cream cheese

softened

3 ½

cups

shredded mozzarella cheese**

see notes

1

tablespoon

olive oil

Salt and ground black pepper

to season

1-2

tablespoons

softened butter

to grease the pan
Instructions
Preheat the oven to 350F.

Heat 1 tablespoon of oil in a large pan. Saute the onion until softened then add the garlic. Mix and add in the beef. Cook until no longer pink and add the hotdogs. Saute for 2 minutes. Turn the heat off, drain the liquid (and fat) completely then add 1 cup of spaghetti or marinara sauce. * (see notes)

Add the remaining 4 cups of sauce to the cooked spaghetti. Set aside.

Combine the cream cheese and 2 cups of mozzarella cheese in a bowl and set aside.

Grease the bottom and sides of a 9×12 rectangular baking pan (I used Pyrex) with butter.

Add half of the prepared pasta (pasta with sauce mixture) evenly to the bottom of the pan.

Next, spread the cheese mixture and cover as much of the pasta as possible.

Then, add the remaining pasta mixture. Spread the beef-hotdog mixture next.

Sprinkle the remaining 1 ½ cups of mozzarella cheese on top. Cover with foil and bake for 30 minutes. Uncover and continue baking for another 10 minutes (until the cheese is bubbling).

Cool on a wire rack for 10-15 minutes. Divide into squares (9 or 12 pieces depending on your preference). The cooling will set the layers and cut easily into perfect slices.
Notes
*If using marinara, add sugar depending on its acidity (start with 1 teaspoon and add according to your taste). **Reduce the cheese topping by ½ cup if you want to cut back on the cheese. Do not take away any from the cream-mozzarella filling. For an even creamier cheese layer, add up to 1 cup of ricotta OR sour cream to the cream-mozza combo before layering it into the casserole.