Until I was seven (or maybe eight), we lived in Project 4 in Quezon City. If you have seen kids who play outside almost the whole day, I was exactly like that. Summertime was the most fun! I would eat breakfast so fast and like clockwork, all of the neighborhood kids would be gathered at one spot to start the most important business of the day….playtime! Around noon, we all headed back home to have lunch as soon as we heard the first mom call out, "….kain na! ". We didn't mind the scorching heat of the sun as we headed back to our usual "meeting spot" after that much needed meal.
A few street vendors roamed around our area selling food, particularly the ones that kids love. Cold or frozen treats were more appealing to us, so the likes of Ice Candy and Ice Buco were right up our alley. We would all quickly head home to ask for money once we hear a loud voice yelling "Ice Bukooooo!". I was always careful not to let a single drop get into my hand or it'll be a sticky mess and I didn't want to go home to wash up …… missing some precious playtime. Those were super fun times!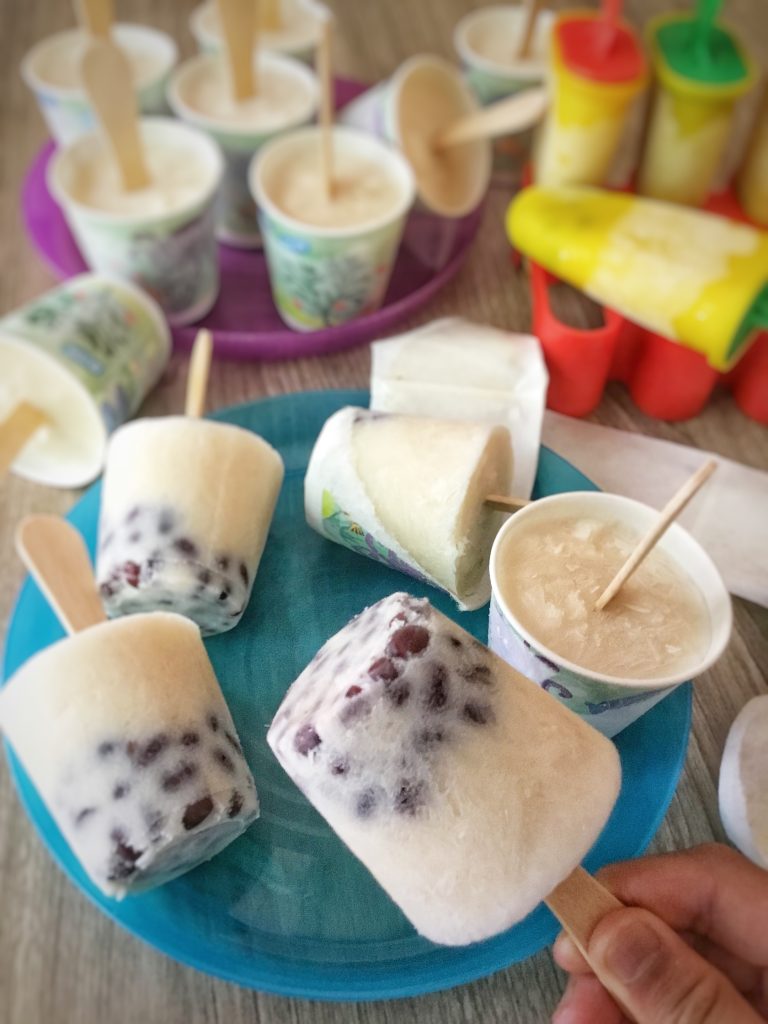 Ice Buko is sweet and filling because of the added cooked beans and grated young coconut strips, lining the bottom and sides of this delicious dessert/snack. I've had smooth and creamy ones but there were times when they skimp on the cream making it more "icy" in taste and texture. The beans may seem like a "weird" addition (as my kids told me 😅) but it provided some much needed protein, which I thought was a genius concept. Maybe that kept my hunger pangs at bay when I was a kid.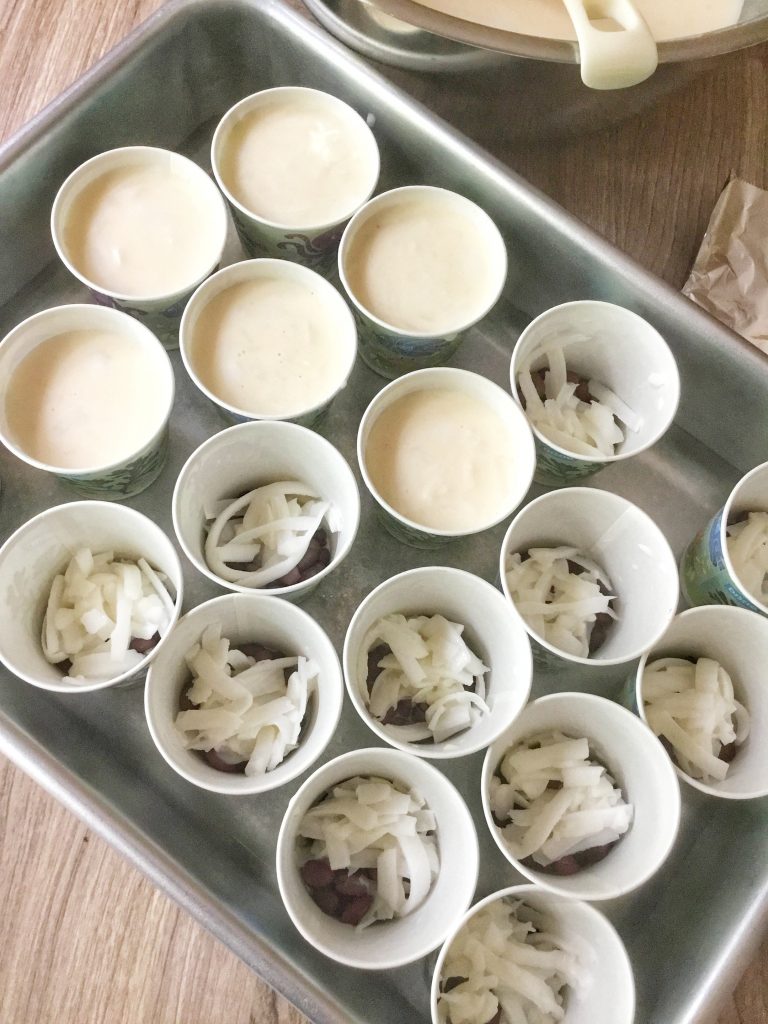 I thought it would be easy to recreate this childhood memory but it took me 3 tests before I was satisfied. First trial was good but wasn't creamy enough. The creaminess was solved in the second trial but the ingredient I used wasn't conventional. On both of the former tests, that distinct taste of buco wasn't very pronounced, which I thought defeats the purpose of making ice buco. Then, I realized that I wouldn't be able to exactly recreate this because I don't have access to fresh coconut water and freshly grated young coconut strips.
Making the most of what I can find in my neck of the woods was the only way. So, instead of directly spooning some shredded buko (young coconut) in the molds, I let the buco strips "marinate" in the milk base for a few minutes to release even a bit more flavor. Adding heavy whipping cream also helped in giving it a smoother texture. Either the canned thick cream (Nestle's cream) or All Purpose cream can be used if heavy cream isn't available.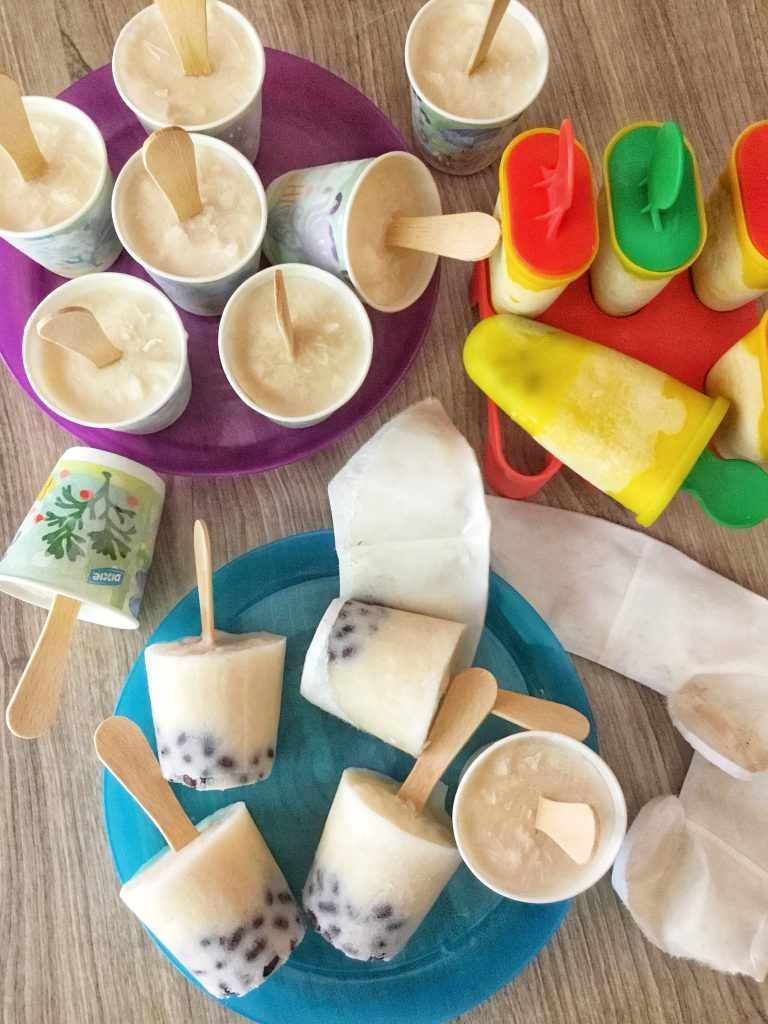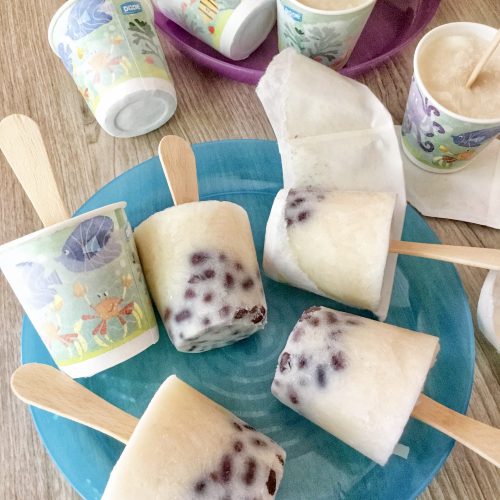 Ice Buko (Coconut Popsicle with Adzuki/Red Mung Beans)
A refreshing frozen snack/dessert made with a milky coconut base, bits of shredded young coconut and topped with slightly sweetened adzuki beans. A summer treat…anytime!
Ingredients
½

cup

adzuki beans *

see notes

3

cups

water

½

cup

sugar

for cooking the beans

1 400

ml

can evaporated milk

1 237

ml

heavy whipping cream

33% mf**(see notes for substitutions)

½

cup

sugar

for the milk-coconut mix

2

cups

500ml coconut water

1

frozen grated coconut

thawed and drained
Equipment:
Small plastic or paper cups

Food-grade popsicle sticks***

Cut up foil squares

to cover the top of the molds
Instructions
Rinse the beans and add to a medium pot (with lid). Add 3 cups of water and ½ cup sugar. Cover, then bring to a boil and simmer (on low heat) until the beans are tender. Set aside to cool.

In a large bowl, add the buco. Snip with kitchen shears if the strips are too long. Pour the milk, coconut water and ½ cup sugar. Taste and add the extra 2 tablespoons if the sweetness is not enough for you. Mix very well until sugar is dissolved.

Drain the cooked beans and place a teaspoon inside the ice buco mold. Pour enough buco-milk mixture to fill it almost to the top.
Notes
*Alternatively, you can soak the beans (with enough water to cover by ½ inch ) overnight. Discard soaking liquid then follow instruction #1. Soaking will hasten cooking time.
**Canned thick cream (Nestle's cream) or All Purpose cream can be used if heavy cream isn't available.
***Sometimes I use cake pop sticks. Cake pop molds can also be used in place of the cups.