My eldest son is the biggest Taho eater at home. He can have it for breakfast, snacks and even for school lunch. He never gets tired of it. I usually buy dessert tofu at the supermarket and just make my own syrup and tapioca pearls. I also have a recipe for DIY Taho as well if you don't fancy making your own.
I bought a gallon of soy milk a week ago to use in a recipe and to try making Taho from scratch. I just had this thought of adding gelatin to the soy milk and see if I can get it to gel at the right consistency. Well, it didn't set with the first amount of gelatin I used. I guess I was so cautious that the amount I initially added didn't even thicken one bit. After I doubled the amount, it had a nice jiggle and the most important determining factor is that my teenage son approved of it. That's success to me! He may have been born here but his Taho tasting skill is impeccable.
It's the peak of summer so this tofu pudding is a great way to let you enjoy the same great taste of taho but just cold. But my son will have it either way…as long as it has the same taste and feel of traditional taho that he loves.
Remember – This recipe makes COLD Taho. This will melt and turn back to soy milk if you heat it up. So, if you prefer warm taho, click this link to my other recipe, DIY Taho.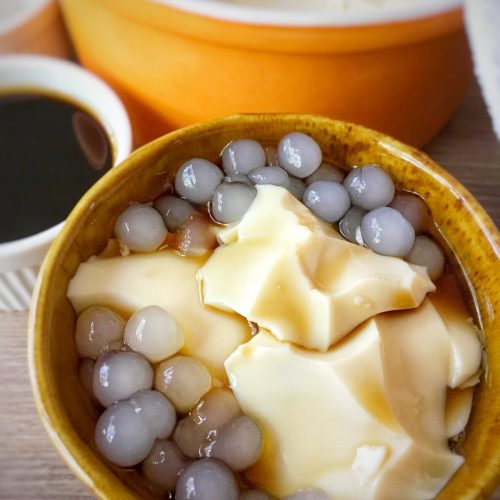 Homemade Taho (Tofu Pudding)
This homemade cold taho (from scratch) is an awesome way to beat the summer's scorching heat. It has the perfect texture of the taho that we all love and it's so simple to make!
Ingredients
4

cups

unsweetened soy milk

2

envelopes (14g) Knox unflavored gelatine*

¾

cup

water

Cooked Tapioca pearls

Sago (see notes)

Brown Sugar syrup

Arnibal (see notes)
Instructions
Add soy milk in a medium-sized pot. Turn the heat to medium to warm the milk. Stir once in a while to make sure it doesn't burn at the bottom.

In another pot, add water. Sprinkle and stir 2 envelopes of gelatin. Bring mixture to a boil over medium heat. Once boiling, gently pour warm milk to the boiling water-gelatin mixture.

Stir continuously and once it starts to come up to a boil, turn the heat off. Watch the pot as it can boil over quickly. Strain mixture over a pot (with lid). Wrap the lid with a clean kitchen towel and cover. This will help absorb the steam. Let cool for at least 1 hour at room temperature (no longer too hot). Then, place in the fridge until set.

Scoop with a ladle and serve with cooked sago (tapioca pearls) and arnibal (brown sugar syrup). Always serve cold. This type of taho can't be heated.
Notes
*Knox gelatine comes in a small box with 4 small envelopes/pouches inside. You only need 2 pouches for this recipe.
**Recipes on how to cook sago (tapioca pearls) and arnibal (brown sugar syrup) is found here