Bread making takes a bit of an effort but it's so worth it! That distinct aroma alone of freshly baked bread is so inviting and comforting at the same time. I would hear brisk footsteps from my kids racing down the stairs and even my teenage son, who prefers staying in his room would make a surprise appearance. It's that powerful, I tell you. These rolls even have an advantage because of its sweet cinnamon smell which fills every nook and cranny of our house.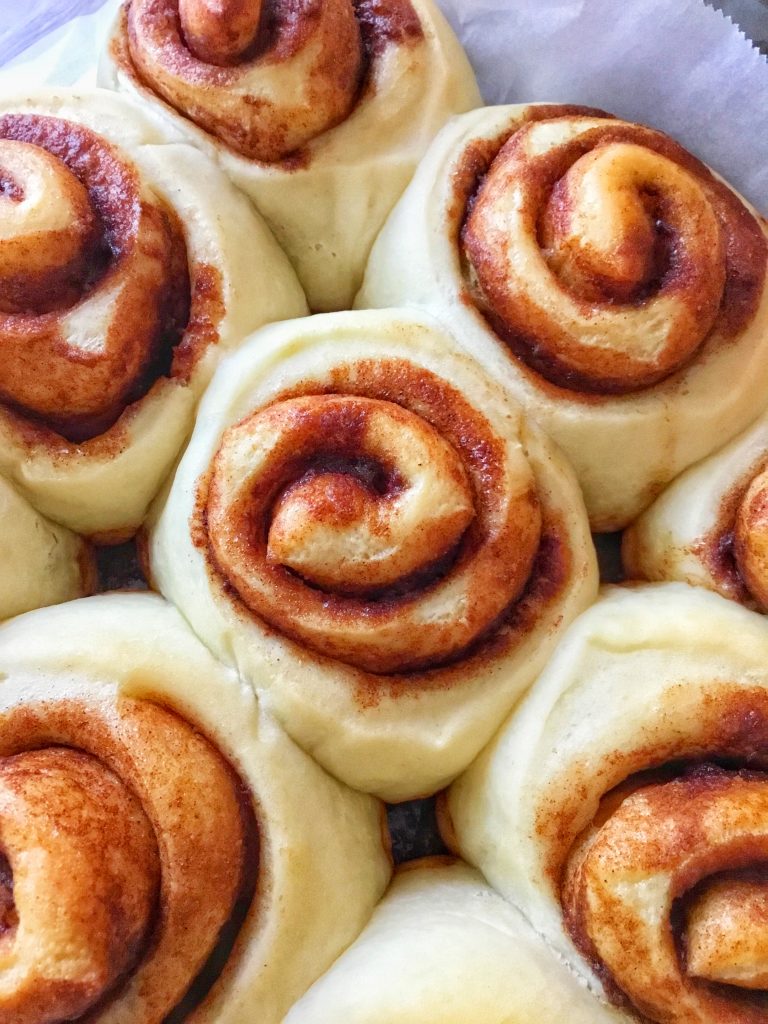 Cinnamon Roll is one of the most requested breads at home. This recipe yields 24 good-size buns but believe it or not, half of it goes poof in one sitting. My kids would watch like a hawk as they await the moment when they're ready to be frosted. The waiting game is torture especially to the littlest one who would circle around the rows of cooling bread, wishing for them to instantly cool.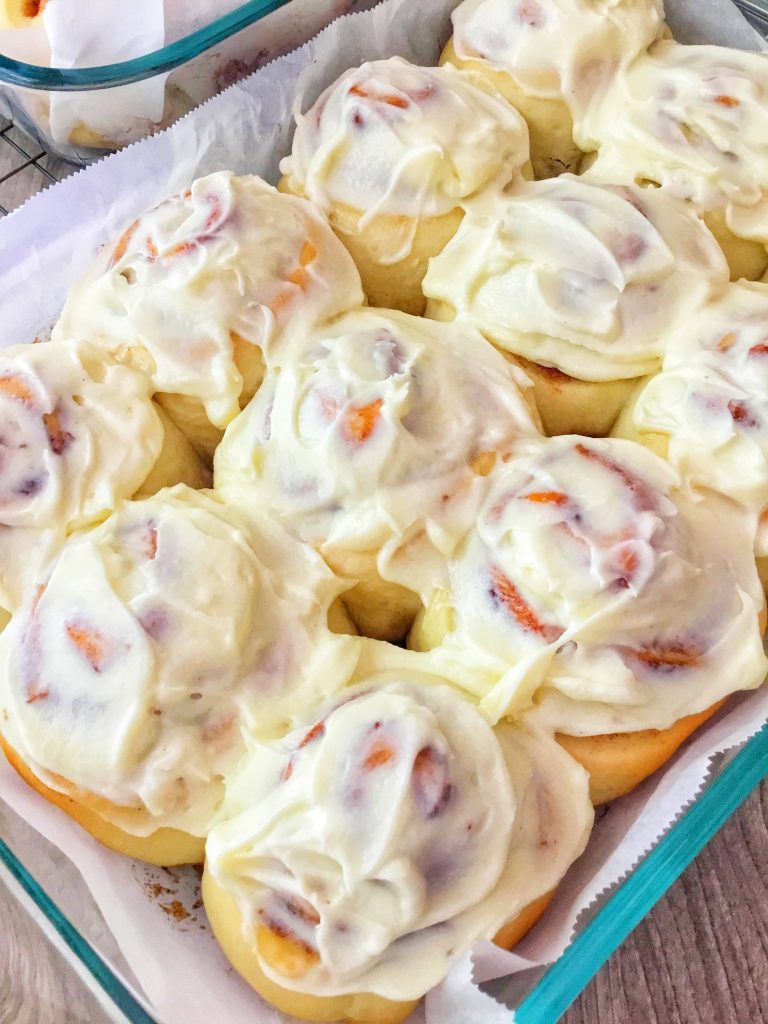 You won't regret making these because they're sooo good! Imagine soft, fluffy buns with swirls of buttery cinnamon sugar filling then topped with a generous spread of the perfect sweet-tart blend of cream cheese frosting. If that doesn't convince you, I rest my case.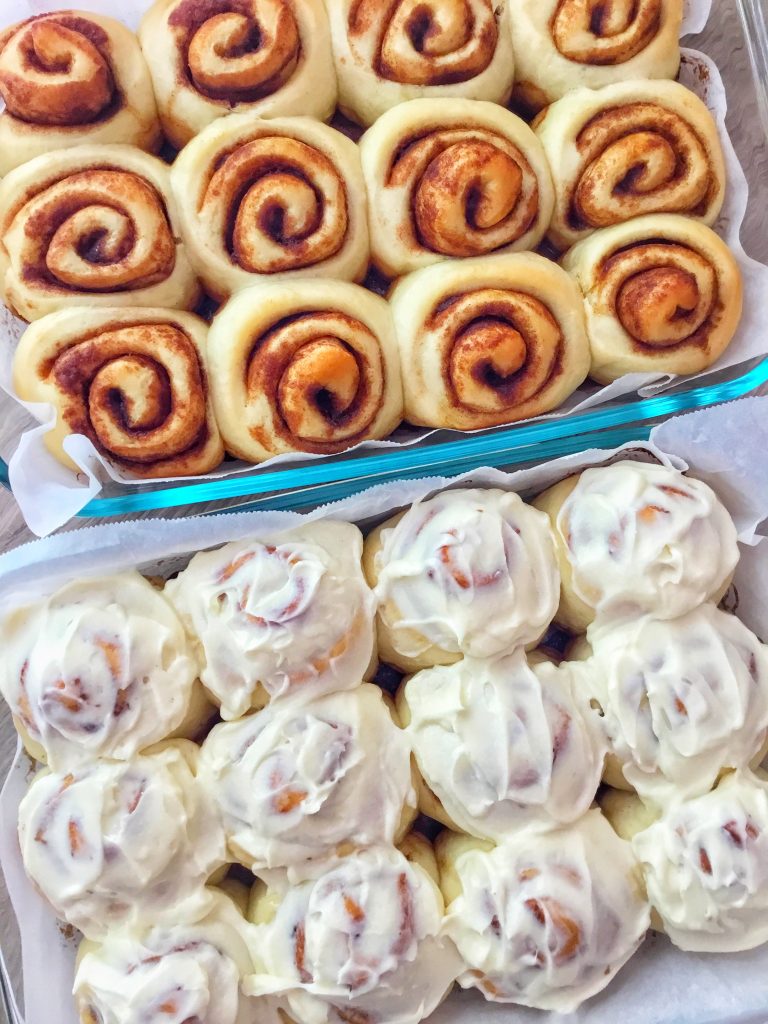 The only thing is, these Cinnamon rolls are so addicting that they may become a staple in your home. Because I make it often, I don't even have to look at my recipe whenever I make a batch. It just flows naturally. Hope it becomes your family's favorite too!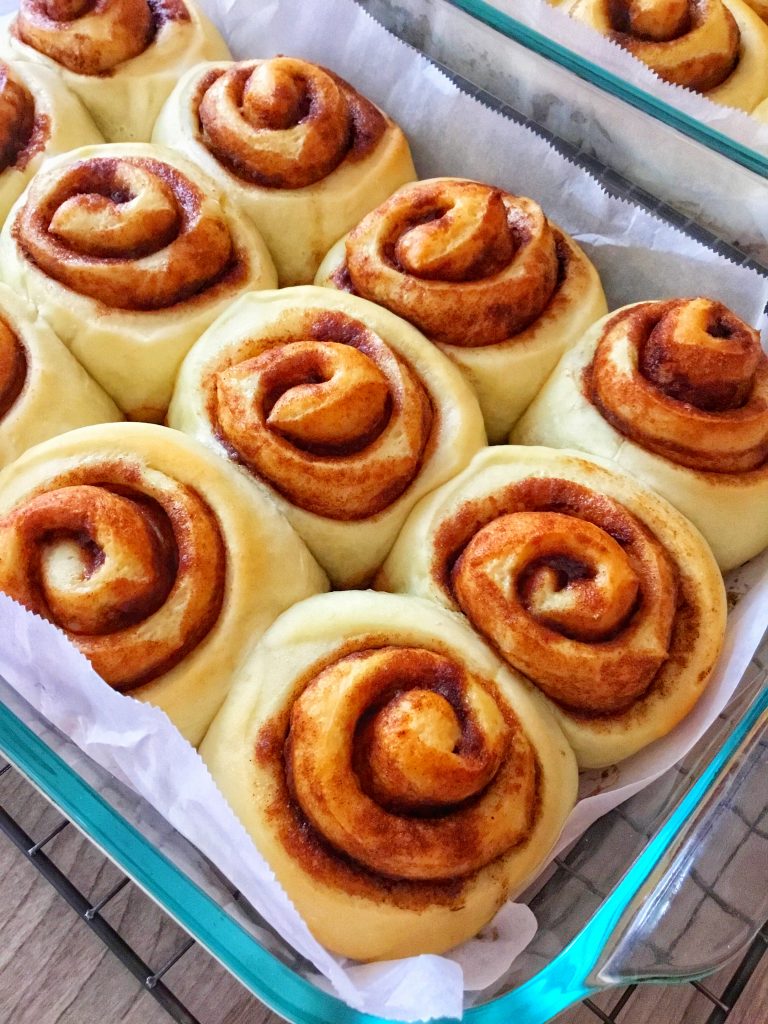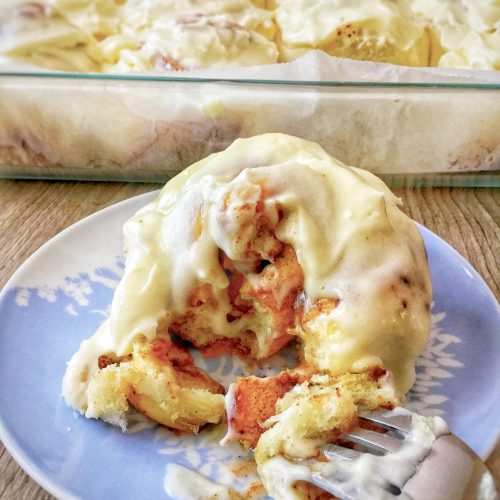 Homemade Cinnamon Rolls (Soft and Rich)
These are soft and perfectly sweetened cinnamon rolls with a gooey, delightful frosting that's perfect anytime! Truly addicting!
Ingredients
Dough:
½

cup

warm water

105 – 110F

1 ½

Tablespoons

active dry yeast

1

Tablespoon

sugar

1

cup

warm milk

2-3

eggs

room temperature and lightly beaten ( ½ cup )

¼

cup

canola oil

⅔

cup

sugar

6

cups

all purpose flour

divided*

1 ½

teaspoons

sea salt
Filling:
⅔

cup

softened butter

1

cup

brown sugar

firmly packed

3

tablespoons

ground cinnamon
Cream Cheese Icing:
1 250

g

pack cream cheese

room temperature (I used Philadelphia)

⅓

cup

softened butter

2

cups

icing sugar

Pinch

of salt
Equipment:
Two 9×12" pan

I used pyrex rectangular pan, line bottom and sides with parchment
Instructions
Make the dough: In the bowl of an electric mixer (I used a 6qt Kitchenaid), combine warm water, yeast and 1 tablespoon sugar. Mix well and let stand for 5 minutes to proof the yeast. You'll see small bubbles forming on top.

Slowly add milk, eggs, oil, sugar, 3 cups flour*, and salt. Mix using the paddle attachment (speed no. 2) for a few seconds or until the ingredients are well combined.

Switch to the dough hook and add 2 ½ cups of flour (reserve ½ cup). Mix until the flour is well incorporated. Add 1 tablespoon at a time of the reserved flour until the dough is no longer sticky. You don't need to add all the extra flour. Knead for 5 minutes or until smooth then form the dough into a ball. Dough will be soft but not sticky.

Spray the bowl with cooking spray (or oil) and place the dough, then spray a little bit more oil on top of the dough. Cover with plastic wrap and let rise for an hour or until double in size.

Make the filling: Combine the brown sugar and cinnamon in a small bowl and mix well. Place the softened butter in a small plate. Set aside.

Punch the dough and divide in half. Roll each log (do it one at a time) into a thin rectangle (about 13×16 inches) then spread half of the butter evenly on top, leaving an inch at the bottom and sides and about 2 inches on top (the end farthest from you). Next, sprinkle half of the cinnamon-sugar mix on top of the butter.

Roll like a jelly roll by lifting the dough as you roll to prevent the filling from sticking to your fingers. After the first few turns, you don't need to lift the dough. Once you reach the end, pinch the edges very well to prevent the dough from opening up. Repeat with the remaining dough.

Divide each log into 12 pieces (24 total) and lay cut-side down in two 9×13 inch pans (line the bottom and sides with parchment) each containing 12 rolls. Cover with plastic wrap and let rise for 20 minutes.

Preheat the oven to 325F. Remove the plastic wrap and bake in the middle of the oven for 20-22 minutes or until the tops are starting to brown and bottoms are lightly browned and cooked through. Remove from the oven and bake the remaining rolls. You can bake both pans at the same time if you're using two 9×12 inch pans.

Make the Cream Cheese Topping: Mash the cream cheese and butter using a stiff spatula or a wooden spoon. Sprinkle salt then slowly add the icing sugar and stir until completely combined. Spread or drizzle over rolls. Cool rolls to room temperature before frosting.
Notes
*Pls read the instructions carefully regarding adding flour (in stages) and only add enough until the dough no longer sticks to the bottom and sides of the bowl. Do not exceed 6 cups. During hot and dry months, you will need less flour. The dough will be soft and smooth.
**I use a bench scraper to create a clean cut on each roll. If you don't have one, you can use a sharp knife or an unwaxed dental floss.
***Recipe makes 24 rolls. Reduce baking time if cutting them into smaller pieces.
****If other baking pans are used, leave an inch of space between uncooked rolls to make room for rising.