Some food needs a bit more time to bring out its best flavor and a really good broth is one of them. A few simple ingredients are all you need to create a perfect base for a lot of dishes. The difference between a good and an awesome broth lies in the cooking time. Low and slow is the name of the game coupled with roasting the chicken before it hits the liquid. The result is the most flavorful broth which I use for my Egg Drop Soup and other dishes that require chicken broth.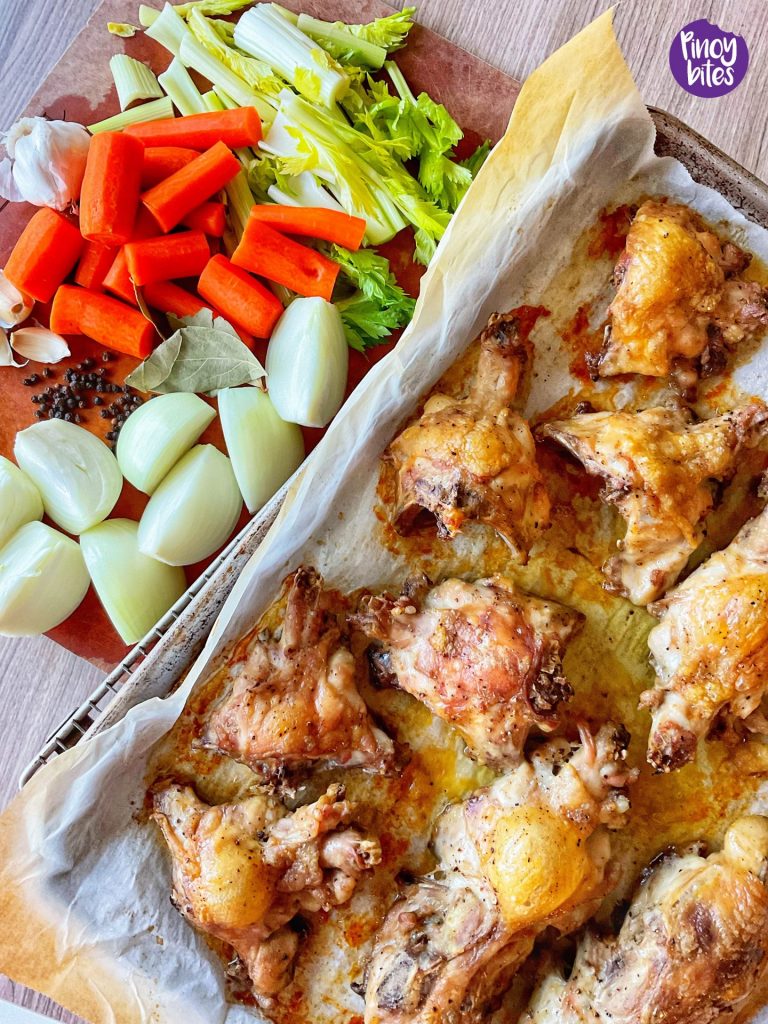 Chicken neck and backbones can be purchased as "soup packs" in some supermarkets. Most of the time, I buy whole chickens when on sale and butcher them myself. I then either make broth with one whole chicken or save all the bones in the freezer until I have enough to make some. Or, I use whichever bone-in chicken part on sale.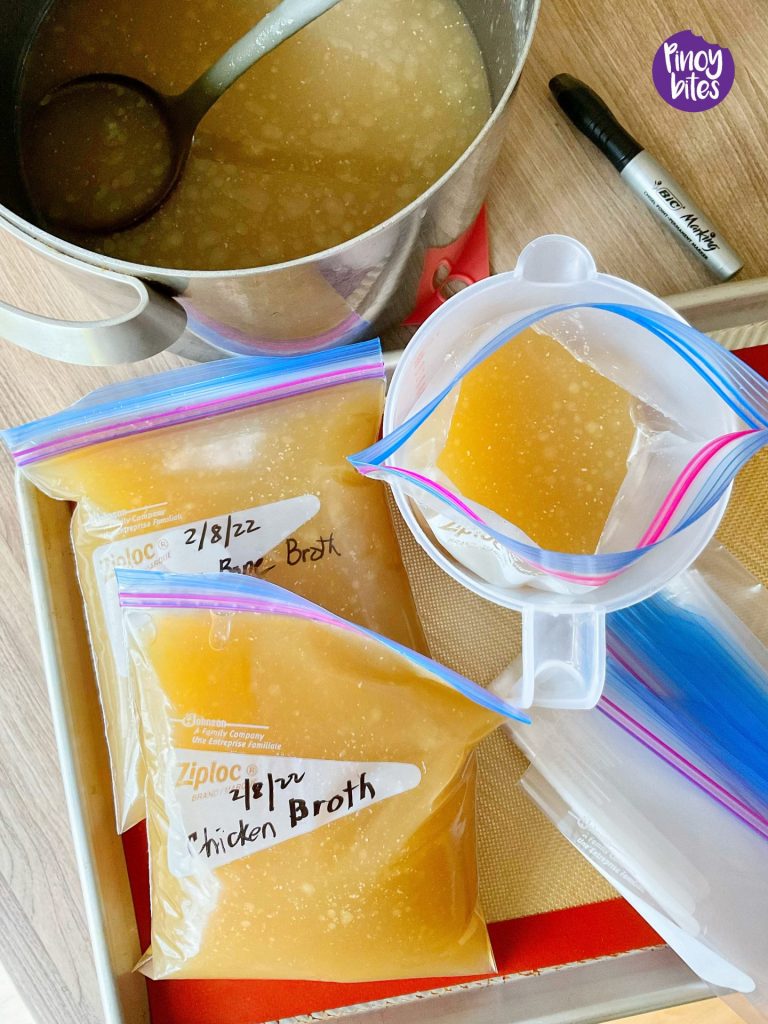 Bone broths are packed with nutrients. It's good for the gut, bones, rich in protein, a great source of collagen and helps boost our immune system. Because it's slowly cooked, the nutrients are concentrated so even a cupful has a lot of health benefits.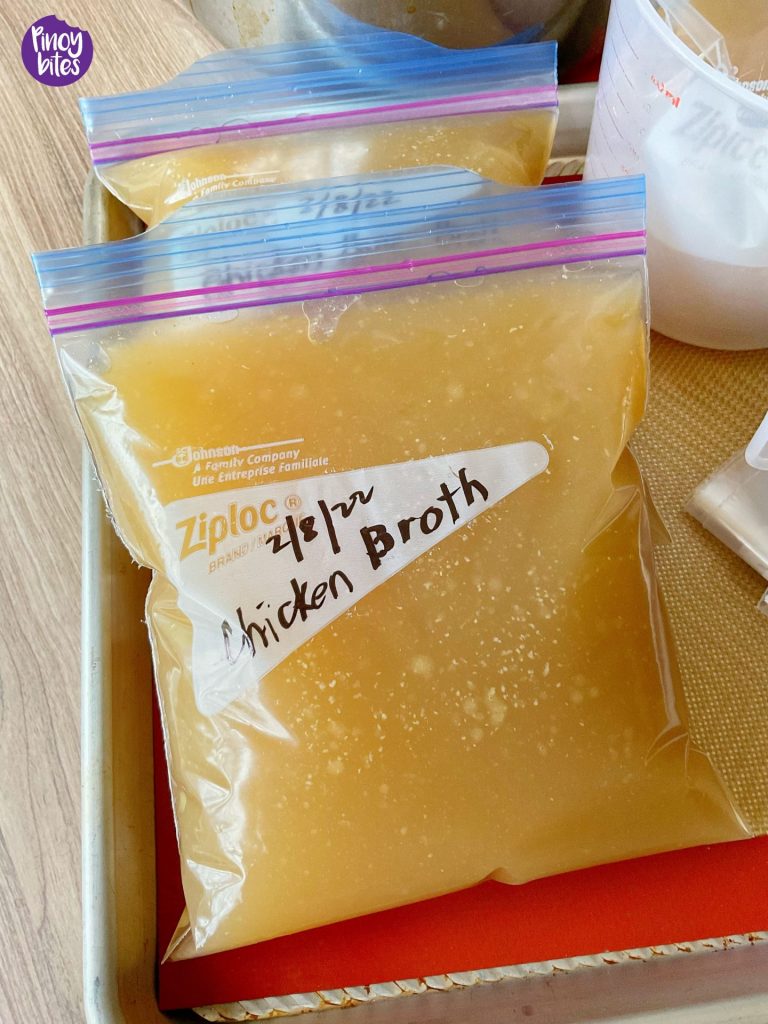 The reward is so worth it! Bonus part is that the rest can be frozen for a few months so you only have to make this once in a while. Healthy and delicious!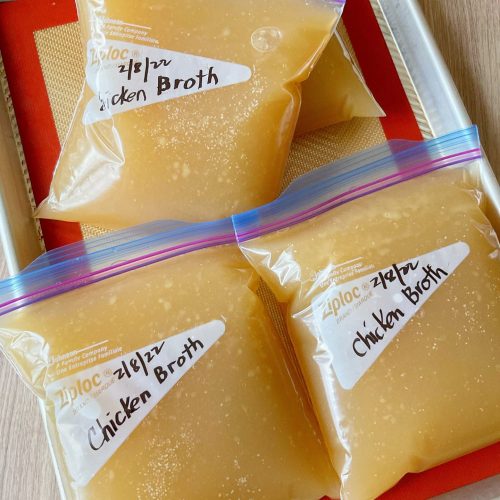 Homemade Chicken Bone Broth
a nutrient-dense broth that's packed with protein, a great source of collagen, beneficial to the gut and bones, and immensely helps in boosting the immune system. Truly healthy!
Ingredients
3

pounds

chicken bones

neck and backbone* see Notes for substitutions

2

large carrots

cut into 2 inch chunks

3

celery stalks

cut to about 3 inch lengths

2

large onions

halved

6

garlic cloves

peeled

1 ½

teaspoons

whole peppercorns

1

tablespoon

sea salt

3

bay leaves

Water

to fill a large pot ¾ full
Instructions
Preheat the oven to 450F. Line a 12×18 baking sheet with parchment paper. Arrange chicken bones in a single layer and season with 1 teaspoon salt and 1 teaspoon ground black pepper. Roast for 20 to 30 minutes or until the meat is browning (see picture above). Remove from the oven and empty the contents (chicken bones and all the juices in the pan) in a large stock pot (I used 8qt).

Add the rest of the ingredients in the pot. Fill the pot with water until it reaches ¾ full. Cover and bring to a boil. Once boiling, simmer (on the lowest setting) for 1 hour.

If using a whole chicken or any bone-in chicken parts: Gently remove the chicken and separate all the meat from the bones. Reserve the meat for recipes requiring cooked chicken. Add the bones back to the pot and continue simmering (on the lowest setting) for 4 hours or longer (I cooked mine for 6 hours). Taste and add seasoning (salt and ground black pepper), if needed. The longer you simmer this, the better and more concentrated your chicken broth will be.

Turn the heat off and remove all the solids by passing (and pressing) through a fine sieve. Cool completely and portion in freezer-friendly containers. I use a few quart-size ziploc freezer bags, freeze them flat and use it whenever needed.
Notes
*You can also use

one whole chicken or any bone-in chicken parts. You can even add a few chicken feet for more collagen.