This is one of my family's favorite breakfast meals. I always serve it with garlic-laden fried rice and a slightly crunchy bottom fried egg. A side of sliced tomatoes, spiced vinegar (for dipping) and atchara (pickled green papaya) make this meal even better. Yummm!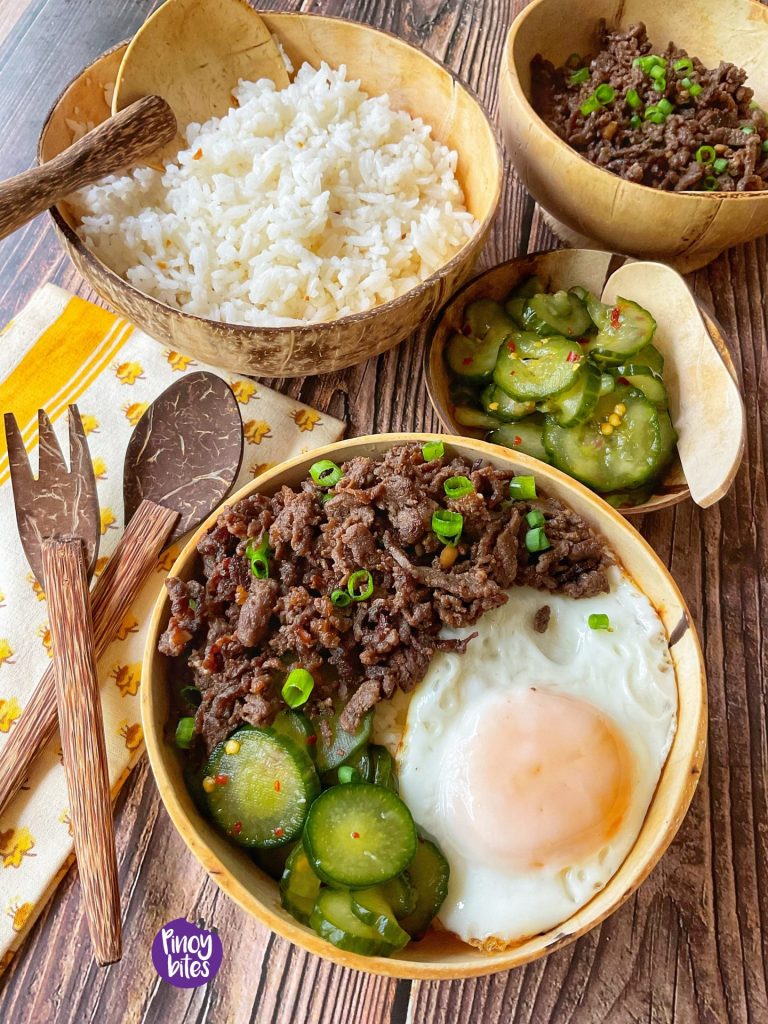 "Silog" meals have a very prominent spot in the Filipino breakfast scene. After all, we Pinoys love our rice regardless of the time of day. Silog is the coined abbreviation for Sinangag (garlic fried rice) and Itlog (fried egg). But it always comes with a prefix, depending on what other protein is added to it. Tocilog (with Tocino), Longsilog (with Longganisa) are some of the usual ones but for me, Tapsilog (with Beef Tapa) is the king.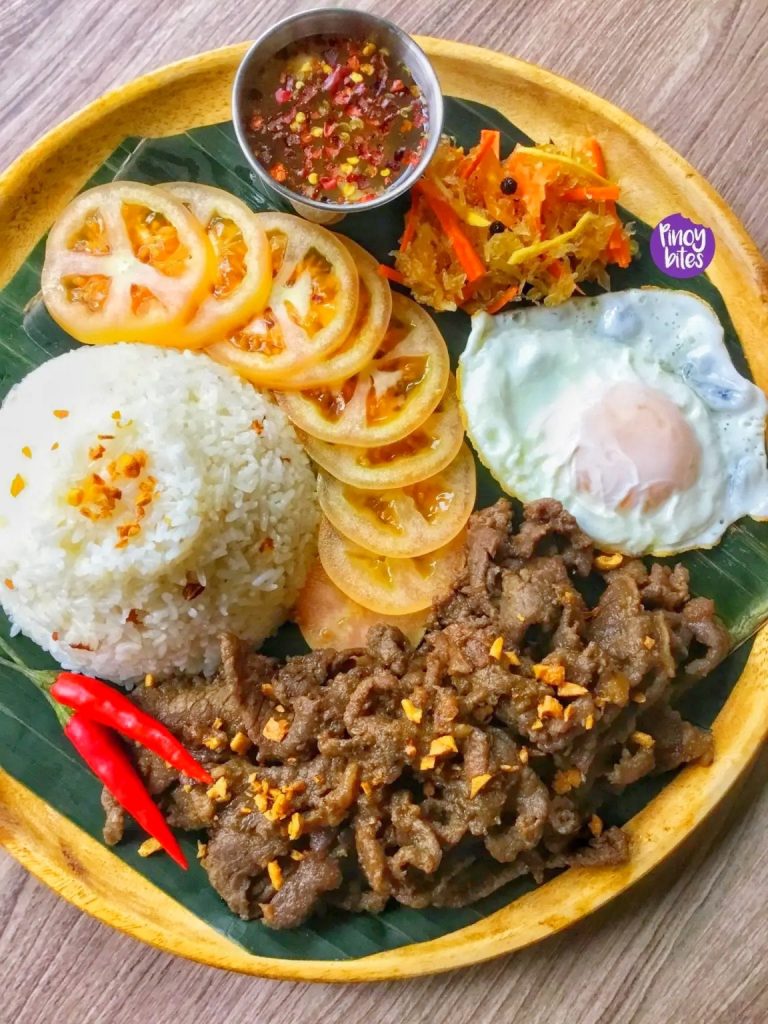 Filipino restaurants (and small eateries) that serve breakfast are most likely to have these "rice combo" in their menu. Some food establishments even specialize in serving just the Tapsilog like Tapa King. It's like an institution in the Philippines and has its own followers. The most popular items in their short "royalty" menu (Tapa King, Tapa Queen and Tapa Prince) are original, sweet and spicy, and sweet. The branch that I used to go to in Makati then was just a hole-in-the-wall kinda place – small and unpretentious but packs a crowd especially at lunchtime. I'm sure it looks modern now but I hope they didn't change its original taste.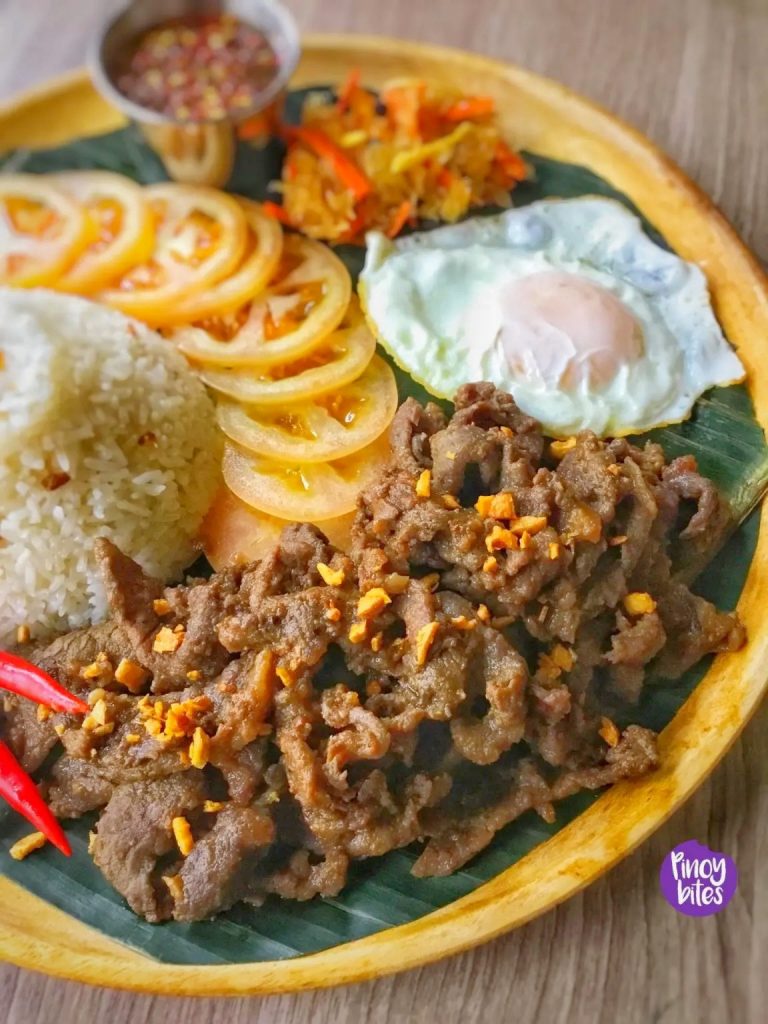 Whenever I see beef sirloin on sale, beef tapa is always at the top of my list. I usually make two meals worth, some for now and freeze the other half for when the next craving strikes. If you have been checking out my posts, you may have noticed that most of my recipes are more than enough for one meal. That's intentional. I love just prepping it once and saves me a lot of time later, especially on freezer-friendly meals like this one. Hope this also becomes a staple on your breakfast table.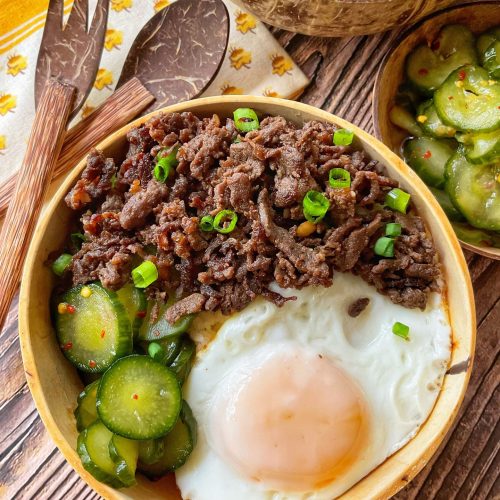 Homemade Beef Tapa (Tapsilog)
Tender, marinated beef slices with a perfectly balanced salty, sour, sweet flavors and a pronounced garlic aroma. Served with garlic fried rice and fried egg, this truly is the king of the "Silog" meals!
Ingredients
2.2

lbs (1 kg)

beef sirloin, very thinly sliced *see notes

½

cup

soy sauce

¼

cup

vinegar

I used Datu Puti

5

garlic cloves

finely chopped

1 ½

tablespoons

garlic powder

3

tablespoons

sugar

1

teaspoon

ground black pepper

3

tablespoons

oil

for frying beef
To serve:
Garlic fried rice

check above for the recipe link

Fried egg

Sliced tomatoes

Sliced cucumbers

optional

Atchara

pickled green papaya, optional

Fried garlic bits

toppings
Instructions
Place the beef in a large mixing bowl. In a small bowl, combine the soy sauce, vinegar, garlic, garlic powder, sugar and pepper. Pour mixture over the beef and mix well. Cover and marinate in the fridge for at least 6 hours (up to 24 hrs).

Remove the beef from the fridge about 20 minutes before cooking. Heat a large shallow pan (with lid) on medium-high heat. Pour oil and once hot, add the marinated beef. Fry for 5 minutes (do not stir for the first 3 minutes so the bottom browns a bit) then flip. Cover, switch the heat to low then simmer for 15- 20 minutes or until beef is tender. If you prefer a drier tapa, remove the lid once tender and cook until the extra liquid evaporates.

Top with fried garlic bits and serve with Garlic Fried Rice and Fried egg for a complete Silog experience. Sliced tomatoes and atchara are also great additions, if available.
Notes
For easier slicing, freeze the meat for one hour before cutting. This hardens the beef just enough to easily make thin slices. Always use a sharp knife and cut against the grain for faster cooking.